Quick Guide to Playing Pokemon GO in Raleigh, N.C.
Sunday, August 21, 2016, 6am by Derek Allman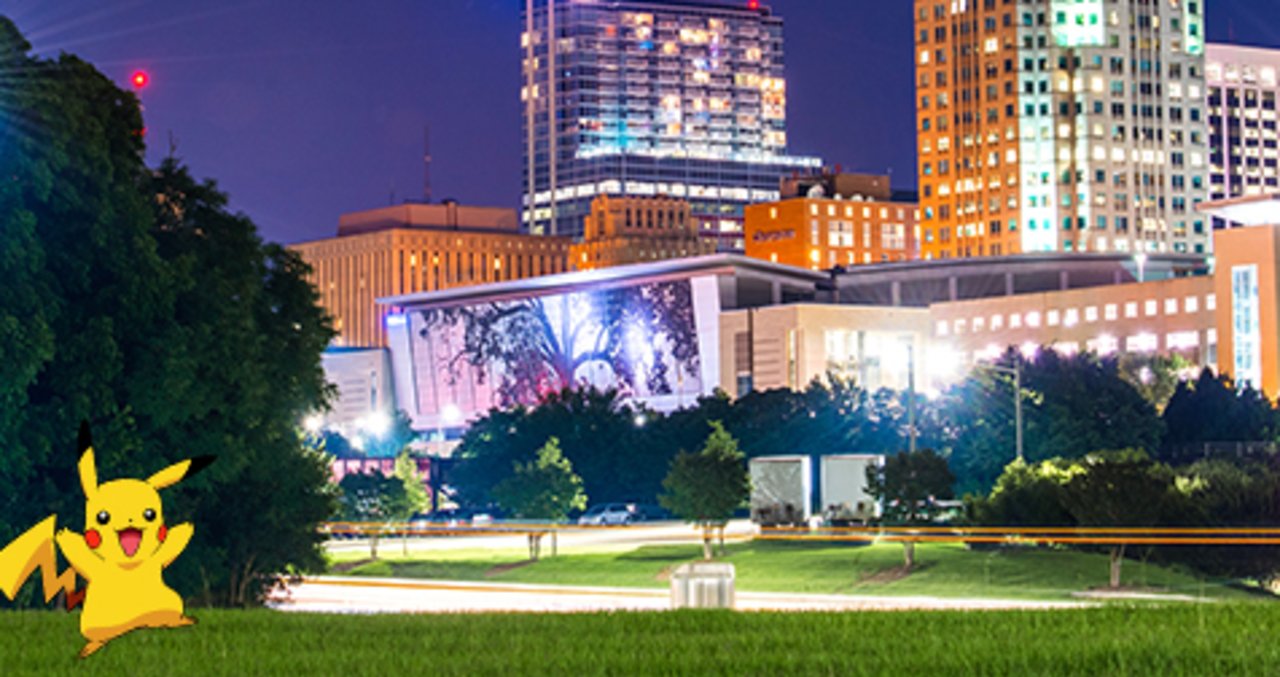 Pokémon GO has captivated people of all ages, from all walks of life around the world, and you can bet Raleigh, N.C., has seen groups of Pokémon Masters-in-training on the streets of downtown and throughout the destination. There are endless places to go for a day out with family and friends, hunting down "rare and unusual Pokémon," as the hardest-to-find were described by "Meowth" in the '90s hit cartoon series. Here's a quick guide to playing in downtown Raleigh and beyond.
Downtown Raleigh (Five Tips):
Nash Square Park: Social Spot for Pokémon Trainers
The weekend Pokémon GO launched, a spawning Electabuzz and other uncommon finds, several overlapping Pokéstops and beautiful shaded paths attracted huge crowds of players to Nash Square, meaning lures were set up on the Pokéstops constantly. Groups of players still hang out at the park and set up lures to run simultaneously—it's a great place to experience the social aspect of the game. (Plus, a resident recently reported that a Snorlax spawned in the park!)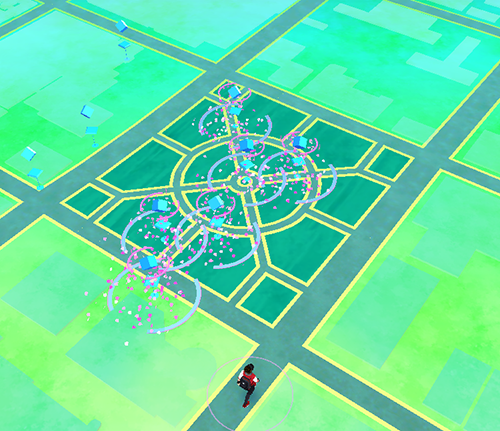 Endless Awesome Pokéstops
Block after block, you can stock up on items, and lots of attractions are Pokéstops themselves, including the North Carolina Museum of History, North Carolina Museum of Natural Sciences, North Carolina State Capitol and Marbles Kids Museum (we caught a Pikachu outside of the museum recently!). Tons of awesome public art, such as the Raleigh Convention Center's iconic Cree Shimmer Wall, and historic landmarks downtown add to the list.
For Trainers 21 and Older: Have a Brew, Sit Back and Let the Pokémon Come to You
Because you're never too old to play Pokémon. Breweries and bars in and around downtown are either Pokéstops themselves or are close enough to Pokéstops to set up a lure and have a local beer. These include Crank Arm Brewing (and its bicycle art piece inside), Paddy O'Beers (where we caught a Tangela), Busy Bee Cafe (with its outdoor, wrought-iron bee and honeycomb sculpture as a Pokéstop) and many more. Not downtown but close by, Raleigh Brewing Company has two Pokéstops inside the taproom and one outside; if you sit in the right place, you can hit three stops at once.
Eat and Play
Plenty of downtown restaurants are in reach of Pokéstops or have art pieces that are Pokéstops themselves, meaning you can have some amazing food while setting up a lure and playing. Restaurants include The New Oakwood Cafe, Snoopy's Hot Dogs & More, Beasley's Chicken + Honey next to the outdoor "Animal Bike Racks," Busy Bee Cafe and its sculpture, as mentioned above, and more. (A must-mention, Raleigh Raw serves up the Hawaiian salad called "poké," fitting for your Pokémon session downtown. See what we did there?)
The FREE R-LINE is Your Downtown Poké Transportation
A perfect way to get around and catch Pokémon in the process is to take the R-LINE downtown circulator. We caught a Squirtle, Slowpoke, Meowth and some common Pokémon when we took it from a stop on Wilmington St., heading to the Glenwood South district.


Beyond Downtown Raleigh:
Check out these other places to visit, with some rare-to-Raleigh Pokemon or just to explore the destination, either way! (Note: Niantic, the game's developer, switches up what Pokémon pop up in certain spawn areas, but this is some of the latest we've heard and/or seen for ourselves.)
The 11 surrounding towns, just minutes from downtown Raleigh, have a lot to offer in downtown areas and main streets with historic landmarks, public art and more. We've heard a lot about downtown Cary and WakeMed Soccer Park (said to have an abundance of Ponytas) being hot spots.
Pullen Park is said to be a "Jynx nest." (And Pokémon plus pedal boats? Yes, please!)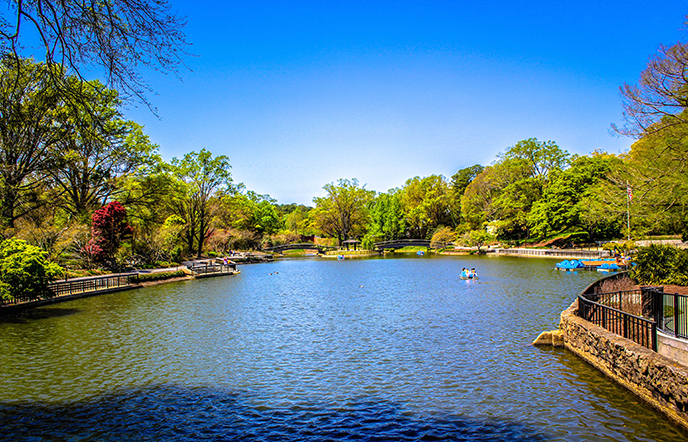 Visitors to Lake Johnson Park say its a Magmar habitat, plus home to lots of other water Pokémon, naturally.
Lake Lynn Park is a popular spot, with Dratinis and Dragonairs, tons of Magikarp to get to your 400-candy goal for Gyarados (and we heard just a few days ago that one popped up at the lake), Slowbros and more. Lake Wheeler Park we hear has some of these same spawns.
The area around World of Beer at North Hills has a lot to offer. Some rarer finds users have reported are Raichu, Gyarados and Tentacruel. (Look near the water fountain in front of World of Beer for some good spawns, uncommon and common.)
Of course, there are lots of other great places to play the game in the Raleigh area but this will get you started!
Have any other tips for great places to play in Raleigh and the nearby towns (plus what Pokémon you've seen there)? We'd love to hear. Feel free to post about them in the comments section below, for other visitors and us!
Comments