Raleigh Band Spotlight: Jack the Radio
Wednesday, August 31, 2016, 7am by Charles Upchurch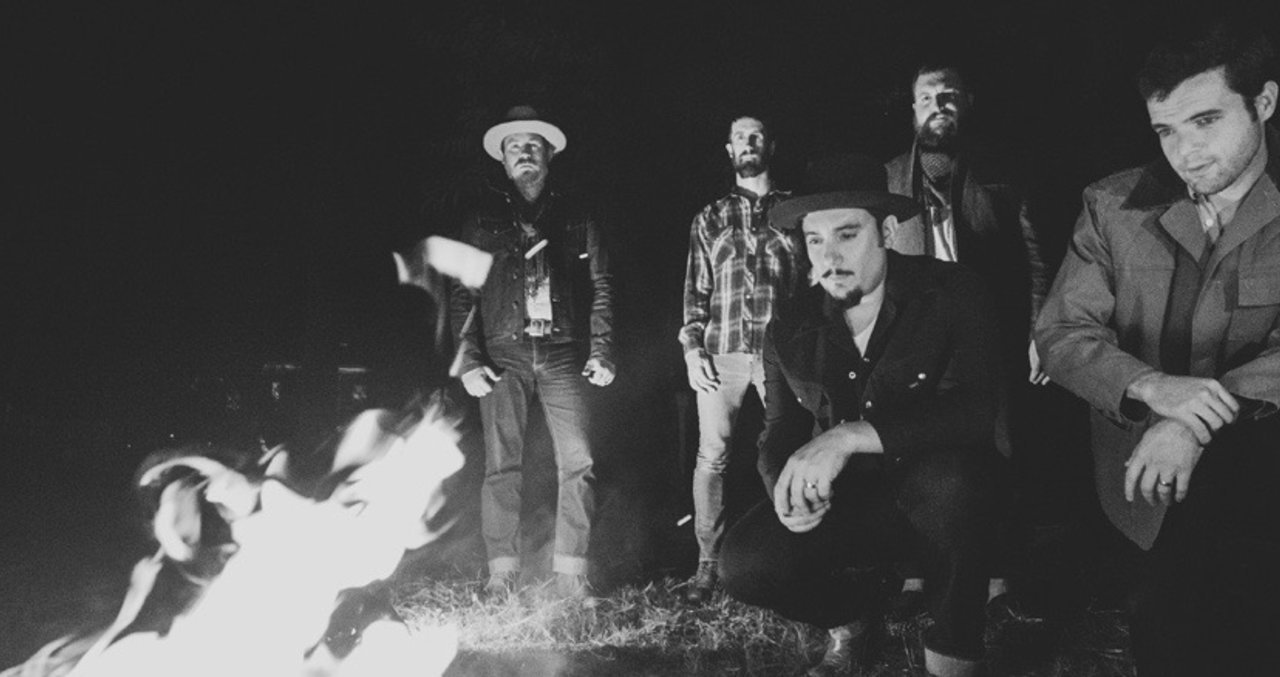 The bluesy, roots-based "cosmic country" sound of Raleigh, N.C.'s Jack the Radio has been described as having an "unfurling epic quality." The quintet has recorded four albums over the past five years, including the ascendant Badlands, released in Oct. 2015. It was a project three years in the making. The result, according to one industry observer, "will put N.C. squarely on the national music map."
Even if you don't know their songs yet, you've heard Jack the Radio on TV, in commercials and promo spots for Animal Planet, NBC Sports, Squarespace, Weber Grills, HBO and USA Network.
Check out "My Way" (off of Badlands), live at Raleigh Denim Workshop:
 
Singer, songwriter, guitarist and band co-founder George Hage (lead vocals in the video above) grew up in Charlotte and started playing guitar at 13, lured by lessons at school that got him out of class twice a week. He learned Nirvana and classic rock tunes from the pages of guitar magazines. As a student at North Carolina State University (NCSU), he met (Jack the Radio co-founder) A.C. Hill, and the rest is rock 'n' roll history. We caught up with Hage to learn more about the musical juggernaut known as Jack The Radio.
How did the band initially come together?
A.C. and I met at NCSU around 2000. We were connected by a mutual friend, Grayson Currin, who is now the Raleigh Agenda editor in chief. Our drummer, Brent Francese, also went to NCSU at the time but was playing with other bands. It wasn't until 2009 that we started to play together.
Do all of the guys live in Raleigh?
We all do and we love it. Three in Raleigh and two on the edge in Cary. Brent even runs a business downtown (Runologie on Hillsborough St.). We've all been playing in bands off and on for the past 10 years regionally, and Danny and I tend to fill in with groups off and on.
Where did the name Jack the Radio come from?
It started as a call to action. At the time we weren't hearing anything on mainstream radio that sounded like the music we wanted to make. Jack the Radio was us writing and recording those ideas, which to start was just A.C. and me. Over the past few years the name has sort of morphed into a character, Jack the Radio, and our logo. With a bit of success getting some airplay on radio and our music in film and television we've become the thing we were once rebelling against, which is a victory of sorts, but keeps us motivated to keep challenging ourselves musically.
Who would Jack the Radio cite as its biggest influences?
Musically, bands like Spoon, Jack White, The Black Keys, The Raconteurs, Led Zeppelin, Jimi Hendrix, Blake Mills. But we also get inspired by the people in our area from breweries like Big Boss Brewing Company to Raleigh Denim Workshop and even comic books and their different approaches and execution of artistic creations.
How is Badlands doing?
The release of Badlands has been exciting. We worked over three years writing, playing and recording to make it. A lot of blood, sweat and tears–real tears–went into this one. Seeing the great press has made that all worthwhile.
What's the significance of the book featured in the videos for "My Way," "Moonlight" and "Bad Man"?
It's a symbol and an idea that ties these videos together. The cover of the book says "Veritas Vos Liberabit," which is Latin for "the truth will set you free." For me, it's the idea that being true to yourself will allow you to be free to be on your path, whatever that may be.
Watch the video for "Moonlight" below.
Check out "My Way" and "Bad Man," plus more, here.
 
Jack the Radio is George Hage, A.C. Hill, Brent Francese, Danny Johnson and Chris Sayles.
Don't miss them live during the FREE Hopscotch Music Festival 2016 Day Party Series:
Schoolkids Records
Thurs., Sept. 8, day party
Jack the Radio performs at 4pm
Slim's Downtown
Sat., Sept. 10, day party
Presented by Spazzscotch and Jack the Radio
Jack the Radio performs at 3:10pm
Check out more of their music here.
Comments