Raleigh, N.C., Brewers Make Beer Month a Festival of Flavors
Tuesday, April 05, 2016, 10am by Charles Upchurch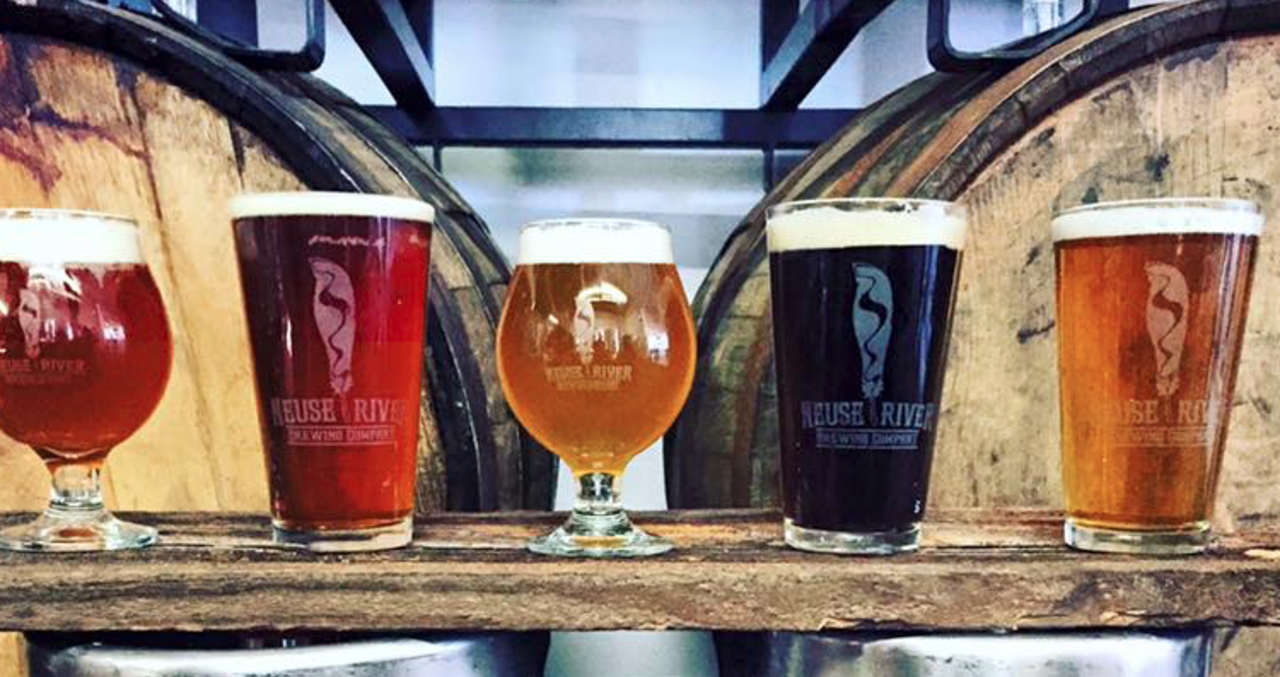 On the beer calendar, it's time for spring seasonals, and once again the bold, imaginative and downright delicious offerings from Raleigh, N.C., area breweries are being tapped and bottled. Here are 10 selections, just in time for Beer Month. Enjoy them in April and beyond as you listen to that scarlet cardinal singing from a dogwood bough.
Big Boss Brewing Company
Available beginning in late April, Monkey Bizz-Ness is perfectly spiced to accompany the complex blend of fruit, yeast and malt notes in this rustic, Belgian-style ale. This year's edition has been aged in red wine barrels and will be available in bottles (9% ABV).
Gizmo Brew Works
Hoppy Grounds Pale Ale is an English-style ale that combines cold press Ethiopian coffee with the earthy essence of English hops. With lively peppery spice and subtle coffee flavor, this medium bodied, complex pale ale will perk up your palate (5.7% ABV).
Raleigh Brewing Company
First Squeeze is an effervescent, citrus-forward American Wheat Ale. Pounds of blood orange peels are incorporated into every batch to achieve a refreshing blast of orange character. Perfect for warm N.C. days and outdoor hangs. (6% ABV).
Neuse River Brewing Company
Bourbon Barrel-Aged Bobbi Brune Smoked Brown Ale is a mouthful in more ways than one. Enhanced with smoked cherry wood malt, this is an easy-drinking brown featuring nutmeg, cinnamon, ginger and allspice with hints of caramel and vanilla (6% ABV).
Lynnwood Brewing Concern
Named for the neighborhood located near the new Lynnwood tap house, 5-Points Pale Ale uses Dr. Rudi hops to bring out bright notes of pine and citrus, paired with lightly toasted malt (5% ABV).
Lonerider Brewing Company
The Hops You Rode In On is Lonerider's take on a session ale. It's a refreshing, easy-to-drink ale that tastes like the Amarillo and Columbus hops used to brew it (4.4% ABV).
Nickelpoint Brewing Co.
Dark brown in color with ruby red highlights, Nickelpoint's Strong Scotch Ale (Wee Heavy) is deeply malty, with hints of oak and coriander. The sweetness of the malt and moderate carbonation disguise the fact that this is a high gravity beer (9% ABV).
Carolina Brewing Company
Available March through May, Spring Bock is pale lager brewed in the style of a German Maibock. Brewed from pilsner, Munich, carapils and caramel malts and Hallertau hops, it presents a smooth, fresh, malty taste and a slight alcohol warming sensation (6.5% ABV).
Draft Line Brewing Co.
Southdown Mosaic Saison is a farmhouse ale using Mosaic hops and a splash of sweet orange peel. With a dose of rye in the mash, this beer gives you a dash of spice to go along with the fruit flavor of the hops (6.2% ABV).
Crank Arm Brewing
Banana Seat, a German-style weizenbock, is the bigger brother to Crank Arm's Dunkelbiken and Hefebiken. It has rich amber color and medium body to go with the obvious banana and clove flavors from the weizen yeast (7.8% ABV).
Here's to spring! 
Enjoy all that is craft brewing this April during Beer Month in the Raleigh area by spending a day (or a weekend) drinking in the excitement. Check out what's going on here. And try a variety of breweries with the brand-new Raleigh Beer Trail.
Photo credit: Neuse River Brewing Company.  
Comments