Recipe: Chef Scott Crawford's Apple and Turnip Salad
Thursday, January 25, 2018, 6pm by Tabletop Media Group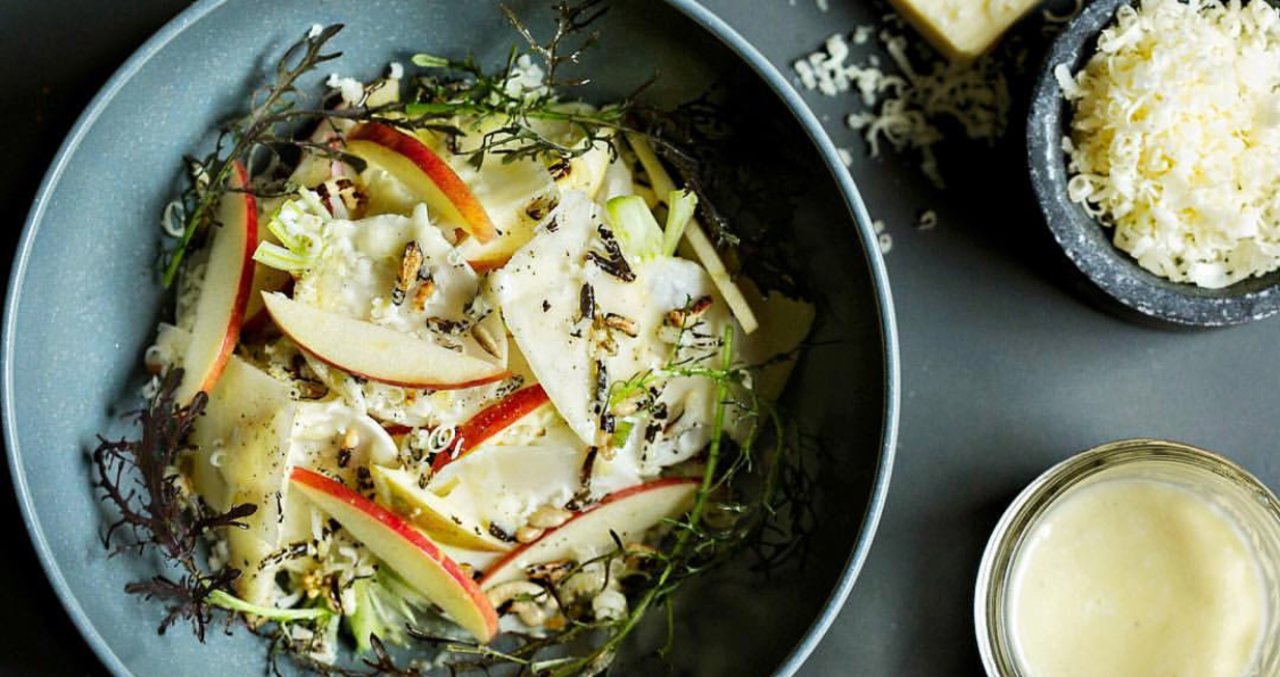 Raleigh, N.C., five-time James Beard Foundation semifinalist for "Best Chef: Southeast," Scott Crawford is a notable figure in the community. Deemed 2018's "Restaurant of the Year" by The News & Observer's restaurant critic Greg Cox, his restaurant Crawford and Son serves "straight forward, honest food that ranges from the familiar to the unexpected."
Dining at Crawford and Son, you can expect each dish to deliver a depth of flavor. Chef Crawford takes pride in sourcing purposeful ingredients, which is evident in his recipe for Apple and Turnip Salad with Ashe County Romano Dressing and Crunchy Grains. We've published this recipe from chef Crawford below, which is sure to impress friends and family.
 
Apple and Turnip Salad with Ashe County Romano Dressing and Crunchy Grains
"We always get the most beautiful turnips in the fall when apples are also coming in season. We were inspired to make people love raw turnips by pairing them with something delicious and familiar like apples. The turnips by themselves are amazing but a tough sell to the diner. By pairing them with tart apples and slightly salty cheese we created balance as well." -Chef Scott Crawford
Before diving into the recipe, what's chef Crawford's tip for the home cook? "To prepare this dish only when turnips and apples are at their peak of freshness." We couldn't agree with him more; fresh ingredients make for thoughtful, delicious food.
MAKES APPROXIMATELY 4 SALADS
Ingredients
4 cups thinly sliced Hakurei turnips (stored in ice water)
1 each Honeycrisp apple
2 cups thinly shaved red radish (stored in ice water)
1 cup Romano dressing
1 cup finely grated Ashe County Romano Cheese
1 small block Romano for microplaning
¼ cup thinly sliced chives
2 teaspoons kosher salt
1/2 teaspoon fresh ground black pepper
Directions
In a salad spinner, add the radish and turnip and spin until dry. Cut the sides off of the apple around the core and slice thinly. Add the turnips, radish and apples to a mixing bowl and toss until combined. Add the Romano dressing, one cup of grated Romano, salt and pepper and toss until all are evenly coated. Adjust seasoning as necessary. Lay out four salad bowls. You will want to build these salads in layers so you will have a bite of everything each time. Using half of the mix, distribute evenly in each of the four bowls. Freshly grate a bit of Romano, sprinkle some of the crunchy granola and top with a bit of chive. Distribute the rest of the turnip mix into the bowls, topping with more freshly grated Romano, granola and chives. Garnishes such as tender baby mustard greens, kale or sea salt and freshly grated black pepper are great additions.
 
Romano dressing
3 ounces champagne vinegar
1 ounce Dijon mustard
1½ cups vegetable oil
4 ounces Ashe County Romano Cheese, finely grated
1 tablespoon kosher salt
1 teaspoon fresh ground black pepper
1 ounce caper brine
1 ounce Lindera Farms Ramp Vinegar
½ cup extra virgin olive oil
 
Savory granola
½ cup sunflower seeds, lightly roasted
½ cup puffed wild rice
½ cup pecans, roasted and chopped
½ cup walnuts, roasted and chopped
¼ cup brown butter
2 teaspoons kosher salt
You might also like these recipes:
Comments