Six New Restaurants in Raleigh, N.C.
Wednesday, August 08, 2018, 4pm by Tabletop Media Group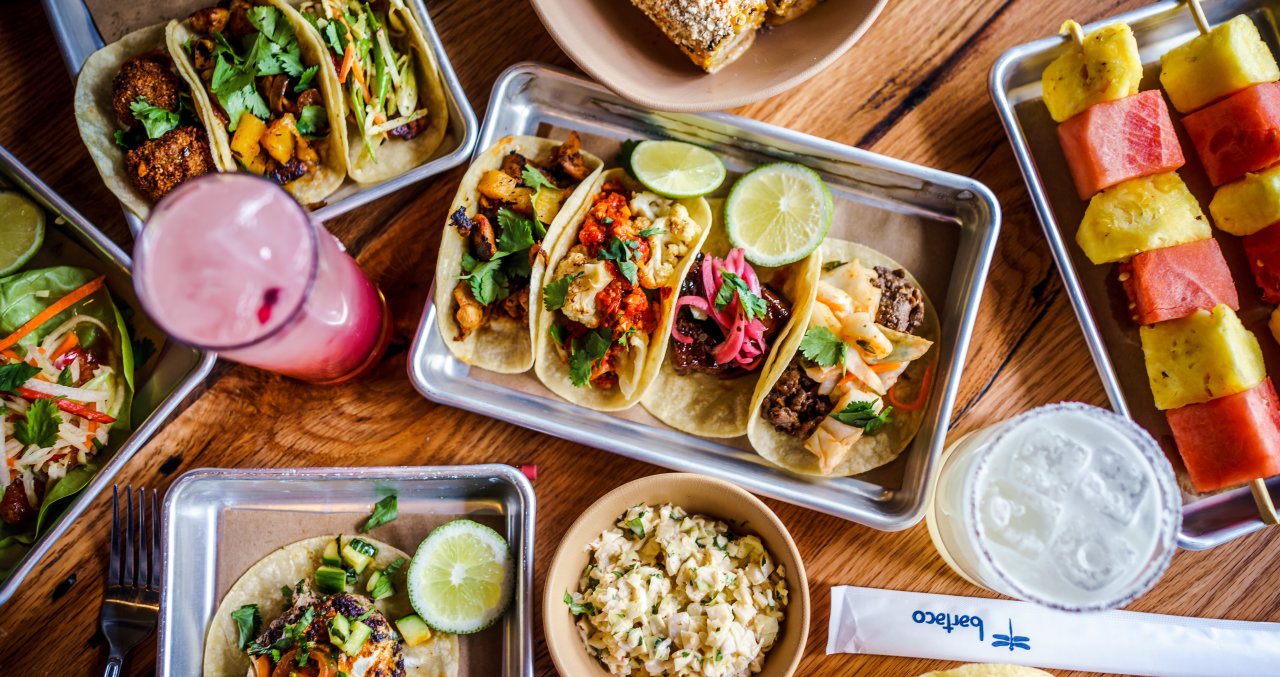 From food halls to street food, cocktails to coffee, here's everything you need to know about six of the best new restaurants in the City of Oaks! Ready to try them all? Go, go, go!
 
Now open in downtown Raleigh, Morgan Street Food Hall, measuring 22,000 square feet inside a re-purposed warehouse, provides a unique dining experience from a wide variety of local chefs, restaurateurs and purveyors. The first of its kind in Raleigh, the space features 20 culinary concepts ensconced in fully-outfitted spaces offering cooked-to-order meals, snacks and specialty foods—a gorgeous patio with tons of outdoor seating (plus a bar serving craft beers and cocktails) is sure to be a popular hangout. Some of the highly-anticipated good eats include Raleigh Rolls, a Thai rolled ice cream stand; Sassool, a Lebanese and Mediterranean restaurant with current locations in both Raleigh and Cary; Cousins Maine Lobster, with the freshest lobster rolls around; Raleigh Raw, with tasty bowls and juices; and Curry in a Hurry, with spicy butter chicken! See the full list here.
For your late-summer bucket list, pay a visit to North Hills and dine at the area's first bartaco (either before or after stopping in the soon-to-open second location of Vita Vite)! Serving upscale street food—along with specialty cocktails, beers and fresh juices—inspired by the cultures of Brazil, Uruguay and Southern California, bartaco focuses on fresh ingredients and bold flavors with a menu boasting an array of tacos filled with fish, vegetables, slow-cooked pork, chicken, steak and more (you won't want to miss the crispy masa-crusted rock shrimp taco topped with a rémoulade sauce and lemon parsley slaw). Pair anything (and everything) with a margarita for ultimate satisfaction!
Kaiju Bowl and Bao
After first making its appearance at Raleigh's Thrive NC festival in 2017, Kaiju Bowl and Boa opened this summer in downtown Raleigh. Kaiju offers delicious Asian food, from bao buns to ramen. The Kaiju ramen with bone broth, crispy pork belly, kale, enoki mushroom, duck fat and a soft boiled egg is a winner at any time of day. And two bao buns (for $10) are perfect for sharing—we like pairing the fried chicken bun with bok choy, pickled red onion and a spicy mayo and the fish bun with tempura fried cod, cabbage slaw and mango chili sauce.
Seoul 116
The downtown Raleigh Glenwood South district's newest restaurant Seoul 116 is a trendy Korean gastropub. This modern Korean kitchen and bar suggests ordering family style, making it a great place for larger parties! You can't go wrong with dishes like their soup with pork dumplings, pork belly chashu, rice cakes and black garlic oil or their Korean fried chicken wings coated with a sweet and spicy sauce and black sesame crumble. Get a bottle of sake to share with your friends for a good time!
Poke Burri's newest location in North Raleigh will have foodies (and Instagrammers) drooling. This trendy restaurant serves one of the newest food crazes, poke, along with other delicious dishes like burrito rolls (sushi burritos). Poke includes diced raw fish and is a Hawaiian dish. We enjoy the "Super" Poke Bowl with seasoned tuna, salmon, spicy tuna and crab salad, which is then topped with delicious vegetables like cucumber, avocado, pickled ginger and much more.
Fig Raleigh
Fig, a new coffee and cocktail bar, just recently opened its doors on the edges of Raleigh's gorgeous Oakwood and Mordecai neighborhoods. With a beautiful interior and dog-friendly patio, Fig is the perfect place to get a coffee or cocktail and spend quality time with friends and pups. Fig also serves a small plates menu with options like quiche, açaí bowls, sandwiches and salads. We highly recommend trying the grilled brie sandwich with apple and honey. This is a great summertime spot where the bartenders are more than happy to help pick—or personalize—a drink for you.
Comments