20 Spring and Summer Concert Picks in Raleigh, N.C.
Wednesday, April 20, 2022, 9am by David Menconi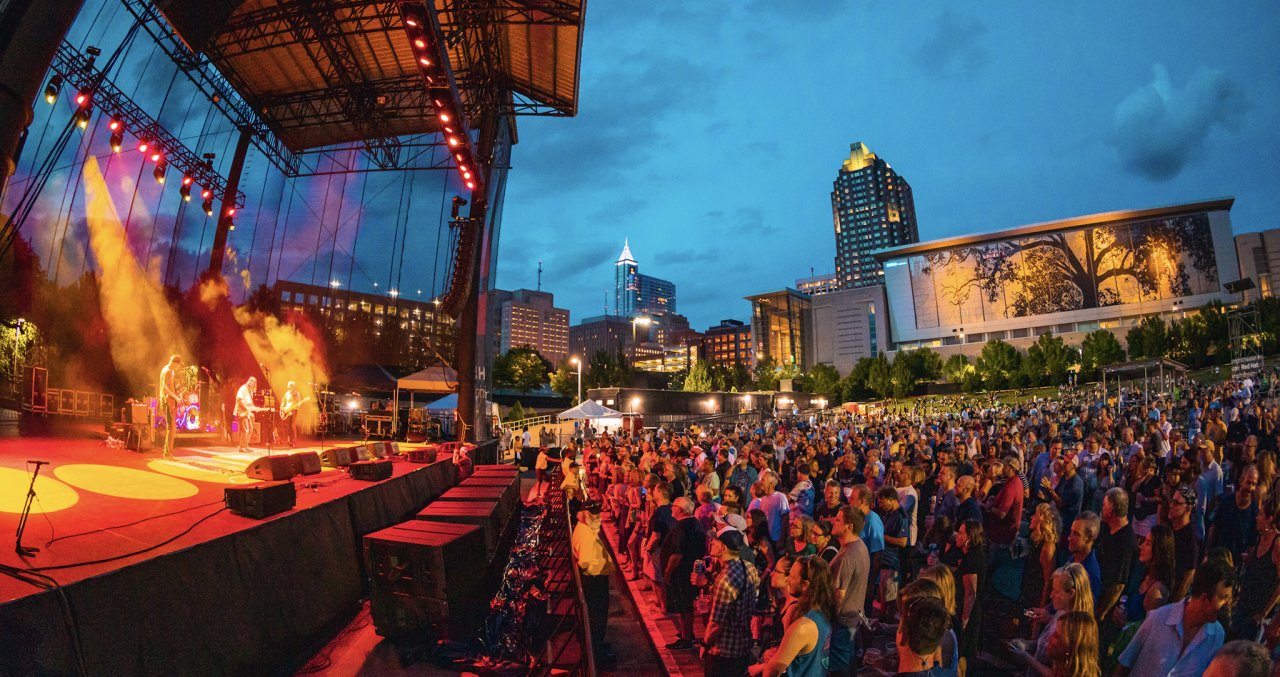 Note: Authored by David Menconi, this piece has been produced in partnership with Raleigh Arts. Menconi's latest book, "Step It Up and Go: The Story of North Carolina Popular Music, from Blind Boy Fuller and Doc Watson to Nina Simone and Superchunk," was published in Oct. 2020 by University of North Carolina Press, and his new podcast, Carolina Calling, explores the history of the Tar Heel State through music.
---

As we all take a deep breath and cross our collective fingers, 2022's much-hoped-for return to normal continues with the major concert season ramping up. The warm-weather months make up the prime big-concert season in the City of Oaks. The Raleigh area's major outdoor venues are rolling out shows and schedules, and so are our key indoor spaces. So here are some particularly choice shows coming our way—10 to watch!
Nine Inch Nails, Nitzer Ebb, Ministry
April 28 at Red Hat Amphitheater
This one looks to be the local industrial-rock event of the year, with three of the top acts of the genre. Topping the bill is Grammy and Oscar-winning mastermind Trent Reznor's Nine Inch Nails, an act that has been blowing minds since playing Raleigh on the very first Lollapalooza tour way back in 1991.
Pastor Shirley Caesar & the Caesar Singers
May 5 at Duke Energy Center for the Performing Arts
The indefatigable gospel legend has had a remarkable career well beyond the pulpit of Raleigh's Mt. Calvary Word of Faith Church, winning 11 Grammy Awards. She's still going strong at age 83 and can even boast a recent hit, the "Grandma Thanksgiving Rap Song" viral hit. This show will be presented by PineCone, Piedmont Council of Traditional Music.
Tori Amos
May 6 at Duke Energy Center for the Performing Arts
A piano-playing preacher's kid, Tori Amos was born in her grandparents' hometown of Newton, N.C., which gives us some native-daughter bragging rights to her success. She has always walked the line between sacred and sacrilegious, and remains one of the most compelling live performers in the field.
Nelly with Cooper Alan
May 7 at Koka Booth Amphitheatre
The venerable hitmaking rapper is still a major force more than two decades after he first broke out of St. Louis with "Country Grammar." Nelly's first Raleigh area show since his star turn at J. Cole's inaugural Dreamville Festival in 2019 will be in Cary, paired with the rising country act Cooper Alan.
Tim McGraw
May 21 at Coastal Credit Union Music Park at Walnut Creek
Country music has long been Walnut Creek's primary drawing card, and its concert schedule this year features a typically loaded lineup, including Morgan Wallen (June 3), Luke Bryan (July 8), The Chicks (July 12) and Keith Urban (Aug. 13). But it starts on May 21 with Faith Hill's husband, Tim McGraw, on May 21.
Herbie Hancock
May 29 at North Carolina Museum of Art
One of the most distinguished gentlemen in jazz, Herbie Hancock is a genuine legend who has gone from playing with the biggest names in music to being one himself. He has won 14 Grammys, and his May 29 show at the North Carolina Museum of Art's outdoor amphitheater should be the jazz event of the season.
The War on Drugs
June 13 at Red Hat Amphitheater
From Philadelphia, The War on Drugs long ago graduated from underground circles to the mainstream, but retains considerable credibility. The group's latest round of touring is to show off last fall's "I Don't Live Here Anymore," another well-acclaimed album.
Robert Plant & Alison Krauss
June 14 at Koka Booth Amphitheater
It took more than a decade for Led Zeppelin frontman Robert Plant and bluegrass queen Alison Krauss to follow up their 2007 classic "Raising Sand," but it was worth the wait. Released last fall, "Raise the Roof" is another stellar record. The duo last played in Raleigh together in 2008 at PNC Arena, and this should be another great night.
Billy Strings
June 23-25 at Koka Booth Amphitheater
The hottest newcomer in bluegrass, Billy Strings is an incredible guitarist with limitless potential. This three-night stand in Cary will give him ample room to stretch out. It's set up for him to do precisely that. Be advised, there will be no opening act—plan to show up on time.
Backstreet Boys and New Kids on the Block
Backstreet Boys, June 25 at Coastal Credit Union Music Park at Walnut Creek; New Kids on the Block, July 22 at PNC Arena
Just as Backstreet Boys ruled the young-pop demographic in the 1990s, New Kids on the Block did the same in the 1980s. Decades later, both are still at it and will play in Raleigh within less than a month of each other this summer.
More picks for spring and summer shows
Rex Orange County, May 16 at Red Hat Amphitheater
Old Crow Medicine Show, May 20 at North Carolina Museum of Art
The Lumineers, May 24 at Coastal Credit Union Music Park at Walnut Creek
Ben Rector, June 10 at Red Hat Amphitheater
The Doobie Brothers, June 11 at Coastal Credit Union Music Park at Walnut Creek
H.E.R., June 24 at Red Hat Amphitheater
James Taylor, June 25 at PNC Arena
Dave Matthews Band, July 22 at Coastal Credit Union Music Park at Walnut Creek
Shawn Mendes, July 23 at PNC Arena
Fleet Foxes, July 29 at Red Hat Amphitheater
Rage Against the Machine, July 31 at PNC Arena
Roger Waters, Aug. 18 at PNC Arena
Jack Johnson, Aug. 21 at Coastal Credit Union Music Park at Walnut Creek
The Black Keys, Sept. 1 at Coastal Credit Union Music Park at Walnut Creek
Header photo by Garrett Poulos
Comments