The Best N.C. State Fair-Inspired Foods Found at Restaurants in Raleigh, N.C.
Tuesday, October 23, 2018, 4pm by visitRaleigh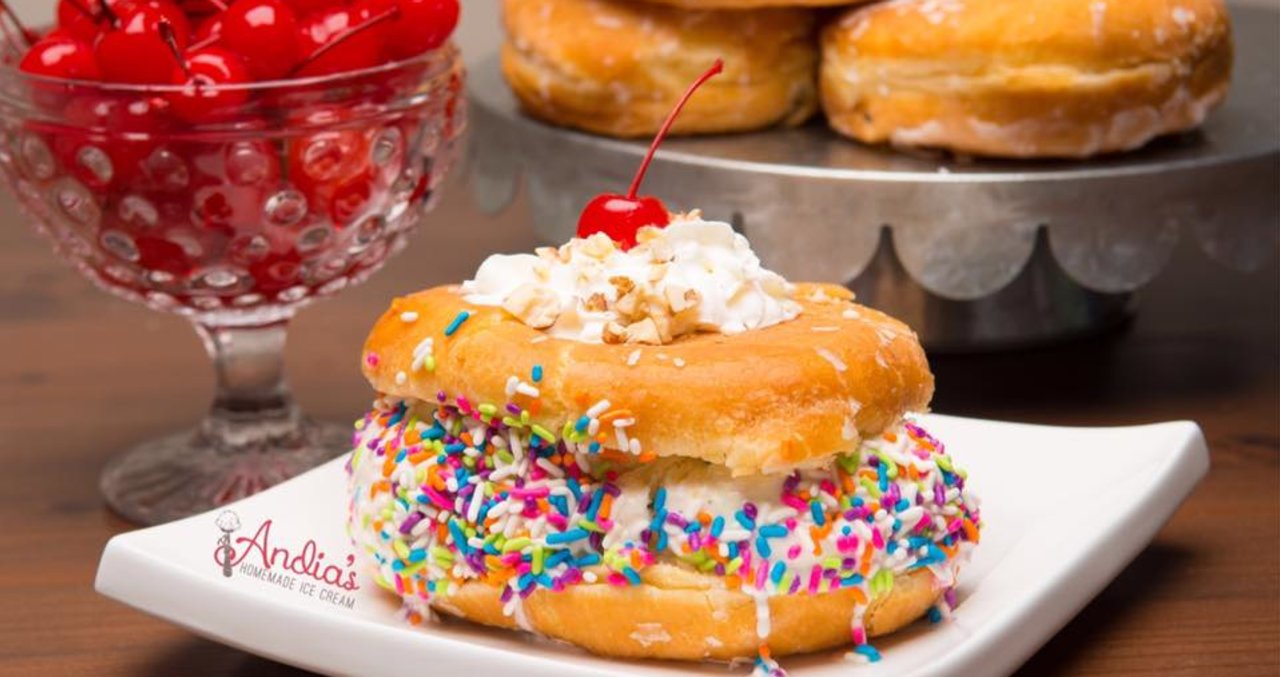 With the N.C. State Fair only coming around once a year, it's a tough task to get your fix of fried foods and oversized portions in just 11 short days. Fear not, because some restaurants across the Raleigh area are serving N.C. State Fair-inspired foods year-round! From bizarre ice cream flavors to mac and cheese egg rolls, we've hunted down the most satisfying and crave-worthy Fair fare for you to enjoy.
 
Stop in at New York Bagel & Deli in downtown Raleigh for some yummy variations on a classic bagel. The colorful rainbow bagel—filled with orange, blue, green, yellow and red swirls—truly tastes as good as it looks! Choose from a wide variety of toppings and spreads to make the perfect breakfast. Word to the wise—only a limited number of these fresh bagels are made each day, so set your alarm early to make sure you're one of the first in line.
Cocoa Forte
Looking for an excuse to visit the new Morgan Street Food Hall? Look no further than Cocoa Forte, a family-owned business operated by a husband and wife team, Freddie and Nicole McIntyre. Once only a dessert food truck, they are now proudly and permanently located at the food hall serving up amazing treats that include chocolate-dipped cheesecake (on a stick!) and chocolate-covered fruit.
Another huge hit from the moment Morgan Street Food Hall opened its doors, Cow Bar is an artisan burger joint led by chef Dan Yeager that's pushing the boundaries of the humble hamburger with new variations like the Truffle Burger (all kinds of truffle goodness to go along with smoked Gouda) and the Quad Stack (four times the fun of a classic cheeseburger). A sweet selection of all-beef hot dogs, plus hand-cut fries (the kimchi French fries can—and should—be ordered as a meal themselves!) and lots of add-ons will keep you coming back for more.
Two Roosters Ice Cream—a locally-loved food truck that has expanded into brick-and-mortar locations in Raleigh—started featuring State Fair-inspired flavors on their menu shortly after the Fair in 2017. Think fried Oreo, Krispy Kreme doughnut, coffee and bourbon and even pizza-flavored ice cream (combos not to be knocked until they're tried!). Two Roosters also scoops up rotating "guest" flavors, so keep an eye on their menu to see what they'll come up with this year!
Southern food meets Mexican food in a delicious way at Jose and Sons, the popular downtown Raleigh restaurant known for its warm, rustic atmosphere and its feast-worthy food. You'll definitely want to try the elote, a street vendor-style corn on the cob. Unlike the roasted corn at the 2018 N.C. State Fair (which was rolled in Flamin' Hot Cheetos), these cobs are slightly more traditional and come coated in lime-infused mayo, queso fresco, chile piquin and cilantro. Enjoy responsibly (and be sure to bring your floss!).
Andia's Homemade Ice Cream
Calories don't count at the N.C. State Fair, and they certainly don't count at Andia's either. Andia's is famous for its homemade ice cream and sorbet with innovative flavors like baklava and lemon basil. If you really need a sugar rush, they offer a warm glazed doughnut ice cream sundae, plus all kinds of other over-the-top goodies that will look great on your Insta feed. Does it get any sweeter than that?
Another staple of the N.C. State Fair is none other than good ole macaroni and cheese. And there aren't many spots that do mac and cheese better than The Mac House (it's in the name, after all!). Whether it's egg rolls, waffles or pickles, there's seemingly no end to what they'll dip in cheese (gluten-free and vegan options are available!). Insider tip: When planning your visit, skip Mondays as it's the one day this cheese paradise is closed.
While you're at the Morgan Street Food Hall, go ahead and check out Iyla's Southern Kitchen and the newly-famous barbecue "sundae," another Fair-flavored favorite. Instead of hot fudge, this masterpiece of mac and cheese, pulled pork and collard greens is drizzled with a healthy dose of sweet barbecue sauce. Also consider trying the sloppy joe, rib platter and shrimp and grit fritters to get the full Southern experience.
Dame's Chicken & Waffles in Cary, a restaurant as classic as the N.C. State Fair itself, does many original variations on a classic combination. The Carolina Cockerel, a personal favorite of the owners, comes with three wings and a blueberry waffle served with peach and apricot shmear. Another delicious favorite, The Light Brown Leghorns comes with four drumsticks and a classic waffle drizzled with caramel and cashews. These interesting sweet and savory combinations embody the boldness of N.C. State Fair food and are truly worth a try!
Located in the Haddon Hall shopping center in Apex, Rudy's Pub & Grill is known for its wings and deep-fried Twinkies. Rudy's has a family-friendly atmosphere as delightful as the food and drinks they serve. Their famous wings come in Rudy's many original sauces ranging from lemon pepper, zesty ranch and a few flavors so hot, they require a waiver before eating. For dessert, enjoy another N.C. State Fair favorite—fried Twinkies served with caramel sauce and a scoop of vanilla ice cream. Let "frydom" ring!
At The Cardinal, you create your own hot dog. Grab a menu card and choose from a variety of toppings, including beer onions, jalapeños, slaw and sriracha, just to name a few. Perfect your dream dog and enjoy it with a side of the famous VooDoo chips. Feel free to get creative with your order because the world is your oyster (or, hot dog, that is!).
Haven't had your fill of ice cream yet? Then top off your N.C. State Fair restaurant tour with a trip to Mama Bird's, where they serve ice cream pizza, pie and sandwiches! A great outing for the whole family, this ice cream shop puts literal meaning to "cookies and cream" with their amazing ice cream cookie sandwiches.
Header photo via Andia's Homemade Ice Cream
Comments