The Biggest Events of March, April and May in Raleigh, N.C.
Tuesday, March 10, 2020, 3pm by visitRaleigh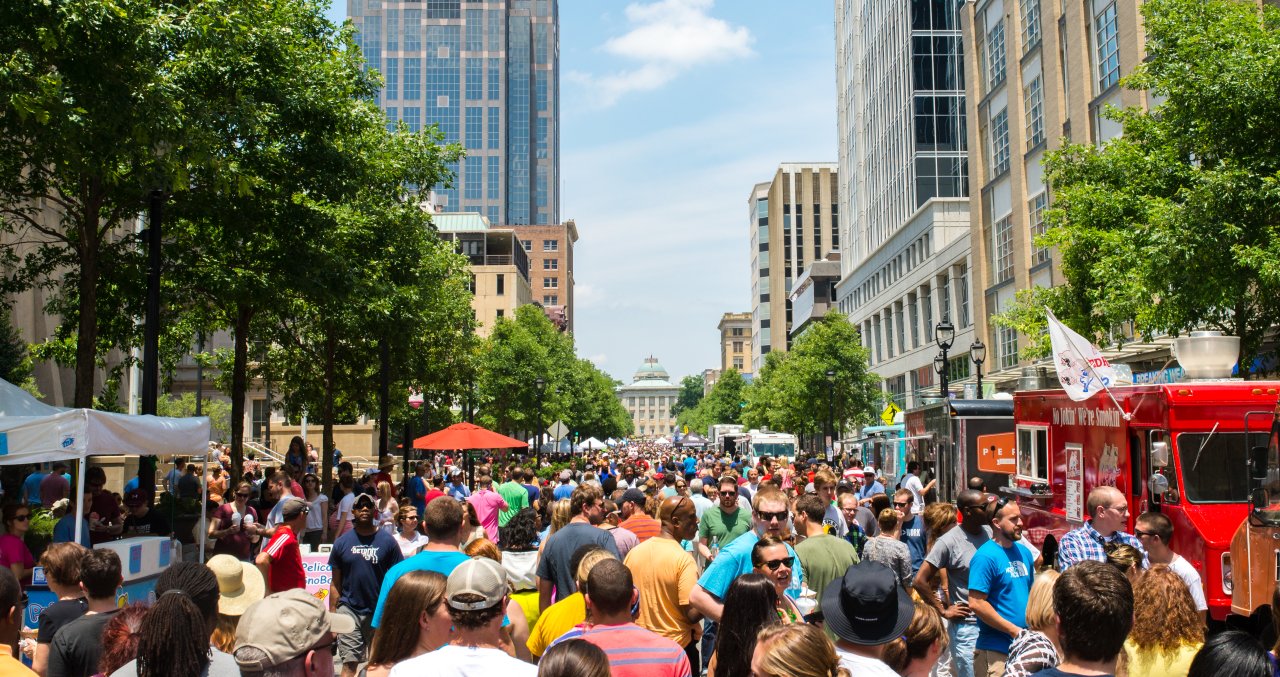 We are closely monitoring event cancellations and postponements and updating visitRaleigh.com info accordingly. However, we strongly recommend double-checking event organizers' websites/feeds to confirm details before traveling.
---

Raleigh, N.C., keeps adding happy occasions to the calendar. Festivals and major events serve an important purpose—they mark history and sense of pride, plus they showcase talent, creativity and culture, delicious foods and beverages (and some surprises, too!).
Make plans now to spend a day or a weekend in the Raleigh area around these trip-worthy events this spring!
 
Raleigh St. Patrick's Day Parade and the Wearin' 'O the Green Festival (canceled)
March 14
In celebration of the great St. Patrick as well as Irish and Celtic traditions and culture, a parade of dancers, bagpipes, musicians and more march through downtown Raleigh and afterwards continue a day of fun with a full line-up of live music and performances.
Update, March 11: This event has been canceled.
Raleigh Little Theatre presents The Jungle Book
March 20-April 5
In this action-packed adaptation of the classic adventure story, Mowgli grows up believing he's as fierce a wolf as any of the members of his pack. When he learns he is actually a human, he must decide whether to remain with the pack or return to the human world from which he was born.
 
SpringFest at Mason Jar Lager Company
March 21
It's SpringFest time at Mason Jar Lager Company, which means German-style lagers, food, music and dancing! Special beer releases, games, contests, food trucks and dance performances make a for a full day of fun in Fuquay-Varina.
 
North Carolina Theatre presents Memphis
March 24-29
From the underground dance clubs of 1950s comes the award-winning musical that bursts off the stage with explosive dancing, irresistible songs and a thrilling tale of fame and forbidden love. Inspired by actual events, Memphis follows the story of a white radio DJ who wants to change the world and a black club singer waiting for her big break.
 
Tacos 'N Taps Festival
March 28
This all-you-can-taste beer and tequila festival takes you south of the border for foodie fun—tacos, margaritas, 80+ beers, mariachi bands and other live music, pinata punching, contests and other surprises await at Cary's Koka Booth Amphitheatre.
Brunch Moore Market
March 29 (canceled), April 26 and May 10
A new series of events at Raleigh's newly-renovated Moore Square, Brunch Moore Market brings together more than 50 local artisans and food providers to serve up brunch on three Sun. mornings this spring. Live music and a kids' zone will provide entertainment for the entire family.
Update, March 12: The March 29 date has been canceled.
 
7th Annual Casks on Fools
March 29
The annual kick-off party for Raleigh, N.C.'s Beer Month celebrations in April, Casks on Fools at Crank Arm Brewing features truly-unique casks from more than 20 N.C.-based breweries. We're talking everything from mango habanero IPAs to chocolate cream stouts, Irish stouts with cherries and way more. The by-the-glass cask festival celebrates the innovation of craft beer across the area—this is for the beer lovers and the adventurous drinkers!
 
Dreamville Festival (rescheduled for Aug. 29)
April 4
Back for a second year and curated by platinum-selling rapper and N.C. native J. Cole, Dreamville is a one-day, multi-stage festival at downtown Raleigh's Dorothea Dix Park with a one-of-a-kind celebration of local culture, food and art that also features a curated selection of music performers blending together some of today's biggest national acts with exciting up-and-comers (full lineup coming soon!).
Update, March 13: This event has been rescheduled for Aug. 29.
Carolina Mudcats vs. Winston-Salem Dash (postponed)
April 9-12
Swinging into a brand new season, the Milwaukee Brewer's single-A affiliate Carolina Mudcats are back in action at Five County Stadium in Zebulon. They'll open the season at home against the Winston-Salem Dash in a four-game series, with fireworks following the game on Thurs., Fri. and Sat. 
Update, March 12: This series has been postponed. 
 
Raleigh Little Theatre presents A Raisin in the Sun
April 10-26
In this Raleigh Little Theatre production, Walter Lee Younger hopes to use his father's life-insurance money to open a liquor store with two partners. His mother instead uses part of the money as a down payment on a house in an all-white neighborhood. Family tensions and prejudice they face form this seminal American drama.
 
Carolina Ballet presents Macbeth
April 16-19
When Carolina Ballet's Macbeth premiered in 2016, it was one of the most anticipated ballets ever created by founding artistic director Robert Weiss. Featuring brilliant choreography, fascinating sets and costumes and an incredibly powerful score by J. Mark Scearce, Macbeth weaves a tale of love, power, lust and greed.
 
HerbFest
April 17-19 and 24-26
Those who love to cook will love HerbFest! Stroll through downtown Wake Forest's charming White St. and shop organic, non-GMO herbs and vegetables, plus heirloom tomatoes and peppers and beautiful perennials specific to the area.
 
5th Annual Mid-Town Square Spring Festival
April 18
Held at Bond Brothers Beer Company in Cary, this free-admission festival features food trucks, local artists, live music and, of course, Bond Brothers' award-winning brews (new releases and special casks included!). Kids and leashed dogs are welcome at the brewery, but heads up—this event will draw a big crowd!
Live & Local Spring Fest 2020
April 18
An annual, family-friendly street festival on Hillsborough St. featuring a full day of music, artists, inflatables for kids, beer from Raleigh Brewing Company and more.
 
Earth Day 2020
April 18
A free community event in celebration of the 50th anniversary of Earth Day, Raleigh's Dorothea Dix Park will be filled with live music stages, inflatables, family games, face painting and more educational opportunities for all ages.
 
French Market & Seafood Festival
April 18
Jazz music, artists in action, kids activities and tasty seafood—crawfish and shrimp and other delicacies to go along with beer—make for a fun-filled, French Quarter-inspired afternoon at Raleigh's Lafayette Village.
 
Eat. Drink. Relax. Wine & Food Festival
April 18
Hundreds of wines from all over the world (plus local beers, too) will be on hand at one of the region's biggest wine festivals, where you can taste and sample to your heart's content (plus enjoy live music, food, arts and more!). Pro tip: Bring your lawn chairs and blankets to relax on the grounds at beautiful Koka Booth Amphitheatre in Cary.
 
North Carolina Courage vs. Chicago Red Stars
April 18
The North Carolina Courage—two-time defending champs of the National Women's Soccer League (NWSL)—kick off another season at WakeMed Soccer Park by taking on the Chicago Red Stars in a rematch of the 2019 NWSL championship game (which the Courage won 4-0). In all, the Courage will play 12 home games during the regular season (see the schedule here).
Cary Downtown Chowdown
April 19
Enjoy a food-filled afternoon in downtown Cary. Taste some of the area's best food (barbecue, burgers, beignets and more!), enjoy cool beverages from craft beer and wine vendors and relax to the music of great local performers. More than 30 total vendors will be on hand—see you there!
 
Brewgaloo
April 24-25
N.C.'s largest craft beer festival-featuring 100 breweries, 50 food trucks and drawing 30,000 people, Brewgaloo takes over downtown Raleigh for two days each April. The festival, which has free admission on Sat. (so bring plenty of friends!), allows you to purchase either beer samples or full pints from breweries located across the state. The event is part of Beer Month in Raleigh, N.C., a month-long celebration of the nearly 30 craft breweries that call the area home.
Spring Daze Arts and Crafts Festival
April 25
Featuring more than 170 local artists, Cary's Spring Daze Arts and Crafts Festival (celebrating their 27th year in 2020) fills the streets with art-paintings, jewelry, sculptures and more-plus food vendors, children's activities and all-day live music.
 
Art in the Garden
April 25
Raleigh Little Theatre's arts festival is back, featuring a jury-selected lineup of visual artists, food trucks and live entertainment. This unique, outdoor event takes place in the historic Raleigh Municipal Rose Garden—have your cameras ready for photos with the beautiful backdrop!
 
Meet in the Street Festival
May 2
A day filled with food, fun and entertainment in historic downtown Wake Forest for more than 35 years running, Meet in the Street pulls together all-day live music plus an additional stage of entertainment with dancers, martial arts, magicians and more. Plenty of food trucks and a beer garden headed by Wake Forest's own White Street Brewing Company are sure to keep festival-goers happy.
 
Fest in the West
May 2
Celebrate Cary's rural past at this day filled with food trucks, local breweries, pie-eating contests, kids' activities, live music and more. Empty plates, full bellies and a satisfied crowd is a sure thing, plus festival-goers will head home with souvenir beer cups!
40th Annual Apex PeakFest
May 2
Salem St. in historic downtown Apex comes alive with more than 20,000 visitors during PeakFest. For 40 years now, the arts and crafts festival has brought families together for a day of fun, food and fellowship. The town of Apex's largest annual event, PeakFest has all-day live music, all the arts and crafts you can imagine, entertainment for kids and food vendors that bring their best State Fair-style goodies.
 
Downtown Raleigh Food Truck Rodeo
May 3
Food trucks as far as you can see (literally!). The Downtown Raleigh Food Truck Rodeo brings more than 50 food trucks to the city center, spanning a half-mile and 11 city blocks and drawing thousands of hungry visitors to taste the best of the best from local trucks. It's one of the biggest rodeos in the country!
 
Thrive NC
May 7-8
A two-day event featuring 50 of the area's top chefs and restaurants, Thrive NC is a collaborative event that offers attendees unlimited sampling of top-notch eats and craft beer.
Longleaf Film Festival
May 8-9
A free-to-attend film festival that highlights the best short- and feature-length documentary and narrative films, the Longleaf Film Festival is held annually at the North Carolina Museum of History in downtown Raleigh. In 2019, the festival screened 59 films with a Tar Heel State connection, drawing more than 1,000 attendees for the films, panels and popcorn.
 
Halfway to Hopscotch 2020
May 9
A free festival and street party at CAM Raleigh, Halfway to Hopscotch includes an outdoor stage with live music, more than 80 local vendors, a beer tent, plus exclusive Hopscotch Music Festival (9/10-12) merchandise, a record fair, liquor sampling, food, games and more.
Carolina Ballet presents Cinderella
May 14-17
Closing out Carolina Ballet's 2019-2020 season, this cherished tale of fantasy and true love comes to life through Robert Weiss' choreography, telling the story of Cinderella's transformation into a beautiful princess, all while accompanied by live music from The Chamber Orchestra of the Triangle.
 
Got to Be NC Festival
May 15-17
Putting the best of N.C. food and beverage on display, the Got to Be NC Festival offers tons of eating opportunities, live music, a huge collection of antique tractors, a carnival for children and more activities (plus free parking and admission) at the North Carolina State Fairgrounds.
 
Artsplosure - The Raleigh Arts Festival
May 16-17
One of the Southeast's premier arts festivals, Artsplosure - The Raleigh Arts Festival attracts more than 80,000 people to downtown Raleigh during the third weekend of May each year. Celebrating fine visual art and live music since 1980, the festival puts more than 180 artists' work, using countless mediums, on display for all to see and enjoy during the free festival.
Animazement
May 22-24
Get in on the action at Animazement, a three-day Japanese animation and culture celebration over Memorial Day weekend that draws 15,000 attendees to the Raleigh Convention Center. Cosplay is a huge draw: guests are encouraged to dress up as their favorite characters simply for fun, or to participate in contests showcasing their talents!
 
NC Sugar Rush
May 24
One of the sweetest events of the year, NC Sugar Rush is an all-dessert food truck rodeo held at Raleigh's City Market. More than 20 vendors—offering a range of goodies from cotton candy to cupcakes to cherry pies—will be on hand, along with face painters, balloon artists and more to keep the kids entertained.
 
Out! Raleigh Pride
May 30
Out! Raleigh Pride is the area's annual, family-friendly street festival that celebrates the LGBT community and its allies, and the festival celebrates 10 years in 2020! Organized each year by the LGBT Center of Raleigh, the festival's speakers, performers and vendors (and a Kids Zone) bring eight hours of fun and family to downtown Raleigh's Fayetteville Street district.
Comments