The Biggest Food and Drink Events of 2022 in Raleigh, N.C.
Tuesday, March 08, 2022, 9am by visitRaleigh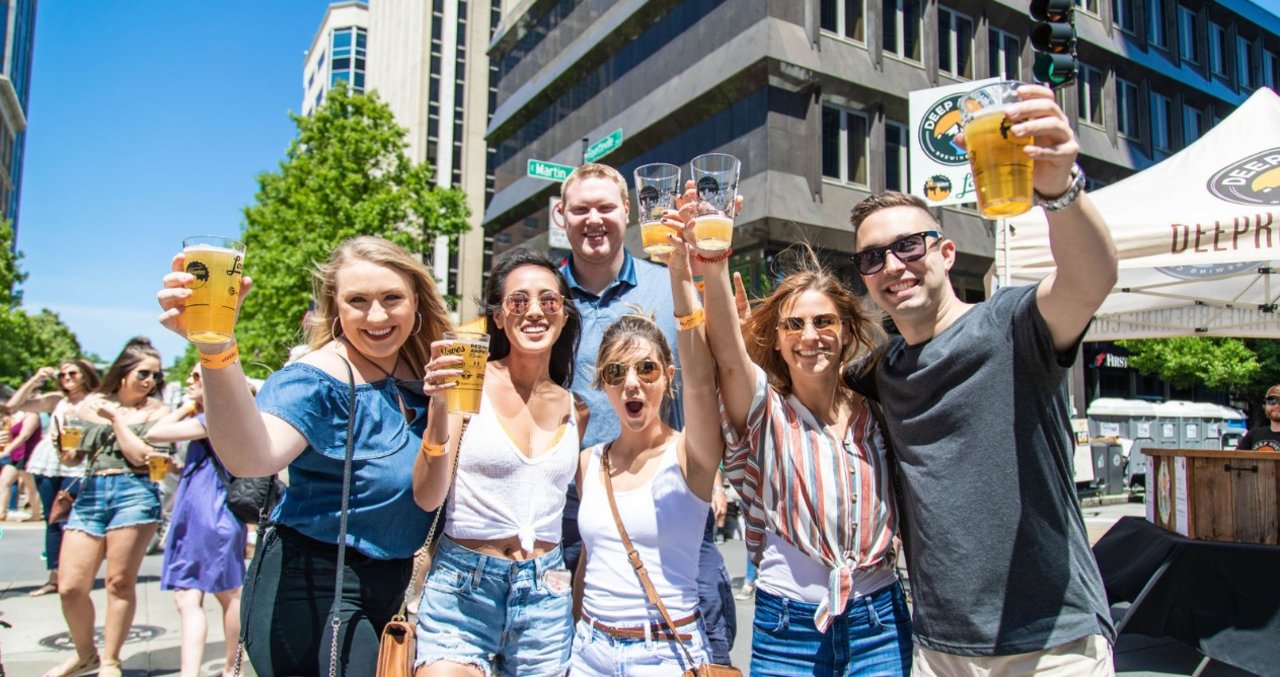 Passionate local chefs, brewers and creative types have teamed up to guide the Raleigh area through a foodie renaissance, bringing you delicious, unique and approachable culinary experiences. These food and drink events blossom just in time for beautiful spring weather, so save these dates (and come hungry!).
Mid-Town Square Spring Festival
April 2
Held at Bond Brothers Beer Company in Cary, this free-admission festival features food trucks, local artists, live music and, of course, Bond Brothers' award-winning brews (new releases and special casks included!). Kids and leashed dogs are welcome at the brewery, but heads up—this event will draw a big crowd!
Tacos 'N Taps
April 2
This all-you-can-taste beer and tequila festival takes you south of the border for foodie fun—tacos, margaritas, 80-plus beers, mariachi bands and other live music, piñata punching, contests and other surprises await at Koka Booth Amphitheatre.
Cary Downtown Chowdown
April 10
Enjoy a food-filled afternoon in downtown Cary. Taste some of the area's best food (barbecue, burgers, beignets and more!), enjoy cool beverages from craft beer and wine vendors and relax to the music of great local performers. More than 30 total vendors will be on hand—see you there!
North Carolina 'Cuegrass Festival
April 16
What could be finer than a jam-packed day of drool-worthy barbecue from The Pit, plenty of local brews and toe-tappin' bluegrass music in downtown Raleigh's Warehouse District?
Brewgaloo
April 22-23
N.C.'s largest craft beer festival—featuring 100 breweries, 50 food trucks and drawing 30,000 people—Brewgaloo takes over downtown Raleigh for two days each April. The festival, which has free admission on Sat. (so bring plenty of friends!), allows you to purchase either beer samples or full pints from breweries located across the state. 
Brew 'n' Choo
April 24, May 28, June 25, July 30, Aug. 27 and Sept. 24
Food trucks and local breweries will be on hand for Brew 'n' Choo, a series of family-friendly events at the North Carolina Railway Museum & New Hope Valley Railway that offers the rare opportunity to take a one-hour train ride through the woods (food and beverages allowed on the train!) and/or a 45-minute walking tour of the railway and museum. 
N.C. Wine, Cheese & Chocolate Festival
April 30
This fifth annual event at Lafayette Village gets bigger and better every year. Taste local and regional chocolates and cheeses paired with a variety of wines from across the world (including some local favorites). Sit, sample and listen to live music, shop local vendors and take home a souvenir wine glass at the end of the day.
Downtown Raleigh Food Truck Rodeo
May 1 (update: May 1 event postponed), June 12 and Aug. 7
Food trucks as far as you can see (literally!). The Downtown Raleigh Food Truck Rodeo brings more than 50 food trucks to the city center, spanning a half-mile and 11 city blocks and drawing thousands of hungry visitors to taste the best of the best from local trucks. It's one of the biggest rodeos in the country!
Fest in the West
May 7
Celebrate Cary's rural past at this day filled with food trucks, local breweries, pie-eating contests, kids activities, live music and more. Empty plates, full bellies and a satisfied crowd is a sure thing, plus festival-goers will head home with souvenir beer cups!
Got to Be NC Festival
May 20-22
Putting the best of N.C. food and beverage on display, the Got to Be NC Festival offers tons of eating opportunities, live music, a huge collection of antique tractors, a carnival for children and more activities (plus free parking and admission) at the North Carolina State Fairgrounds.
French Market and Seafood Festival
May 21
Tasty seafood, jazzy music and artists in action highlight this fun-filled day of French immersion at Raleigh's European-esque Lafayette Village.
NC Sugar Rush
May 29
One of the sweetest events of the year, NC Sugar Rush is an all-dessert food truck rodeo held at Raleigh's City Market. More than 20 vendors—offering a range of goodies from cotton candy to cupcakes to cherry pies—will be on hand, along with face painters, balloon artists and more to keep the kids entertained.
Raleigh's International Food Festival
June 4
Celebrate Raleigh's diverse community and welcoming spirit by trying food, beer and wine (plus listen to live music and see more entertainment) from around the world. Nearly 20,000 attendees are expected in downtown Raleigh's City Plaza for the event.
Triangle Restaurant Week
June 6-12
A week-long celebration of culinary excellence, Triangle Restaurant Week sees some of the area's best restaurants offer up special, three-course menu options at fixed pricing ($15 for lunch, and $20, $25 or $30 for dinner), a great opportunity for residents and visitors alike to return to an old favorite dining spot or discover a new one.
Town of Cary's Pimento Cheese Festival
June 11
In downtown Cary, food trucks will line the streets to serve their regular menu, along with new dishes featuring a Southern delicacy: pimento cheese! Enjoy live music, grab a drink from local breweries and taste some of the best pimento cheese samples from local restaurants. Come hungry!
Peak City Pig Fest
July 22-23
Live music, a beer garden, a barbecue competition (sanctioned by the Kansas City Barbecue Society) and more make for one of Apex's tastiest events of the year.
Beer, Bourbon & BBQ Festival
Aug. 5-6
Beer sipping, bourbon tasting, music listening and barbecue eating-what's not to love? Don't miss the two-day Beer, Bourbon and BBQ Festival at Cary's Koka Booth Amphitheatre. Admission buys you a souvenir sampling glass so you can enjoy an all-you-care-to-taste sampling of beer and bourbon, plus chow down on some pulled pork, ribs, biscuit and more, all while enjoying all-day live music.
N.C. State Fair
Oct. 13-23
The largest annual event in the state, the N.C. State Fair draws one million visitors through the gates each Oct., marking what many consider to be the unofficial beginning of the fall season. Eleven days of high-flying rides, deep-fried foods, live music, stunt shows and other entertainment (including nightly fireworks) has been a can't-miss event for generations of families—the 2022 version of the N.C. State Fair marks the 155th year of the event!
More events with dates to be announced soon
Header photo by Garrett Poulos
Comments