The Pursuit of Vintage Pop Culture in Raleigh, N.C.: Vinyl, Arcades, Theaters, Comics, Toys and More
Friday, August 03, 2018, 8am by visitRaleigh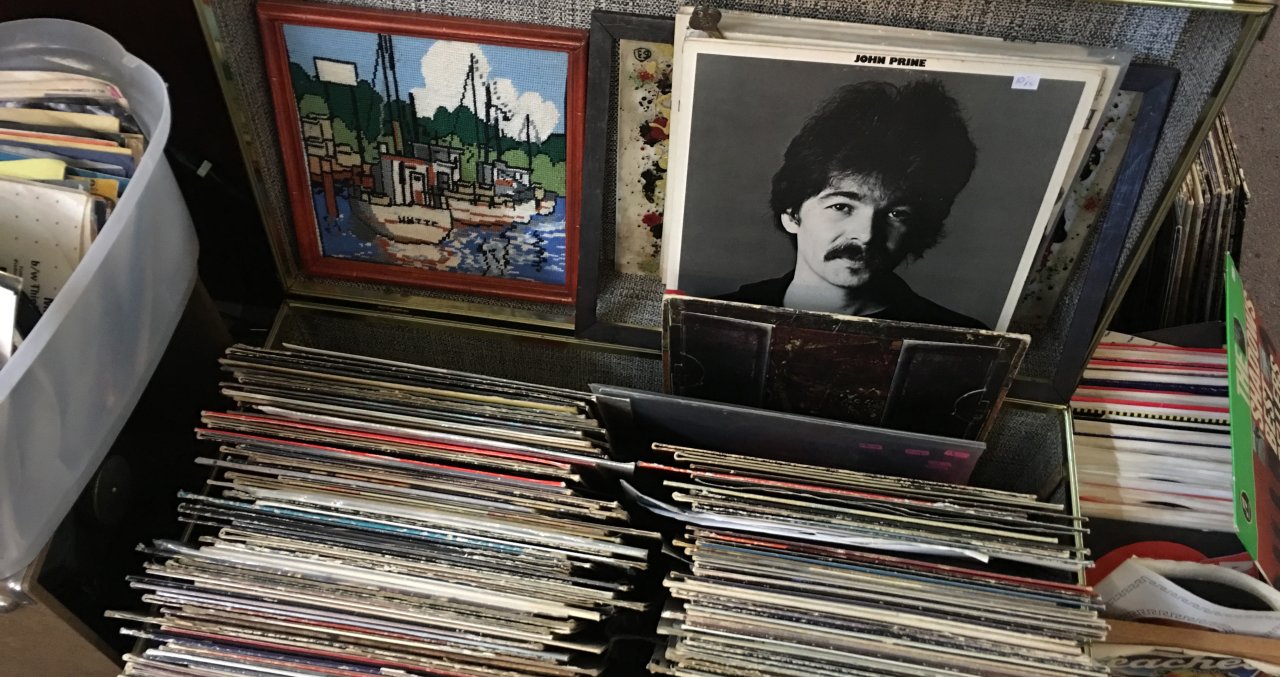 Do you get jazzed about finding truly-unique (and totally-cool) things from bygone eras? Maybe a first-pressed vinyl from your favorite '70s band, a rare Spiderman comic or a Star Wars action figure you thought you'd never see again? Or, do you just love the thrill of the hunt? Either way, the Raleigh area is a vintage, pop culture treasure hunt just waiting to happen. Get fired up to explore all that we have to offer from retro arcade games and pinball machines, to rare vinyl and classic movies, to one-of-a-kind collectibles.
Vinyl Record Stores

Schoolkids Records
Schoolkids Records, founded in 1974 and located in Mission Valley Shopping center near North Carolina State University, is one of the longest-running record stores in the nation featuring the largest selection of new and used vinyl in the Raleigh area.
The store has also played an important role in the careers of many local and national bands in the area including Ryan Adams, Ben Folds and the Squirrel Nut Zippers (who sold their first albums or 7" singles there on consignment).
Schoolkids has also been named Indy Week's Best Record Store for 15 straight years—that's every year the award has been given out. And if that doesn't spark your appetite to explore its crates, then maybe the full bar at the Raleigh location, serving over a dozen local and craft beers, will.
Sound Off Records and Hi-Fi
Get over to the corner of Glenwood Ave. and Hillsborough St. and check out Sound Off Records and Hi-Fi, a small but top-notch vinyl store for purists, dabblers and everyone in between. There you'll find a large stock of 78's, 12" LPs and 7" singles, along with an ever-changing selection of vintage receivers, amps, speakers and turntables. They also buy and sell records and equipment in case you're looking to trade up.
Sorry State Records
If you fancy yourself a punk or heavy metal fan, then head downtown to visit Sorry State Records. Carrying a mind-blowing selection of DIY punk and hardcore vinyl with more than 2,500 unique titles currently in stock, the store also offers one of the best selections of jazz vinyl (new and used) in the Southeast as well as a strong collection of used classic rock. Tip: There's no dedicated parking on-site but there are plenty of great parking options nearby.
The Record Krate
Another little gem for new and used vinyl, The Record Krate, has locations in Raleigh, Wendell and Wake Forest. With a friendly and incredibly-helpful staff, these stores offer an enviable and well-organized selection of rock, jazz, punk, funk, classic country, new wave, '90s and more. You can also find cassettes, speakers and turntables along with one-of-a-kind vintage tees and stickers. Before heading over, bone up on their recent arrivals by checking their Facebook pages linked above.

 
Movie theaters, arcades and more

​Alamo Drafthouse Cinema
Alamo Drafthouse Cinema bills itself as a theater by people who love movies, for people who love movies. In addition to showing new releases, the Alamo celebrates timeless classics with showings of great vintage films like Jaws, The Land Before Time and The Muppets Take Manhattan. The Alamo also has unique offerings such as Afternoon Tea, which pairs tea and delicious treats with such period films as Little Women or Sense and Sensibility.
The 11-screen complex, with theater capacity ranging from 49 to 109 seats, also features an Alamo first: the Video Vortex bar, an immersive video-themed bar where you can enjoy nearly 50 local beers on tap (or take them home in a 32-ounce "crowler" can) plus dive into one of the largest rental collections of cinema in the country (75,000 classics, obscure releases, foreign films and more are on hand!). On top of that, shop unique film collectibles and toys, Mondo and Death Waltz soundtrack vinyl LPs, board games (The Dark Crystal board game, anyone?) and movie T-shirts.

Rialto Theatre
One of the more charming spots to see a film in the area is the Rialto, built in 1942, and although recently renovated, it still retains its original beauty, with its vintage recessed lighting and performance stage. ­The theater seats 432 people and shows timeless classics, foreign movies and independent films. The Rialto also screens The Rocky Horror Picture Show every Fri. at midnight. Several great restaurants are within walking distance—NOFO @ the Pig, Bloomsbury Bistro and Lilly's Pizza, for example—which makes having a fabulous dinner and sauntering over to see a movie super easy.
Boxcar Bar + Arcade
For an arcade experience like no other, visit the heart of the Warehouse District of downtown Raleigh for Boxcar Bar + Arcade—a local favorite among gamers, bar hoppers and libation connoisseurs. It's home to hundreds of arcade-style games, including 70+ classic and modern arcade cabinets, over a dozen pinball machines and 175+ console games. And then, there's the full liquor bar with its 24 constantly-rotating American craft drafts that makes Boxcar the perfect play date for adults. Tip: Go on a Mon. or a Thurs. night to show off your skills, and have a ton of fun by competing in their free tournaments complete with prizes.

The Level Up
In addition to Boxcar, satisfy your itch for vintage pinball, arcade and foosball games at Level Up, located just a few blocks away on Salisbury St. in downtown Raleigh. A culinary and spirits concept, this kitchen and barcadium is based around the classic arcade and pinball games that many of us grew up playing and loving. With an ever-evolving beer menu and a seasonally-inspired cocktail menu, Level Up dishes out some great food to nosh on while you try your hand at either their 20 vintage arcade games or four pinball machines.
Coglin's Raleigh
Do you long for the glory days of the '80s and '90s? Then throw on your jean jacket and travel back in time at Coglin's. Locals come for the retro-inspired décor and the chance to dance the night away to music of decades gone by. After a few spins on the dance floor, saddle up to the full bar that offers libations named after '80s superstars.
Comic books and toys
Find a brand new comic book hot of the press, a back issue to complete your collection or that killer '80s toy you've been eyeing for a while right here in Raleigh. If you love comics, then you've got to check out these premiere comic shops.
Ultimate Comics
With an entire back-issue warehouse that you can peruse at your leisure, Ultimate Comics, with locations in both Raleigh and Cary, is the place to find those rare comics you've been looking for. Owner Alan Gill describes Ultimate Comics as "a place where fans of all ages and interests can come together to celebrate what they love." In addition to vintage rags, Ultimate also offers the latest issues of fan favorites, brand-new comic titles and hard-to-find collectibles and toys, in mint condition, still in the box.

​Capitol Comics II 
Hailed as one of the best comics shops with one of the best selections in the area, Capitol Comics has been a local-favorite for years and years. One of the best things about the store, on top of their killer collection of back-issues and new finds and titles, is the friendly, welcoming staff, who are always up for a chat about your favorite superhero. The store also carries awesome collectibles, including superhero statues, toys, games and more. Shop the store, then head next door to local hangout O'Malley's Pub & Restaurant for a delicious meal, craft beer and live music.
Crowemag Toys
For the collectors and toy enthusiasts, there's Crowemag Toys, specializing in modern and vintage toys. Much of their inventory is from local sellers or traders, obtained by scouring yard sales, flea markets and conventions. There are toys for kids and adult collectors alike with a wide selection of Star Wars, Transformers, G.I. Joe, Teenage Mutant Ninja Turtles (1987 TV series), superheroes, Hot Wheels, vintage and other miscellaneous stuff. Crowemag also has a location at the Raleigh Flea Market each week, Fri.-Sun.
Event Horizon Games
Primarily a board and role-playing game store, Event Horizon Games over in Garner also carries a collection of comics and vintage toys (some good Star Wars: The Power of the Force finds recently!). While you're at it, shop their board games, role-playing games, collectible card games, tabletop miniature games, chess sets and more. Traveling with fellow gamers? Then, grab your favorite games, pop on over and request a private room for your group to play.

Fight or Flight Comics
Fight or Flight Comics, located in north Raleigh, puts the emphasis on new comics, carrying mainstream DC and Marvel titles as well as many indie titles. They have a great selection for younger audiences, a small manga section and many graphic novels. You'll find the store to be well organized, and the staff friendly, attentive and always ready to offer great recommendations.
And that's just the tip of the iceberg when it comes to great comic shops in the Raleigh area. Be sure to check out Play4life Comics in Wake Forest, Comic World in Zebulon plus Foundation's Edge in Raleigh.
Used book stores with comics, vinyl and more

​Nice Price Books
Nice Price in Raleigh came on the scene 20 years ago to buy and sell bits of popular culture: books, records, cassettes and newfangled compact discs. Today, they're still at it in their shop right beside Cup A Joe. Nice Price Books always features a constantly-changing selection of incredibly cool things. You might find a long-sought-after vinyl record, an out-of-print book or an '80s poster alongside old-school wrestling memorabilia. It's truly a treasure trove of vintage glory.
Reader's Corner
Just down the street is another gem of a store you'll want to explore. Reader's Corner, with its familiar outdoor bookshelves, is a Hillsborough St. staple. The interior is stuffed to the ceiling with books on nearly every subject. You can also find postcards, comics, graphic novels, vinyl, CDs, DVDs and more. Don't forget to check out their robust selection of jazz and classical music as well. The store may seem a bit jumbled and quirky, but in a really good way, making exploring it fun and fascinating.

Stevens Book Shop
Ready for more? Swing into North Raleigh and stop by Stevens. Their huge, 39,000-square-foot store contains an impressive selection of gently-used teens books, children's books, textbooks and Christian books. The store boasts a collection of at least a half million books! Here you can also find vintage comics, video games, DVDs, CDs, VHS, vinyl and even a few cassettes.
Shopping spots with multiple offerings
Father & Son Antiques
Father & Son Antiques is a one-of-a-kind shop that sells a wide-ranging assortment of mid-century wonderfulness including furnishings, décor, vintage clothing, records, books and more. The store recently relocated to the Warehouse District near the new transit hub, Raleigh Union Station.

Raleigh Flea Market
Eclectic and unexpected might be the best way to describe the Raleigh Flea Market at the historic North Carolina State Fairgrounds. If you want to spend a fun afternoon digging for authentic vintage treasure, then head on over on any weekend day. In addition to used vinyl, collectible toys and comics, the flea market showcases more than 600 vendors, offering everything from antiques to handicrafts, furniture, homemade goodies, clothing, jewelry and, well, the list just goes on and on!
Comments