The Road to the Final Four Goes Through Raleigh
Thursday, March 20, 2014, 1pm by Greater Raleigh Sports Alliance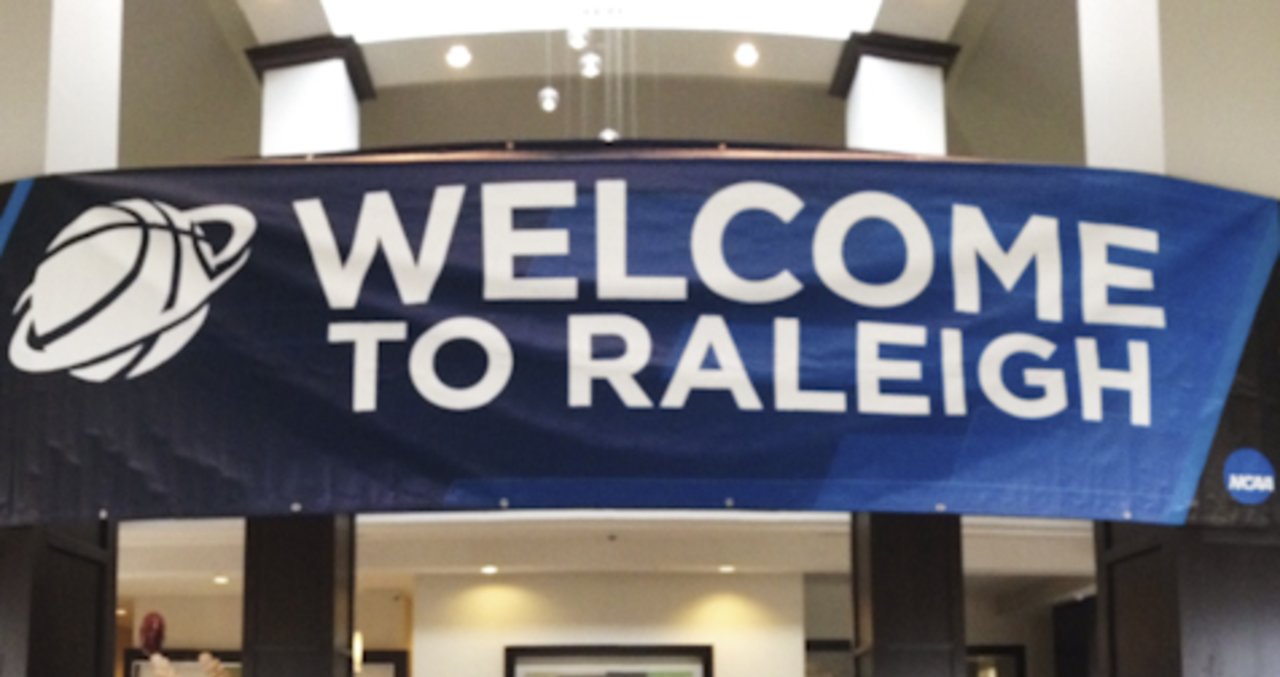 The NCAA Men's Basketball Championship—March Madness—rolls into Raleigh for the second and third rounds for eight teams. Four games will be played Fri., Mar. 21, with advancing teams facing off in two games on Sun., Mar. 23, all at PNC Arena. This marks the 15th time the NCAA Basketball Tournament has been played in Raleigh and the third time the event is being held at PNC Arena.
The field of 68 teams was announced on Mar. 16, and the following teams had their ticket punched to Raleigh: University of Virginia (1 seed); Duke University (3 seed); University of Massachusetts (6 seed); University of Memphis (8 seed); George Washington University (9 seed); Mercer University (14 seed); Coastal Carolina University (16 seed)
Tennessee (11 seed) outlasted Iowa in the First Four (first round played in Dayton, Ohio) to secure their spot in the Raleigh Regional late Wed. night to join the other seven schools.
Teams were greeted in Raleigh by fans, pep bands, cheerleaders, team hosts, local organizing committee members and enthusiastic hotel staffs as they arrived on Wed. and Thurs.
Fri. game times (all times ET): Duke vs. Mercer, 12:15pm; Massachusetts vs. Tennessee, 2:45pm; Memphis vs. George Washington, 6:55pm; Virginia vs Coastal Carolina, 9:25pm.
Sun. game times will be announced late Fri. night.
Outside PNC Arena, 2.5 hours before sessions, as well as in between sessions on Fri. and Sun., will be a Hoops and Hops FanFest, a tailgating atmosphere offering areas with adults brews, soft drinks, food and big screen TVs to watch NCAA Regional games. Other areas include a Food Truck Brigade with local food trucks on hand, a Game Watch area with large video walls displaying other NCAA games and a Fan Activity Zone with cornhole boards and basketball hoops for young fans. For full Hoops and Hops FanFest details, visit www.thepncarena.com/hoopsandhops.
To follow the NCAA Basketball Tournament in Raleigh on social media, follow the Greater Raleigh Sports Alliance on Twitter at @raleighncsports, NCAA hoops account @marchmadness, the event venue @PNCArena and host university North Carolina State University @PackAthletics. To get in on the action, find and use the hashtag #raleigh2014.
Visiting fans should go to gopack.com/ncaa2014 to find game information, FanFest information and more.
Comments