The Ultimate N.C. State Fair To-Do List for 2018 in Raleigh, N.C.
Wednesday, October 03, 2018, 2pm by Tabletop Media Group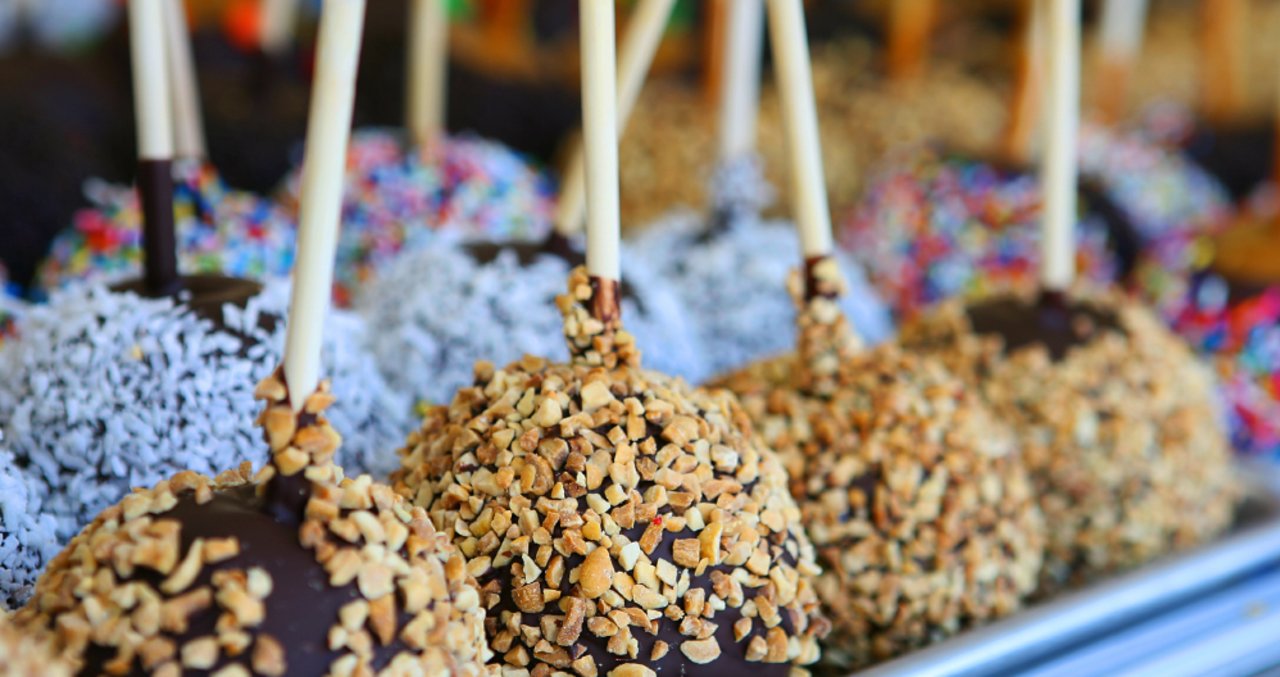 The deep-fried fun at the N.C. State Fair returns Fri., Oct. 12 (note the opening date was pushed back one day to this date due to poor weather expected from Hurricane Michael), and runs through Sun., Oct. 21! The state's largest annual event (drawing more than a million visitors per year across the 10-day affair) features high-flying rides, nightly musical performances, livestock, arts and cultural exhibits, games for the whole family and more. While the lineup may seem overwhelming (so much food, so many rides, so many concerts, so little time), we've put together this list of 25 items for your State Fair checklist for 2018:
 
1. Take a spin on the new rides the State Fair has added this year! In addition to the 2018 ride lineup, you'll now be able to soar above the lights on Downdraft, ride a flying elephant on Dumbo Elephants and be spun into a dizzy aboard the Kraken! If you're in it for the adrenaline, you may want a Dizzy Pass—$31 for a FastTrack gate admission ticket and an unlimited rides wristband (advance purchase only, here!).
2. Come out to Dorton Arena to jam with American Aquarium. Fronted by Raleigh native singer/songwriter BJ Barham, this local-favorite band's rock and alt-country sound will have you on your feet all night—catch their performance on Thurs., Oct. 11, at 7pm.
 
3. What's the Fair without fried food? Chow down on all kinds of deep-fried treats and candy bars—a plethora of vendors frying goodies like Oreos, Snickers, Reese's Peanut Butter Cups, Twix, apple pies, pimento cheese bites and more await hungry Fair-goers.
4. Explore the Village of Yesteryear, one of the Fair's most popular and enduring attractions, featuring 75+ artists and crafters creating, displaying and selling time-honored handmade crafts.
 
5. Hitch a ride on the fairgrounds' permanent State Fair Flyer! Soar above the midway lights at 40 feet in the air and traverse the carnival with your someone special sitting right beside you. Hop on at the west end "Orville Terminus" near the Kerr Scott Building down to Gate 8 via the "Wilbur Terminus." As you ride, take a peek below your feet to watch the magic unfold at the midway below—the 126-seat ride stretches more than 1,400 feet across the fairgrounds. Tickets to ride the Flyer start at $4 and need to be purchased separately from most packages.
6. The Our State Public House is back for its second year! Beer and wine flights will be available for purchase from 40 local wineries and 40 local breweries (deep-fried cookie dough has to be washed down with something!). For a $10 ticket, patrons will be able to choose from two servings of beer, cider and wine. Even better? A portion of the proceeds will benefit research and marketing for N.C.'s craft beer industry. See the participating breweries and wineries here.
 
7. Challenge a friend at the Fair games. Who will be crowned winner of the largest stuffed animal?
8. Milk a cow and visit more than 60 animals at the State Fair Ark! You can see cattle, sheep, goats, swine and learn more about the various breeds of farm animals raised right here in N.C., plus try your hand at milking a cow with help from the North Carolina State University Animal Science Club.
 
9. End a fun night at the Fair by watching the stunning fireworks show—each night you can catch this magnificent display of lights beginning at 9:45pm sharp.
10. Watch talented dancers and musicians at the Folk Festival, every day of the Fair at 10am and 1pm on weekdays, and 9am and 1pm on weekends in Dorton Arena. This 10-day competition features performances ranging from old-time bluegrass music to high-energy clogging and traditional square dancing as talented dancers and musicians compete for the coveted Bascom Lamar Lunsford Trophy, which is awarded to the individual or group that best exemplifies N.C.'s musical heritage.
 
11. Get unlimited rides! The Unlimited Ride Wristband is back again this year—for only $25, you have the opportunity to take in all the thrills you can handle. Bands are $25 until Oct. 11, and $35 from Oct. 11-Oct. 21—online or at the gates. Each wristband will be good for one day only, and wristbands don't include the State Fair Flyer. More details here.
12. Take in a brand new extreme sport—The Canine Stars Stunt Dog Show at the Rand Grandstand! The show is an action-packed production full of popular dogs sports such as dock diving, freestyle Frisbee disc, high jumping and more! The show includes multiple breeds of dogs and mixes that have been rescued or adopted from shelters. They'll be performing (for free!) each day from Mon., Oct. 15, through Sun., Oct. 21. See the grandstand schedule here.
 
13. Try at least one unique funnel cake flavor—from original to pumpkin spice, there's a flavor to please everyone. Plus, take your pick from a wide variety of eye-popping candy apples (yes, please!).
14. Discover food products from across N.C. at the Got to Be NC Agriculture exhibit. Food and products from Got To Be NC members will be available for fair-goers to taste and purchase. The exhibit displays N.C.'s agricultural diversity, features an interactive soybean display and educates fair-goers on what products they can find locally. See the list of vendors here!
 
15. A Krispy Kreme...burger? Yes! Sink your teeth into this doughnut-burger mashup (don't ask about calorie count—you don't want to know!).
16. Bring the party for Mr. Potato Head, the ultimate party band! This seven-piece band, including a full horn section, performs many of the all-time greatest songs, from Sinatra to The Jackson Five. Come out to the Dorton Arena on Sun., Oct. 14, for a night that's sure to be a party.
 
17. Interested in the History of BBQ and its importance to N.C. agriculture? The N.C. Pork Council and N.C. Department of Natural and Cultural Resources team up for an exhibit in Dorton Arena that's sure to get your mouth watering.
 
18. Steal a kiss on the Giant Parthenon Wheel. Best enjoyed in the evening, join your loved one for a ride around the Ferris wheel and take in the colorful lights from the midway below (or, hey, steal that kiss whenever it feels right!).
19. See it to believe it—the largest pumpkin and watermelon in N.C.! Peruse the largest fruits and vegetables grown throughout the state (a 316-pound giant watermelon took top prize in 2017!).
 
20. This year there are even more new ticket packages! If you're coming with the family, check out Casey's Family 4-Pack ticket package. It includes four FastTrack admission tickets, two ride sheets (18 tickets per sheet) and one Casey Cardinal Plush doll, all for only $50! For those interested in the previously-mentioned Our State Public House, the Kegs & Corks Pass includes a FastPass admission ticket plus a ticket that's good for two beer, wine or cider samples. For more information, click here.
21. Track down all the free entertainment like the new Dream City Ladybugs, International All-Star Circus, Bubble Wonders, Chinese Imperial Acrobats, Laser Light show and much more! Enjoy a selection of more than 20 performers from the Fair's lineup of entertainment.
 
22. Order up a giant turkey leg! Weighing a pound and a half (seriously!), it's hard to miss them on the midway.
23. Get corny! Take your pick from one of the roasted corn vendors or snag a bag of kettle corn to save for later (or to give as a gift to your friends, family or neighbors who couldn't make it!).
 
24. Rock hard with Between the Buried and Me on Fri., Oct. 19, at Dorton Arena. This Raleigh native band, formed in 2000, has performed all over the world. Get ready for a high-energy, adrenaline-pumping show. The Homegrown Music Fest will feature more than 120 musicians across three stages over the course of 11 nights at the Fair—and it's all free! Get the full details and schedule here.
 
25. Do you pull for Piggy Gordon or Oinkhardt, Jr.? These are the tough questions at the Hogway Speedway! Entertaining families for over a decade, Circle "C" Farm of Newton, N.C., brings back their divine swine, and some clucky duckies as well, to race for that coveted cheese doodle! Pig races happen multiple times daily and they're almost always packed (so you may need to grab some snacks and head over early!).
Comments