#PlanForVacation: 28 Events and Festivals Not to Miss in Raleigh, N.C., in 2018
Thursday, January 04, 2018, 3pm by visitRaleigh
A year full of major festivals and celebrations lies ahead in Raleigh, N.C.! These events serve an important purpose—they mark history and sense of pride, plus they showcase talent, creativity and culture, delicious foods and beverages (and some surprises, too!).
Make plans now to spend a day or a weekend in Raleigh, N.C., around these trip-worthy events in 2018!
 
January
Triangle Restaurant Week, Jan. 22-28, 2018
A week-long celebration of culinary excellence, Triangle Restaurant Week (TRW) sees some of the area's best restaurants offer up special, three-course menu options at fixed pricing ($15 for lunch, and $20, $25 or $30 for dinner), a great opportunity for residents and visitors alike to return to an old favorite dining spot or discover a new one.
African American Cultural Celebration, Jan. 27, 2018
An annual statewide kickoff to Black History Month at the North Carolina Museum of History, the African American Cultural Celebration brings together 75+ musicians, storytellers, dancers, chefs, historians, artists and more in downtown Raleigh for a day of pride and celebration of culture.
 
February
Krispy Kreme Challenge, Feb. 3, 2018
One of America's most unique running events (and toughest eating events!), the Krispy Kreme Challenge requires competitors to run five miles, eat a dozen doughnuts at the halfway point and hit the finish line in under one hour. Started in 2004 with just a handful of North Carolina State University students, the annual event now draws nearly 8,000 runners decked out in costumes along with plenty of media attention. For the curious, those doughnuts total 2,400 calories and 144 grams of fat—but who's counting!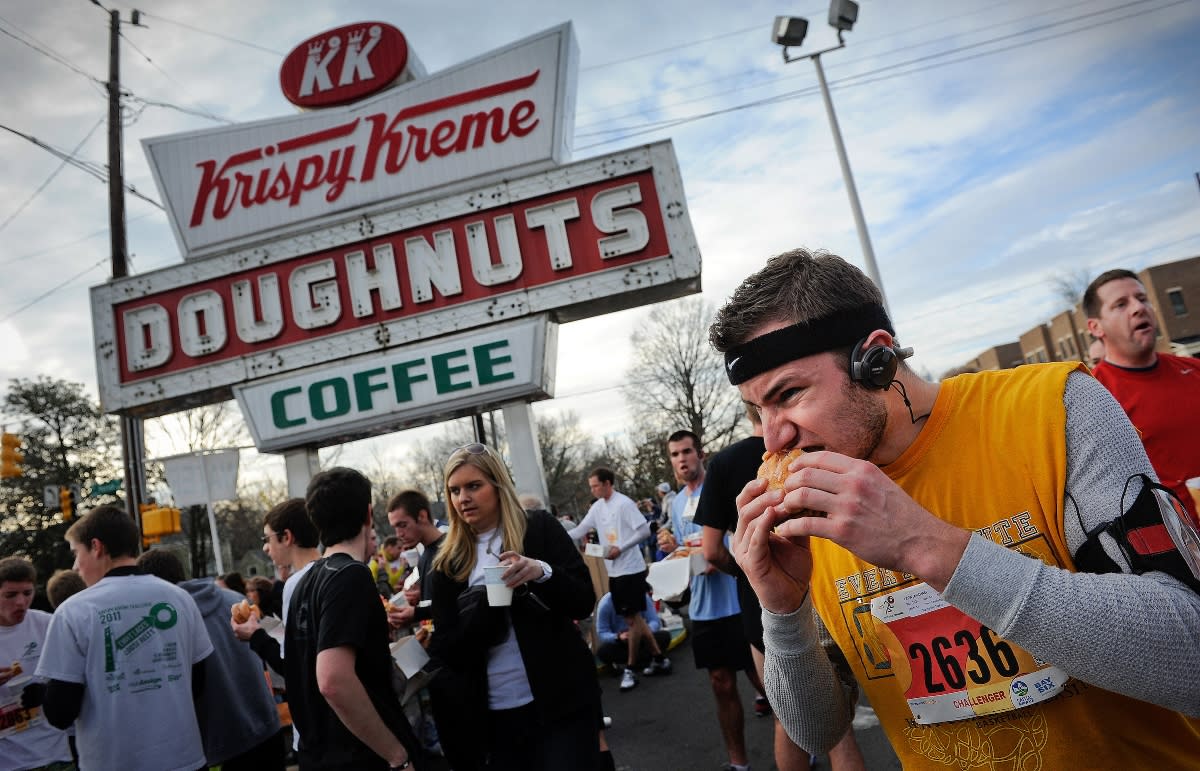 March
Raleigh St. Patrick's Day Parade and the Wearin' 'O the Green Festival, March 17, 2018
In celebration of the great St. Patrick as well as Irish and Celtic traditions and culture, a parade of dancers, bagpipes, musicians and more march through downtown Raleigh and afterwards continue a day of fun with a full line-up of live music and performances in Raleigh's City Plaza.
 
April
You Are Here: Light, Color and Sound Experiences, April 7-July 22, 2018
An exciting temporary exhibit at the North Carolina Museum of Art (NCMA), You Are Here features immersive art installations by 14 contemporary artists, including large-scale light works, sound installations, video works, mixed-media room-size environments and site-specific projects. Some are delightfully low-tech, transforming ordinary materials into awe-inspiring visuals, while others make use of experimental new media, fusing art and technology in interactive works that change in response to the viewer. This exhibition takes over an entire floor of the NCMA's temporary exhibition galleries and also transforms the landscape in the Ann and Jim Goodnight Museum Park, creating a campus-wide presentation of contemporary experiential art.
Rock 'n' Roll Raleigh Half Marathon and 5k, April 7-8, 2018
One of the area's most popular distance running events, the Rock 'n' Roll Raleigh Half Marathon and 5k is all about music. Headlining bands play concerts before and after the races, and local acts and cheerleading crews set up at each mile post along the course to keep runners motivated.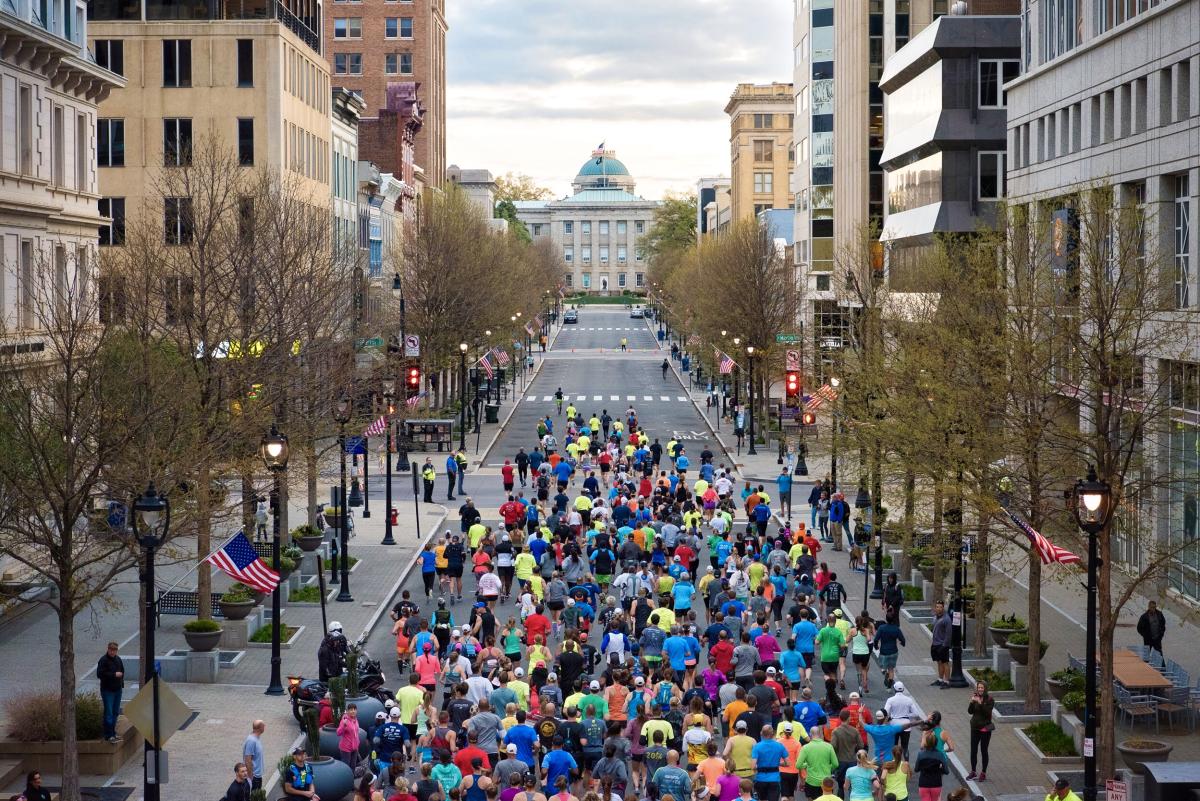 Cary Spring Daze Arts & Crafts Festival, April 28, 2018
Featuring more than 170 local artists, Cary's Spring Daze Arts & Crafts Festival (celebrating their 25th year in 2018) fills the streets with art—paintings, jewelry, sculptures and more—plus food vendors, children's activities and all-day live music.
Brewgaloo, April 27-28, 2018
N.C.'s largest craft beer festival—featuring 100 breweries, 50 food trucks and drawing 30,000 people—Brewgaloo takes over downtown Raleigh for two days each April. The festival, which has free admission on Sat. (so bring plenty of friends!), allows you to purchase either beer samples or full pints from breweries located across the state. The event is part of Beer Month in Raleigh, N.C., a month-long celebration of the nearly 30 craft breweries that call the area home.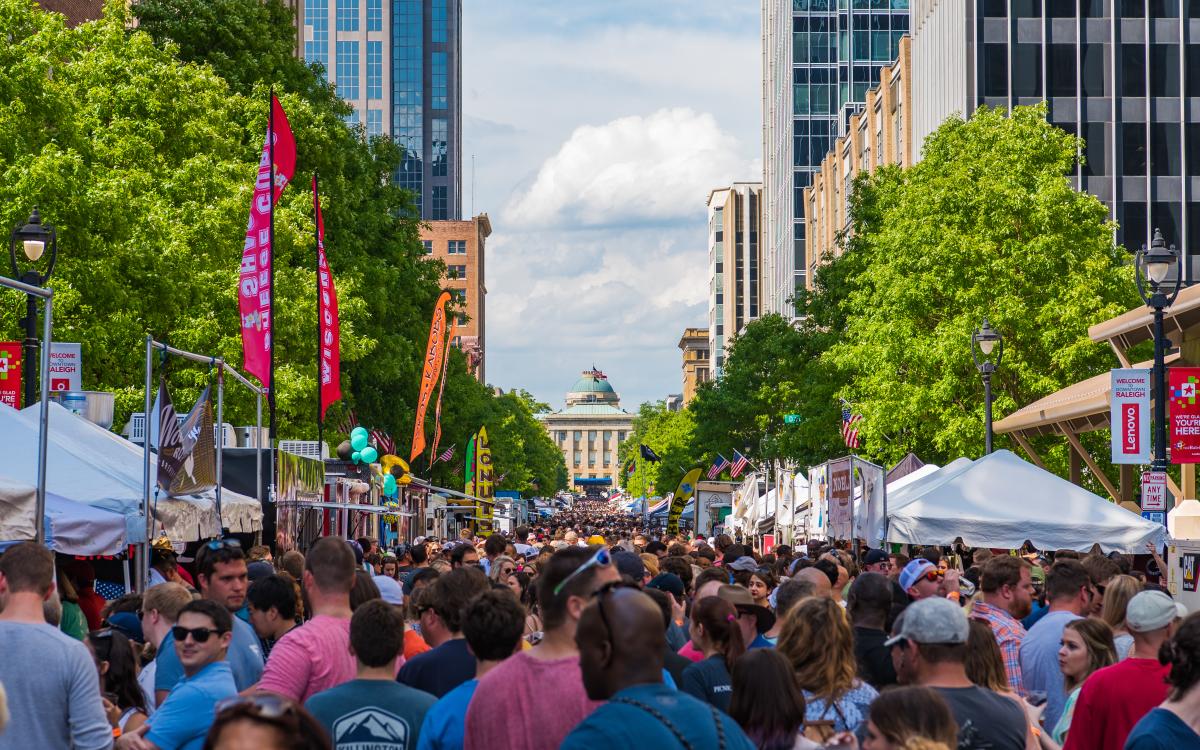 May
Meet in the Street Festival, early May
A day filled with food, fun and entertainment in historic downtown Wake Forest for more than 35 years running, Meet in the Street pulls together all-day live music plus an additional stage of entertainment with dancers, martial arts, magicians and more. Plenty of food trucks and a beer garden headed by Wake Forest's own White Street Brewing Company are sure to keep festival-goers happy.
PeakFest, May 5, 2018
Salem St. in historic downtown Apex comes alive with more than 20,000 visitors during PeakFest. For more than 30 years, the arts and crafts festival has brought families together for a day of fun, food and fellowship. The town of Apex's largest annual event, PeakFest has all-day live music, all the arts and crafts you can imagine, entertainment for kids and food vendors that bring their best State Fair-style goodies.
Out! Raleigh, May 5, 2018
Preparing to hold their eighth annual event in 2018, this inclusive and action-packed event draws nearly 50,000 people to celebrate the LGBT community and raise funds to support the LGBT Center of Raleigh. Live entertainment, local vendors and artists, great food and kids activities line downtown Raleigh's Fayetteville St.
Artsplosure - The Raleigh Arts Festival, May 18-20, 2018
One of the Southeast's premier arts festivals, Artsplosure - The Raleigh Arts Festival attracts more than 80,000 people to downtown Raleigh during the third weekend of May each year. Celebrating fine visual art and live music since 1980, the festival puts more than 180 artists' work, using countless mediums, on display for all to see and enjoy during the free festival.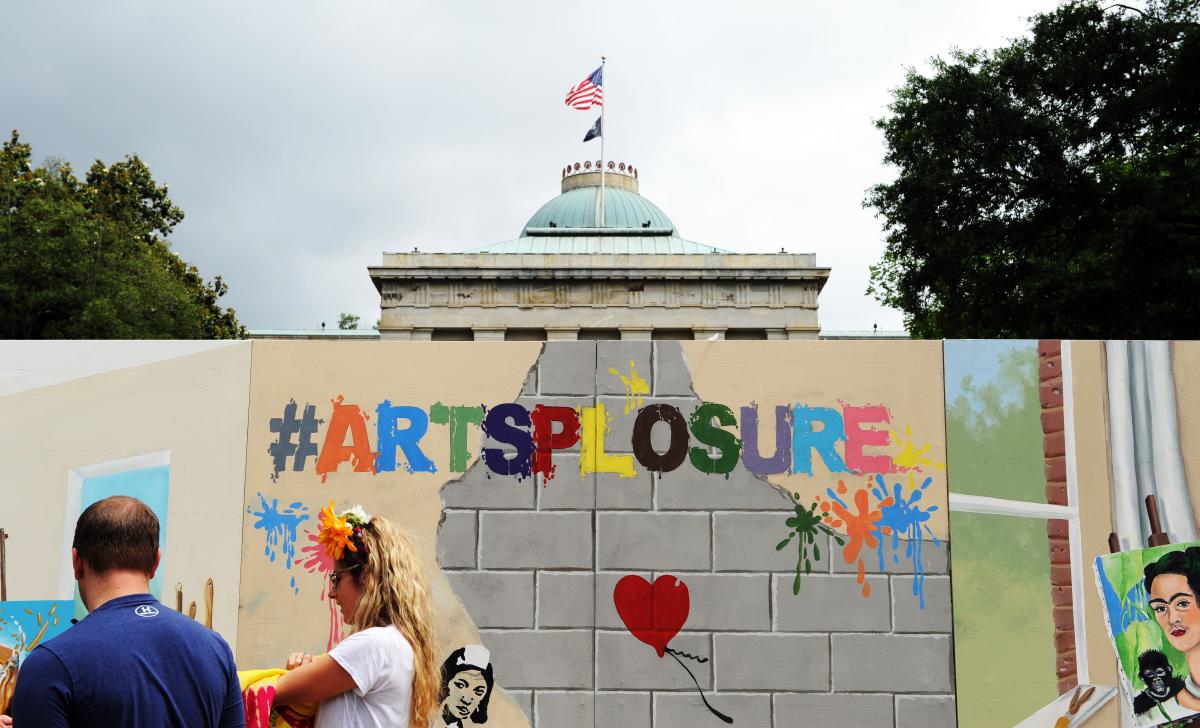 Freedom Balloon Fest, May 25-28, 2018
This family-friendly, truly-unique event runs throughout Memorial Day Weekend at Fuquay-Varina's Fleming Loop Park. The admission-free event invites the public to enjoy dozens of hot air balloons as they fill the skies in honor and remembrance of those have served in the military. Tons of live music, an arts and crafts village and food vendors on hand make this a fun event for all.
Downtown Raleigh Food Truck Rodeo, May 6, June 10, Aug. 5 and Oct. 14, 2018
It's safe to say Raleigh, N.C., knows a thing or two about food trucks. You'll find food trucks outside museums, breweries, art galleries, music venues, office buildings, parks and anywhere else you can think of where hungry people congregate. From May to Oct., the city of Raleigh reserves four days to line 11 city blocks (over a half-mile!) in downtown Raleigh with more than 50 of the best food trucks around. We're talking wood-fired pizzas, buttery lobster rolls, over-the-top ice cream concoctions, drool-worthy barbecue sandwiches and way, way more. Free admission, seating for 1,000-plus people and plenty of Instagram opportunities are just some of the elements that make this a can't-miss foodie event.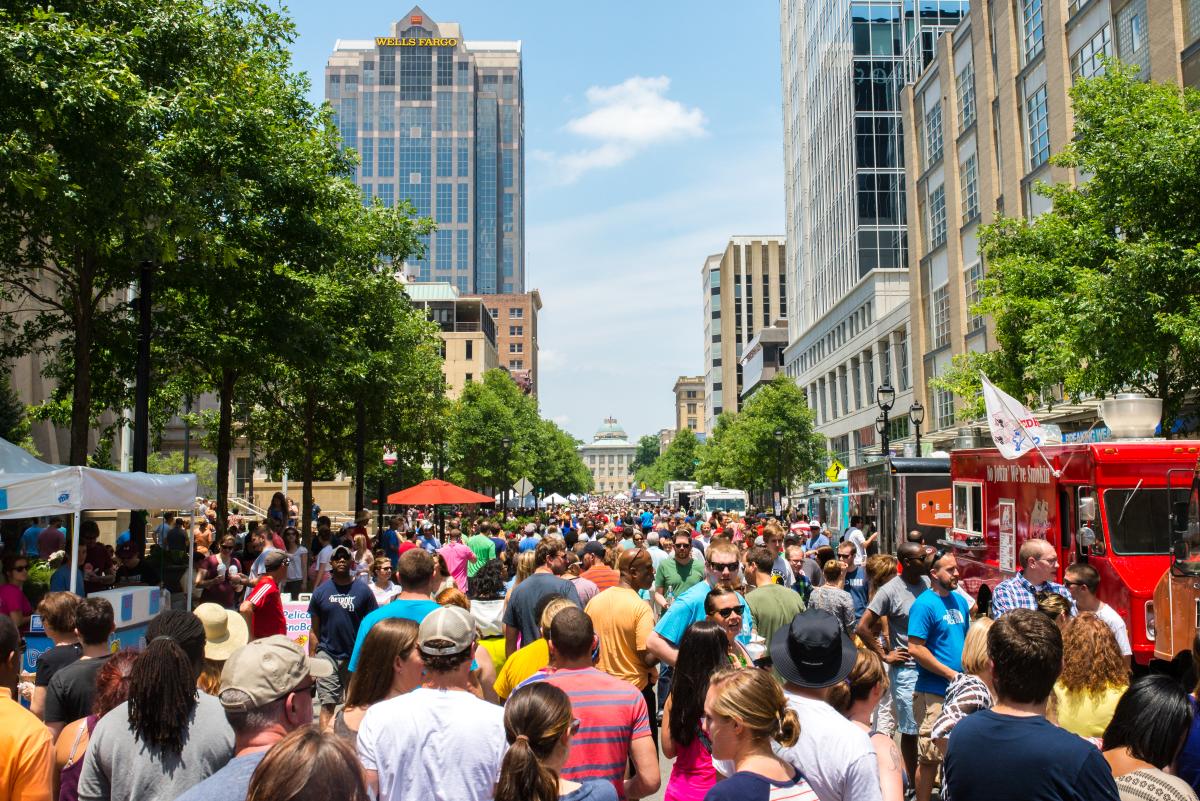 June
IRONMAN 70.3 Raleigh, June 3, 2018
The ultimate test of endurance, more than 2,000 athletes will tackle the 1.2-mile swim, 56-mile bike course and 13.1-mile run that winds through North Carolina State University, swings past the North Carolina State Capitol and ends with a spectacular finish in the middle of downtown Raleigh. Whether participating or spectating, this is an inspiring event to be a part of.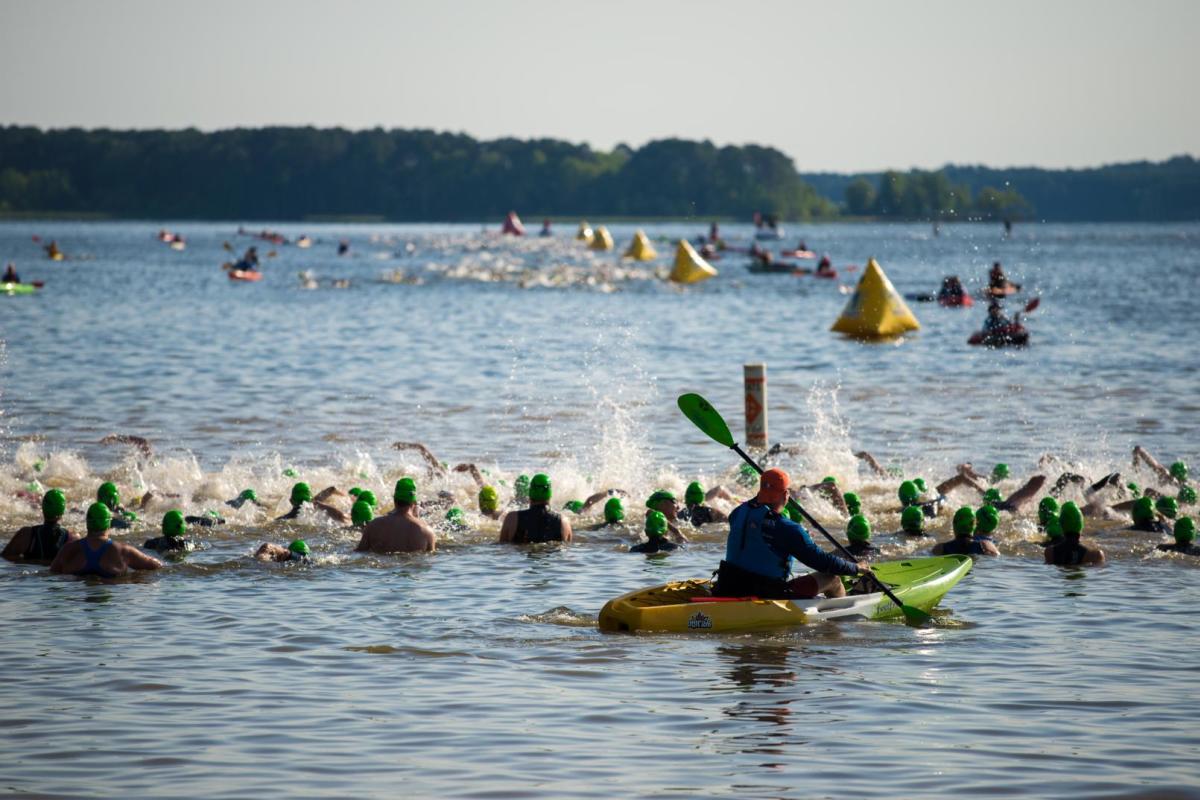 July
Raleigh Supercon, July 27-29, 2018
A three-day festival for fans of pop culture, superheroes, science fiction, anime and more, Raleigh Supercon will be back and bigger than ever at the Raleigh Convention Center in July. Featuring celebrity guests, comic book creators, artists, cosplayers and other industry guests, Raleigh Supercon is expected to bring an incredible 30,000 attendees together in downtown Raleigh to see and be seen, to meet celebrities, go head-to-head in video games and have a blast participating in all things geek!
 
August
Lazy Daze Arts & Crafts Festival, Aug. 25-26, 2018
For more than 40 years, the Lazy Daze Arts & Crafts Festival has put local artists and craftsmakers in the spotlight. Today, the festival has grown to two days, features more than 300 artists from 16 states, has multiple stages of live music, a beer garden and plenty of food trucks to keep everyone happy.
 
September
Beericana Craft Beer and Music Festival, early Sept.
This fast-growing beer and music festival held at beautiful Sugg Farm Park brings together more than 70 breweries (including most of the nearly 30 craft beverage brewers in Raleigh, N.C.) and more than 20 food trucks, along with a full lineup of Americana jams, to celebrate good friends, good beer and good times in Holly Springs.
Hopscotch Music Festival, Sept. 6-8, 2018
Four days, nearly 150 bands, 12 venues in downtown Raleigh, 50 totally-free day parties and 25,000 fans—it's no wonder why Hopscotch Music Festival is time and time again named one of America's can't-miss music events. The acts—and genres—are as wide ranging as the venues they play in (for example, a contemporary art museum, CAM Raleigh and a tiny dive bar, Slim's Downtown). Headlining acts in recent years have included Angel Olsen, Big Boi, Solange, Run The Jewels, Margo Price, Dwight Yoakam and more.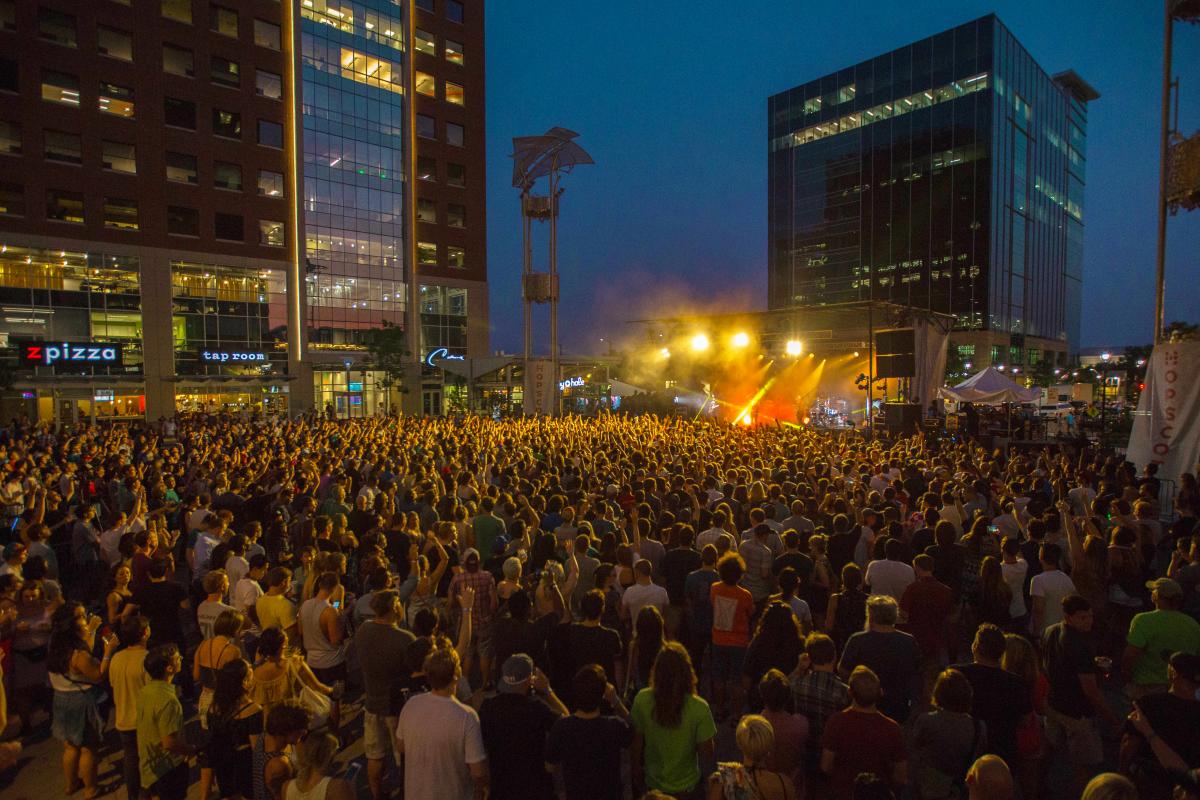 SPARKcon, Sept. 13-16, 2018
SPARKcon, the totally-weird, totally-awesome creativity festival that takes over downtown Raleigh each Sept., is truly a grassroots event. The "for the people, by the people" approach uses an open-source planning process that allows more than 2,000 artists to be involved each year. Dance, fashion, music, film, food—if you can name it, you can find an event for it at the festival that spans nearly 15 city blocks.
Ray Price Capital City Bikefest, Sept. 21-23, 2018
The country's largest downtown motorcycle rally, this three-day, family-friendly event featuring musical performances, parades and plenty of sweet rides is tough to miss (and impossible not to hear!). Bike competitions, a tattoo festival, a classic car show, food trucks and much, much more are big draws for wildly diverse crowd.
World of Bluegrass, Sept. 25-29, 2018
The arrival of a toe-tappin', banjo-strummin' week of non-stop week of bluegrass in downtown Raleigh is one of the most anticipated times of the year. International Bluegrass Music Association (IBMA) brings their business conference, along with the world's most talented bluegrass musicians, to Raleigh during this week. Those musicians then perform in clubs, on street corners and in hotel lobbies—anywhere they can find a jam session—during the Bluegrass Ramble. Then the week is capped off with PNC presents Wide Open Bluegrass, a two-day festival that sets up five stages of free music, a dance tent, a barbecue championship, tons of art vendors and more. The ticketed Main Stage at Red Hat Amphitheater has featured the Steep Canyon Rangers with Steve Martin, Sierra Hull, The Infamous Stringdusters and more in recent years.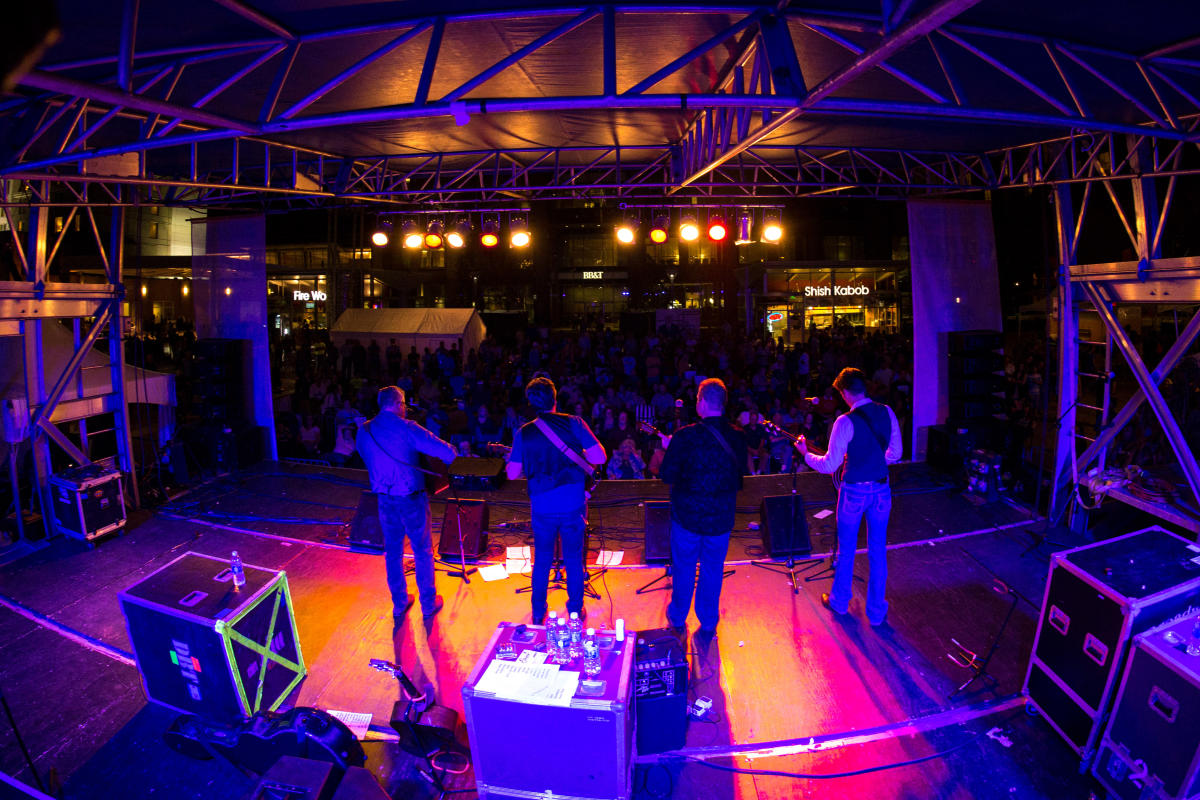 October
North Carolina State Fair, Oct. 11-21, 2018
The largest annual event in the state, the North Carolina State Fair draws one million visitors through the gates each Oct., marking what many consider to be the unofficial beginning of the fall season. Eleven days of high-flying rides, deep-fried foods, live music, stunt shows and other entertainment (including nightly fireworks) has been a can't-miss event for generations of families—the 2017 version of the North Carolina State Fair marked the 150th year of the event!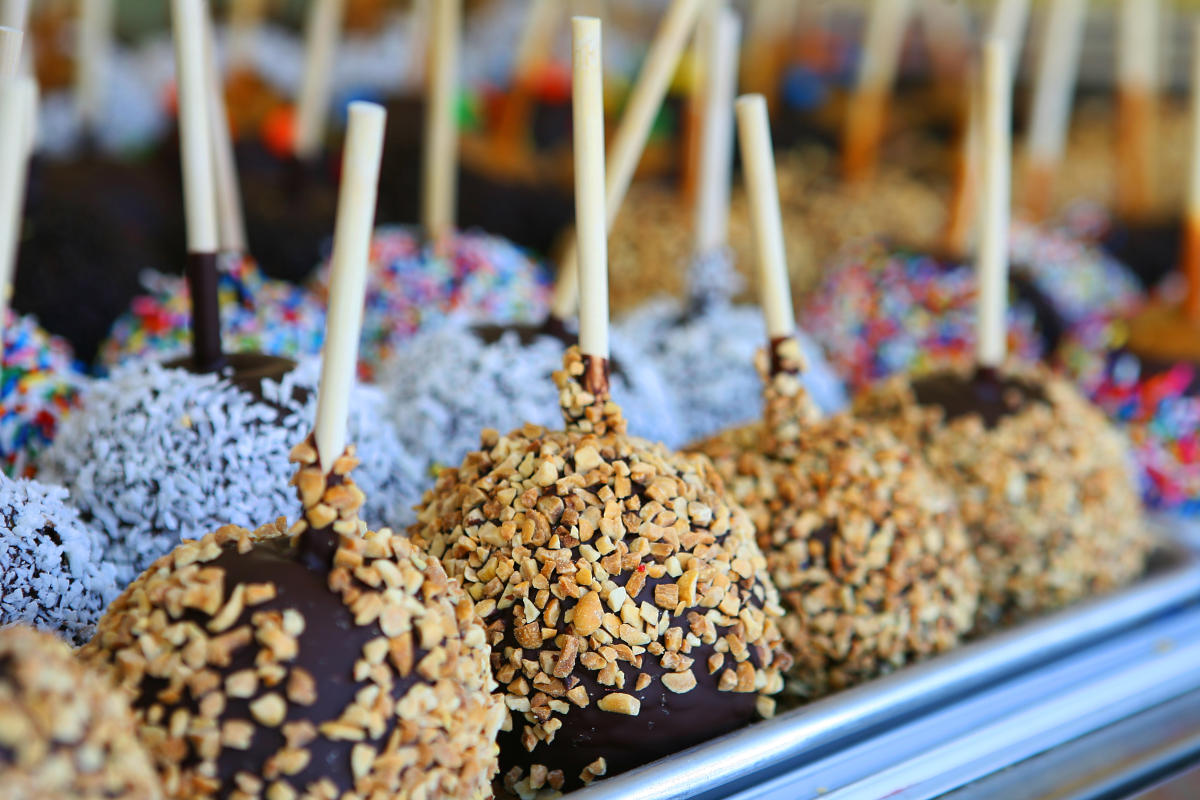 International Festival of Raleigh, late Oct.
This three-day event, a comprehensive platform for local ethnic communities and artists to present their culture, serves more than 25,000 attendees in downtown Raleigh each year. More than 70 ethnic groups participate to present a variety of arts, cuisine, dance, textile design and cultural expression from across the globe. Art exhibits, dance competitions, sidewalk cafés, main stages for music, vendor booths and more make for fun finds and discoveries.
 
November
Raleigh Christmas Parade, Nov. 17, 2018
A Raleigh tradition for more than 70 years, the Raleigh Christmas Parade is the largest parade of its kind between Atlanta and Washington, D.C. The parade—filled with marching bands, dancers, classic cars, super heroes and more— marches through downtown Raleigh for two hours along a 1.4-mile route that draws a crowd of 60,000 spectators.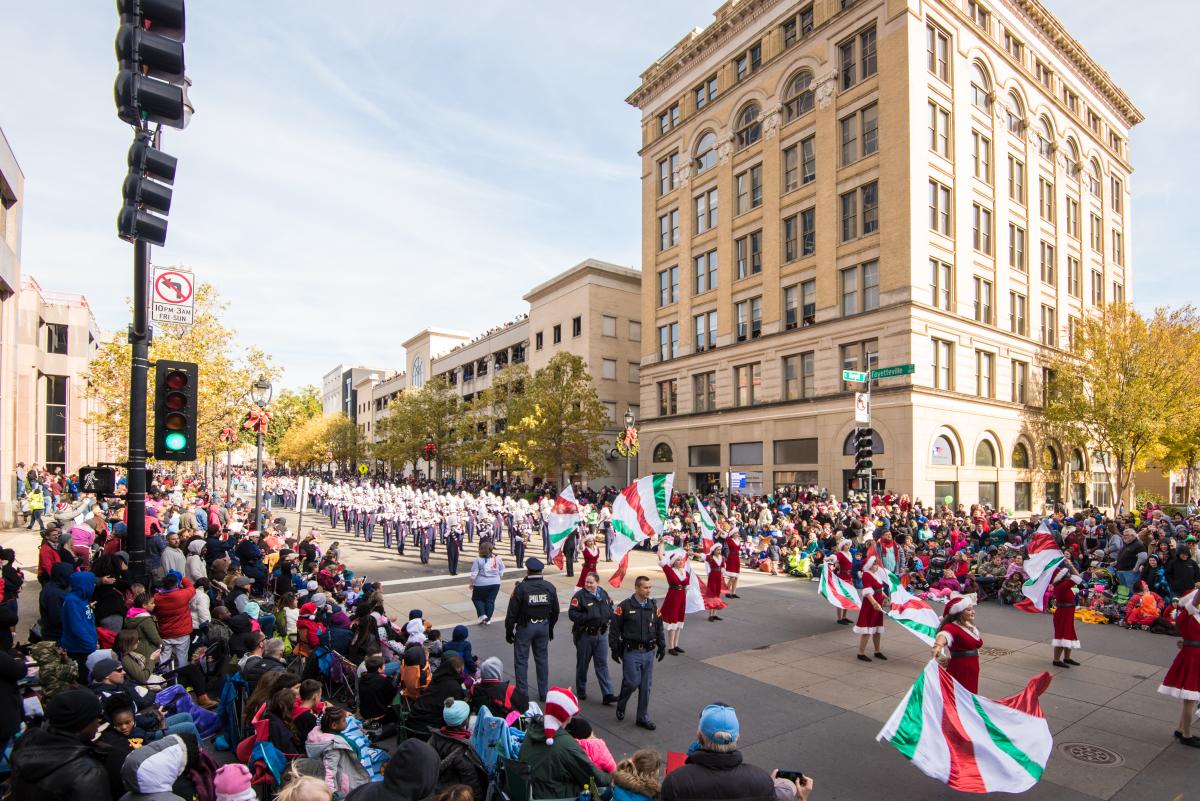 North Carolina Chinese Lantern Festival, late Nov. 2018 through mid-Jan. 2019
The North Carolina Chinese Lantern Festival puts hundreds of larger-than-life lanterns on display at Cary's Koka Booth Amphitheatre, creating an incredible, colorful adventure for you to walk through during the holiday season. In all, the lanterns and more than 15,000 LED lights make up 20 distinct displays, including a 200-foot-long, 21-foot-tall Chinese Dragon that sits on Symphony Lake.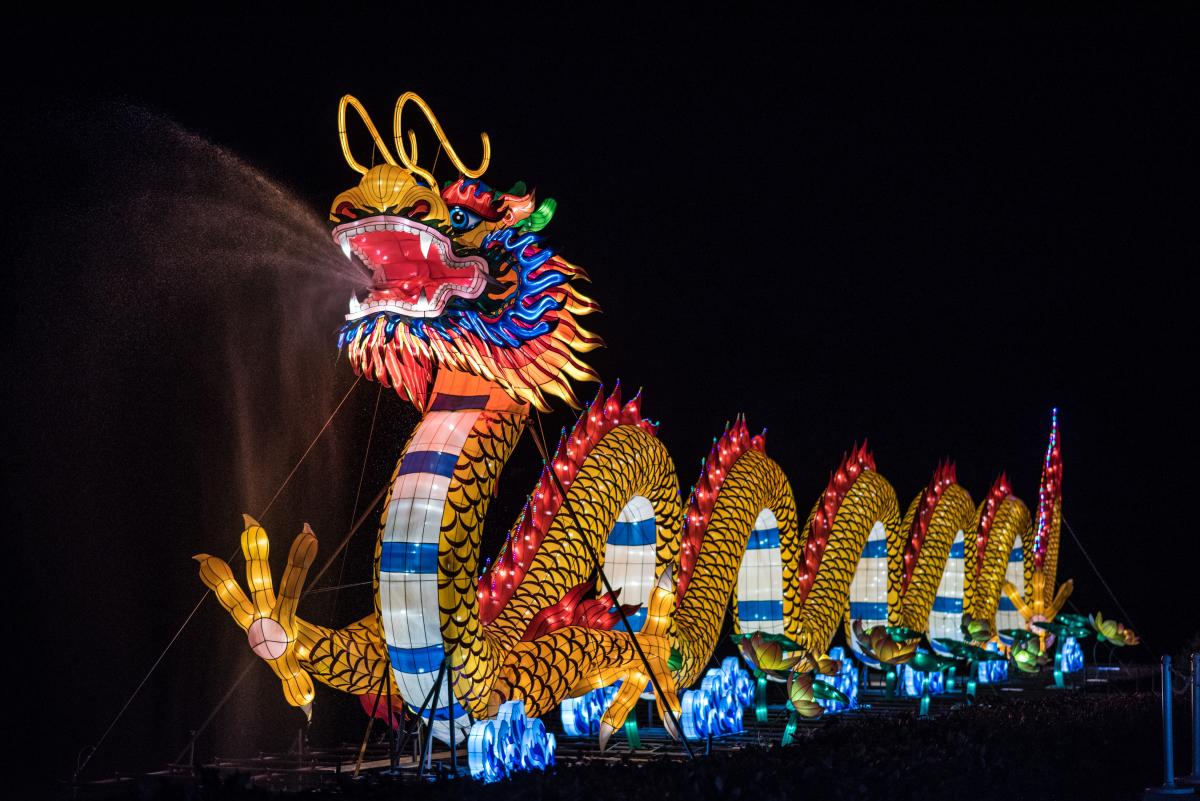 December
First Night Raleigh, Dec. 31, 2018
First Night Raleigh, a downtown Raleigh New Year's Eve celebration for more than 25 years, is an all-day event with more than 100 performances (music, dance, theater, comedy and more) across 35 venues. Tons of kids activities, a 90-foot-tall Ferris wheel and a countdown to midnight (where, yes, a giant acorn drops from the sky as the clock strikes 12) and celebratory fireworks highlight a full day of festivities.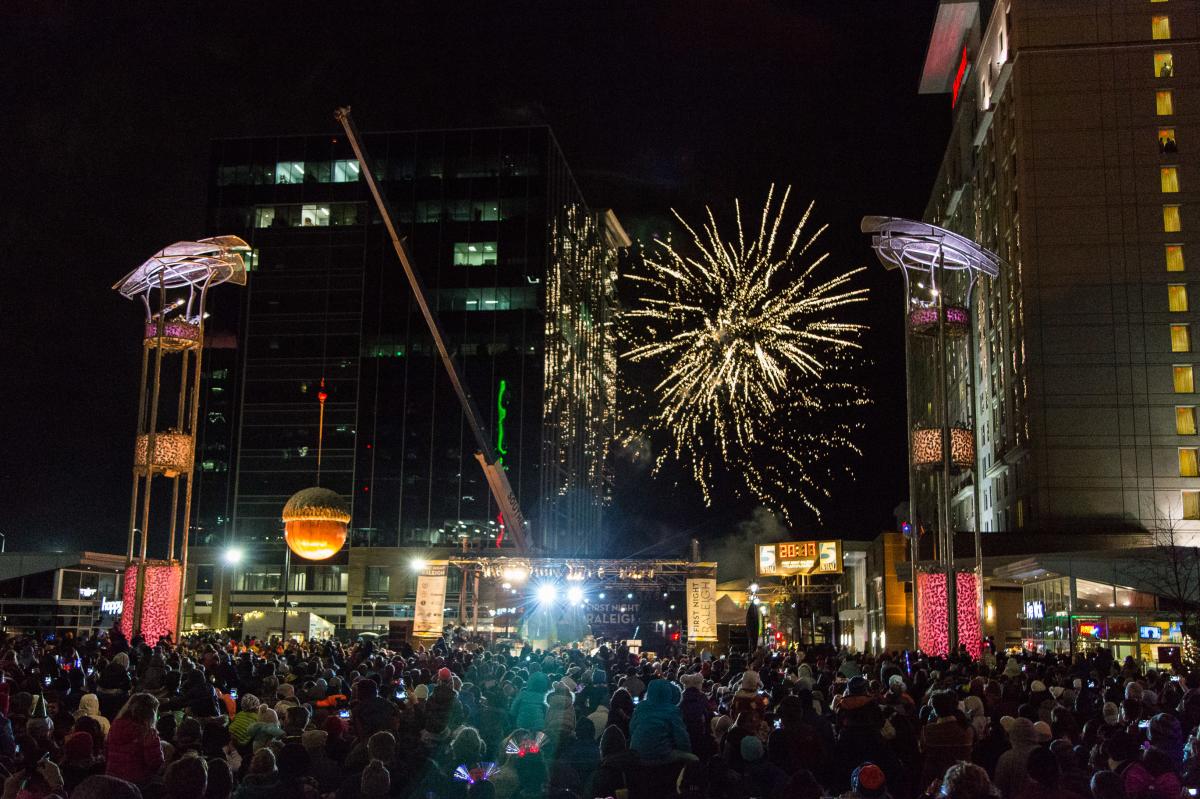 Photos: Krispy Kreme Challenge, NCSU/Marc Hall; Artsplosure - The Raleigh Arts Festival, Chris Richman; World of Bluegrass, Garrett Poulos; North Carolina State Fair, Gregg Forwerck; First Night Raleigh, Sandra Davidson