Things to Do in Raleigh, N.C.: November 2017
Friday, October 27, 2017, 10am by visitRaleigh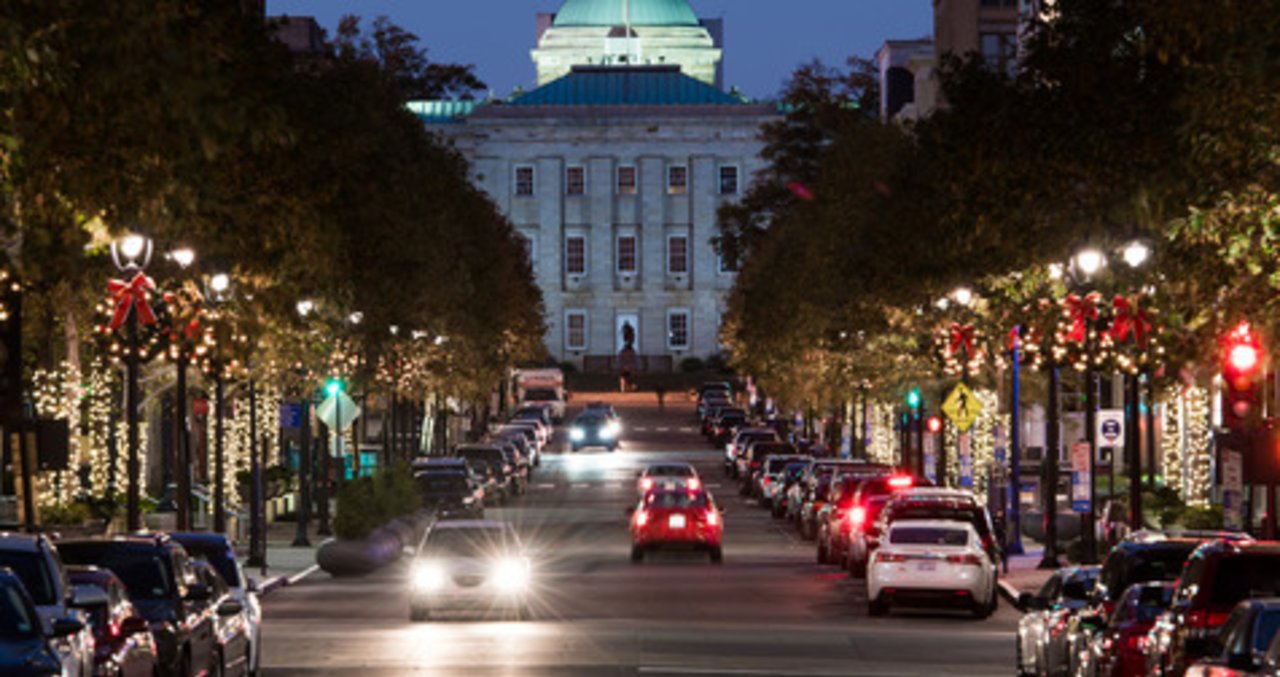 Raleigh, N.C., starts gearing up for the holidays in Nov.! Shopping sprees, light displays, ballets and hockey games make for perfect weekend adventures, date nights and family gatherings. Have your jackets, scarves and boots ready? Let's dive in! 
 
Festivals, Parades and Light Displays
Cool weather and the changing of the leaves in Raleigh, N.C., has meant one thing for 73 years now—the 73rd Annual ABC11 Raleigh Christmas Parade (11/18) is on the horizon! The parade, which is the largest of its kind between Atlanta and Washington, D.C., will march through downtown Raleigh for more than two hours, drawing nearly 60,000 visitors to wave to marching bands, dancers, classic cars, super heroes and (of course!) Santa Claus. Bring the whole family, pets included, plus some chairs—there's plenty of great street-side viewing along the 1.4-mile route. 
It's just a hop, skip and a jump from the parade route over to the Duke Energy Center for the Performing Arts for a matinee or a nightcap where you'll find world-class arts performances like North Carolina Theatre's Rudolph the Red-Nosed Reindeer: The Musical (11/24-12/24), Carolina Ballet's Messiah (11/22-26) and special concerts from North Carolina Symphony, including The Music of Star Wars (11/10-11), Polar Express (11/22) and Home Alone (11/24-25).
Also helping swing into the holiday spirit early this year is the Annual North Hills Tree Lighting Celebration (11/18). Featuring a 41-foot-tall Christmas tree, a visit from Santa Claus, trackless train rides for kids, live music and plenty of vendors on hand make this celebration an equally great event for families and a fun date idea as well. Pro tip: arrive early and knock out some holiday shopping at local retailers like Peter Millar, Quail Ridge Books, Scout & Molly's and more while enjoying complimentary hot chocolate and cider!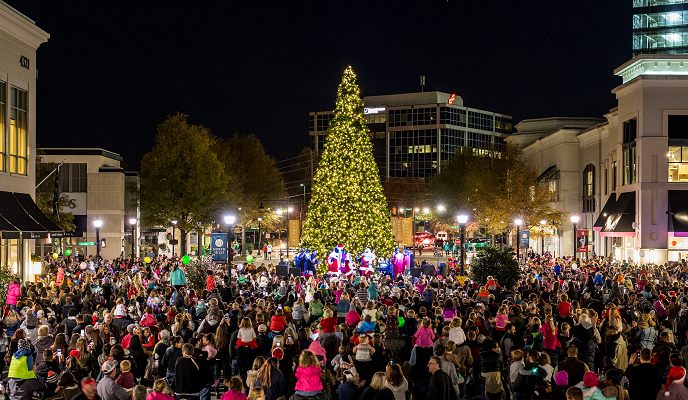 Another super trip-worthy event for the whole family returns for a third straight year this month—the N.C. Chinese Lantern Festival (11/24/17-1/14/18) brings 20 larger-than-life lanterns, made up of thousands of LED lights, to Koka Booth Amphitheatre in Cary. The displays light up the skies and mesmerize visitors on this one-hour walking tour. Have your cameras ready for the Chinese Dragon that sits on Symphony Lake! Also just east of Raleigh in Wendell, one of the largest light displays on the East Coast returns bigger and better than ever. Lake Myra Christmas Lights (11/22-12/31) is a drive-in style, interactive light show featuring more than 400,000 total lights synced to holiday music. The show typically lasts for 30 to 45 minutes and it's always free admission.  
 
On-Ice, On-Field and On-Stage Action
It's a big month ahead for adrenaline-pumping action! The NHL's Carolina Hurricanes, off to a hot early season start, continue their 20th anniversary season in Raleigh with six total home games at PNC Arena in Nov. They'll face off against the Blackhawks (11/11), Stars (11/13), Maple Leafs (11/24) and more—see the full schedule here.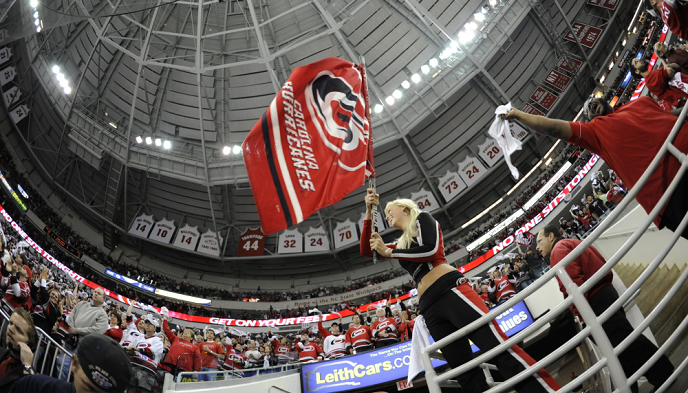 Just steps away at Carter-Finley Stadium, nearly 60,000 fans will pack the house for what could be two of North Carolina State University's biggest ACC football games in recent memory. The Wolfpack will take on Clemson (11/4) and the University of North Carolina at Chapel Hill (11/25) to close out the regular season schedule. 
It's also a great month to rediscover some of Raleigh's legendary indoor music venues. With the most live music in N.C., you won't be low on options. At KINGS, you'll find Girlpool (11/6), Omni (11/17), Diali Cissokho & Kaira Ba(11/25) and The Love Language (11/25) taking stage; The Pour House Music Hall hosts Bumper Jacksons (11/6), Hot Buttered Rum (11/15), Sarah Jones (11/19), Branan Murphy (11/29) and more; The Ritz has Johnnyswim (11/4), Walk the Moon (11/20), Seether (11/26), Kane Brown (11/30) and others on the schedule; and alt-J (11/3) is set to perform in front of a huge crowd at Duke Energy Center for the Performing Arts. 
As always, you can find a full calendar of upcoming live music at themostnc.com.  
 
Beauty. Style. Empowerment.
A new, highly-anticipated featured exhibition at the North Carolina Museum of Art has just opened up! Inspiring Beauty: 50 Years of Ebony Fashion Fair (through 1/21/18) showcases 50 years of beauty, style and empowerment of African Americans. The exhibition explores the history of the Ebony Fashion Fair (1958-2009), a traveling fashion show that provided an empowering image for black women of what they could wear and, ultimately, who they could be.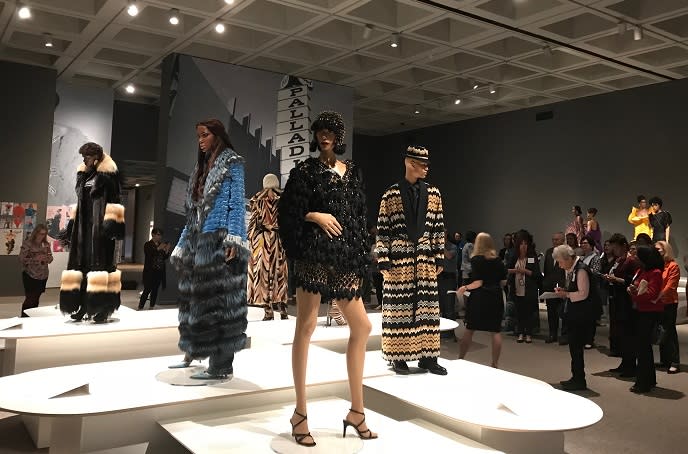 Featuring 40 stunning ensembles (gowns, coats, suits), the exhibition includes works by designers such as Stephen Burrows, Pierre Cardin, Christian Dior, Givenchy, Patrick Kelly, Christian Lacroix, Yves Saint Laurent, Bob Mackie, Alexander McQueen, b. Michael, Missoni, Jean Patou and Vivienne Westwood.  
 
More November Picks
Hungry to get going on your holiday shopping? Use this list of Raleigh-made eats and drinks—chocolate, beer, barbecue sauce and more—to start your search for stocking stuffers and tasty treats. 
A Raleigh tradition for more than 30 years, Junior League of Raleigh's A Shopping Spree! (11/1-5) showcases regional and national exhibitors in fashion, home décor, unique gifts and holiday merchandise—all for a good cause.
It's all gourds, all the time (with plenty of vendors on hand) at the 76th Annual N.C. Gourd Arts and Crafts Festival(11/4-5).
Head to JC Raulston Arboretum for a rare opportunity to explore the grounds at night (plus enjoy food trucks, music, ciders and more) during Moonlight in the Garden 2017 (11/9-18).  
Kick your holiday shopping into high gear at Carolina Artisan Craft Market (11/10-12), featuring more than 115 local artists specializing in handcrafted furniture, jewelry, pottery and more.  
A whimsical presentation of ballet, jazz and tap dances, The Night Before Christmas (11/11-12), presented by Carolina Dance Foundation, is sure to be a delight for the whole family.  
Musicians, dancers, artists, storytellers and authors from N.C.'s eight state-recognized tribes will gather for the 22nd Annual American Indian Heritage Celebration (11/18) at the North Carolina Museum of History.
Jump all the way into the holiday spirit at the Fuquay-Varina Town Tree Lighting (11/30), where a special visit from Santa is on the agenda. 
For a full calendar of upcoming events in Raleigh, N.C., click here.  
Comments