Things to Do in Raleigh, N.C.: April 2022
Thursday, March 24, 2022, 8am by visitRaleigh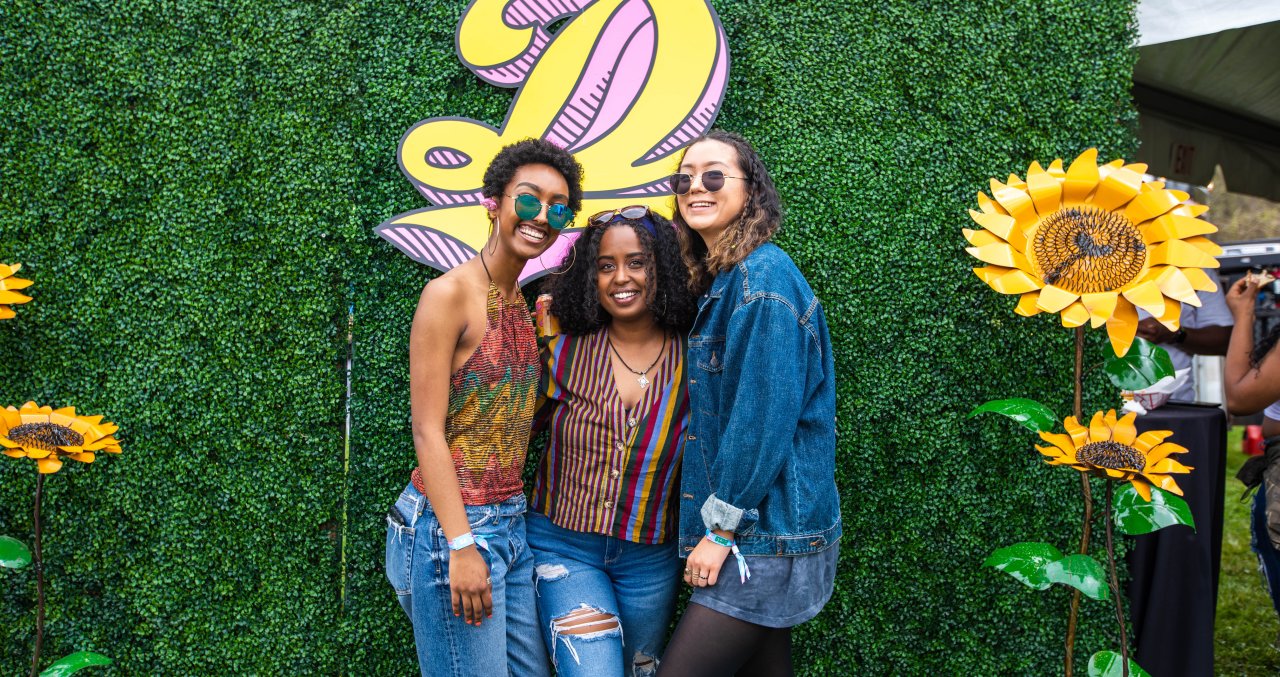 Every two weeks, we send out a newsletter that includes the best of the best upcoming events. If you sign up for our E-magazine, you'll get those, plus all the best new content (our favorite date ideas, for example, or 10 ways to plan a perfect weekend getaway in the Raleigh area).
---
Hello, spring! We're nearly a quarter of the way through 2022, and winter weather has been kicked to the curb for good. Sunshine, longer days, major concerts, food festivals, outdoor exploration and more are here to stay—cheers to that. Here's what we're doing in April in the Raleigh area!
March 30-April 2
One of four regional sites for the 2022 NCAA Gymnastics Championships, North Carolina State University and Reynolds Coliseum will host nine teams—plus individual competitors—to battle it out on the floor, beam, bars and apparatus.
Season Opener: 60th Anniversary at Wake County Speedway
April 1; races take place most Fri. nights
Opening night at the Wake County Speedway—a can't-miss tradition for 60 years in Raleigh! The quarter-mile track didn't earn the nickname "America's Favorite Bullring" by happenstance—the paved, quarter-mile track's tight corners play home to Friday night rock 'em-sock 'em, door-bangin' stock car action!
Mid-Town Square Spring Festival
April 2
Held at Bond Brothers Beer Company in Cary, this free-admission festival features food trucks, local artists, live music and, of course, Bond Brothers' award-winning brews (new releases and special casks included!). Kids and leashed dogs are welcome at the brewery, but heads up—this event will draw a big crowd!
Tacos 'N Taps
April 2
This all-you-can-taste beer and tequila festival takes you south of the border for foodie fun—tacos, margaritas, 80-plus beers, mariachi bands and other live music, piñata punching, contests and other surprises await at Koka Booth Amphitheatre.
April 2 (Update: This event has been rescheduled to July 16)
Founded in 2016 by Maestro Jason Ikeem Rodgers, Orchestra Noir aims to celebrate the cultural achievements of African American music pioneers across all genres of music, including classical, hip-hop and R&B. This event, dedicated to 1990s music, promises to showcase what Rodgers's mission has always been: to celebrate the cultural achievements of African American pioneers across all genres of music.
Dreamville Festival
April 2-3
Back for another much-anticipated weekend and curated by platinum-selling rapper and N.C. native, J. Cole, the 2022 version of Dreamville will be a two-day, multi-stage festival at downtown Raleigh's Dorothea Dix Park with a one-of-a-kind celebration of local culture, food and art. A curated selection of music performers (lineup and FAQ here) blend together some of today's biggest national acts with exciting up-and-comers!
PrideLife Expo 2022
April 2
Presented by the N.C. LGBT+ Allied Chamber of Commerce, with special support from the LGBT Center of Raleigh, Pride Life Expo in Raleigh will feature more than 130 exhibitors ready to connect with, support and serve the LGBTQ+ community.
Walking on Color - Street Art Walk
April 5 (plus other Thursdays in April)
Public art, whether it's graffiti or park sculpture, can often act as a city's visual voice. What does Raleigh have to say? Join local experts Greg Whitt and Annelies Gentile to explore downtown Raleigh—along the way, you'll see and learn about colorful wall murals, street art and sculptures. You'll also be invited to interact with others and reflect upon how creativity transforms our lives.
Burning Coal Theatre presents The Life of Galileo 
April 7-24
Directed by Jerome Davis, Galileo tells the true and thought provoking story of scientist Galileo Galilei (1564-1642) when he scientifically proved that the earth revolves around the sun but had to overcome the doctrine and power of the Catholic Church to share it with the world. This event will take place outdoors at Dorothea Dix Park.
North Carolina Opera presents Magic Flute
April 8-10
North Carolina Opera's 2021-22 season concludes with the long-awaited company premiere of Mozart's The Magic Flute, a story of friendship, heroism, mystery and love. The opera tells the story of the young couple, Tamino and Pamina, who must pass a series of challenges to prove they are worthy of one another. Add some of Mozart's best music and you have an experience perfect for the whole family. 
April 9
Just like its signature blended whiskey, Odle Raleigh Distillery in Zebulon, N.C., is a blend of old and new. Come take a behind-the-scenes tour with owner Brandon McCraney of this 10,000-square-foot facility that includes the production facility, tasting room, whiskey barrel storage and more (plus, of course, get a taste of the newest batch of handcrafted spirits!). Note: This is a ticketed event with limited spots!
Spring concert season is in full swing! We're saving the dates for these shows (and many more). 
KALEO, April 1 at The Ritz
Dirty Honey & Mammoth WVH, April 5 at The Ritz
Lucky Daye, April 5 at Lincoln Theatre
Doc & Cover, April 8 at Duke Energy Center for the Performing Arts
Gershwin Piano Concerto, April 8-9 at Duke Energy Center for the Performing Arts
Bon Jovi, April 9 at PNC Arena
The Magnetic Fields, April 9-10 at Duke Energy Center for the Performing Arts
Mt. Joy, April 12 at The Ritz
The Nth Power with Zoocrü, April 13 at The Pour House Music Hall
Will Overman with Sam Foster, April 19 at The Pour House Music Hall
Todrick Hall, April 20 at The Ritz
Lil Durk, April 21 at Red Hat Amphitheater
My Morning Jacket, April 22 at Red Hat Amphitheater
ABBA: The Concert, April 22-23 at Duke Energy Center for the Performing Arts
The Band Camino with Flor and Hastings, April 22 at The Ritz
Jimmy Buffett and the Coral Reefer Band, April 23 at Coastal Credit Union Music Park at Walnut Creek
Nine Inch Nails, April 28 at Red Hat Amphitheater
Willie Bradley, April 29 at Garner Performing Arts Center
Two professional soccer teams kick off new seasons in Cary at Sahlen's Stadium at WakeMed Soccer Park this month. 
North Carolina Football Club launches into a new USL League One season with home matches against Chattanooga (April 9), Greenville (April 16) and Northern Colorado (April 30). 
North Carolina Courage will defend home turf in April as part of the Challenge Cup, an early-season tournament that precedes that 2022 National Women's Soccer League regular season schedule. As part of the Challenge Cup, the Courage will take on the Washington Spirit (April 23). 
April 10-12 vs. Down East Wood Ducks; April 19-24 vs. Lynchburg Hillcats
Swinging into a brand new season, the Milwaukee Brewers affiliate Carolina Mudcats are back in action at Five County Stadium in Zebulon with two home series this month. Be on the lookout for Bark in the Park Tuesdays (bring your dog to the game!), Thirsty Thursdays (half off beverages and $1 hot dogs), Friday Night Fireworks (post-game fireworks each Fri. night) and Souvenir Saturdays (unique giveaways) all season long.
Yappy Hour at Dorothea Dix Park
April 9
An afternoon of four-legged fun at the opening of the new Dorothea Dix Park Dog Park! Pet vendors, local food and beer and music will be on hand from 11am-2pm. 
Historic Oakwood 33rd Annual Garden Tour
April 9-10
This self-guided walking tour—approximately 1.5 miles in total—gives visitors a chance to see one of Raleigh's most beautiful neighborhoods at a gorgeous time of year, with docents on hand to welcome you and tell you about some of the most spectacular gardens in the area. Iced tea will be served at select locations, attendees will receive a goodie bag of treats from local businesses and garden hats are encouraged, of course!
Cary Downtown Chowdown
April 10
Enjoy a food-filled afternoon in downtown Cary. Taste some of the area's best food (barbecue, burgers, beignets and more!), enjoy cool beverages from craft beer and wine vendors and relax to the music of great local performers. More than 30 total vendors will be on hand—see you there!
North Carolina 'Cuegrass Festival
April 16
What could be finer than a jam-packed day of drool-worthy barbecue from The Pit, plenty of local brews and toe-tappin' bluegrass music in downtown Raleigh? Note a new location for the event this year—in front of Raleigh Times Bar on E. Hargett St.!
Carolina Ballet presents Spring Tidings of Bach, Chaminade and Glass
April 21-24
In a new world where legendary composers Johann Sebastian Bach, Cécile Chaminade and Philip Glass coexist through dance, Carolina Ballet takes to the stage with 12 collaborative dancers performing to classic works. 
Goodguys 7th Griot's Garage N.C. Nationals
April 22-24
Goodguys returns to the Carolinas for another exciting weekend of nostalgic, hot-roddin' fun! Grab your family and all your friends and head on out to the Goodguys 7th N.C. Nationals automotive festival at the North Carolina State Fairgrounds to explore more than 1,500 candy-colored and chrome-plated 1972 and older rods hot rods, customs, muscle cars, tricked-out trucks and classics on display!
Brewgaloo
April 22-23
N.C.'s largest craft beer festival—featuring 100 breweries, 50 food trucks and drawing 30,000 people—Brewgaloo takes over downtown Raleigh for two days each April. The festival, which has free admission on Sat. (so bring plenty of friends!), allows you to purchase either beer samples or full pints from breweries located across the state. The Fri. night block party is a ticketed event that allows you unlimited three-ounce samples of limited release brews.
Whiskey, Wine & Fire
April 23
In an ideal location beneath the pines at beautiful Koka Booth Amphitheater, this elegant foodie celebration will feature whiskey, wine and cocktails, as well as great music, tented food stations, food trucks and restaurants with bonfires intermingled throughout the venue. A cozy night of whiskey drinking under the stars? Sign us up!
April 24
Food trucks and local breweries will be on hand for Brew 'n' Choo, a series of family-friendly events at the North Carolina Railway Museum & New Hope Valley Railway that offers the rare opportunity to take a one-hour train ride through the woods (food and beverages allowed on the train!) and/or a 45-minute walking tour of the railway and museum. 
A huge (HUGE!) month of action is ahead for the NHL's Carolina Hurricanes on the ice at PNC Arena. They'll finish the regular season with seven home games in April in an attempt to secure one of the top seeds in the Eastern Conference for the Stanley Cup Playoffs. The biggest—and loudest—crowds of the year are expected to show up big at these games:
North Carolina Theatre presents Ring of Fire
April 29-May 8
A foot-stompin', crowd-pleasin' salute to The Man in Black! Johnny Cash's remarkable life story unfolds on stage through more than two dozen of the legend's classic hits in this energetic and exhilarating concert experience produced by North Carolina Theatre.
HerbFest
April 29-May 1 and May 6-8, 2022
Those who love to cook will love HerbFest! Stroll through downtown Wake Forest's charming White St. and shop organic, non-GMO herbs and vegetables, plus heirloom tomatoes and peppers and beautiful perennials specific to the area.
Spring Daze Arts and Crafts Festival
April 30
Featuring more than 170 local artists, Cary's Spring Daze Arts and Crafts Festival (celebrating their 29th year in 2022) fills the streets with art-paintings, jewelry, sculptures and more—plus food vendors, children's activities and all-day live music.
Raulston Blooms
April 30
A day that's packed with garden and nature activities, shopping and outdoor fun at the incredible JC Raulston Arboretum at North Carolina State University (food trucks, family scavenger hunt, birdhouse competition, educational displays, local ice cream and more!).
N.C. Wine, Cheese & Chocolate Festival
April 30
This fifth annual event at Lafayette Village gets bigger and better every year. Taste local and regional chocolates and cheeses paired with a variety of wines from across the world (including some local favorites). Sit, sample and listen to live music, shop local vendors and take home a souvenir wine glass at the end of the day.
Beyond the Book Festival
April 30
A free, outdoor, family-friendly celebration of community, creativity and storytelling at downtown Raleigh's Moore Square. Discover author and illustrator workshops, interactive performances, collaborative art installations, creative crafts, talented vendors, artisan food and inspiring entertainment. 
Looking ahead: May events in Raleigh, N.C.
Meet in the Street Festival, May 7
41st Annual Apex PeakFest, May 7
Fest in the West, May 7
Longleaf Film Festival, May 13-14
Foo Fighters, May 20
Got to Be NC Festival, May 20-22
Artsplosure - The Raleigh Arts Festival, May 21-22
John Mulaney: From Scratch, May 22
Animazement, May 27-29
NC Sugar Rush, May 29
Header photo of Dreamville Festival by Garrett Poulos
Comments