Things to Do in Raleigh, N.C.: August 2016
Thursday, July 21, 2016, 5am by Michael Robson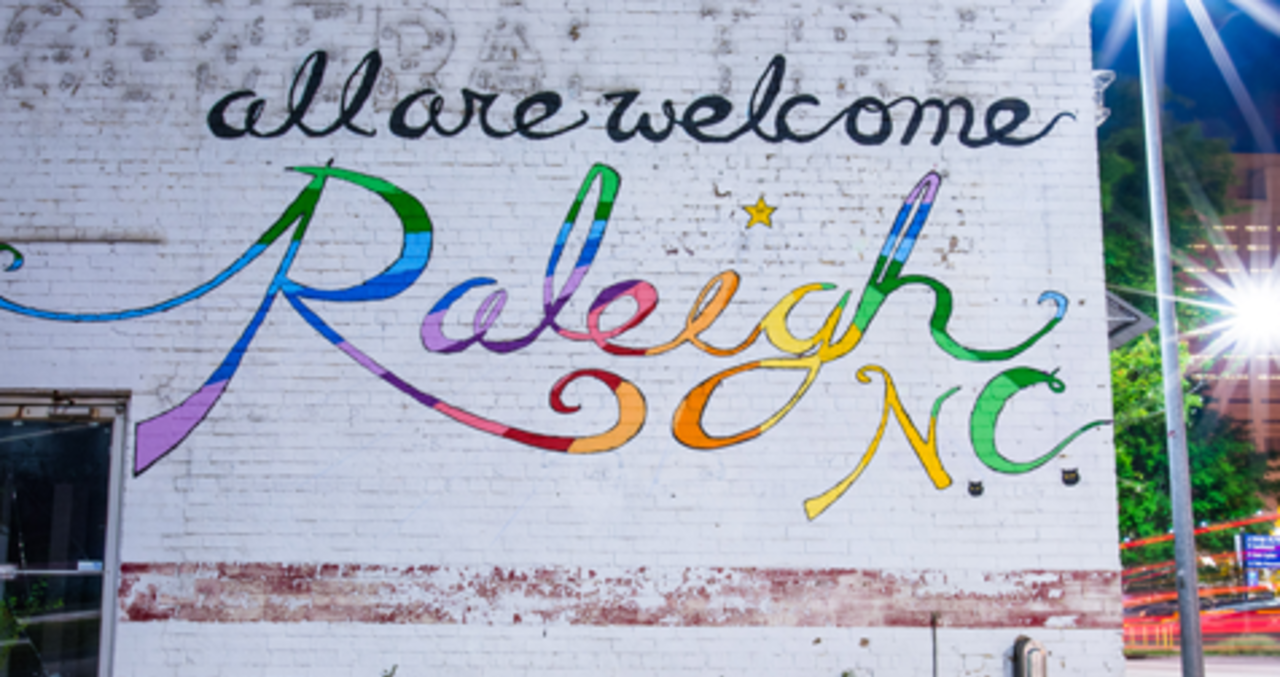 Artful Expressions, New Discoveries
Raleigh, N.C., is full of passionate, creative people. A hub for visual artists, these creative types are physically changing the way our destination looks with beautiful public art pieces (read: Seven Must-See Outdoor Murals in Raleigh), plus influencing the way we think, with thought-provoking pieces and exhibitions and events throughout the area (watch below: Local artist and teacher Linda Dallas talks the role of art in a community and why she loves Raleigh).
Aug. is a great time to explore the arts scene in Raleigh. We recommend taking advantage of sunny weather and snapping selfies in front of those outdoor murals we mentioned, plus exploring the incredible, 164-acre Museum Park at the North Carolina Museum of Art, filled with big, dramatic works for you to enjoy during bike rides, slow walks or picnics. Inside the museum, you'll find a permanent collection that spans more than five decades, plus a current, free exhibition from N.C.-raised artists: Altered Land: Works by Damian Stamer and Greg Lindquist, exploring shimmering landscape paintings that slide in and out of focus. Another can't-miss exhibition currently running? CAMstellation at CAM Raleigh, a huge gallery wall celebrating local artists of all ages.
Aug. also means it's that time of year for a major art tradition—Lazy Daze Arts and Crafts Festival (8/27-28) returns for its 40th year, now expanded to a full weekend of art, entertainment, music and beer tents in the heart of Cary. 
If you're looking for an impressive gallery to browse—or even purchase some works for your home—you definitely want to swing by Artspace in downtown Raleigh. Home to two large exhibition spaces plus studios of professional artists, Artspace offers the rare chance to experience the creative process and engage with artists on-site as they work. 
For even more inspiration in building an arts itinerary for your Raleigh trip, read our interview with local mixed-media artist Luke Buchanan, who shares insight on his work as an artist in Raleigh.
Family-Friendly Happenings Worth the Trip
Raleigh is packed with fun, family-friendly attractions and events this summer. For starters, how about a trip to N.C.'s first public park? Pullen Park has something for all ages, especially the little ones with an operating carousel that was built in 1911, a ridable miniature train that meanders through the park and pedal boats for rent on Lake Howell. Combined with a trip to Marbles Kids Museum, headed by passionate mind Sally Edwards and boasting dozens of interactive exhibits where kids can get hands-on, you almost have a full-day itinerary!
Connected to Marbles, you can take in a movie on N.C.'s only 3D-capable giant screen at the Wells Fargo IMAX Theatre at Marbles. The 70' x 50' screen shows Hollywood's greatest hits plus inspirational documentaries, including National Parks Adventure 3D, currently playing. If the idea of a movie under the stars sounds like a perfect nightcap with the family, Aug. has plenty of options on the calendar:
Star Wars: Episode VII—The Force Awakens (8/5), North by Northwest (8/12), Spotlight (8/19), Ferris Bueller's Day Off (8/26) and Spectre (8/27) at Joseph M. Bryan, Jr., Theatre in the Museum Park (N.C. Museum of Art)
Dreamgirls (8/7) and Grease (8/14) at Raleigh Little Theatre's Louise "Scottie" Stephenson Amphitheatre
The Princess Bride (8/18) and Back to the Future (8/25) at Garner Performing Arts Center
Zootopia (8/12) and Chef (8/19) at Koka Booth Amphitheatre in Cary

Also, check out our recent blog on other family-friendly attractions not to miss this summer. 
Live Music. Every Day.
On tap for August? We've got live music every single day. No surprise, considering Raleigh has the most live music of any destination in N.C., but well more than 100 concerts dot the calendar this month.
A few shows you'll want to get tickets early for (they might sell out!):
Raleigh's own BJ Barham, frontman for American Aquarium, plays a solo show at Lincoln Theatre (8/20);
hip-hop icons Ghostface Killah and Raekwon rock the Ritz (8/18);
and Iron & Wine (8/13) and Gillian Welch (8/20) perform at the Joseph M. Bryan, Jr., Theater in the Museum Park (N.C. Museum of Art).

And of course Raleigh's other major outdoor venues are bringing a stacked lineup to the table, with plenty of chances to see big-name acts under the stars:
Shinedown (8/6), Joe Walsh (8/9), NEEDTOBREATHE (8/17), O.A.R. (8/21) and Goo Goo Dolls (8/27) play Red Hat Amphitheater
Dixie Chicks (8/12), Def Leppard (8/13), Keith Urban (8/19) and Brantley Gilbert (8/25) play the always-packed, always-rocking Coastal Credit Union Music Park at Walnut Creek
Groove in the Garden (8/13), a once-a-year, daylong event at Raleigh Municipal Rose Garden, features a long lineup of popular artists in a super-cool venue (dog-friendly, too!)

A stellar collection of free outdoor concerts continues with Midtown Beach Music Series (8/4 and 8/11), Oak City 7 (8/4 and 8/18) and Pickin' in the Plaza (8/11 and 8/25) all hitting the homestretch of their schedules, plus you can duck into one of Raleigh's most popular hangouts, Raleigh Times Bar, for the free, weekly Beer and Banjos Music Series (each Tues.).
More August Picks
What could be better than beer, bourbon, and BBQ combined into one awesome event? The aptly-named Beer, Bourbon & BBQ Festival returns to Koka Booth Amphitheatre, Aug. 5-6.
Downtown Raleigh Restaurant Week (8/15-21) is a can't-miss, weeklong dining extravaganza at some of the most in-demand restaurants in the heart of the city.
Not that you ever need an excuse for desserts, but summer temperatures can get a bit toasty. After a day of exploring museums, shops and art galleries, treat yourself to the perfect Raleigh-made ice cream (think locally-sourced milk, peaches, and strawberries from nearby farms and handmade vanilla extract!). Also, keep an eye out for these other sweet treats well-suited for the adults.
Another recommended way to beat the heat: find some shade and a cold local beer at any of our 23 area breweries. Better yet, swing by a few of them and start earning your way towards rewards as part of the Raleigh Beer Trail!
Fresh off a historic 2-2 draw against English Premier League team West Ham United FC, the Carolina RailHawks continue the fall portion of the NASL season at home against Puerto Rico (8/13) and the Indy Eleven (8/20) at WakeMed Soccer Park in Cary.
On the baseball diamond, the Carolina Mudcats are sprinting towards a playoff spot as the season nears a finish. They'll take on the Winston-Salem Dash (8/1-3) and Myrtle Beach Pelicans (8/12-14 and 8/23-25) in home series at Five County Stadium.
Comments