Things to Do in Raleigh, N.C.: August 2017
Wednesday, July 26, 2017, 6am by visitRaleigh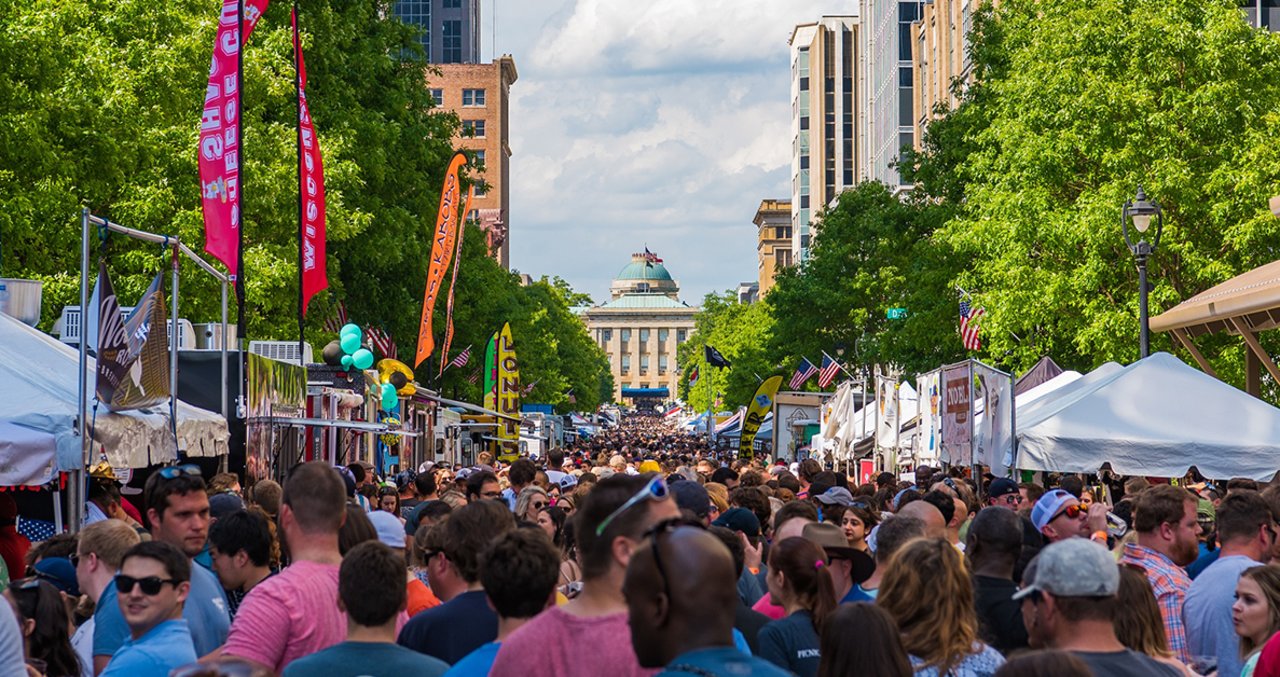 Summer is in full swing in Raleigh, N.C.—there's still tons of fun to be had in the City of Oaks while the days are long and the weather is warm. There's plenty of time to plan for a weekend road trip, too, and Aug. won't let you down! The month ahead is filled with baseball games, foodie events, art exhibits, outdoor concerts and way, way more.
 
10 Summer Essentials
To get you started, we've rounded up a whole host of essential to-dos in Raleigh during the summer here (and check below for some more specific events that highlight the upcoming calendar). 
Ice cream
We all scream for ice cream, especially on those particularly-warm summer days. Beat the heat with one of these eight sweet treats while in town (including an ice cream doughnut sundae that has locals buzzing).   
Guide to water sports
Ready to get out on the water? Our guide to kayaking, stand-up paddleboarding, canoeing and more gives you the rundown on all the local spots to get started—everything from big lakes to rivers to hidden nature preserves. All the easy rental information you need is included, too. 
More ways to get active
Bike through William B. Umstead State Park, climb 55-foot indoor rock walls at Triangle Rock Club, zip through the trees at Blue Jay Point County Park—check out these seven fun ways to get active! 
Hot dogs
Glass bottled Cokes, local brews and doggone good dogs wrapped into one local restaurant is a quintessential summer experience. Try one of these 11 tasty spots, ranging from a 101-year-old hot dog joint in Wake Forest to more modern takes on the ultimate cookout, ballpark and street cart food.
Moonshine
Looking for the perfect Southern summer cocktail to sip on? Of course you are! Fresh herbs, fruits and local spirits make these eight cocktails refreshing summer favorites.
100 outdoor summer concerts
Warm weather, live music and lots of good friends is a tried-and-true recipe for an awesome summer evening, and Raleigh knows this as well as anyone. Check out our list of 100 outdoor summer concerts at a bunch of great venues this summer, and head over to themostnc.com for a full music schedule (indoors and out) this month.
Spend a day in Zebulon
Of course we recommend spending an evening enjoying America's favorite pastime—the Carolina Mudcats (single-A affiliate of Major League Baseball's Milwaukee Brewers) play their home games at Five County Stadium in Zebulon. Here's how to make a day of it! 
Raleigh Beer Trail
Visit Raleigh-area breweries, earn rewards! With 30+ local craft breweries in the area, you've got some award-winning options (seriously—local brews earned five bronze, two silver and four gold medals recently at the U.S. Open Beer Championship). Print your Raleigh Beer Trail Passport here to get started. 
Chow down at new restaurants
The weather is not the only thing hot outside! The restaurant scene is heating up with these five can't-miss restaurants in the City of Oaks.
Summer bucket list
Need even more ways to take advantage of summer in Raleigh, N.C.? Check out our summer bucket list, made up of 40 hand-picked experiences, hidden gems and local-favorite ways to explore. 
 
Trip-Worthy Arts
It's never a bad time to dive into the arts scene in Raleigh, but this month has some especially exciting happenings. At the North Carolina Museum of Art, a new, expanded (and free-to-visit) African art gallery has just opened up. Featuring African creativity spanning 16 centuries and a total of 125 works on display, the 6,500-square-foot gallery has a masquerade area, a contemporary art section and a wall highlighting N.C. collections. Some of the works haven't been on display in nearly a decade.
In other major museum and gallery news, the Gregg Museum of Art & Design will celebrate it's long-awaited re-opening on Aug. 26 at its new home in one of North Carolina State University's most historic buildings—the Historic Chancellor's Residence, built in 1927 (along with a 15,000-square-foot addition). The museum, with a permanent collection of more than 40,000 objects, will feature new exhibits, private event space and inviting outdoor spaces open to the public.
In Cary, one of the year's biggest arts events is set to return. The 41st Annual Lazy Daze Arts and Crafts Festival (8/26-27) is a two-day celebration of the arts, music and food. Artist demonstrations, five music stages, a beer garden and kids entertainment areas make this a perfect family-friendly weekend in downtown Cary. 
Also fun for the whole family? Outdoor movies! Chances to catch a movie under the stars in Aug. include The Sound of Music (8/3), Finding Dory (8/4), Hidden Figures (8/10), Beauty and the Beast (8/26) and lots of others. Check out our full list of 54 outdoor movies in the Raleigh area this summer. 
For more upcoming arts events, from magical productions of your favorite fairy tales to major festivals, check out these 15 arts events you shouldn't miss this summer in Raleigh, N.C.
 
More August Picks
One of America's best (and fastest) track events, the Sir Walter Miler (8/4), is back! The free event, featuring an elite field of men and women runners, allows fans onto the track to scream and cheer as athletes look to set some of the fastest mile times of the year in the U.S.  
Giddyup! The Downtown Raleigh Food Truck Rodeo (8/6), featuring more than 50 food trucks spanning 11 city blocks in the city center, is a foodie's dream. We're talking wood-fired pizzas, ice cream concoctions, buttery lobster rolls, drool-worthy barbecue sandwiches and tons more.
Who's up for high-flying acts and unbelievable thrills? UniverSOUL Circus (8/9-20) brings a world of excitement to PNC Arena this month.
A one-of-a-kind beer and science event is set to return to the North Carolina Museum of Natural Sciences—Natural Selections (8/18) lets you sample unique craft creations from more than 20 N.C. breweries, plus features hands-on science of beer activities, a panel discussion, games and more.
Sustainable fashion takes center stage with the annual Redress Raleigh Fashion Show (8/18) at CAM Raleigh, spotlighting responsibly-produced, innovative fashion along with live jazz music and designer meet and greets.
The National Women's Soccer League's (NWSL's) first-place North Carolina Courage take the pitch against Seattle Reign (8/5) and Washington Spirit (8/19) at WakeMed Soccer Park this month in Cary.
It's that time of year—Packapalooza (8/19), an all-day block party and street festival, welcomes back students to North Carolina State University with music, art and entertainment for the whole family.
Downtown Raleigh Restaurant Week (8/21-27) is a week-long dining extravaganza showcasing culinary talent in the place Southern Living called "the new chef's capital."
What else to do this month? Check out this list of eating and drinking spots that local James Beard-recognized chefs have picked as favorites, grab your camera and head to any (or all!) of the most-Instagrammed spots in Raleigh and take a look at the full calendar of events ahead in Raleigh, N.C.
Comments