Things to Do in Raleigh, N.C.: August 2018
Tuesday, July 31, 2018, 12pm by visitRaleigh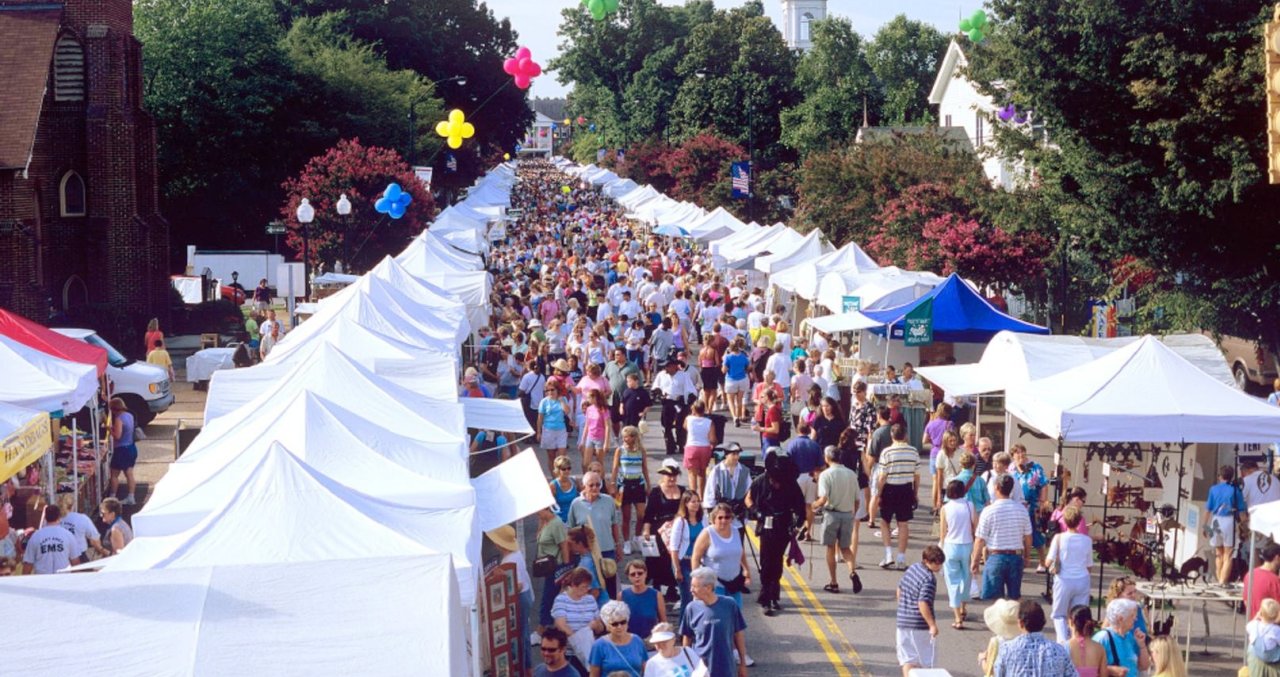 Summer is in full swing in the Raleigh area—there's still tons of fun to be had in the City of Oaks while the days are long and the weather is warm. There's plenty of time to plan for a weekend road trip, too, and August won't let you down—soccer matches, foodie events, art exhibits, outdoor concerts and way, way more are coming right up!
 
Six summer essentials
Ice cream
We all scream for ice cream, especially on those particularly-warm summer days. Beat the heat with one of these 15 sweet treats while in town (including an ice cream doughnut sundae that has locals buzzing!).
Guide to water sports
Ready to get out on the water? Our guide to kayaking, stand-up paddleboarding, canoeing and more gives you the rundown on all the local spots to get started—everything from big lakes to rivers to hidden nature preserves. All the easy rental information you need is included, too. 
Iconic hot dogs
In downtown Raleigh, the no-frills Roast Grill—opened in 1940—is one of the state's most beloved hole-in-the-wall restaurants thanks to a simple menu of grilled hot dogs (served with chili, slaw, mustard and onions but without ketchup, mayo, cheese, kraut, relish or French fries) and glass bottled Coca-Cola. At Shorty's Famous Hot Dogs—a hangout for locals in downtown Wake Forest for more than 100 years—you're likely to find a line of loyal customers stretched out the front door waiting to give their order to fourth-generation owner Chris Joyner behind the counter.
Hike, bike, run
There's no shortage of ways to find peaceful escapes by exploring the outdoors in the City of Oaks. Use any of the Raleigh area's 180 miles of greenways—many of them connecting to attractions and letting you travel all over the destination—or any of our other favorite spots to soak up some sun while hiking, biking or running.
Raleigh Beer Trail
Visit Raleigh area breweries, earn rewards! With 30+ local craft breweries in the area, you've got some award-winning options (seriously—local brews earned five bronze, two silver and four gold medals recently at the U.S. Open Beer Championship). Print your Raleigh Beer Trail Passport here to get started.
Barbecue. Barbeque. Bar-b-que. BBQ.
No matter how you spell it, we can agree on one thing: with a plate of 'cue in hand, all is right with the world. Read up on 10 of our favorite spots for pulled pork sandwiches and banana pudding here!
Tried-and-true recipe for a great time: a dash of warm weather, a heap of live music and plenty of good friends. With the most live music in North Carolina, Raleigh knows how to rock the summer! Some dates we've marked our calendars for this month:
Kishi Bashi and Jake Shimabukuro (8/3)
Rise Against (8/7)
O.A.R. (8/8)
Dierks Bentley (8/9)
Lucinda Williams, Steve Earl and Dwight Yoakam (8/10)
Pentatonix (8/11)
Wiz Khalifa and Rae Sremmurd (8/12)
Band of Horses (8/17)
Black Violin (8/18)
Summer Daze Music Festival (8/18)
Jason Aldean (8/18)
NEEDTOBREATHE (8/22)
Brad Paisley (8/24)
Leon Bridges (8/27)
Aug. 3
One of America's best (and fastest) track events, the Sir Walter Miler, is back! The free event, featuring an elite field of men and women runners, allows fans onto the track at Meredith College to scream and cheer as athletes look to set some of the fastest mile times of the year in the U.S. Hailed as the deepest talent pool the event has ever seen, the 2018 roster of athletes will feature five Olympians. Since the inception of the Sir Walter Miler in 2014, the collective men's elite field has broken the four-minute mile barrier a total of 26 times, and the women's elite field has broken 4:30—a time that had never previously been beat in the history of N.C.—nine total times.
Downtown Raleigh Food Truck Evening Rodeo
Aug. 5
The Southeast is no stranger to rodeos—you can find barrel racing, team roping and bull riding with ease—but if you'd rather exchange your hat and boots for a knife and fork, then the Downtown Raleigh Food Truck Rodeo might be more your style. From May to Oct., the city of Raleigh reserves four days to line 11 city blocks (over a half-mile!) in downtown Raleigh with more than 50 of the best food trucks around. We're talking wood-fired pizzas, buttery lobster rolls, over-the-top ice cream concoctions, drool-worthy barbecue sandwiches and way, way more. Free admission, seating for 1,000-plus people and plenty of Instagram opportunities are just some of the elements that make this a can't-miss foodie event.
North Hills Restaurant Week and Downtown Raleigh Restaurant Week
North Hills, Aug. 6-12; Downtown Raleigh, Aug. 13-19
Who doesn't love a good meal for a good deal? For the first time ever, North Hills is hosting their very own Restaurant Week—more than 20 participating restaurants will offer prix-fixe menus, special offers, promotions, giveaways and more. Right on its heels, Downtown Raleigh Restaurant Week kicks off a week of celebrating culinary excellence with $5 and $10 lunch specials, along with $20 and $30 dinner options. Sign us up!
Cirque du Soleil CRYSTAL
Aug. 15-19
A brand-new arena creation that explores the artistic limits of ice for the first time in the company's 34-year history, Cirque du Soleil's CRYSTAL pushes boundaries of performance by combining stunning skating and acrobatic feats that defy the imagination. At PNC Arena, gymnasts and skaters perform acrobatics on the ice and in the air, seamlessly combining multiple disciplines for a world-class audience experience. Synchronized skating, freestyles figures and extreme skating are featured alongside circus disciplines, and the result is an adrenaline-packed show for the whole family that pushes the boundaries and surpasses all expectations!
Summer Daze Music Festival
Aug. 18
Celebrate summer at the inaugural Summer Daze Music Festival at Coastal Credit Union Midtown Park in North Hills. The festival will be a celebration of music, local businesses, culture and, of course, summertime vibes. Come out and see Shwayze, Lute, Carter Cruise, Mike's Left Arm, WONDR, DJ Nevy and other special guests rock the stage! Enjoy food and drinks from some of Raleigh's favorite food trucks and vendors.
Jurassic Quest
Aug. 24-26
A dinosaur adventure for the entire family, Jurassic Quest will bring ultra-realistic, life-size animatronic dinosaurs plus inflatable mazes, face painting and more kids activities—face painting, a bounce house, fossil dig and petting zoo among others—to the Raleigh Convention Center.
Packapalooza
Aug. 25
This annual, all-day block party and street festival, drawing more than 80,000 attendees, caps off North Carolina State University's Wolfpack Welcome Week at the start of another academic year. The free and open-to-the-public event features more than 300 vendor booths lining Hillsborough St., along with food, games, arts and crafts, a water slide (bring your bathing suit!), visual and performing arts and more. Music, headlined by N.C.-bred country band Parmalee, will take center stage to close out the evening.
42nd Annual Lazy Daze Arts & Crafts Festival
Aug. 25-26
For more than 40 years, the Lazy Daze Arts & Crafts Festival has put local artists and craftsmakers in the spotlight in downtown Cary. Today, the festival has grown to two days, features more than 300 artists from 16 states, has multiple stages of live music, a beer garden and plenty of food trucks to keep everyone happy.
The North Carolina Roots of Artist Ernie Barnes
Open through March 3, 2019
Explore the work of athlete-turned-artist Ernie Barnes, a Durham, N.C., native best known for his widely-imitated, unique style of elongation, energy and movement that made him one of the premier figurative artists of the late 20th and early 21st centuries, in a new exhibit at the North Carolina Museum of History. Barnes, affectionately nicknamed "Big Rembrandt" by his football teammates, is known in pop culture for his art on the television series Good Times. Most notable is Barnes' iconic dance scene, The Sugar Shack (seen below), that appeared on a Marvin Gaye album cover and in the closing credits of Good Times. Titled "The North Carolina Roots of Artist Ernie Barnes," the free-admission exhibit showcases many unpublished original paintings as well as artifacts from his life.
An exciting new exhibit at the City of Raleigh Museum (COR Museum), "The Underground" (open through 1/31/19) highlights the golden days of Raleigh's celebrated nightlife hotspot beneath Cameron Village. The specially-curated exhibit is based on the documentary photographs of local photographer Chris Seward, who, in the late 1970s and early 1980s, took thousands of images of the music scene happening in these clubs, including famed jazz venue Frog and Nightgown.
Zebulon's Five County Stadium is full of fun this month as the Carolina Mudcats take on the Salem Red Sox (8/3-5), Lynchburg Hillcats (8/6-8), Potomac Nationals (8/17-19), Buies Creek Astros (8/23 and 8/31-9/3) and Down East Wood Ducks (8/27-30).
The North Carolina Courage, sitting in first place of the National Women's Soccer League (NWSL) and fresh off capturing the first-ever Women's International Champions Cup championship, will return to WakeMed Soccer Park in Cary for two home games this month. They'll take on the Portland Thorns (8/5) and Orlando Pride (8/18).
Beer drinking and hatchet throwing—what could possibly pair better? At Oak & Dagger Public House, take a sip and then take aim at Throwing Hatchets with Epic Axe (8/10) for a night of tons of fun.
Vintage Market Days presents "Southern Charm" (8/10-12), an upscale vintage-inspired indoor/outdoor market at the North Carolina State Fairgrounds.
Presented by Theatre In The Park, the jokes fly fast and furious in It's Only a Play (8/10-26), a side-splitting comedy which pays homage to the narcissistic world of show business and the people who make a living in it.
Beatles or Elvis? Who was the real king of Rock 'N Roll? Two of the greatest musical acts of all time face off in the high-octane, adrenaline-pumping Beatles vs. Elvis: A Musical Showdown (8/13)
Natural Selections (8/17), a one-of-a-kind evening of beer and science at the North Carolina Museum of Natural Sciences, lets you sample from more than 20 unique craft beer creations and get hands-on with the science of beer.
Stuff You Missed in History Class (8/19), the popular podcast hosted by Holly Frey and Tracy V. Wilson, comes to the Duke Energy Center for the Performing Arts for a live show that's sure to entertain and educate.
Cruisin' for Clues: A Murder Mystery Dinner Theater (8/24 and 8/25) presented by It's A Mystery theater troupe at The Glenwood will take you on a "cruise" on the high seas for a bit of rest and relaxation! Visit exotic places, meet fascinating people and enjoy a tantalizing four-course dinner fit for the U.S.S. Mystery of the Sea. You'll be carried away by high seas themed cocktails, wine and beer (two drink tickets are included, plus a cash bar will be on-site).
Header photo by Chris Richman
Comments