Things to Do in Raleigh, N.C.: August 2021
Wednesday, July 28, 2021, 4pm by visitRaleigh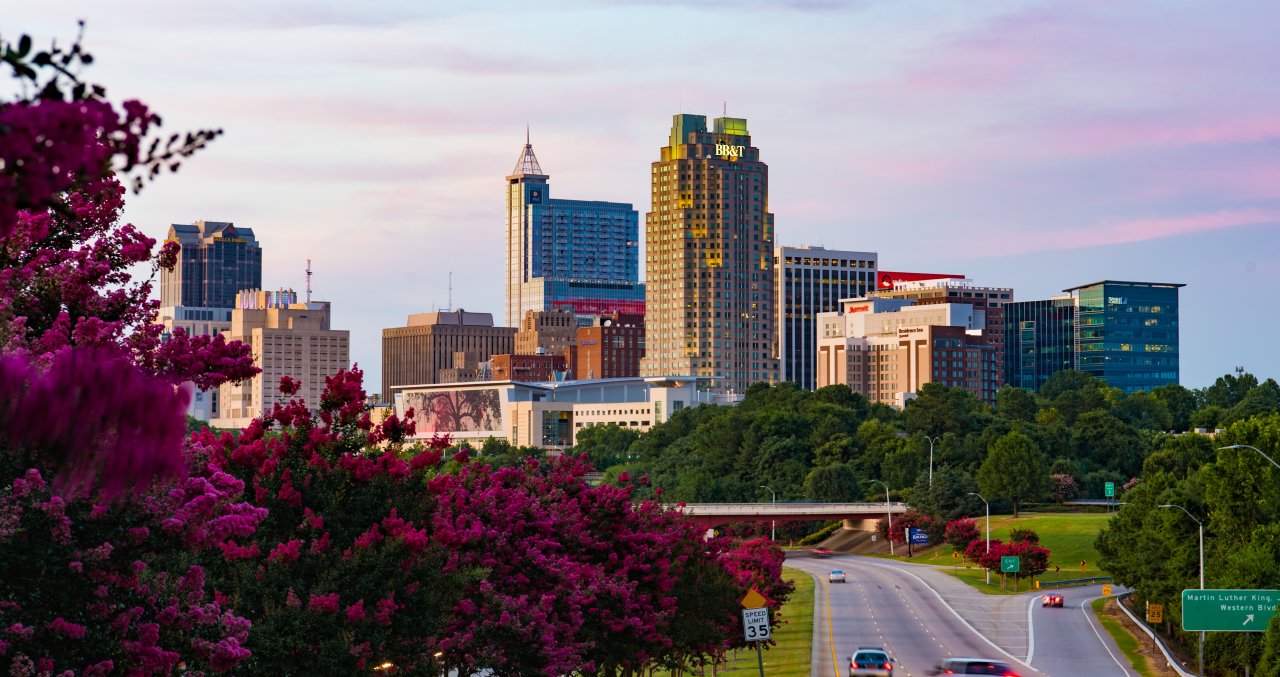 Every two weeks, we send out a newsletter that includes the best of the best upcoming events. If you sign up for our E-magazine, you'll get those, plus all the latest insider content (the best new restaurants, for example, or how to conquer this ultimate bike ride).
---

Summer is in full swing in the Raleigh area—there's still tons of fun to be had in the City of Oaks while the days are long and the weather is warm. There's plenty of time to plan for a weekend road trip, too, and August won't let you down—soccer matches, foodie events, art exhibits, outdoor concerts and way, way more are coming right up!
 
Theatre In The Park presents Switzerland
July 30-Aug. 15
In this gripping local production of Switzerland, a psychological thriller written by Australian playwright Joanna Murray-Smith, grande dame of crime literature Patricia Highsmith lives with an impressive collection of books, and a somewhat sinister collection of guns and knives. She finds solace in her solitude, her cats and cigarettes. But when a mysterious international visitor arrives at her perfectly secluded home, her love of fictional murders becomes a dangerous reality.
Accessibility notes: All performances are wheelchair accessible (and a wheelchair is available to be checked out on site); audio description services are available if requested two weeks in advance; large print playbills are available for all performances at the box office.
Aug. 1
Bring your friends, blanket and good vibes for this after-brunch get-together at beautiful Dorothea Dix Park. DJ Luxe Posh will provide the tunes (and the park will provide plenty of good views—sunflowers included!). Tip: See 20 of our favorite brunch spots in Raleigh here.
Accessibility notes: Portions of the event space at Dix Park may have uneven grass surfaces. Accessible parking is available. Indoor accessible restrooms are available inside the newly renovated Chapel (open noon-5pm on Sundays), and accessible temporary restrooms are available in multiple locations.
Harlem Globetrotters
Aug. 1
Witness basketball artistry, ball-handling wizardry and one-of-a-kind family entertainment when the world-famous Harlem Globetrotters roll into town to put on a show at PNC Arena.
Accessibility notes: For information on assisted listening devices, interpreting services, sensory-inclusive resources and more, see PNC Arena's ADA Guide here.
Aug. 5
Retreat to a hidden courtyard in downtown Raleigh to experience a unique blend of Lebanese and French culture for a friendly rendez-vous with an array of bubbles, burgundies and bordeauxs. Sitti Soirée will feature a five-course Lebanese dinner with an amuse-bouche prepared with a French flair and exclusive French wines, plus offer sweet melodies from live musicians.
Aug. 6 and 13; pitch is open to the public daily until 10pm until Aug. 16
Up for a game? A temporary micro-soccer pitch has been installed in downtown Raleigh's City Plaza! The installation will be in place until Mon., Aug. 16, and is free to use on a first-come basis, open until 10pm daily. On Fri., Aug. 6 and 13, Friday Night Football, catering to youth pick-up games, will be in action.
Aug. 6
Celebrated on the first Friday of each month at locations throughout downtown Raleigh, First Friday features art galleries and studios open late with rotating exhibits and artist talks, music, wine tastings and more. First Friday in Aug. will also feature a Dine Out Downtown event, with Raleigh's Fayetteville St. closed to car traffic and extra tables set up for diners to enjoy expanded outdoor dining on a beautiful evening. See participating restaurants here.
Live music season is back (and in full swing!). A sampling of the best indoor and outdoor concerts in Aug. is below:
Bright Eyes with Lucy Dacus, Aug. 4
Rissi Palmer, Aug. 5
Cosmic Charlie, Aug. 6
Louis the Child, Aug. 7
Korn & Staind, Aug. 10
Dead & Company, Aug. 16
Blackberry Smoke, Aug. 17
Michael Buble, Aug. 18 (postponed to Oct. 26)
Chatham Rabbits, Aug. 19
The Mantras, Aug. 20
Alanis Morissette, Aug. 22
Harry Connick Jr. and his Band - Time to Play!, Aug. 24
Aug. 8
This monthly event features food trucks, beer, beverages, art vendors and live music alongside the weekly Moore Square Market from 11-3pm. Kids activities will be on hand, and pets are welcome (on a leash!).
Exhibit: Taylor White's Pursuit of Happiness
Through Aug. 28
Figurative artist Taylor White—local to Raleigh with internationally recognized work—has opened a self-funded exhibit in downtown Raleigh that provides a message we can get behind. Pursuit of Happiness—installed at 21 W. Hargett St. in downtown Raleigh—uses bold colors and expresses emotions and feelings that much of society has experienced while dealing with COVID-19.
White is known locally as a muralist. In 2018 she collaborated with Google Fiber to create one of the world's largest augmented reality murals in downtown Raleigh, and in 2021 she was commissioned to create a history of gaming/esports mural just a few blocks away.
Hours for the exhibit are Thurs.-Sat., noon-7pm, and Sun., noon-5pm. Admission is free.
The Milwaukee Brewer's minor league Carolina Mudcats have another month of games lined up at Five County Stadium in Zebulon, with 12 games total on the home schedule (mark your calendars for Friday night fireworks twice this month!).
vs.Kannapolis Cannon Ballers, Aug. 3-8
vs. Augusta Green Jackets, Aug. 17-22
Accessibility notes: Accessible seating for guests with disabilities or special needs is available at Sections 101, 102, 103, 104, 105, 106, 202 and 218, as well as behind each of the team dugouts and in a number of other areas of Five County Stadium. The Mudcats also offer other readily available accommodations for guests with disabilities and special needs. For more information, please call 919.269.2287, visit the box office or, on game days, visit the customer service booth.
Aug. 6
One of America's best (and fastest) track events, the Sir Walter Miler is a free-admission event featuring an elite field of men and women runners and allows fans onto the track at Cardinal Gibbons High School (note the new venue for 2021) to scream and cheer as athletes look to set some of the fastest mile times of the year in the U.S. The event is free-admission for spectators. The pre-party starts at nearby Raleigh Brewing Company at 6pm, and the racing gets going around 8:30pm.
Monster Jam
Aug. 7-8
Monster Jam, the adrenaline-charged family entertainment circuit that has showcased gravity-defying feats and bone-crushing hits since 1992, is back this month with some of the most recognizable trucks in the world—Grave Digger, Max-D, El Toro Loco and more—to partake in freestyle and racing competitions that will leave fans on the edge of their seats!
Raleigh Little Theatre presents Beehive: The 60's Musical
Aug. 12-28
Directed by Lormarev Jones, Beehive celebrates the powerful female voices of the 1960s with such timeless hits as "My Boyfriend's Back," "Be My Baby," "Son of a Preacher Man" and "Me and Bobby McGee." Told from the perspective of six young women who come of age in this enigmatic decade, Beehive takes us from their first Beehive Dance to the challenges we faced as a nation.
Performances will take place outside in the Stephenson Amphitheatre. Outside food and beverages are welcome.
Accessibility notes: Indoor restroom facilities, which are wheelchair accessible, are available at the main stage lobby entrance. Porta-johns, which are also wheelchair accessible, are located to the left of the stage near the ramp. The RLT parking lot will be open to vehicles with disability parking placards. A date for an audio-described performance is expected to be announced soon.
Michael Rappaport and Donnell Rawlings (plus more of the best stand-up comedy)
Ready for a laugh-out-loud good time? Big name performers are lined up at two of the area's best comedy clubs! 
Nimesh Patel, Aug. 1
Big Jay Oakerson, Aug. 5-7
Ryan Davis, Aug. 12-15
Michael Rappaport, Aug. 19-21
Donnell Rawlings, Aug. 27-29
At Raleigh Improv:
Gareth Reynolds, Aug. 6-8
Brendan Schaub, Aug. 19-21
Eddie Griffin, Aug. 26-28
Movies under the stars
Nothing screams "summer!" quite like settling in under the stars for a movie night. Luckily, there are a number of opportunities to do just that this month.
Score tickets to see professional soccer at WakeMed Soccer Park in Cary! Two-time National Women's Soccer League champions North Carolina Courage are battling for another title this season, and the men's North Carolina FC squad has eight home games remaining on their United Soccer League schedule.
Ongoing
Looking for a way to spark ideas for your next Tar Heel State getaway? Are We There Yet? is a free-admission photography exhibit exploring mid-century tourism across the state at the North Carolina Museum of History. This exhibit takes a look back at an era when tourism boomed, thanks largely to that state-run marketing campaign. From the 1930s to the 1970s, the Variety Vacationland campaign successfully created a unified tourism industry in N.C. by depicting the state as both modern and progressive, but with strong ties to its past (for a look at how the state markets itself in 2021, browse visitnc.com for ideas on how to "get back to a better place" post-COVID!).
Accessibility notes: Wheelchairs are available for use free of charge via the information desk; assisted listening devices are available in the auditorium; tours for those who are visually impaired or needing American Sign Language services can be scheduled; a pre-visit accessibility guide is available. Full details here.
Aug. 19
A free event showcasing Raleigh's creativity at beautiful Moore Square, Raleigh Night Market is the spot to find locally made goods and enjoy live music and entertainment, with more than 80 local artisans, food vendors, beer, wine and cocktails on hand. Fun for friends, families, date nights and more, children are welcome and have a kids' fun zone where they can get in on the fun.
Black Farmers' Market
Aug. 22
With a mission to inspire self-sufficient communities and support Black farmers and entrepreneurs, the Black Farmers Market launched in summer of 2020, holding monthly events in the City of Oaks at the YMCA of Southeast Raleigh. You'll find farmers, gardeners, florists, bakers, seafood sellers and more offering their farm-fresh produce or hand-crafted goods. According to the creators of the event, there are more than 3 million farmers in America today, but less than 2% of those are Black. A visit to the market is an easy way to support these entrepreneurs—and of course people of all backgrounds are welcome to attend!
Open every fourth Sun., from 1:30-4pm.
45th Annual Lazy Daze Arts & Crafts Festival
Aug. 28-29
For more than 40 years, the Lazy Daze Arts & Crafts Festival has put local artists and craftsmakers in the spotlight. Today, the Cary festival has grown into a two-day affair, features more than 300 artists from 16 states, has multiple stages of live music, a beer garden and plenty of food trucks to keep everyone happy.
Raleigh's International Food Festival
Aug. 28
Celebrate Raleigh's diverse community and welcoming spirit by trying food, beer and wine (plus listen to live music and see more entertainment) from around the world. Nearly 20,000 attendees are expected in downtown Raleigh's City Plaza for the event!
AfroChella Extravaganzaa
Aug. 28
A fun, festive evening at Raleigh Union Station honoring the African American Cultural Festival of Raleigh and Wake County's 12th anniversary (and in anticipation of the festival's Labor Day weekend affair this year). This AfroChella-inspired fundraising event is a night of fun, drinks, music, dance and celebration! Come out in your African garb and help celebrate African culture with style and grace (plus mark your calendars for Sept. 4-5!). This is a ticketed event that is expected to sell out.
Aug. 28
Food trucks and local breweries will be on hand for Brew 'n' Choo, a series of family-friendly events at the North Carolina Railway Museum & New Hope Valley Railway that offers a family-fun opportunity to take a one-hour train ride through the woods (food and beverages allowed on the train!) and/or a 45-minute walking tour of the railway and museum. 
CINCH World's Toughest Rodeo
Aug. 28
Back by popular demand, Cinch World's Toughest Rodeo returns to PNC Arena this month, celebrating more than 40 years of bringing the Ol' West to cities across the country in 2020. Sanctioned by the Professional Rodeo Cowboys Association, CINCH World's Toughest Rodeo features three fan-favorite events, bareback riding, saddle-bronc riding and the most extreme sport, bull riding.
African American Cultural Festival, Sept. 4-5
Hopscotch Music Festival, Sept. 9-11
Friday Night on White, Sept. 10
Beer, Bourbon & BBQ Festival, Sept. 10-11
39th Annual Raleigh Greek Festival, Sept. 10-12
40th Annual Apex PeakFest, Sept. 11
Brewgaloo, Sept. 17-18
La Fiesta del Pueblo, Sept. 19
Downtown Raleigh Food Truck Rodeo, Sept. 26
Comments