Things to Do in Raleigh, N.C.: August 2022
Thursday, July 28, 2022, 11am by visitRaleigh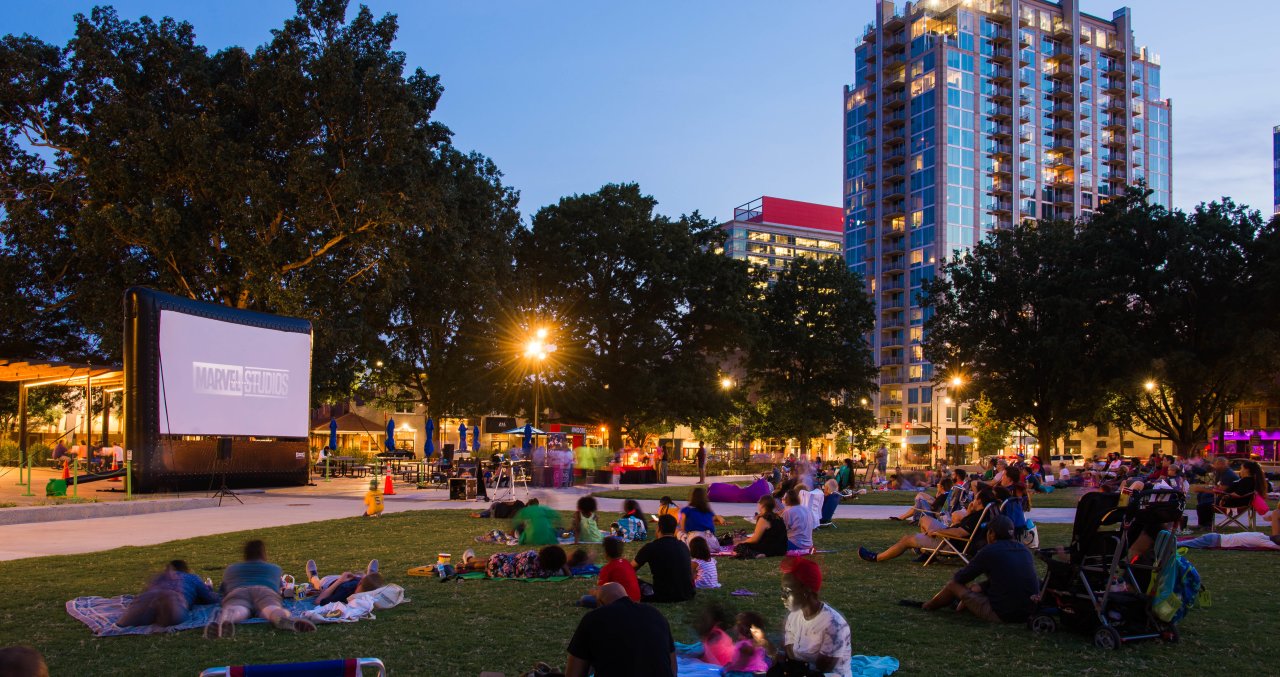 Every two weeks, we send out a newsletter that includes the best of the best upcoming events. If you sign up for our E-magazine, you'll get those, plus all the latest insider content (the best new restaurants, for example, or how to conquer this ultimate bike ride).
---

Summer is in full swing in the Raleigh area—there's still tons of fun to be had in the City of Oaks while the days are long and the weather is warm. There's plenty of time to plan for a weekend road trip, too, and August won't let you down—soccer matches, foodie events, art exhibits, outdoor concerts and way, way more are coming right up!
 
Aug. 3-14
Kicking off a new season in a big way! Raleigh native and former Broadway star Lauren Kennedy's Theatre Raleigh is ready to unveil a long-awaited new performance space, a 3,600-square-foot main stage in North Raleigh that her team has worked tirelessly to transform over the last two years. 
City of Angels is the first production to take place on the new stage, a 1940s-set musical about a detective story author trying to make it in Hollywood (while maintaining an ounce of integrity). With wit, humor and a fantastic Cy Coleman score, City of Angels captures the snappy dialogue of a Raymond Chandler novel and the glitzy showmanship of classic Hollywood; the result is a crowd-pleasing musical unlike any other. 
Aug. 5
One of America's best (and fastest) track events, the eighth annual Sir Walter Miler is a free-admission event featuring an elite field of men and women runners and allows fans onto the track at Cardinal Gibbons High School to scream and cheer as athletes look to set some of the fastest mile times of the year in the U.S. The event is free-admission for spectators. The racing starts at 8:30pm, and the post-race party follows at nearby Raleigh Brewing Company. 
Aug. 5-6
Beer sipping, bourbon tasting, music listening and barbecue eating—what's not to love? Don't miss the two-day Beer, Bourbon & BBQ Festival at Cary's Koka Booth Amphitheatre. Admission buys you a souvenir sampling glass so you can enjoy an all-you-care-to-taste sampling of beer and bourbon, plus chow down on some pulled pork, ribs, biscuit and more, all while enjoying all-day live music.
Aug. 5-21
This darkly humorous and deeply poignant play—starring real-life father and daughter duo Ira David Wood III and Evan Rachel Wood—presents a sobering and emotionally intense look at the world through the eyes of a man experiencing dementia, a dramatic illustration of the physical losses which occur along with the mental ones. This is not to be missed!
Nothing screams "summer!" quite like settling in under the stars for a movie night. Luckily, there are a number of opportunities to do just that this month.
Aug. 9-14
The rhythm is gonna get you On Your Feet! This is the inspiring true story about heart, heritage and two people who believed in their talent—and each other—enough to become an international sensation. From their humble beginnings in Cuba, Gloria and Emilio Estefan broke through the barriers to rise to the top of the pop music world. The universally crowd-pleasing and uplifting celebration of the legendary artist reveals fierce determination and visionary creativity, matched with the heart-stopping beats of the Miami Sound Machine.
Aug. 11-20
Presented through special arrangement with Music Theatre International (MTI) and directed by Nancy Rich, this Raleigh Little Theatre production features an eclectic group of six mid-pubescents who vie for the spelling championship of a lifetime. While candidly disclosing hilarious and touching stories from their home lives, the tweens spell their way through a series of (potentially made-up) words, hoping never to hear the soul-crushing, pout-inducing, life un-affirming "ding" of the bell that signals a spelling mistake. Six spellers enter; one speller leaves!
Aug. 11
Join artist Suzy Hasanin within one of Raleigh's most beautiful public spaces—the Raleigh Municipal Rose Garden—for this workshop on crochet basics!
Ready for a Raleigh road trip? Let's go!
The Milwaukee Brewer's minor league Carolina Mudcats have another month of games lined up at Five County Stadium in Zebulon, with 14 games total on the home schedule for August (mark your calendars for Friday night fireworks twice this month!).
Aug. 12
A favorite summertime event in charming downtown Wake Forest, Friday Night on White invites visitors to bring blankets, lawn chairs and their best dance moves out to White St. (the main avenue where White Street Brewing Company, Shorty's Famous Hot Dogs, Bodega and other favorites await). The Brickhouse Band will take to the main stage from 6-9pm, and food trucks and a beer tent will keep event goers plenty happy.
Aug. 12
Your favorite superstars, live in the ring at PNC Arena—featuring SmackDown Women's Champion Rowdy Ronda Rousey! See the Scottish Warrior Drew McIntyre, the undisputed WWE Tag Team Champions The Usos and many more!
Ready for a laugh-out-loud good time? Kevin Hart is bringing his Reality Check Tour—his first tour in more than four years—to Raleigh's PNC Arena (Aug. 20), D.L. Hughley is set to headline Raleigh Improv (Aug. 12-13) and more big name performers are lined up at two of the area's best comedy clubs! 
At Raleigh Improv:
Score tickets to see professional soccer at WakeMed Soccer Park in Cary! Two-time National Women's Soccer League champions North Carolina Courage are battling for another title this season, and the men's North Carolina FC squad has eight home games remaining on their United Soccer League schedule.
Aug. 13
A celebration of all things geek, this event is exactly what you'd hope for—costumes, giant board games, good food and local geek-themed artisans and vendors on hand to surprise and delight. Bring your wand and wizard garb and you'll be rewarded with butterbeer treats at this special wizard-themed edition of the market.
Aug. 18
A free event showcasing Raleigh's creativity at beautiful Moore Square, Raleigh Night Market is the spot to find locally made goods and enjoy live music and entertainment, with more than 80 local artisans, food vendors, beer, wine and cocktails on hand. Fun for friends, families, date nights and more, children are welcome and have a kids' fun zone where they can get in on the fun.
Aug. 18
It's safe to say that Christina Wrenn has put her horticulture degree from North Carolina State University to good use—Wrenn's Farm is now run by Christina and her husband, Austin, where the alternate between strawberry and flower season to fulfill demand at local markets. In this limited-space workshop, join Christina at the farm to explore more than an acre of ornamental flowers and create your own arrangement (all while enjoying a cold drink and some tasty ice cream!). 
Aug. 19; races take place most Fri. nights, incl. Aug. 5 and 12
Are you ready to throw it back? Wake County Speedway is celebrating 60 years of action in 2022, and Aug. 19 is officially Throwback Night! This track in South Raleigh didn't earn the nickname "America's Favorite Bullring" by happenstance—a number of current and former NASCAR drivers have cut their teeth at Wake County Speedway during its long and storied history.
Wake County Speedway will honor former/retired race car drivers on Throwback night, with as many as 40 racers expected to be in attendance. And on the track, the Line-X 155 will include 60 laps of late model stock car racing, where a handful of drivers are still jockeying for the track championship as the season is about two-thirds of the way done.
Aug. 20
A festival to promote diversity, equality and create a deeper appreciation for Afro-Caribbean culture in the Raleigh area, CaribMask—highlighted by the three elements of traditional Carnival: dressing in masquerade, music and dancing—returns for its ninth annual event in downtown Raleigh in 2022. A parade of bands, flag ceremony, a main stage with live music and tons of food and drinks are sure to keep a joyful crowd of more than 15,000 people plenty happy. 
Through Sept. 4
At this special, ticketed exhibition at the state's most-visited museum, step back in time 290 million years to the age before the dinosaurs. Explore vivid artwork, fascinating fossils and life-sized models of a giant saber-toothed predator, saw-toothed shark and many other bizarre creatures that dominated life on land and sea before the most devastating mass extinction the world has ever known.
Aug. 22
With a mission to inspire self-sufficient communities and support Black farmers and entrepreneurs, the Black Farmers Market launched in summer of 2020, holding monthly events in the City of Oaks at the YMCA of Southeast Raleigh. You'll find farmers, gardeners, florists, bakers, seafood sellers and more offering their farm-fresh produce or hand-crafted goods. According to the creators of the event, there are more than 3 million farmers in America today, but less than 2% of those are Black. A visit to the market is an easy way to support these entrepreneurs—and of course people of all backgrounds are welcome to attend!
Open every fourth Sun., from 1:30-4pm.
Aug. 27
Run, walk, skip, dance and glow your way to the finish line at this music festival and fun run combo at Cary's Koka Booth Amphitheatre. The race course is filled with selfie stations, live DJs, neon lights, bubble zones and more, and it all pays off with an after-party concert!
Aug. 27
This annual, all-day block party and street festival, drawing more than 80,000 attendees, caps off North Carolina State University's Wolfpack Welcome Week at the start of another academic year. The free and open-to-the-public event features more than 300 vendor booths lining Hillsborough St., along with food, games, arts and crafts, a water slide (bring your bathing suit!), visual and performing arts and more. Music, headlined by local favorite American Aquarium, will take center stage to close out the evening.
Aug. 27
Food trucks and local breweries will be on hand for Brew 'n' Choo, a series of family-friendly events at the North Carolina Railway Museum & New Hope Valley Railway that offers a family-fun opportunity to take a one-hour train ride through the woods (food and beverages allowed on the train!) and/or a 45-minute walking tour of the railway and museum. 
Aug. 27-28
For more than 40 years, the Lazy Daze Arts & Crafts Festival has put local artists and craftsmakers in the spotlight. Today, the Cary festival has grown into a two-day affair, features more than 300 artists from 16 states, has multiple stages of live music, a beer garden and plenty of food trucks to keep everyone happy.
Through Aug. 31
We often say "you're welcome", but what does it truly mean to to say "you are welcome?" B'rukhim Haba'im: Stories of Welcome—presented by Burning Coal Theatre Company—is an exhibit of filmed autobiographical stories of 21 Jewish seniors across the Raleigh area, telling stories of times they felt or experienced being truly welcome. These uplifting and touching stories are free to see, Tues.-Sun., at the City of Raleigh Museum.
Comments