Things to Do in Raleigh, N.C.: December 2015
Monday, November 30, 2015, 5am by Ryan Smith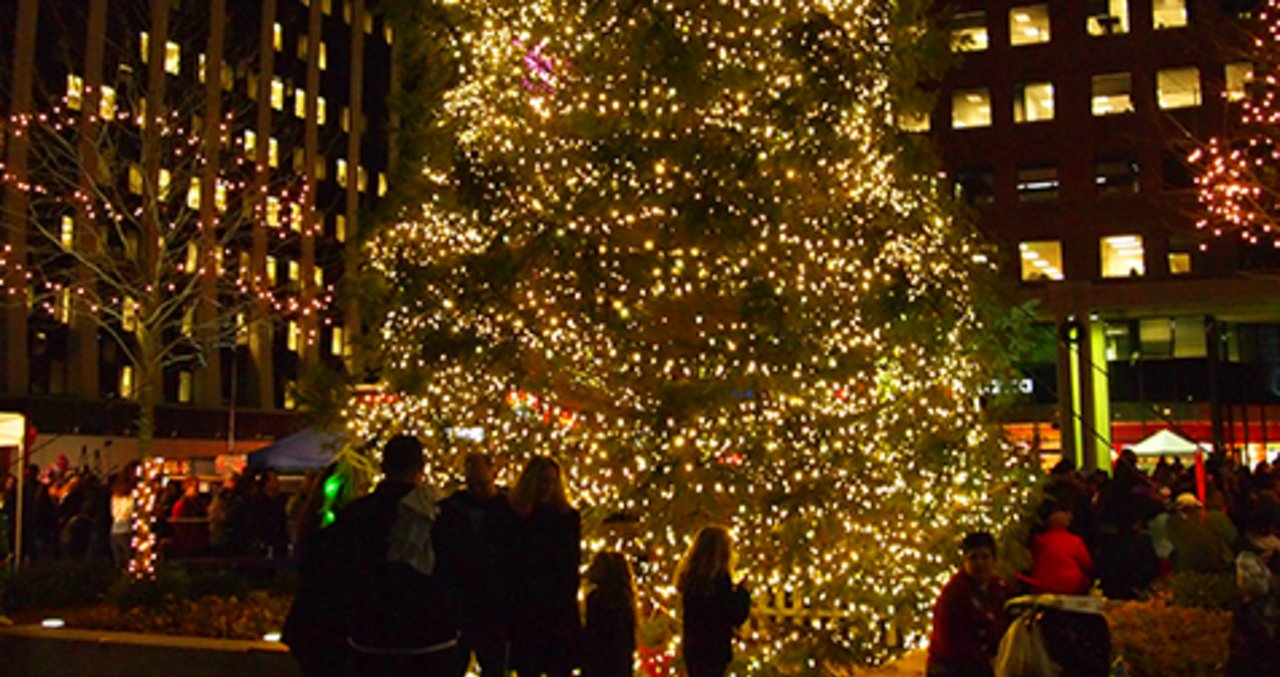 Ipreo Raleigh Winterfest Celebration photo by Ray Rivera.

Light Up Your Holidays! Plenty for Family and Friends This Season.

Season's greetings! Find everything you want to do this holiday season, and enjoy doing it right here in Raleigh, N.C. With the best, most diverse range of shopping areas in the state, you can find something special for everyone on your list. Check out Raleigh passionate mind Holly Aiken's holiday gift picks to start. And with energizing capital city events, you'll experience holiday traditions that make great memories for you and your friends and family.
No matter if you are looking for that hometown holiday feel or large-scale festivals celebrating the season, the area offers up experiences that will leave you feeling fully festive. Take in thousands of LED lights creating unforgettable displays during the North Carolina Chinese Lantern Festival-Cary (through 1/3/16) at Koka Booth Amphitheatre, or join thousands of your closest friends to ring in 2016 at First Night Raleigh 2016 (12/31). This celebration takes over downtown Raleigh with entertainment, music and family-friendly activities; the evening concludes with the acorn drop and a spectacular fireworks display.
The Town of Cary invites you to the Heart of the Holidays celebration (12/5) including the 12th Annual Ole Time Winter Festival with arts, crafts, food, music and children's activities. Santa Claus and downtown Wake Forest present the Holiday Open House (12/5) with live entertainment, horse and carriage rides and shopping :: See all holiday events

Historic Holidays
No place tells the state's story better than the North Carolina Museum of History, and through its current special exhibition, N.C.'s Favorite Son: Billy Graham and His Remarkable Journey of Faith (through 7/10/16), visitors can explore the life of Billy Graham and his ministry spanning several decades. Learn about Raleigh's oldest home and early Christmas traditions at the Joel Lane Museum House's Colonial Christmas Open House 2015 (12/5) or at Mordecai Historic Park, with the birthplace of Andrew Johnson, during the Mordecai Holiday Open House (12/12-13) and Holiday Lantern Tours (12/12) when the Mordecai home will be festively decorated and will recreate colonial history through inspired demonstrations. The North Carolina State Capitol lights up the holiday season with the annual Tree Lighting Ceremony and Holiday Festival (12/10). Can't miss: Take a stroll through Historic Oakwood, a community of homes from the mid-1800s to the early 1900s during the 44th Annual Historic Oakwood Candlelight Tour (12/12-13) :: All Lifelong Learner events
Hit the Ice
Bundle up and dust off your ice skates because the Ipreo Ice Rink (through Jan. 31) is back in downtown Raleigh's City Plaza offering outdoor ice skating for all ages! Also head to indoor ice to see the NHL's Carolina Hurricanes take on the New Jersey Devils (12/3 & 12/26), Montreal Canadiens (12/5), Arizona Coyotes (12/6), Florida Panthers (12/18) or Washington Capitals (12/21 & 12/31), or see some of the best college athletes take the field at WakeMed Soccer Park during the NCAA Women's College Cup soccer championship (12/5-6). Can't miss: College basketball is in full swing, so take in a game as the North Carolina State University Men's Basketball team goes head-to-head against Michigan (12/1), Bucknell (12/5), High Point (12/16), UNC-Greensboro (12/22) and Northeastern (12/29) :: All Adrenaline Junkie events
Artful Holidays
Regardless of whether its visual arts or performing arts, Raleigh has a cultural event that is guaranteed to put you in the holiday spirit. Take in one of Raleigh's most beloved holiday traditions, Theatre In The Park's annual performance of A Christmas Carol (12/9-13) or Carolina Ballet's The Nutcracker (12/18-27). The North Carolina Symphony performs A Baroque Christmas (12/4-5) and Cirque Musica Holiday Spectacular (12/18-19), which features your favorite holiday music with spell-binding grace and gravity-defying feats from today's greatest circus performers. The Raleigh Ringers handbell choir presents its 2015 Holiday Concert (12/13-14). The North Carolina Museum of Art gives Creative Geniuses a visual arts treat this holiday season as it presents the blockbuster exhibitions The Worlds of M.C. Escher: Nature, Science and Imagination (through 1/17/16) and Leonardo Da Vinci's Codex Leicester and the Creative Mind (through 1/17/16). Can't miss: Raleigh Little Theatre's hilarious adaptation of Cinderella (12/4-20) has been a family favorite for 30-plus years with elegant costumes and scenery along with song, dance, conniving step-relatives and resourceful fairy-folk :: All Creative Genius events
From Broadway to Bluegrass
Kid-friendly rock 'n' roll, holiday songs and an eight-time Tony Award-winning musical set the tone for a month filled with music. The Duke Energy Center for the Performing Arts presents a calendar full of music events including Once (12/1-6), an award-winning Broadway play that shows us that the power of music connects us all and features an impressive ensemble of actor/musicians who play their own instruments onstage; the Annie Moses Band (12/11), performing stunning arrangements of holiday classics; and children's music superstars The Laurie Berkner Band (12/12). Can't miss: The holiday season is perfect for spending time with friends over a meal, and it's even better when you can hear live music at the same time. Raleigh culinary institution Irregardless Café is home to music nightly, ranging from jazz, Latin, bluegrass and more :: All Music Maniac events
Indulge in delicious wine at Chatham Hill Winery during its 16th Annual Holiday Open House (12/12), with a wine tasting and tours, a holiday wine and food pairing, live music and more. The event will offer a perfect chance to get some locally-made gifts for your family and friends. Continue the Foodie festivities at The Umstead Hotel and Spa's Champagne and Caviar: Tasting and Dinner (12/17). The night begins with a caviar and champagne tasting, followed by a caviar-inspired three-course dinner prepared by executive chef Steven Greene. Can't miss: Explore the traditions of the Scandinavian countries, Sweden, Norway, Denmark, Finland and Iceland, with live music, Nordic folk dancing and more at the Scandinavian Christmas Fair (12/5). Foodies will love the homemade Scandinavian food! :: All Foodie events
Click here for a full list of Dec. events in the Raleigh area.

Comments