Things to Do in Raleigh, N.C.: December 2016
Wednesday, November 23, 2016, 12am by Michael Robson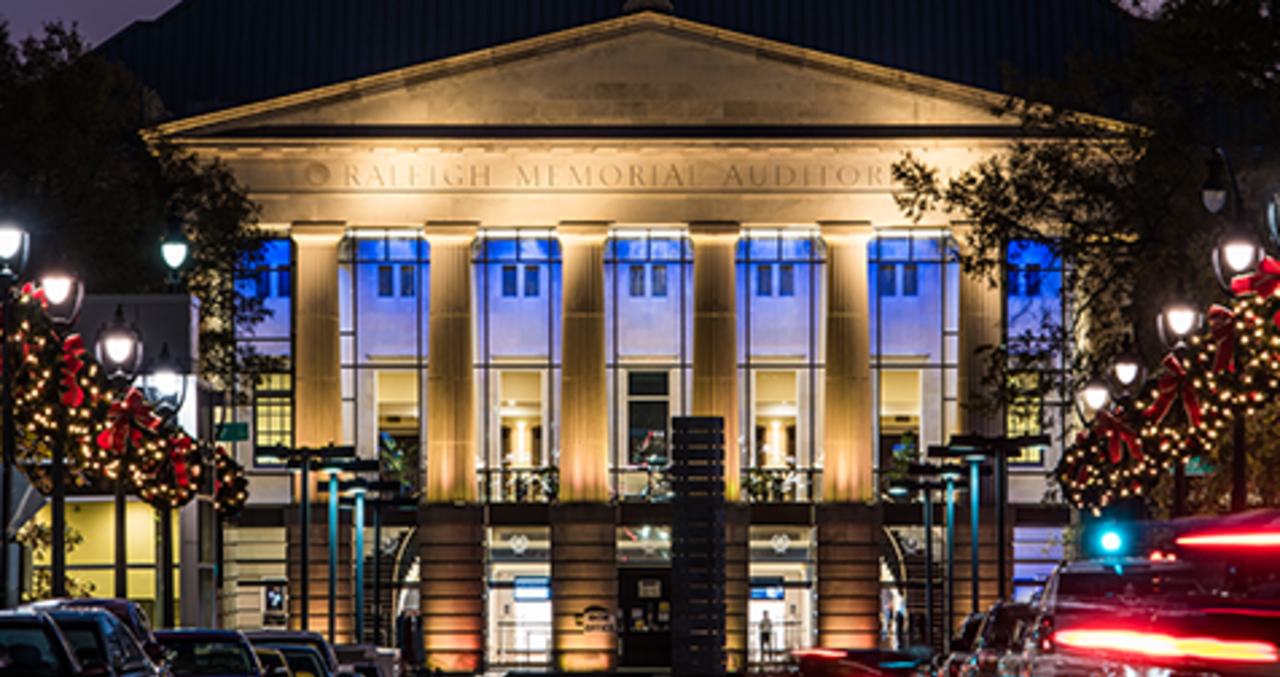 Raleigh Holiday Traditions
It's beginning to look a lot like the holidays in Raleigh, N.C. And while it's still totally fall for another few weeks (as evidenced by the gorgeous foliage and bourbon pecan pies in this set of #visitRaleigh photos), we won't blame you one bit for reaching into the closet for scarves and gloves, dreaming of hot chocolate and planning out your winter bucket list. 'Tis the season for holiday events—traditions to be enjoyed with family and friends, some dating back to nearly 50 years in the Raleigh area.
Take Theater In The Park's production of A Christmas Carol (12/7-11), for example. The beloved musical comedy, celebrating it's 42nd year this holiday season, has wowed more than a million guests throughout the years. Produced by local passionate mind Ira David Wood III (whose performance as Scrooge is known to steal the show), A Christmas Carol is suitable for all ages and has been a longstanding tradition for families in the area.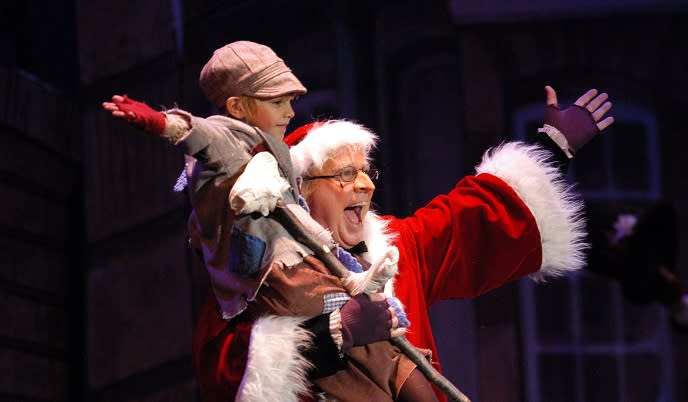 Ipreo Raleigh Winterfest (12/3) officially kicks off downtown Raleigh's winter wonderland experience. An all-day, can't-miss celebration that draws thousands of visitors, Winterfest includes live music all day long (headlined by Holy Ghost Tent Revival this year), a Ferris wheel, carousel and ice skating rink, food trucks serving up delicious hot meals plus the Mayor's Tree Lighting Ceremony. 
Of course a holiday season wouldn't be much without larger-than-life, imaginative light displays. You'll find more than 400,000 dancing, glowing lights in downtown Wendell at the Lake Myra Christmas, part of Wendell Wonderland (through 12/31). The choreographed light show, animated to sync with your favorite holiday music, gets bigger and better each year—plus it's totally free. At Cary's Koka Booth Amphitheatre, the North Carolina Chinese Lantern Festival (through 1/15) returns for a second year. This super trip-worthy event features 20 light displays, crafted out of handmade lanterns lit up by thousands of LEDs. The signature display, the Chinese Dragon floating on Symphony Lake, stands 200 feet long and 21 feet tall!
As always, we'll close out the calendar year in a big way in downtown Raleigh. One of the state's biggest New Year's Eve celebrations, First Night Raleigh (12/31) is way more than just a countdown to midnight (where, yes, a giant copper acorn drops from the sky as the clock strikes 12). A full day of live music and other entertainment, plus a Ferris wheel, pop-up wedding chapel, mini golf course and fireworks make this one of the year's most anticipated events for locals and visitors.
There's so much more, too! Tree lightings, sleigh rides, candlelight tours through historic neighborhoods—not to mention other incredible displays of performing arts (hint: Carolina Ballet's The Nutcracker [12/16-24] and Broadway Series South's Rudolph The Red-Nosed Reindeer: The Musical [through 12/24] are must-sees).
Check out our full list of holiday traditions—old and new—in Raleigh, N.C. here.
Trip-Worthy Shopping

What goes better with light displays and ice skating dates than a shopping spree? Consider this your free pass to explore Raleigh, N.C.'s thriving "maker" scene this holiday season. That means authentic, handcrafted, local (and sometimes delicious!) products are waiting to be discovered. 
Start with Moon and Lola, the jewelry and accessories company from Kelly Shatat with locations in downtown Apex, downtown Raleigh, Cameron Village and Crabtree Valley Mall. Known for their acrylic monogrammed pieces and DIY charm bar, Moon and Lola has caught the attention of some big names and publications, to say the least—they were featured as one of Oprah's Favorite Things twice, in 2014 and 2015. 
Those that are fashion conscious (or shopping for those that are) will certainly want to stop in two more downtown Raleigh spots—Holly Aiken - Stitch and Raleigh Denim Workshop. At Stitch, Holly Aiken's purses, wallets and cases, made on-site, fill the shop with color and fun designs. Spend any time around the city and you're sure to spot a number of these unmistakable handbags hanging off shoulders wherever you go. Just a few blocks away at Raleigh Denim you'll find handcrafted denim using materials 100-percent sourced from N.C., plus other clothing and accessories for men and women.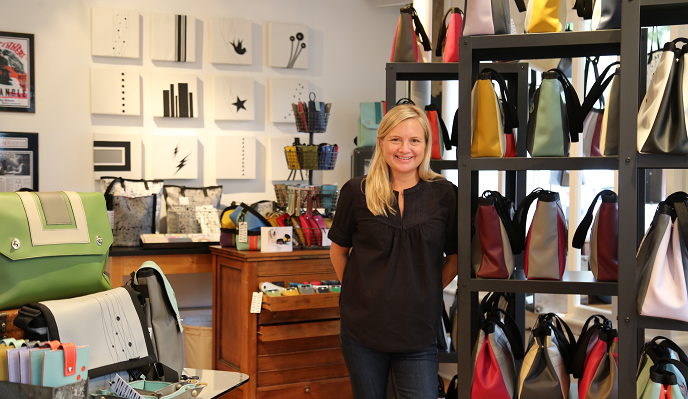 In need of some more local shopping or gift ideas? We rounded up 12 Raleigh-made products from passionate local entrepreneurs here (including two chocolate makers you need to know about!), plus we talked to Ana Maria Muñoz, owner of downtown retail store Port of Raleigh, about her favorite unique places to find goods in downtown Raleigh. 
More December Picks
Two major events come to PNC Arena this month: Disney On Ice presents Follow Your Heart (12/8-11) skates into town with all of your favorite Disney characters in tow—Dory, Cinderella, Rapunzel, Ariel, Mickey, Minnie, Elsa and more. A few days later, Trans-Siberian Orchestra, presented by Hallmark Channel (12/14), brings "The Ghosts of Christmas Eve" rock opera to Raleigh.
Local band Delta Rae performs with Penny & Sparrow at Lincoln Theatre (12/18). This show will be expected to sell out, so don't wait around to make plans! Over at The Ritz, The Molly Ringwalds (12/2), Flosstradamus (12/5) and Mac Miller (12/17) will all take stage this month. And you can find Southern hip hop group Nappy Roots at The Pour House Music Hall (12/10). As always, you can find a full list of upcoming music events over at themostnc.com.
Comedian, actor and writer Patton Oswalt (12/3) will perform at Memorial Auditorium.
Raleigh Little Theatre's production of Cinderella (12/2-18) brings just the right mixture of comedy and romance to the stage in a performance that's fun for the whole family.
The NHL's Carolina Hurricanes, squarely in the playoff hunt, have a flurry of home games in Dec. They'll take on the Tampa Bay Lightning (12/4), Vancouver Canucks (12/13), Washington Capitals (12/16) and others. You can score up to $35 off tickets to the game on 12/4 vs the Lightning by using this #visitRaleigh deal!
The Daniel Dhers Action Sports Complex is gearing up to host their first-ever DDASC Complex AM BMX Competition (12/10). BMX riders will give the course their best shot, with a set of judges scoring the competition. Spectating is free! Learn more about Daniel, professional BMX rider and co-founder of the action sports complex in Holly Springs, here.
Looking to treat yourself (and the family) on Christmas Day? It's hard to beat Christmas Brunch at The Umstead (12/25). Make reservations!
Have you been to the North Carolina Museum of Art exhibition, Rolling Sculpture: Art Deco Cars From the 1930s and 40s? Through Jan. 15, 14 cars and three motorcycles from the exhibit's namesake time period will be on hand, dubbed "possibly the most beautiful cars in the world," by Autoweek. Take advantage of the holidays and check it out!
Comments