Things to Do in Raleigh, N.C.: December 2018
Thursday, November 29, 2018, 11am by visitRaleigh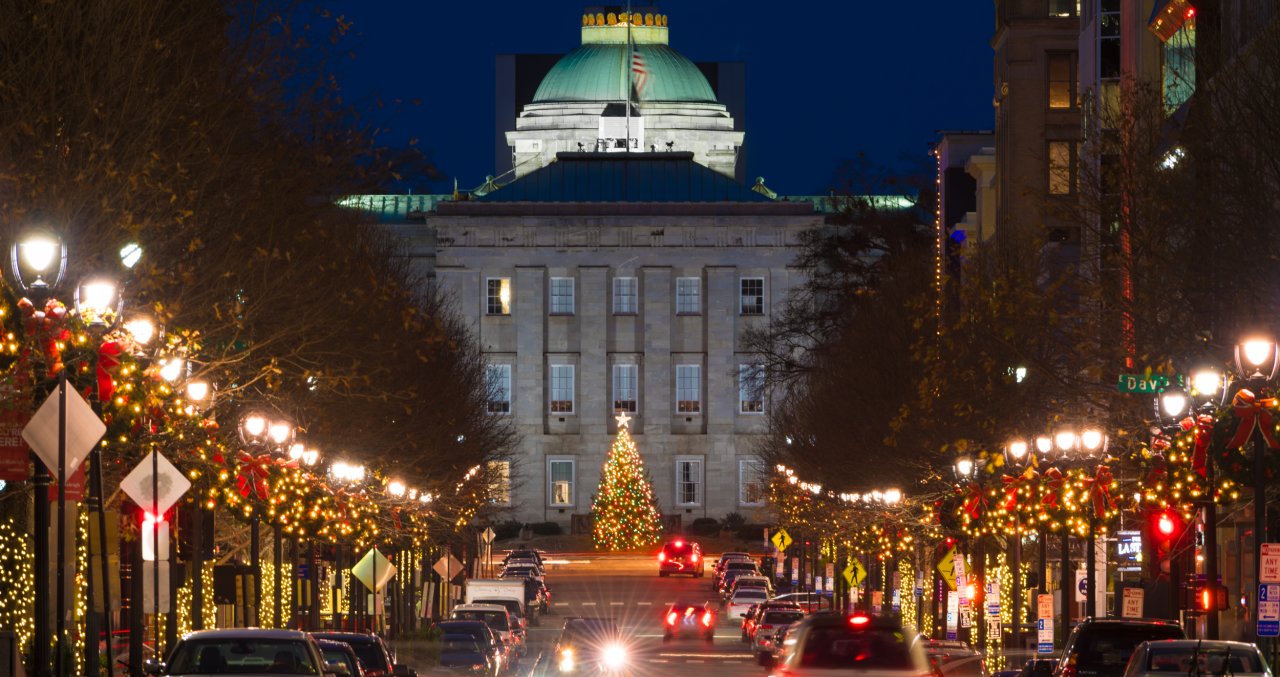 It's beginning to look a lot like the holidays in Raleigh, N.C.! And while it's still totally fall for another few weeks (as evidenced by the gorgeous foliage photos from William B. Umstead State Park), we won't blame you one bit for reaching into the closet for scarves and gloves, dreaming of hot chocolate and planning out your winter bucket list. 'Tis the season for holiday events—traditions to be enjoyed with family and friends, some dating back to nearly 50 years in the Raleigh area.
 
Rudolph the Red-Nosed Reindeer: The Musical
Through Dec. 23
Based on the animated television special "Rudolph The Red-Nosed Reindeer" and the stage production directed and conceived by Jeff Frank and First Stage, the characters you know and love—Rudolph, the Abominable Snowman, Santa and Mrs. Claus and more—come to life in this Broadway Series South production.
Piper Lights
Through Jan. 3, 2019
In Wake Forest, Piper Lights—a family-run light display that's been in action for 30 years now—is set for another big holiday season. The seven-acre light display that connects yards and jumps across a pond received national recognition in 2016 when they were named winners on ABC Television Network's Great Christmas Light Fight. Enjoy this year's light display at 5725 Fixit Shop Rd.
North Carolina Chinese Lantern Festival-Cary
Through Jan. 13, 2019
A super trip-worthy event for the whole family returns for a fourth straight year! The North Carolina Chinese Lantern Festival brings more than 20 larger-than-life lanterns to Koka Booth Amphitheatre in Cary. Made up of thousands of LED lights, displays light up the skies and mesmerize visitors on this one-hour walking tour (have your cameras ready for the spectacular Chinese Dragon that sits on Symphony Lake!). Beyond beautiful lanterns, the ticketed festival also welcomes a showcase of Chinese culture—nightly performances (6:30, 7:30 and 8:30pm) featuring martial arts, traditional dance, acrobatics, drum performances and more.
Through Dec. 16
Just the right mixture of comedy and romance, this musical is a true holiday sugarplum for the entire family. Based on the fairy tale by Charles Perrault, this visually-stunning musical combines elegant costumes and scenery with singing, dancing, conniving step relatives and resourceful fairy folk.
Semifinal games played Nov. 30; championship game played Dec. 2
For the eighth time (the most in NCAA history), Sahlen's Stadium at WakeMed Soccer Park in Cary will host the NCAA Women's College Cup, the ultimate prize for the final four college soccer teams looking to end their seasons with a championship trophy. University of North Carolina at Chapel Hill, Standford University, Florida State University and Georgetown University will battle it out to crown a winner. Tickets and more info can be found here.
A Christmas Carol, presented by Theatre In The Park
Dec. 5-9
This theater production from local passionate mind Ira David Wood III, celebrating its 44th year this holiday season, has wowed more than a million guests throughout the years. The beloved musical comedy, in which Wood himself puts on an incredible performance as Scrooge, has been a longstanding tradition for families in the area—tickets tend to go quickly so plan ahead! 
Dec. 5-9
Disney On Ice brings the magic closer to you than ever before! Join Mickey Mouse and his friends at Disney On Ice presents Mickey's Search Party, a brand-new adventure filled with world-class skating, high-flying acrobatics and unexpected stunts. Make memories with your whole family during Aladdin, Toy Story and The Little Mermaid as the search party becomes an all-out magical celebration on the ice, in the air and all around!
State Capitol Tree Lighting Ceremony
Dec. 6
With luminaries lighting the Capitol grounds and local choral groups filling the air with seasonal songs, the lighting of the tree at the North Carolina State Capitol building is a sign for many that the holiday season is officially here. After the lighting of the tree, stick around to tour the inside of the Capitol, covered in wreaths and draped in garland.
Wendell Wonderland/Lake Myra Christmas Lights
Light show runs Nov. 21-Dec. 31; Wendell Wonderland festival is Dec. 7
A perfect chance to experience historic downtown Wendell, with a visit from Santa Claus, trolley rides through town, live music local vendors and more. One of the area's most popular light shows, the Lake Myra Christmas light display will also be in full swing, featuring more than 400,000 lights—and it's all free! Wendell Wonderland is a one-night event, but the light show runs daily through the end of the year.
47th Annual Historic Oakwood Candlelight Tour
Dec. 8-9
Historic Oakwood, a community of homes, many of which are dated to the mid 1800s to early 1900s, has its own small town feel. Elegantly decorated for the holidays, you can step inside about a dozen private homes, staffed with docents who tell the rich history of this Century Victorian neighborhood.
Dec. 12
Over the past 20-plus years, Trans-Siberian Orchestra has become a critically-acclaimed, multi-platinum, musical powerhouse, and its annual winter tours a beloved, multi-generational holiday tradition. Based on TSO's multi-platinum DVD and long running PBS fundraiser, "The Ghosts of Christmas Eve," this year's tour will include new awe-inspiring effects, as well as amazing staging with an all new design.
The Nutcracker, presented by Carolina Ballet
Dec. 14-23
Grace, grandeur and mysterious illusions. Carolina Ballet's holiday classic is a can't-miss tradition for locals, visitors, families and friends. The only production in the country using illusions created by renowned magician Rick Thomas, The Nutcracker will make characters levitate, disappear and reappear before your eyes in 14 performances at the Duke Energy Center for the Performing Arts.
24th Annual Kwanzaa Celebration
Dec. 28
A celebration for all people, focusing on family and friends, Town of Cary and the Ujima Group, Inc., will host the 24th annual Kwanzaa Celebration at the Cary Arts Center. The theme for this year's celebration is "Working to Build A Kind and Just World," and it'll feature a performance by percussionist Bradley Simmons followed by a fashion show under the direction of Phylicia Nicole Barker, plus performances by Collage Dance Company, vocalist Shannon Grier and more.
First Night Raleigh
Dec. 31
Raleigh's biggest New Year celebration fills the city's center with crowds and activities: entertainment, tons of live music, vendors and an epic grand finale that sees a giant copper acorn drop from the sky as the clock strikes midnight.
Seven home games in Dec.
The NHL's Carolina Hurricanes, back in action and off to a hot start this season, will play an important seven home games at PNC Arena this month. They'll take on the Maple Leafs (12/11), Capitals (12/14), Coyotes (12/16), Red Wings (12/20), Penguins (12/22), Bruins (12/23) and Flyers (12/31).
It's a great time of year to rediscover some of Raleigh's legendary indoor music venues—with the most live music in the state, you won't be low on options! Some dates we've marked our calendars for this month:
Chris Young (12/1)
Lisa Loeb (12/6)
Front Country, Hank & Pattie Electric Duo and Blue Cactus (12/6)
State Property (12/10)
Chatham County Line Electric Holiday Tour 2018 (12/15)
The Shakedown presents: A Very Shakedown Holiday Bash (12/15)
The Hot at Nights Holiday Party (12/19)
Kate Rhudy (12/28)
Stardust To Ashes - A Tribute to David Bowie (12/30)
First Night Raleigh, featuring Boulevards, New Reveille and more (12/31)
The Joel Lane Museum House, decorated in traditional Colonial holiday splendor, reveals the very different way in which colonists and early Americans celebrated the Yuletide season at the annual Colonial Christmas Open House (12/1).
Welcome in the holiday season with the official Christmas tree lighting for the Town of Cary (12/1), a festive night featuring performances from actors, singers and musicians from the community.
Grab a front-row seat to watch as marching bands, floats, classic cars, Santa Claus and many other entries make their way through downtown Garner in the annual Garner Christmas Parade (12/1).
The 26th Annual Boylan Heights Art Walk (12/2) features more than a hundred artists and craftspeople selling a wide range of glasswork, jewelry, woodwork, clay work and ceramics, photography and prints, multimedia, painting and other art from the neighborhood's porches, yards, and sidewalks (in of the area's prettiest neighborhoods!).
The Umstead Hotel in Spa's "Herons: Rooted in the South" (12/5), a dinner benefiting the Southern Foodways Alliance, will feature two guest chefs collaborating with chefs Steven Devereaux Greene and Jonathan Fisher to develop a menu of delicious dishes born from their Southern roots.
Join in on a fun, in-depth art tour in downtown Raleigh's Warehouse District with artist and educator Thea Howell's Make An Art Scene: First Friday Dec. Walking Tour (12/7), a People-First Tourism experience. 
Celebrate the holidays in Holly Springs with a visit from Santa Claus, hayrides, live entertainment, refreshments and more (including the lighting of the town Christmas tree!) at Main Street Christmas (12/7).
Join comedian, writer and actor Patton Oswalt (12/8) for a night of entertainment in downtown Raleigh at the Duke Energy Center for the Performing Arts.
The Justice Theater Project presents the rebirth of their annual holiday family favorite, Black Nativity (12/16-18) by Langston Hughes, at North Carolina State University's Stewart Theatre.
Join The Umstead Hotel and Spa for another special edition of Umstead Uncorked Wine Tasting: Sparkling Wine (12/19), exploring the world of bubbles—from Champagne to rosé—as we prepare to greet 2019.
Gear up for serious hoops action as the North Carolina State University hit the floor at PNC Arena this month (12/5 vs. Western Carolina; 12/19 vs. Auburn; 12/22 vs. University of South Carolina Upstate; and 12/28 vs. Loyola University at Maryland), the best high school basketball teams in the country come together to participate in the 47th edition of The John Wall Family Foundation Holiday Invitational (12/26-29), and the Harlem Globetrotters bring their star-studded roster and basketball wizardry to town (12/30).
Comments