Things to Do in Raleigh, N.C.: December 2019
Wednesday, November 20, 2019, 10am by visitRaleigh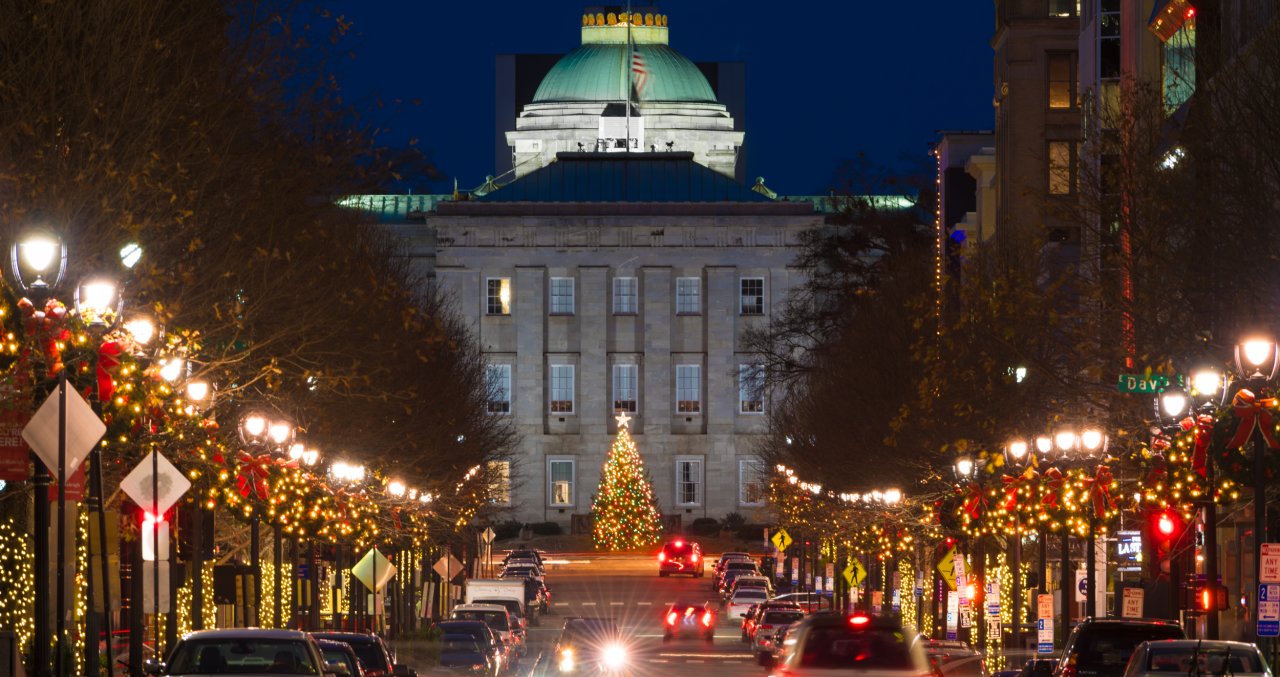 Every two weeks, we send out a newsletter that includes the best of the best upcoming events. If you sign up for our E-magazine, you'll get those, plus all the best new content (the scoop on the best new restaurants in Raleigh, for example, or our up-to-date list on the best free things to do in Raleigh).
---

It's beginning to look a lot like the holidays in Raleigh, N.C.! And while it's still totally fall for another few weeks, we won't blame you one bit for reaching into the closet for scarves and gloves, dreaming of hot chocolate and planning out your winter bucket list. 'Tis the season for holiday events—traditions to be enjoyed with family and friends, some dating back nearly 50 years in the Raleigh area.
 
An Evening with David Sedaris
Dec. 1
Raleigh-native David Sedaris, a number-one bestselling author and one of America's preeminent humor writers, has returned to the road following the release of his most deeply personal and darkly hilarious collection, Calypso. An Evening with David Sedaris will feature all-new stories and observations, along with an audience Q&A and book signing.
Accessibility notes: For all events at the Duke Energy Center for the Performing Arts, accessible seating is available; sensory bags are available; assisted listening devices are available; American Sign Language Interpreters are available upon advanced request; audio description services can be provided upon advanced request; and wheelchairs are available. More information here.
North Carolina Chinese Lantern Festival-Cary
Nov. 22, 2019-Jan. 12, 2020
A super trip-worthy event for the whole family returns for a fifth straight year! The North Carolina Chinese Lantern Festival brings more than 20 larger-than-life lanterns to Koka Booth Amphitheatre in Cary. Made up of thousands of LED lights, displays light up the skies and mesmerize visitors on this one-hour walking tour (have your cameras ready for the spectacular phoenix that sits on Symphony Lake!). Beyond beautiful lanterns, the ticketed festival also welcomes a showcase of Chinese culture—nightly performances featuring martial arts, traditional dance, acrobatics, drum performances and more.
Accessibility notes: Booth Amphitheatre has paved walkways and is wheelchair accessible.
A Snow White Christmas
Nov. 30-Dec. 8
Fun for the entire family, enjoy this wonderful, witty retelling of a classic fairytale at the Duke Energy Center. With a score consisting of well-known pop songs, follow Snow White and her Seven Dwarves as they try to save Christmas from her Wicked Aunt. This British Panto-style performance will have you laughing in the aisles and singing from your seats.
 
Piper Lights
Nov. 29, 2019-Jan. 3, 2020
In Wake Forest, Piper Lights—a family-run light display that's been in action for 30 years now—is set for another big holiday season. The seven-acre light display that connects yards and jumps across a pond received national recognition in 2016 when they were named winners on ABC television network's Great Christmas Light Fight. Enjoy this year's light display at 5725 Fixit Shop Rd.
 
Rudolph the Red-Nosed Reindeer: The Musical
Nov. 29-Dec. 24
Based on the animated television special "Rudolph The Red-Nosed Reindeer" and the stage production directed and conceived by Jeff Frank and First Stage, the characters you know and love—Rudolph, the Abominable Snowman, Yukon Cornelius, Hermey, Santa and Mrs. Claus and more—come to life in this Broadway Series South production at the Duke Energy Center.
Wendell Wonderland/Lake Myra Christmas Lights
Light show runs Nov. 27-Dec. 31; Wendell Wonderland festival is Dec. 6
A perfect chance to experience historic downtown Wendell, with a visit from Santa Claus, trolley rides through town, live music local vendors and more. One of the area's most popular light shows, the Lake Myra Christmas light display will also be in full swing, featuring more than 400,000 lights—and it's all free! Wendell Wonderland is a one-night event, but the light show runs daily through the end of the year.
Through Jan. 19, 2020
Frida Kahlo, Diego Rivera, and Masterpieces of Modern Mexico from the Jacques and Natasha Gelman Collection at the North Carolina Museum of Art presents the paintings of two icons of the 20th century. Few artists have captured the public's imagination with the force of Mexican painter Frida Kahlo (1907-54) and her husband, the Mexican painter and muralist Diego Rivera (1886-1957). This is a special exhibit ticketed in conjunction with Scott Avett's INVISIBLE.
Accessibility notes: Wall labels throughout the exhibition use large-size text; noise-cancellation headphones are available at the box office; and motorized and regular wheelchairs can be checked out free of charge.
Raleigh Little Theatre presents Cinderella
Dec. 6-22
Celebrating its 36th year at Raleigh Little Theatre in 2019, the musical comedy Cinderella is a holiday surgarplum for the whole family. Just the right mixture of comedy and romance, plus a visually stunning set and costumes, make this fairy tale a favorite holiday tradition in Raleigh.
Accessibility notes: All performances are wheelchair accessible; assistive listening devices are available; and the Sun., Dec. 15, performance will be described for those with visual disabilities. 
Christmas on Salem Street
Dec. 6-8
Christmas carols, a tree lighting, horse-drawn carriages, cookie decorating and a visit from Santa in charming historic downtown Apex—this annual three-day tradition has so much to love. Don't miss the Grand Christmas Parade on Sat.!
More tree lighting celebrations
For that small town, holiday feel, join one of the following towns for a local tree lighting ceremony:
Zebulon: Downtown Tree Lighting Festival (Nov. 22)
Rolesville: Holiday Tree Lighting (Dec. 3)
Fuquay-Varina: Town Tree Lighting (Dec. 5)
Apex: Christmas on Salem Street (Dec. 6-8)
Morrisville: Tree Lighting (Dec. 6)
Garner: Light Up Main (Dec. 6)
Wake Forest: Lighting of Wake Forest (Dec. 6)
Knightdale: Christmas on First Avenue (Dec. 7)
Cary: Christmas Tree Lighting (Dec. 7)
Holly Springs: Main Street Christmas (Dec. 13)
 
Sleigh Rides and Cider
Dec. 7
Kick off your holiday season at Historic Oak View County Park with horse-drawn carriage rides, hot apple cider, live music, handmade crafts, holiday activities and, of course, Ol' Saint Nick! Note: You can also book a holiday tour of the park here (free, but registration required!).
 
Boylan Heights Art Walk
Opens in New Window
Dec. 8
For 26 years and counting, the Boylan Heights Art Walk has featured more than 100 artists and craftspeople selling a wide range of glasswork, jewelry, woodwork, clay work and ceramics, photography and prints, multimedia, painting and other art from the neighborhood's porches, yards and sidewalks (in of the area's prettiest neighborhoods!).
Holiday Market at Brewery Bhavana
Dec. 9
The first-ever Holiday Market at Brewery Bhavana aims to transform the restaurant into a festive, market-inspired space to celebrate the spirit of this season. Along with 20 diverse and locally-owned shops, there will be music, drinks and the release of the much-anticipated 2019 Larkspur, a champagne-inspired beer made by Bhavana.
Theatre In The Park presents A Christmas Carol
Dec. 11-15
This theater production from local passionate mind Ira David Wood III, celebrating its 45th year this holiday season, has wowed more than a million guests throughout the years. The beloved musical comedy, in which Wood himself puts on an incredible performance as Scrooge, has been a longstanding tradition for families in the area—tickets tend to go quickly so plan ahead! 
Disney on Ice presents Road Trip Adventures
Dec. 11-15
Hit the road with Mickey Mouse and his pals for a high-octane ride in Disney On Ice presents Road Trip Adventures. Exciting twists and turns await as Mickey, Minnie, Goofy—and you—embark on a wild ride to your favorite Disney destinations. Travel with Moana to the sun-soaked Motunui, set off on a safari to the Pride Lands with Simba and discover a whole new world as you're swept up in Aladdin's princely parade at Raleigh's PNC Arena.
Accessibility notes: For information on assisted listening devices, interpreting services, sensory-inclusive resources and more, see PNC Arena's ADA Guide here.
Holiday Open House at the North Carolina Executive Mansion
Dec. 12-15
The North Carolina Executive Mansion, designed by prominent architect Samuel Sloan, is one of the state's architectural gems and serves as a repository for a fine collection of 18th- and 19th-century N.C. furnishings and paintings. Completed in 1891, the house has been home to the state's governors and their families and has served as a political, social and cultural center of the state for more than 100 years.
For four days, visitors are invited to tour the home, take in the decorations and enjoy seasonal musical entertainment by local performing groups. The first floor of the mansion will be decorated with N.C.-grown Christmas trees, floral and mixed evergreen arrangements and ornate mantle displays. The Holiday Open House is one of the only times each year for visitors to enter the house without a prior reservation or group tour scheduled.
State Capitol Tree Lighting Ceremony
Dec. 12
With luminaries lighting the Capitol grounds and local choral groups filling the air with seasonal songs, the lighting of the tree at the North Carolina State Capitol building is a sign for many that the holiday season is officially here. After the lighting of the tree, stick around to tour the inside of the Capitol, covered in wreaths and draped in garland.
Dec. 13 and 15
Four teams, one ultimate prize—the final four NCAA Men's soccer teams will battle it out on the pitch at Sahlen's Stadium at WakeMed Soccer Park in Cary to crown a champion in of the year's biggest sports events held in the Raleigh area.
48th Annual Historic Oakwood Candlelight Tour
Dec. 14-15
Historic Oakwood, a community of homes, many of which are dated to the mid-1800s to early 1900s, has its own small town feel. Elegantly decorated for the holidays, you can step inside about a dozen private homes, staffed with docents who tell the rich history of this Century Victorian neighborhood.
The Justice Theater Project presents Langston Hughes' Black Nativity
Dec. 15-17
This gospel music experience, a production of The Justice Theater Project, takes the audience on a journey back to the Bethlehem of Mary and Joseph, resplendent in African costumes and uplifting songs of worship. With a joyous inspirational score, Black Nativity is a legendary family show that shares this unforgettable story of the Nativity through compelling gospel music and the beautiful poetry of Langston Hughes. Through love and faith, the story finds strength and triumphs over adversity to offer powerful messages of joy and hope, all brought to life by more than 70 show-stopping singers, dancers and musicians.
North Carolina Master Chorale presents Joy of the Season
Dec. 17
The North Carolina Master Chorale, hailed by critics as the area's premier choral ensemble and the recipient of a Raleigh Medal of Arts award, has performed choral masterworks with orchestra since 1942. Joy of the Season celebrates its 20th anniversary this year—this Raleigh holiday tradition fills the Duke Energy Center's Meymandi Concert Hall with nearly 200 voices, guest choirs, brass ensemble, Meymandi's pipe organ and incredible accompanist Susan McClaskey Lohr's piano playing. 
Carolina Ballet presents The Nutcracker
Dec. 18-29
Grace, grandeur and mysterious illusions. Carolina Ballet's holiday classic is a can't-miss tradition for locals, visitors, families and friends. The only production in the country using illusions created by renowned magician Rick Thomas, The Nutcracker will make characters levitate, disappear and reappear before your eyes in 14 performances at the Duke Energy Center.
25th Annual Kwanzaa Celebration
Dec. 27
A celebration for all people, focusing on family and friends, Town of Cary and the Ujima Group, Inc., will host the 25th annual Kwanzaa Celebration at the Cary Arts Center. During Kwanzaa, people are invited to ponder the Nguzo Saba, seven powerful principles derived from African heritage, as a means of taking stock, celebrating achievements and entering the future refreshed and renewed. The event will feature a vendor market, a children's village, dance performances and more.
Accessibility notes: Accessible seating for patrons in wheelchairs—or guests with visual, hearing or mobility disabilities—is available; assisted listening devices are available; sign language interpreters and audio description services are available if requested in advance. Find more information on Cary Arts Center here.
An Evening of Chevy Chase
Dec. 30
Light up your holidays with a visit from Chevy Chase, appearing live on stage and conducting an audience Q&A following a 30th anniversary screening of National Lampoon's Christmas Vacation. After the showing of the holiday classic on the big screen, the celebration will continue with the actor sharing stories from his career and the making of his classic movies and legendary television programs.
 
WRAL First Night Raleigh 2020
Dec. 31
Raleigh's biggest New Year celebration fills the city's center with crowds and activities: entertainment, tons of live music, vendors and an epic grand finale that sees a giant copper acorn drop from the sky as the clock strikes midnight.
New Year's Eve Gala at the North Carolina Museum of Natural Sciences
Dec. 31
Hosted by Rocky Top Catering and B93 New Country, this black tie, all-inclusive gala features four floors of delicious food, open bars, craft cocktails, rockin' DJs and a live band. If you're looking for a unique place to ring in the new year, you've found it! This event is for ages 21 and up.
 
Join the best fans in hockey Opens in New Window at PNC Arena to cheer on the NHL's Carolina Hurricanes. Off to a hot start this season, the Canes are looking to build upon their run to the Eastern Conference Final a year ago. In Dec., they'll take on:
Looking ahead: January events in Raleigh, N.C.
Kate Rhudy at The Pour House Music Hall, Jan. 3
Mick Foley: The Nice Day Tour, Jan. 8
Raleigh Little Theatre presents The Curious Incident of the Dog in the Night-Time, Jan. 17-Feb. 2
The Music of Elton John by the North Carolina Symphony, Jan. 17-18
Triangle Restaurant Week, Jan. 20-26
North Carolina Opera presents Leoncavallo - Paggliacci, Jan. 24 and 26
UFC Fight Night, Jan. 25
19th Annual African American Cultural Celebration, Jan. 25
Astronomy Days at the North Carolina Museum of Natural Sciences, Jan. 25-26
Carolina Ballet presents Rhapsody in Blue, Jan. 30-Feb. 16
Comments