Things to Do in Raleigh, N.C.: February 2018
Monday, January 29, 2018, 12pm by visitRaleigh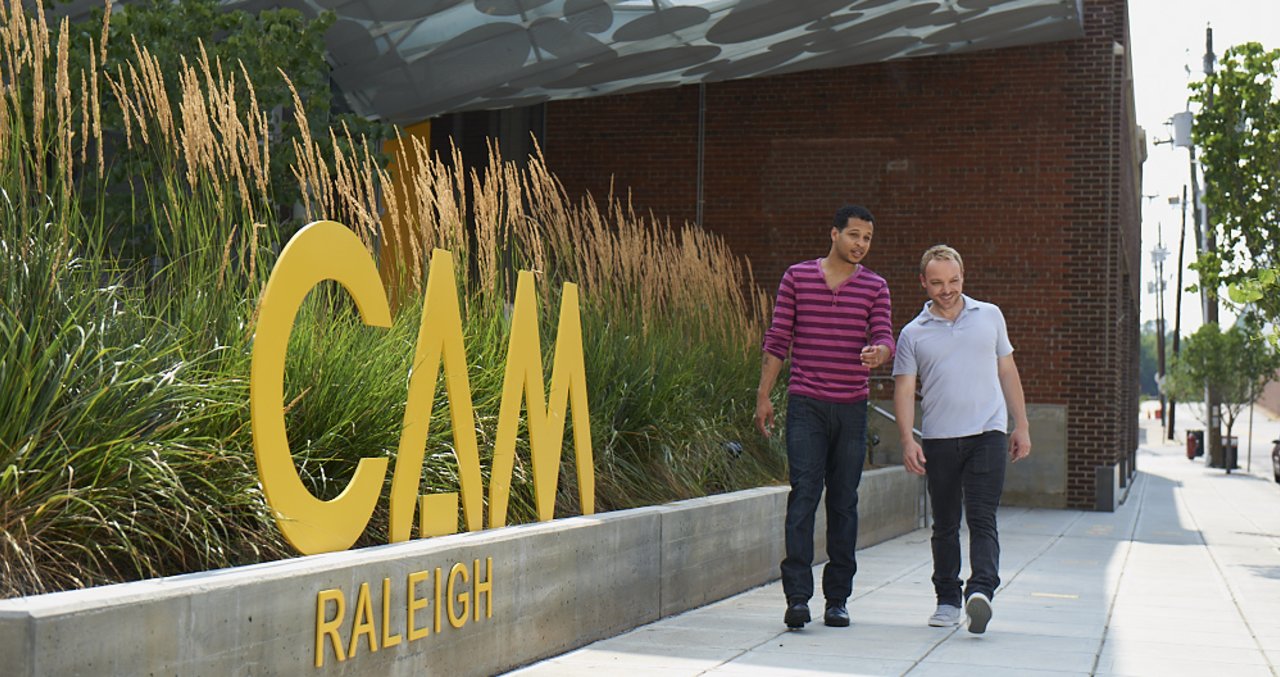 Hello, February! The shortest month of the year means there's no time to waste—we've got hockey games, hot chocolate dates and romantic getaways that can no longer wait!
 
14 fun date ideas
Tucked into 12 acres of woodlands overlooking a three-acre lake in Cary, N.C., a world-class getaway awaits—literally!  The Umstead Hotel and Spa—previously recognized by Forbes Travel Guide and AAA as a Five-Star and Five-Diamond property, respectively—has earned another major accolade. Condé Nast Traveler ranked The Umstead Hotel and Spa as the No. 3 Best Hotel in the U.S. and the No. 40 Best Hotel in the World. Opt in for a couples massage or simply enjoy a glass of wine overlooking the lake before heading to dinner at the hotel's restaurant, Herons, one of only 60 Forbes Travel Guide Five-Star restaurants in the world.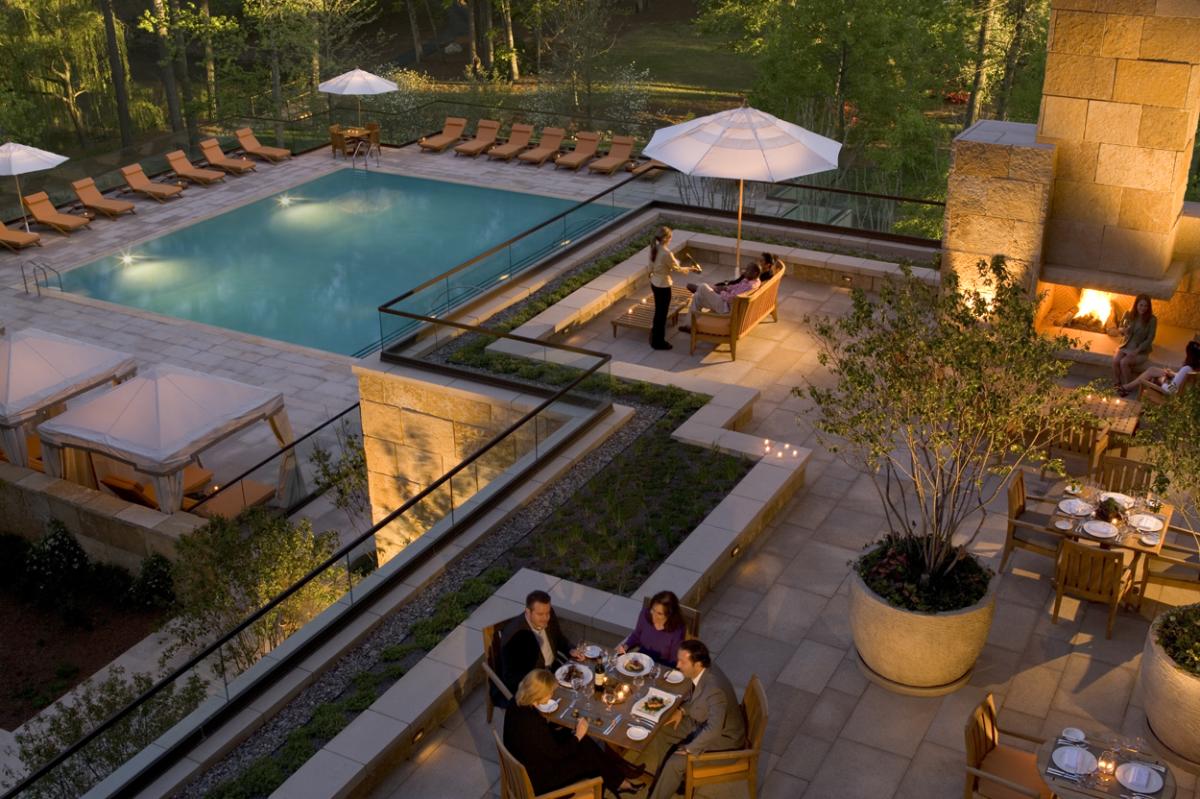 In Downtown Raleigh, Carolina Ballet—celebrating their 20th anniversary season—has dialed up an age-old favorite. The company will fill the seats at Duke Energy Center for the Performing Arts for 11 performances of Romeo and Juliet (2/1-18; pictured below), the Shakespeare tale of star-crossed lovers filled with dramatic sword fights, stunning costumes, lush scenery and breathtaking dance. Following suit, North Carolina Symphony has asked, "Wouldn't it be loverly" to perform one of America's favorite musicals over Valentine's weekend? They'll put on a special rendition of the music of My Fair Lady (2/16-17) with help from Broadway singers in period costume and a lush symphonic score.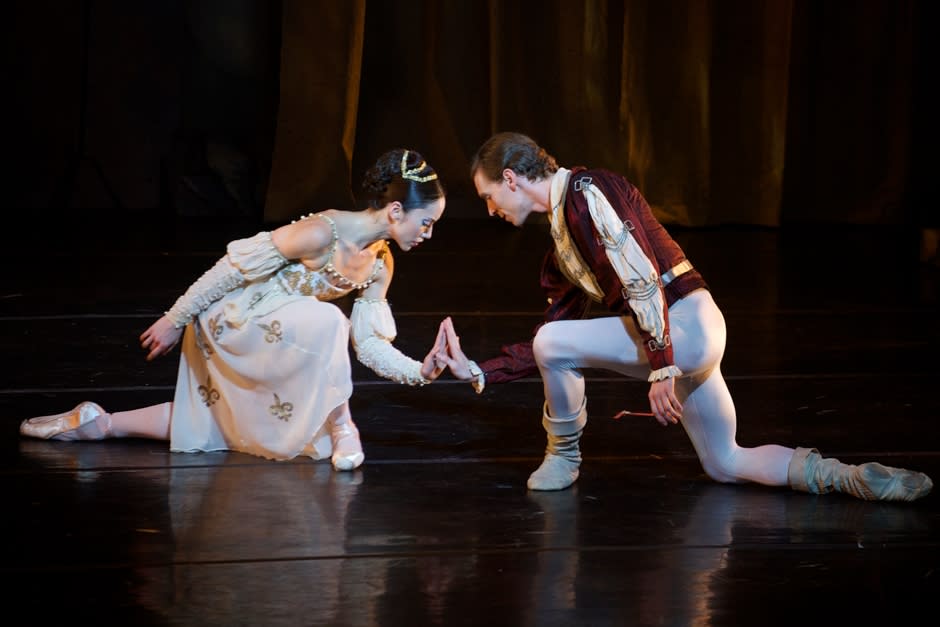 Raleigh's Warehouse District, characterized by six blocks of iconic, red-brick, former-industrial buildings, is a growing concentration of galleries, studios, restaurants, nightlife and more, making it a perfect place for multiple fun things to do on one date. Work in a meal at legendary barbecue spot The Pit or vegetarian favorite Fiction Kitchen before hopping just a few steps away for more great date activities—a tour and chocolate tasting at Videri Chocolate Factory plus fun games and cold beers at Boxcar Bar + Arcade (where you can compete for bragging rights with a round of ski ball!) are surefire hits. CAM Raleigh, the only non-collecting contemporary art museum in the state, is a great place to start conversation with ever-changing art experiences. Need more info? See our guide to the district here.
In total, we've rounded up 14 great ideas to kick-start your dating game this month—check them out here!
 
Doughnuts, dunks, faceoffs and more
One of America's most unique running events (and toughest eating events!) returns early this month. The Krispy Kreme Challenge (2/3) requires competitors to run five miles, eat a dozen doughnuts and hit the finish line in under an hour. Started in 2004 with just a handful of friends, the annual event now draws nearly 8,000 runners with a course that meanders down Hillsborough St., through downtown Raleigh, makes a stop at Krispy Kreme and sends runners on a difficult 2.5-mile run back to the finish. For the curious, those doughnuts total 2,400 calories and 144 grams of fat—but who's counting!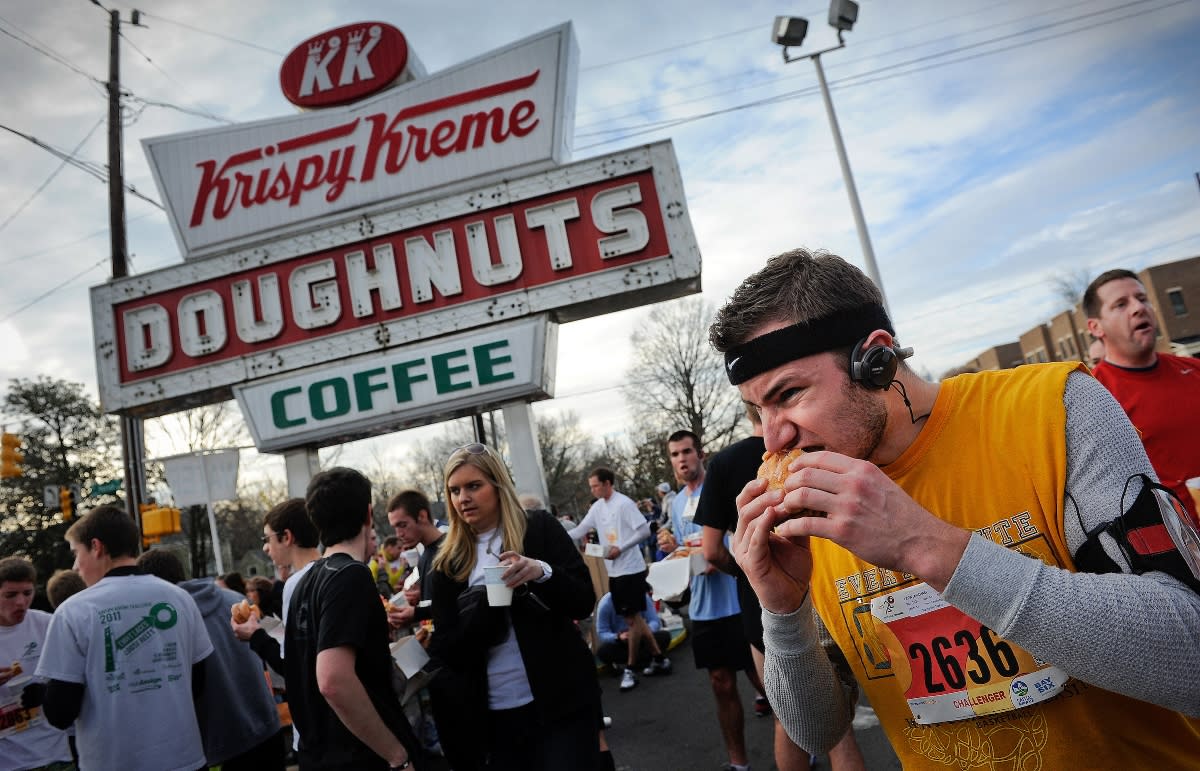 Over at PNC Arena, ACC hoops action is well underway. The North Carolina State University Wolfpack will host a quartet of major foes—they'll take on University of Notre Dame (2/3), University of North Carolina at Chapel Hill (2/10), Boston College (2/20) and Florida State University (2/25) this month. Also this month, two Raleigh-based HBCUs will go head-to-head when St. Augustine's University visits historic C.C. Spaulding Gymnasium to battle Shaw University (2/17) with serious bragging rights up for grabs.
When the hardwood turns to ice at the arena, the Carolina Hurricanes continue their playoff push in the second half of the season. Opening up play after the All-Star break, the Canes will jump straight into a stretch that includes 10 important home games this month, including matchups with the Detroit Red Wings (2/2), Philadelphia Flyers (2/6), Colorado Avalanche (2/10), Pittsburgh Penguins (2/23) and more. See the full home schedule at PNC Arena here.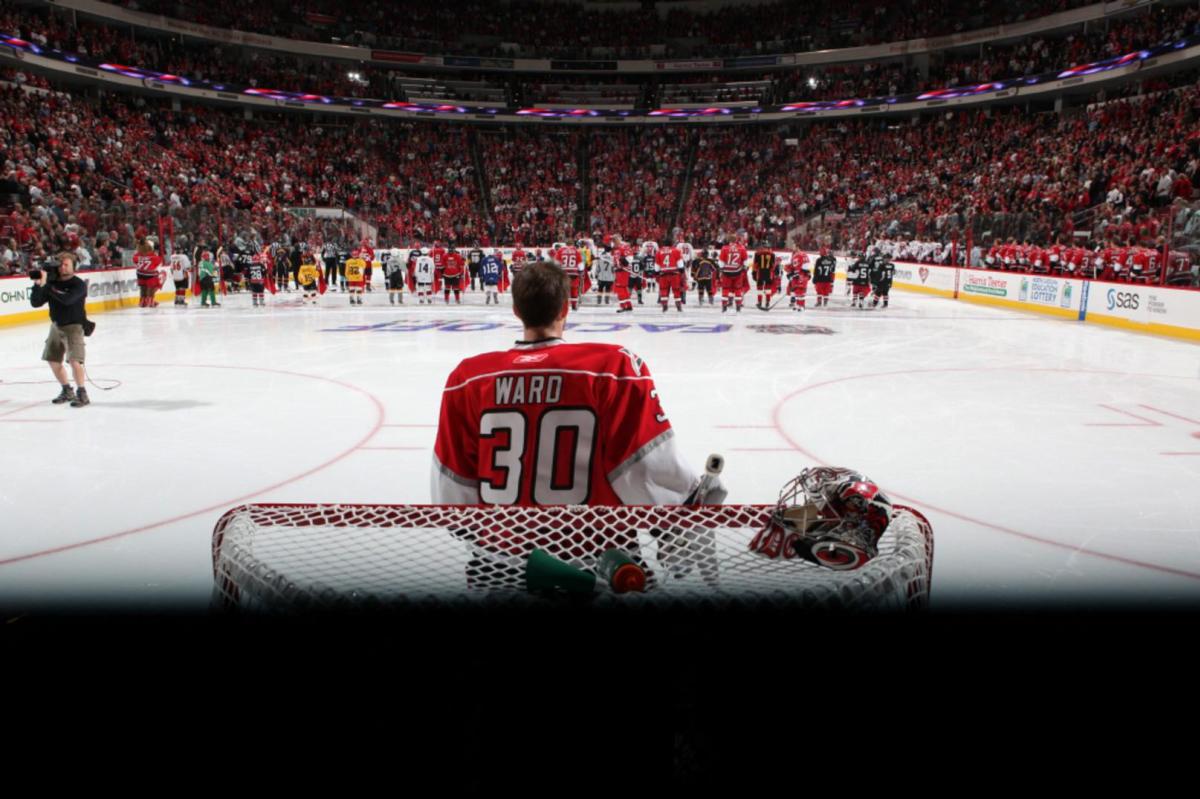 Dig in!
It's a great time to be a foodie in Raleigh, N.C., and the City of Oaks is primed to serve up our best year yet! Just recently, Zagat named Raleigh one of the most exciting food cities in America, citing a slew of James Beard Award-nominated chefs and crop of hot new restaurant openings (including The Cortez, St. Roch Fine Oysters + Bar and Royale—put 'em on your list!).
In Dec., chef Ashley Christensen (a James Beard Award winner for "Best Chef: Southeast" herself) was named national Chef of the Year by Eater thanks to her powerful community activism through food. Christensen's dining and drinking empire—six establishments within a handful of blocks in downtown Raleigh—includes Poole's Diner, her original (and most personal) concept that just celebrated 10 years in business.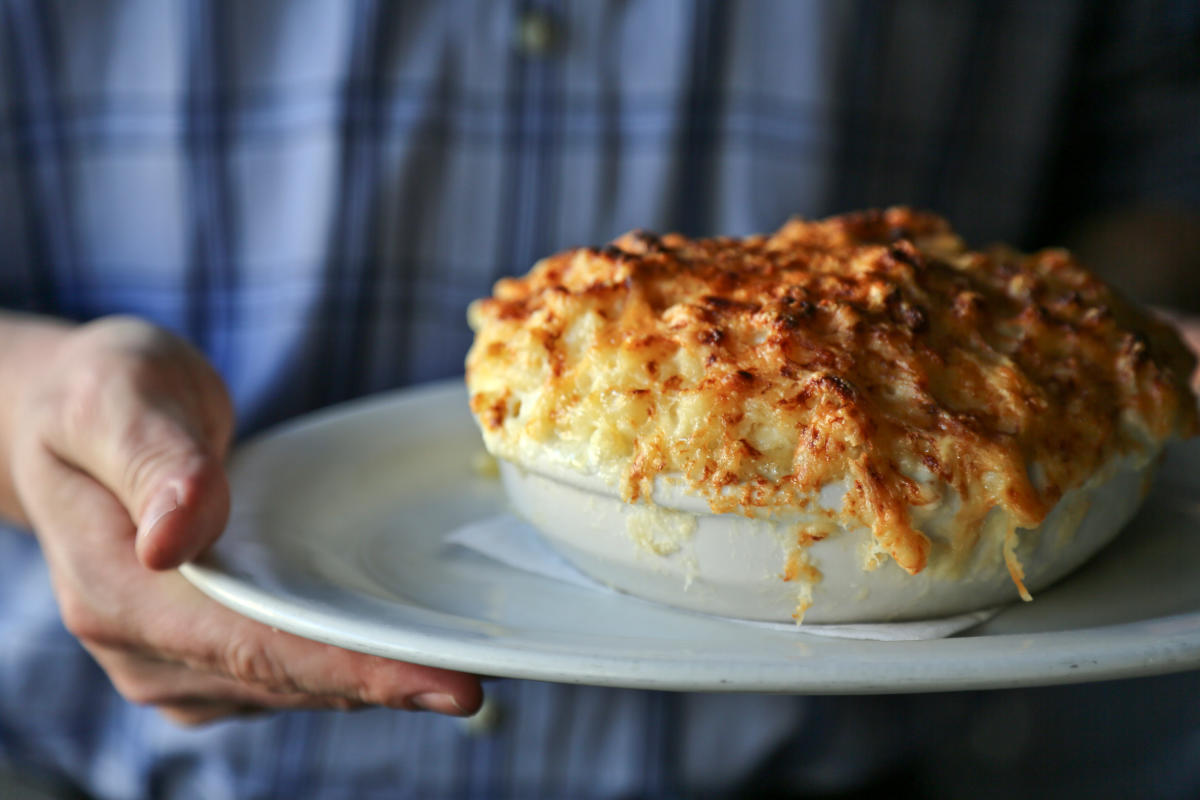 Five-time James Beard-nominated chef Scott Crawford has earned his own accolades as of late. Crawford's newest offering—Crawford and Son, a casual eatery on the edge of Raleigh's Historic Oakwood neighborhood—was just named The News & Observer's "Restaurant of the Year" for 2018. Check out the recipe Crawford shared with us early this year here (an Apple and Turnip Salad with Ashe County Romano Dressing and Crunchy Grains).
Brewery Bhavana—the brewery, bookstore, flower shop and dim sum restaurant in downtown Raleigh's Moore Square—was name one of the "Top 10 Coolest Places to Eat in 2018" (in the world!) by Forbes. Brother and sister Vansana and Vanvisa Nolintha, who own Brewery Bhavana along with brewmaster Patrick Woodson, are no strangers to good food and big accolades. They're also the masterminds behind Bida Manda, a Laotian restaurant right next door that's one of the most sought-after dining spots in the city. Brewery Bhavana, which opened in March of 2017, was also named one of the top 10 new restaurants in the country earlier this year by Bon Appétit. It's recommended that you make reservations for your group as early as possible at both of these popular spots!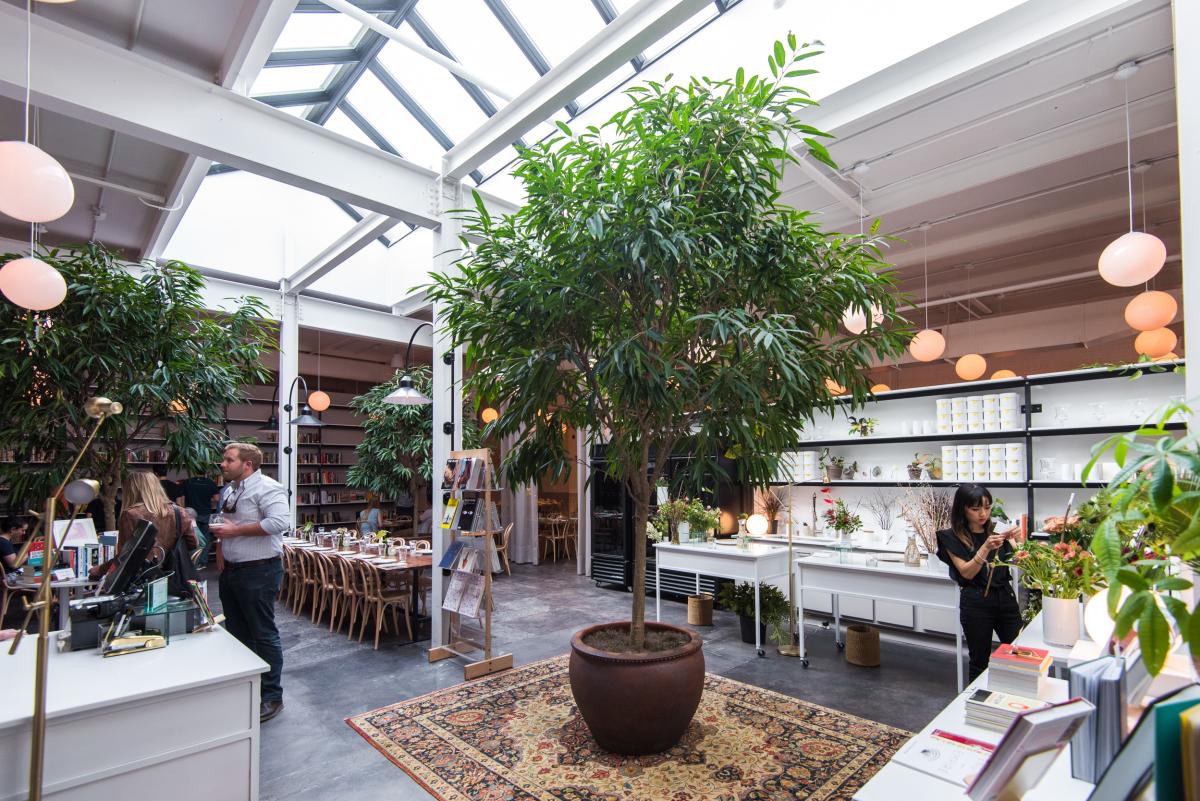 Looking for other ways to dine your way through Raleigh? You'll find a perfect escape from the chilly winter weather with any of these 15 local-favorite soups, stews and hot pots (crispy pork belly soup and spicy lamb hot pot, anyone?!), or you can stake out a cozy corner and cure your sweet tooth at one of these five spots for delicious hot chocolate.
 
More February picks
At the North Carolina Museum of Art, it's a great time to visit the new, expanded (and free-to-visit) African art gallery (open Tues.-Sun.). Featuring African creativity spanning 16 centuries and a total of 125 works on display, the 6,500-square-foot gallery in the museum's East Building has a masquerade area, a contemporary art section and a wall highlighting N.C. collections. Some of the works haven't been on display in nearly a decade. The oldest work on view is a circa 600 terracotta sculpture, the newest is a site-specific drawing by Nigerian-born artist Victor Ekpuk created in June 2017.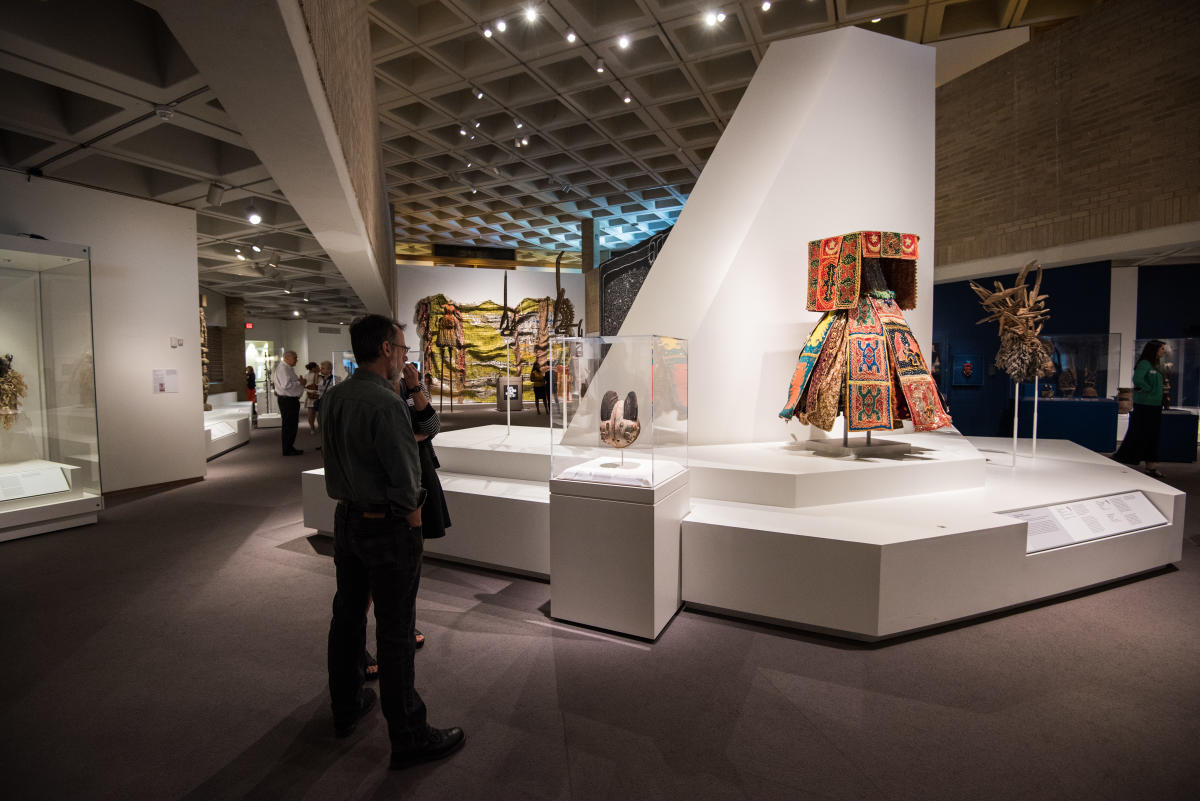 Ready to do some creative problem-solving? At Mazes and Brain Games (through 9/3)—a new, family-friendly special exhibition at the North Carolina Museum of Natural Sciences—you'll put your brain to the test as you maneuver your way through a mind-boggling collection of 3D puzzles and full body games. Brain teasers, 3D mazes, infinity mirrors and more wind their way through more than 8,000 square feet of puzzling experiences that inspire exuberant exploration and ingenuity.
Sir Walter Wally, joined by Mayor Nancy McFarlane, is set to make his 21st annual prediction about the potential of an early spring season at the North Carolina Museum of Natural Sciences' Groundhog Day celebration (2/2) on Bicentennial Plaza in front of the museum. 
The heart of downtown Wake Forest is preparing for a family-friendly Mardi Gras Street Festival (2/10). A walking parade and plenty of children's activities should provide entertainment for all. 
Goodnight's Comedy Club, the legendary stand-up spot that's been a staple in downtown Raleigh for more than 30 years, will host Pauly Shore (2/19) for a one-night-only, special event.
Winner of eight Tony Awards, Hairspray, The Broadway Musical (2/21-25) comes to Stewart Theatre at North Carolina State University to tell the story of a social outcast-turned-sudden star through music, dance and comedy (not to mention the spectacular hairdos!).
Thrillers! An Evening with Authors John Grisham and John Hart (2/23) will explore the imagination behind the creation of riveting works by two of the most well-known novel writers of our time.
Audiences are in for a treat with Harry Potter and the Chamber of Secrets™ in Concert Featuring the North Carolina Symphony (2/23-24), a concert experience that has the Symphony performing every note from the beloved film while the full movie is screened in high-definition behind the orchestra.
Live music, every single day. That's how it works in the destination with the most live music in N.C.! The City of Oaks will play host to The Wailin' Jennys (2/3), Robert Plant and The Sensational Space Shifters (2/9), Phoebe Bridgers (2/17), Fetty Wap (2/18), Jerron "Blind Boy" Paxton and more this month. See the full calendar of concerts at themostnc.com. 
The Wells Fargo IMAX Theatre at Marbles, boasting N.C.'s only 3D-capable giant screen, is showing Island of Lemurs: Madagascar 3D, Journey to Space 3D, National Parks Adventure 3D and more this month (shows and times vary, see website for details). 

Romeo and Juliet photo, Carolina Ballet; Poole's Diner photo, Angie Mosier
Comments