Things to Do in Raleigh, N.C.: February 2020
Friday, January 24, 2020, 3pm by visitRaleigh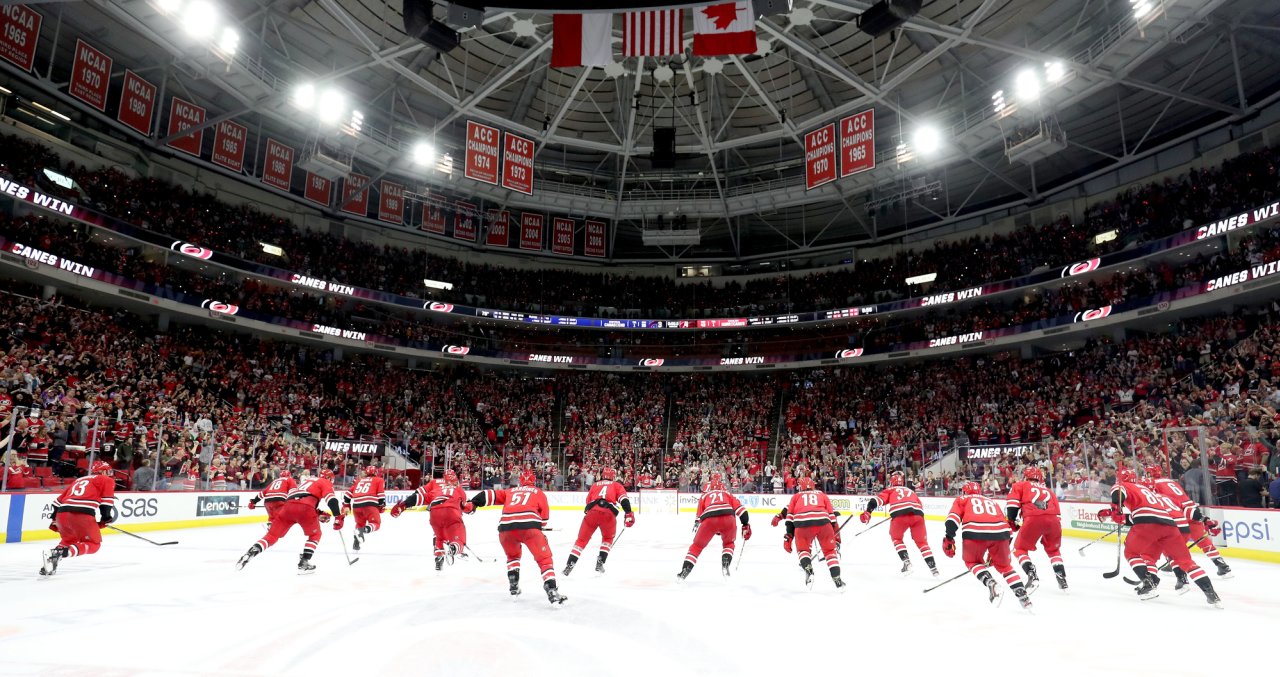 Every two weeks, we send out a newsletter that includes the best of the best upcoming events. If you sign up for our E-magazine, you'll get those, plus all the best new content (the scoop on the best new restaurants in Raleigh, for example, or our up-to-date list on 100 things to do in downtown Raleigh).
---
Hello, February! The shortest month of the year means there's no time to waste—we've got hockey games, ballet dates and must-see concerts that can no longer wait. Here's what we're doing this month!
 
Carolina Ballet presents Rhapsody in Blue
Jan. 30-Feb. 16
Date night idea! Now in the company's 22nd season in Raleigh, Carolina Ballet presents a performance set to one of the most recognizable and iconic pieces of music, Rhapsody in Blue by American composer George Gershwin, as well as Symposium set to the music of the legendary Leonard Bernstein. This program will be accompanied by a new work choreographed by Zalman Raffael and Robert Weiss.
Accessibility notes: For all events at the Duke Energy Center for the Performing Arts, accessible seating is available; sensory bags are available; assisted listening devices are available; American Sign Language Interpreters are available upon advanced request; audio description services can be provided upon advanced request; and wheelchairs are available. More information here.
Feb. 1
One of America's most unique running events (and toughest eating events!), the Krispy Kreme Challenge requires competitors to run five miles, eat a dozen doughnuts at the halfway point and hit the finish line in under one hour. Started in 2004 with just a handful of North Carolina State University students, the annual event now draws nearly 8,000 runners decked out in costumes along with plenty of media attention. For the curious, those doughnuts total 2,400 calories and 144 grams of fat—but who's counting!
Feb. 2
Six more weeks of winter, or an early spring? Only one forecaster has been trusted to make this prediction in the City of Oaks for 20 years now—Sir Walter Wally at the North Carolina Museum of Natural Sciences! Each year, big crowds gather outside the museum for the shadow ceremony at noon sharp to find out what one of the country's most well-known groundhogs thinks about the weather ahead. Before and after the ceremony, visitors can peruse educational stations featuring exhibits about groundhogs, hibernation and spring, plus see presentations with live animals.
Accessibility note: For visitors with low vision, mobility issues, sensory processing disorders and more, please see the museum's access guide.
Exhibition: Design by Time
Jan. 24-May 17
From the Pratt Manhattan Gallery comes Design by Time at the Gregg Museum of Art & Design, an exhibition with work from 22 international designers portraying time and its dynamic effects on fashion, furniture, textiles, vessels, and more. In this exhibition, the featured designers employ all manner of influences—chemistry, crystallization, magnetism, astronomy, oceanography and the more expected forms of drawing, music and weaving—to portray relationships between time and creation
Accessibility notes: Accessible parking is available; automatic door openers are in use at front and back entrance; two wheelchairs and one walker are available at the visitor desk; large-print exhibition labels are in-use or available at visitor desk; sensory bags are available at the front desk. 
Jurassic World Live
Feb. 6-9
Jurassic World comes to life for the first time in a touring arena show at PNC Arena, where a trip to Isla Nublar takes a terrifying turn after the Indominus rex escapes and causes chaos in the park!
Accessibility notes: For information on assisted listening devices, interpreting services, sensory-inclusive resources and more, see PNC Arena's ADA Guide here.
Exhibit: ¡Viva Viclas! The Art of the Lowrider Motorcycle
Through Feb. 9, 2020
¡Viva Viclas! is a celebration and exploration of the art and culture of the lowrider motorcycle. Vicla is a slang term for a style of lowrider motorcycle customization popularized by Chicanos/Mexican-Americans and is derived from the Spanish word for bicycle—bicicleta. The exhibition—on display at CAM Raleigh—features 10 custom lowrider Harley-Davidson motorcycles and 12 artworks inspired by themes in Vicla culture, including heart, pride, brotherhood and respect.
Accessibility notes: CAM Raleigh is wheelchair accessible, with a ramp at the front door and an elevator at the main entrance. Wheelchair accessible restrooms are located on the upper level and lower level. Visitors may check out a wheelchair free of charge at the information desk. ASL, audio description, braille, large format brochures, touch tours and specialized tours are available upon advanced request.
Founded in 1932, the North Carolina Symphony puts on an incredible 175 concerts and events per year across the state. They'll take center stage at the Duke Energy Center for the Performing Arts in downtown Raleigh three times this month.
Tchaikovsky Symphony No. 5 - Classical Series (2/7-8)
Swing is the Thing - Pops Series (2/14-15)
Rachmaninoff Piano Concerto No. 3 - Classical Series (2/28-29)
Feb. 7
A perfect opportunity to explore the lesser-seen areas of Historic Yates Mill County Park (a 174-acre wildlife refuge and an environmental research center), park staff will lead an off-trail hike around the boundary of the park in search of unique wildlife and vegetation, all while using local maps and testing your orientation skills. Registration is required for this event that is recommended for ages 10 and up but there is no fee.
Celine Dion's Courage World Tour
Feb. 11
One of the best-selling female artists of all time, Celine Dion's Courage World Tour—her first tour in more than a decade—brings her to Raleigh's PNC Arena for a very special evening.
Zoso - The Ultimate Led Zeppelin Experience (2/7-8)
Big Daddy Love (2/8)
Jonathan Byrd and The Pickup Cowboys (2/8)
Lower Dens (2/15)
11th Annual Raleigh Blues Festival (2/21)
America's Sweethearts (2/21)
Eliot Bronson and Carrie Marshall (2/22)
The Family Crest (2/23)
Howlin Rain (2/25)
The HillBenders (2/28-29)
 
North Carolina Theatre presents Kinky Boots
Feb. 11-16
Winner of six Tony Awards, a Grammy Award and featuring 16 original songs by pop icon Cyndi Lauper, Kinky Boots is the huge-hearted, high-heeled musical hit that took Broadway by storm. Based on true events, Kinky Boots tells the story of two people with nothing in common (or so they think!).
Raleigh Little Theatre presents Seussical (for young audiences)
Feb. 14-29
Seussical TYA (Theatre for Young Audiences) is an adapted 75-minute version of the musical, created specifically for younger audiences, in which the nefarious Cat in the Hat narrates the story of Horton the Elephant, who discovers a speck of dust containing tiny people called Whos.
Accessibility notes: All performances are wheelchair accessible; assistive listening devices are available; and Sun., Feb. 29, will be a sensory-friendly performance designed for individuals with autism spectrum disorders, sensory sensitivities or other disabilities.
 
Theatre In The Park presents The Old Man & The Old Moon
Feb. 14-March 1
Making its regional debut at Theatre In The Park, The Old Man & The Moon is expected to surprise and delight audiences with a whimsical, transformative experience that follows The Old Man as he fights for love through apocalyptic storms, civil wars, cantakerous ghosts and more.
Accessibility notes: All performances are wheelchair accessible (and a wheelchair is available to be checked out on-site); audio description services are available if requested two weeks in advance; large print playbills are available for all performances at the box office.
A whole bunch of big names and local favorites will take the stage in Feb. Save these dates!
Donnell Rawlings (1/30-2/1)
Sam Morril (2/6-8)
Shuler King (2/9)
Beth Stelling (2/13-15)
Bobcat Goldthwait (2/20-22)
At PNC Arena
University Theatre at NC State presents Ragtime the Musical
Feb. 19-23
In this PG-13 adaptation of E. L. Doctorow's novel, historical figures like Emma Goldman, Booker T. Washington and Evelyn Nesbitt intersect with three groups of New Yorkers—the upper crust of New Rochelle, the African Americans of Harlem and the Eastern European immigrants at the Lower East Side. Boundaries are crossed, alliances are forged and lives are explosively altered in this glorious musical.
Accessibility notes: Closed captioning will be available during the Feb. 20 performance; audio description is available upon advanced request; large format programs and materials can be requested in advance; theater, parking lots and restrooms are all wheelchair accessible.
 
Town of Cary's 25th Annual African American Celebration
Feb. 22
Don't miss Cary's annual event celebrating the African-American experience. This year's theme is "A Love Story: A Special Tribute to the Ujima Group, Inc.", and the event will feature a diverse range of musical performances including: RMJ Movement Band; Lydia Salett, a jazz pianist and vocalist; Lester Knibbs, an award-winning classical pianist; and The Nice Touch Band, a gospel, jazz and R&B group.
 
Annual Mardi Gras Party at The Big Easy
Feb. 25
Ready to get your N'awlins groove on?! Get your masks, feathered boas, beads and head to The Big Easy in downtown Raleigh, where live music, party favors, king cake and strong cocktails are the name of the game—all in celebration of the most glittery holiday of the year
Still very much in the thick of the playoff hunt, the NHL's Carolina Hurricanes return to PNC Arena after the All-Star break for six pivotal home games this month. They'll take on:
Exhibit: Toy Boom!
Through Jan. 3, 2021
A fun, new exhibit at the North Carolina Museum of History, Toy Boom! examines the toys of the Baby Boomer era in America. The artifacts in Toy Boom! are curated into unique environments, including TV westerns, space age, zany toys, creative toys, dolls, action figures and more. Visitors can see toys come to life with fun, hands-on interactive activities. Attendees can look forward to reliving their childhood with a larger-than-life Twister board, a giant Lite-Brite wall, an Etch A Sketch station, working Hot Wheels racing tracks (complete with inversion loops) and more.
Looking ahead: March events in Raleigh, N.C.
Zac Brown Band - The Owl Tour, March 4
34th Annual International Festival of Raleigh, March 6-8
Billie Eilish - Where Do We Go World Tour, March 12
Raleigh St. Patrick's Day Parade and the Wearin' 'O the Green Festival, March 14
Art in Bloom, March 19-22
Raleigh Little Theatre presents The Jungle Book, March 20-April 5
North Carolina Theatre presents Memphis, March 24-29
Header photo: Getty Images
Comments