Things to Do in Raleigh, N.C.: February 2022
Thursday, January 27, 2022, 1pm by visitRaleigh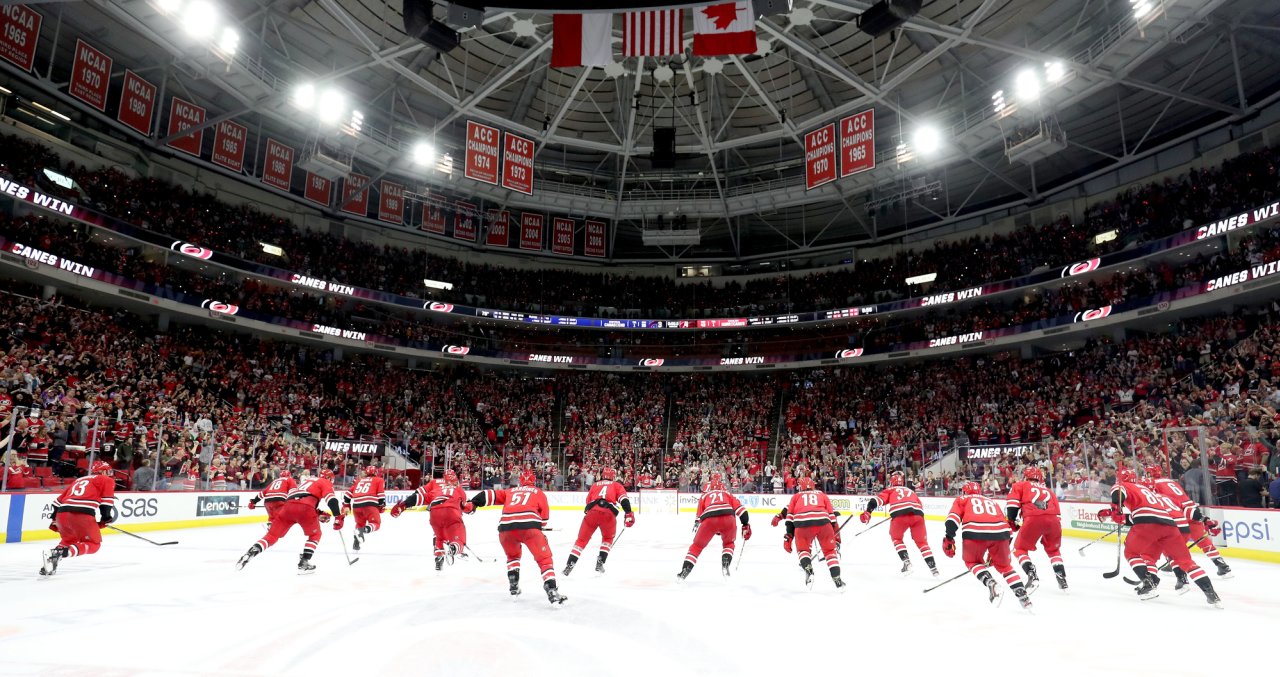 Every two weeks, we send out a newsletter that includes the best of the best upcoming events. If you sign up for our E-magazine, you'll get those, plus all the best new content (the scoop on the best upcoming restaurants in Raleigh, for example, or a list of the area's best Black history attractions to discover).
---
Hello, February! The shortest month of the year means there's no time to waste—we've got hockey games, ballet dates and must-see concerts that can no longer wait. Here's what we're doing this month!
 
Pop-up Museum at Dix Park
Through Feb. 27
At Dorothea Dix Park—a 308-acre park currently undergoing a transformation into one of America's next great urban park spaces—a pop-up museum is now open at the newly renovated Greg Poole Jr. All Faiths Chapel. 
The chapel's event space will host two Black history-related exhibitions, on view through Feb. 27. We Built This: Profiles of Black Architects & Builders in North Carolina is a multi-faceted educational exhibit that showcases the history and legacy of Black builders and craftspeople in the Tar Heel State, highlighting more than two dozen African Americans who designed and/or constructed many of the state's most treasured historic sites; From Plantation to Park: The Story of Dix Hill explores the legacy of the Dix Park site through the experiences of those who lived and worked on 'Dix Hill', from its earliest time as Native American hunting grounds, to plantation, to the founding of the state's first mental health hospital.
Burning Coal Theatre Company presents Art
Through Feb. 13
Hitting the stage at Burning Coal Theatre is Art, a comic masterpiece by French playwright Yasmina Reza that first debuted in 1994 and has since been translated into numerous languages while earning countless awards. The story revolves around three middle-aged men—long-time friends—whose seemingly inseparable bond is torn when one of them decides suddenly to purchase an abstract painting, a completely white canvas.
Exquisite Creatures: The Art of Christopher Marley
Through March 20
This stunning, ticketed exhibit by artist Christopher Marley at the North Carolina Museum of Natural Sciences is a vibrant exploration of art, nature and human need to connect with the outside world. Exquisite Creatures is a collection of 350 stunning three-dimensional displays of rare (and real) reclaimed organisms (vertebrates that died of natural causes while in the care of individuals or institutions).
Carolina Ballet presents Romeo and Juliet
Feb. 3-20
Filled with dramatic sword fights, stunning costumes, lush scenery and breathtaking dance, founding artistic director Robert Weiss' Romeo and Juliet is a faithful retelling that expresses all the drama and pathos, action and tenderness and humor and heartbreak found in this legendary story. Don't miss this classic from one of America's best ballet companies!
American Aquarium, Roadtrip to Raleigh
Feb. 3-5
Raleigh-based alternative country band American Aquarium, known as one of the 21st century's ultimate road-warrior acts, brings their annual, much-anticipated Road Trip to Raleigh act to downtown Raleigh's Lincoln Theatre for three nights of packed shows in front of a hometown crowd.
More live music not to miss
Clint Roberts with Shay Martin Lovette, Feb. 1
Pluto Gang with By George, Feb. 5
Mykal Kilgore, Feb. 6
The FABBA Show - A Tribute to ABBA, Feb. 8
Cory and the Wongnotes feat. Antwaun Stanley and Special Guest Sierra Hull, Feb. 9
Imagine Dragons, Feb. 10
Killswitch Engage, Feb. 10
Cordae, Feb. 12
Chairmen of the Board, Feb. 12
Dillon Francis with Yung Gravy, Feb. 16
Carolina Gospel Jubilee, Feb. 18
Mitski, Feb. 18
Umphrey's McGee, Feb. 19
An Evening with Ginuwine & Friends, Feb. 20
Easy Honey, Feb. 24
Mother's Finest, Feb. 26
The Hall Sisters, Feb. 26
Theatre In The Park presents Greater Tuna
Feb. 4-20
In this hilarious adaptation at Theatre In The Park, two amazing actors, one of them Ira David Wood IV, will create the entire zany population of Tuna, Texas, in a tour-de-farce of nonstop belly laughs as the town digs into the news of a possible murder. Costumes and characters change quicker than a jack rabbit runs from a coyote. Two actors, 20 characters and a barrel of laughs!
5th Annual Big Frosty Beer Festival
Feb. 5
Local, regional and national breweries will gather at Raleigh Beer Garden for an afternoon of tasty samples of 75-plus beer and cider options, live music and food (complimentary sampling mug included with ticket!). 
Krispy Kreme Challenge (virtual event)
Feb. 5
One of America's most unique running events (and toughest eating events!), the Krispy Kreme Challenge requires competitors to run five miles, eat a dozen doughnuts at the halfway point and hit the finish line in under one hour. For the curious, those doughnuts total 2,400 calories and 144 grams of fat—but who's counting! Please note that this event has been switched to a virtual event for 2022, meaning you run the race when and where you want. Registrants still receive a t-shirt, voucher for a dozen donuts and a medal if ordered. Read the FAQ here. 
The North Carolina State University Wolfpack are set to face off against five Atlantic Coast Conference foes this month in a series of crucial matchups before March Madness kicks off.
vs. Syracuse, Feb. 2
vs. Notre Dame, Feb. 5
vs. Wake Forest, Feb. 9
vs. Boston College, Feb. 23
vs. North Carolina at Chapel Hill, Feb. 26
Weekly, Sat. and Sun.
As the only African American house museum in the state, the Pope House offers a look into the life of one of Raleigh's prominent African American citizens, Dr. Manassa Thomas Pope. Dr. Pope was a graduate of the Leonard School of Medicine, an officer during the Spanish-American War and the only African American man to run for mayor of a Southern capital in the Jim Crow Era.
Built in 1901, the Pope House was built in the once-thriving African American enclave known as the Third Ward, which included the 500 block of S. Wilmington St. Today, visitors can tour the home complete with original furnishings, artifacts and documents dating back to 1851. Admission is free. The house is open to the public on weekends, but guided tours must be scheduled at least 30 minutes in advance by phone.
Ready for a laugh-out-loud good time? Big name performers are lined up at two of the area's best comedy clubs! 
Esther Povitsky, Feb. 3-5
Kenny Garcia (live album recording), Feb. 9
Jay Larson, Feb. 10-12
Eric Schwartz, Feb. 17
Michael Colyar, Feb. 18-20
Dan Soder, Feb. 24-26
At Raleigh Improv: 
Josh Potter, Feb. 3
Marlon Wayans, Feb. 4-6
Steve Rannazzisi, Feb. 10-12
Rickey Smiley, Feb. 25-26
North Carolina Symphony Presents Dancing in the Street: The Music of Motown
Feb. 10-12
Relive the magic of Motown this Valentine's weekend! The North Carolina Symphony and guest-star singers will perform smash hits made famous by artists including Marvin Gaye, The Four Tops, Lionel Richie, Diana Ross, The Temptations and the one and only Stevie Wonder.
The Symphony will also perform Friday Favorites: All Strings (Feb. 4) and Tchaikovsky Violin Concerto (Feb. 18-19) this month.
The Justice Theatre Projects presents We Are Proud to Present...
Feb. 11-27
In this production from The Justice Theatre Project about the Herero of Namibia, a group of idealistic actors—three black and three white—attempt to recreate the extinction of the tribe at the hands of their German colonizers. Their collaboration begins as absurd and hilarious. Along the way, they test the limits of empathy as their own stories, subjectivities, assumptions and prejudices catalyze their theatrical process.
Exhibition: crossed kalunga by the stars & other acts of resistance
Through March 12
Featuring work by seven contemporary artists who evidence transformative and contested circumstances in their production, crossed kalunga by the stars & other acts of resistance at the Gregg Museum of Art & Design navigates awareness and adversity in conversation with nature and memory. Each shares a distinctive perspective on how art can speak provocative truths amidst a sea of mutable facts.
CINCH World's Toughest Rodeo
Feb. 12
Back by popular demand, Cinch World's Toughest Rodeo returns to PNC Arena this month, celebrating more than 40 years of bringing the Ol' West to cities across the country. Sanctioned by the Professional Rodeo Cowboys Association, Cinch World's Toughest Rodeo features three fan-favorite events: bareback riding, saddle bronc riding and bull riding (the most extreme and fan favorite event!).
Dino Stroll
Feb. 12
The family-friendly event at the Raleigh Convention Center lets you stand next to life-like and life-size dinosaurs standing over 25 feet tall and spanning over 60 feet long! During Dino Stroll, experience a journey into the Mesozoic Era with prehistoric dinosaurs from the Triassic, Jurassic and Cretaceous periods, throughout! Guests are able to get up close and personal with more than 75 dinosaurs, including T-Rex, Velociraptors and Stegosaurus, to name a few.
Monster Jam
Feb. 19-20
Monster Jam, the adrenaline-charged family entertainment circuit that has showcased gravity-defying feats and bone-crushing hits since 1992, is back this month with some of the most recognizable trucks in the world—Grave Digger, Max-D, El Toro Loco and more—to partake in freestyle and racing competitions that will leave fans on the edge of their seats!
Poiema Arts presents Titanic The Musical
Feb. 24-26 and March 3-5
In this stunning chamber musical as massive as the ocean liner that shares its name, Maury Yeston and Peter Stone's musical, Titanic, tells the stories of the people on board the legendary steamer and the men who got them there.
As the NHL's Carolina Hurricanes prepare for a major playoff push (and perhaps the top seed in the Eastern Conference), they'll play four important home games this month at PNC Arena:
Body Mind Spirit Expo
Feb. 26-27
Dive into holistic living at the Body Mind Spirit Expo at the North Carolina State Fairgrounds. Take in live performances featuring entertaining music, dance and spoken word, then explore an incredible selection of the nation's finest psychics and mediums, the best in alternative health, wellness tools, products and resources. The biggest fair of its kind in America for more than 30 years!
Dancing With the Stars - Live Tour 2022
Feb. 27
America's favorite dance show takes the stage at the Duke Energy Center for the Performing Arts! Your favorite dancers from this iconic television series hit the stage this winter with an all-new show. Starring Brandon Armstrong, Alan Bersten, Artem Chigvintsev, Sasha Farber, Daniella Karagach, Pasha Pashkov, Gleb Savchenko, Emma Slater, Britt Stewart and more!
Southeast Eurofest Raleigh
Feb. 27
This All-European car show returns to the North Carolina State Fairgrounds again this month, showcasing some of the area's coolest rides and featuring vendors with specialty car products for sale. 
Looking ahead: March events in Raleigh, N.C.
The Eagles, March 2
Mardi Gras Party at Fortnight Brewing, March 6
Carolina Ballet presents Snow White, March 10-27
Raleigh St. Patrick's Day Parade and the Wearin' 'O the Green Festival, March 12
Art in Bloom, March 16-20
Tracy Morgan at Raleigh Improv, March 18-19
Playthrough Gaming Convention, March 19-20
Header image via Getty Images
Comments