Things to Do in Raleigh, N.C.: January 2017
Wednesday, December 21, 2016, 6am by Michael Robson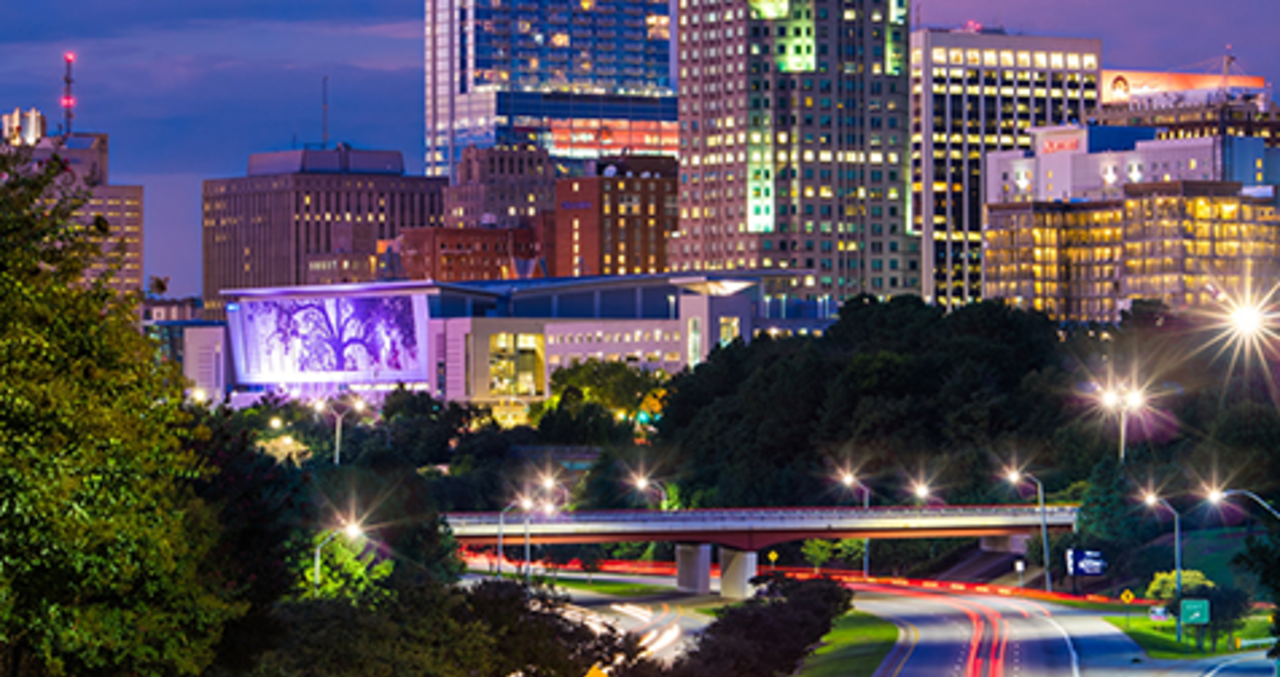 New Year Beginnings
Another year is in the books! Looking back, 2016 in Raleigh, N.C., was filled with major festivals, outdoor concerts, sold-out sports events, incredible restaurants, gorgeous public art pieces and many, many amazing #visitRaleigh photos on Instagram. A new year should bring more of the same—more opportunities to explore, more chances to discover how Raleigh continues to be reinvented by passionate artists, innovators, chefs and more.
We're kicking off 2017 with one idea in mind: to use enriching, mind-expanding experiences to lay the groundwork for the months ahead that we plan to make the best year ever. Visiting Raleigh's collection of world-class museums and historic attractions is the way to do just that!
Start at the North Carolina Museum of Natural Sciences, where you'll learn about the 100 trillion teeny, tiny microorganisms crawling all over your skin and swimming in your gut! The Secret World Inside You (through 3/12) teaches you about your microbiome—the community of creatures that your immune system, digestive system and brain rely on every day. This featured exhibition uses videos, larger-than-life models and interactive games to give you a new perspective on the body and human health.  
From there, take about 10 steps across the way to the North Carolina Museum of History. Here you'll wander through 14,000 years of the state's history in The Story of North Carolina, the largest exhibit ever produced at the museum. Artifacts, multimedia presentations and re-created environments tell the story of the people and places that have shaped the Tar Heel state. From American Indian life and European settlement, through the Great Depression and Civil Rights movement, this exhibit is a can't-miss learning opportunity for all ages. Have you seen the exhibit on a previous trip? You'll want to check out the newly expanded section on the Wright Brothers! Visiting tip: Plan your visit ahead of time to line up with the 16th Annual African American Cultural Celebration (1/28), a statewide kickoff to Black History Month at the museum. This year's event, with a "The Shoulders We Stand On" theme, will feature 75 musicians, storytellers, dancers, historians, authors and more to celebrate black history through music, dance, art and food.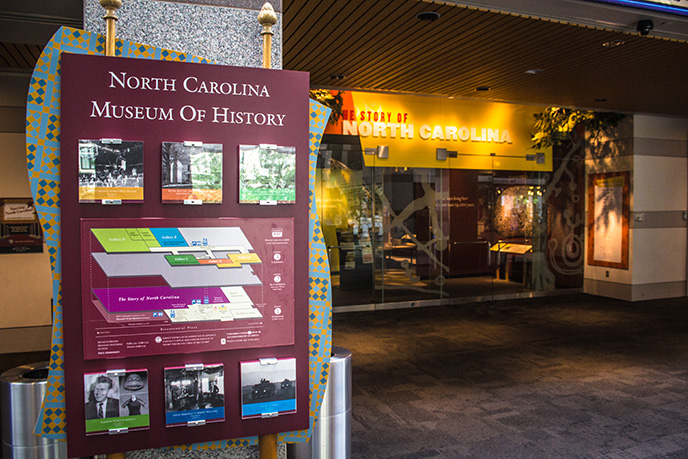 Read about more ways to kick off the new year at museums here, including a stop at Marbles Kids Museum to check out these 12 awesome exhibits for children.
Winter Spectacles
A 200-foot-long, 21-foot-tall dragon has invaded Koka Booth Amphitheatre in Cary! The North Carolina Chinese Lantern Festival (through 1/15) displays hundreds of larger-than-life lanterns, made up of more than 15,000 LED lights—truly a sight to see. More than 50,000 guests will have gone on the self-guided walking adventure before the event closes. Here's everything you need to know!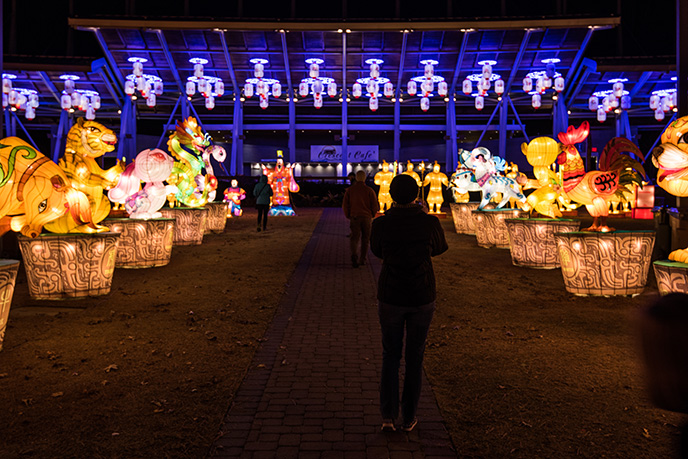 In downtown Raleigh, Ice Raleigh (through 1/29) is your chance to lace up some skates and try out Raleigh's only natural ice outdoor skating rink. The 45' x 90' rink is perfect for both date nights or days with the kids. Check the schedule for things like DJ nights, themed nights and discount days (regular price is $10, which includes skate rental).
Speaking of ice, the Carolina Hurricanes will be busy in Raleigh to kick off the new year, and that's great news! Winners of eight of their last nine games at home (as of 12/21), the 'Canes will play eight games at PNC Arena in Jan., including games against the Boston Bruins (1/8), Pittsburgh Penguins (1/20) and Philadelphia Flyers (1/31). See the full home schedule here.
Ever wish you knew exactly when (or if!) it was going to snow? We can tell you! Winter Wonderland at Bond Park (1/27-28) will create an amazing sledding hill out of man-made snow. Sign up in advance for a one-hour session. Snow tubes are provided!
More January Picks
Your final chances! Rolling Sculpture: Art Deco Cars from the 1930s and 40s is at the North Carolina Museum of Art until Jan. 15. Don't miss out on seeing 14 cars and three motorcycles that have been called some of "the most beautiful cars in the world!" Visiting tip: While at the museum, take a stroll through the newly expanded Ann and Jim Goodnight Museum Park, including two just-installed monumental sculptures by internationally renowned artist Mark di Suvero.
Hip-hop duo Run The Jewels plays at The Ritz (1/20) in what should be one of 2017's most anticipated concerts. In addition, Sierra Hull (1/6), Brothers Osborne (1/12) and Dizzyride (1/23) all take the stage in Raleigh in Jan. Don't forget to check out a full calendar of concerts at themostnc.com!
Hey, foodies! It's your time to shine. Triangle Restaurant Week (1/23-29) is a week-long celebration of culinary excellence throughout the Raleigh area. Participating restaurants offer special three-course menu options and fixed pricing ($15 for a three-course lunch, and $20, $25 or $30 for a three-course dinner), making this the perfect chance to try out a new spot or return to an old favorite. Wondering about some of the best new restaurants? Check out this list. 
Raleigh Little Theatre's The Whipping Man (1/13-29) tells the thrilling story of two former slaves and an injured Confederate soldier celebrating Passover together.
MacArthur Genius Grant-winner Jeremy Denk will join the North Carolina Symphony to play Beethoven's 4th Piano Concerto (1/6-7) at the Duke Energy Center for the Performing Arts. Later in the month, the Symphony celebrates the 50th anniversary of Star Trek with A Star Trek Spectacular (1/20-21), an out-of-this-world concert conducted by the world-renowned Jack Everly.
The North Carolina Museum of Natural Sciences is teaming up with NASA and the Raleigh Astronomy Club to help you see the universe at Astronomy Days (1/28-29). From comet crafts to solar observing, lectures to rocket launches, space enthusiasts of all ages won't want to miss this year's sun and stars-themed event.
North Carolina Theatre will present Always... Patsy Cline (1/20-29), a true, hilarious and emotional story of an unlikely friendship between a housewife and legendary country singer. 
Ready to see Raleigh in a brand new way? Sign up for the Raleigh Explorer Segway Tour! Glide your way around downtown's central business district, past the North Carolina State Capitol and through a slice of Historic Oakwood, Raleigh's oldest neighborhood filled with incredible architecture.
Comments