Things to Do in Raleigh, N.C.: July 2022
Thursday, June 30, 2022, 1pm by visitRaleigh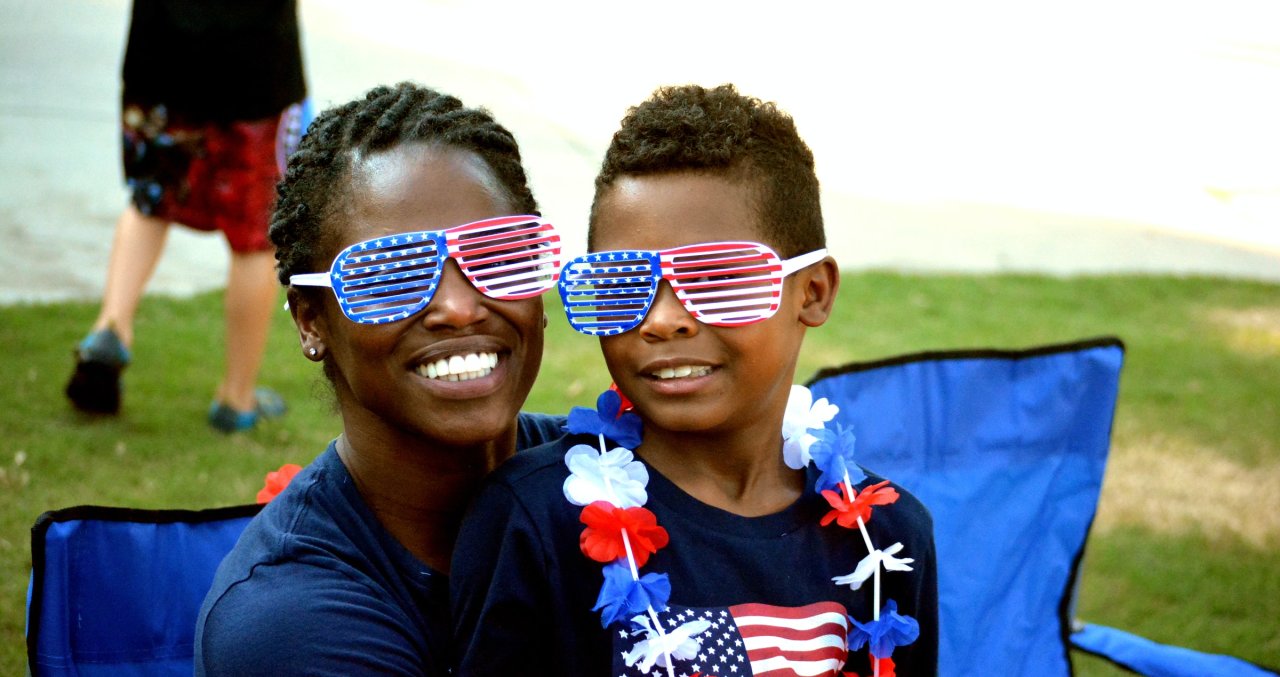 Every two weeks, we send out a newsletter that includes the best of the best upcoming events. If you sign up for our E-magazine, you'll get those, plus all the latest insider content (the scoop on when Raleigh's sunflower field will be blooming, for example, or 100 of our favorite things to do in downtown Raleigh).
---

Hello, summer! We can hardly contain our excitement—there are so many fun ways to enjoy the longer days and extra sunshine we get during these warm-weather months. Throw in some gorgeous sunrises and sunsets, Independence Day celebrations plus a few extra vacation days, and you'll find there's no better time than now to get outside, take in a ballgame and discover new ways to experience the Raleigh area. Here's all the fun stuff we're doing in July!
 
Through Aug. 31
We often say "you're welcome", but what does it truly mean to to say "you are welcome?" B'rukhim Haba'im: Stories of Welcome—presented by Burning Coal Theatre Company—is an exhibit of filmed autobiographical stories of 21 Jewish seniors across the Raleigh area, telling stories of times they felt or experienced being truly welcome. These uplifting and touching stories are free to see, Tues.-Sun., at the City of Raleigh Museum.
Carolina Mudcats for America Fireworks Series
Fri., July 1, through Sun., July 3 (includes fireworks)
Three nights of baseball and post-game fireworks? Count us in! The first-place Carolina Mudcats—taking to the diamond at Five County Stadium in Zebulon—will take on the Fayetteville Woodpeckers in this homestand that is sure to be light up the scoreboard (and the sky!). 
The Mudcats will also play these series in July: 
Garner July 3rd Independence Day Celebration
Sun., July 3 (includes fireworks)
Grab a blanket and head to Garner's Lake Benson Park for an evening of patriotic entertainment. The Independence Day Celebration starts at 5pm with food vendors, kids crafts, tours of the Garner Veterans Memorial and more. The North Carolina Symphony will put on a patriotic program at 8:30pm, followed immediately by fireworks. Picnics, coolers and beach umbrellas are welcome! Admission and parking are free.
Town of Cary Independence Day Celebration
Mon., July 4 (includes fireworks)
Relax under the pines at Koka Booth Amphitheatre for the Town of Cary Independence Day Celebration. With doors opening at 3:30pm, the Cary Town Band kicks off music at 5:30pm, followed by a patriotic performance by the North Carolina Symphony and fireworks over beautiful Symphony Lake to cap the evening. General admission seating is available free to the public on a first-come basis, and a limited number of table reservations are available for purchase. Food vendors will be available outside of the venue gates.
City of Raleigh July 4th Celebration at Dix Park
Mon., July 4 (includes fireworks)
A new location for the City of Oaks' biggest July 4th event—Dorothea Dix Park! Pack a picnic and head to Dix Park to enjoy music the DJ stage and field games like cornhole and giant Connect 4 before the fireworks begin. Parking will be off site for this event—on North Carolina State University Centennial Campus and at downtown Raleigh parking decks—with free shuttles running between Centennial Campus and Moore Square to Dix Park from 6-11:30pm. The event area is a large grassy surface—bring bug spray, blankets, chairs and coolers!
---
Fuquay-Varina Independence Day Celebration, July 1
Apex Fireworks Frenzy, July 3
Morrisville July 3rd Family Fun Festival, July 3
Wake Forest Fireworks Spectacular, July 3
---
Exhibition: Fault Lines: Art and the Environment
Through July 17
Explore humanity's relationship to the environment through an immersive, multimedia exhibition and outdoor sculpture installations in the Ann and Jim Goodnight Museum Park at the North Carolina Museum of Art. Through video, photography, sculpture and mixed-media works, 14 contemporary artists focus on current concerns and offer new perspectives, addressing urgent environmental issues, consequences of inaction and opportunities for sustainable environmental stewardship and restoration.
Minor League Cricket action is ready to return to the pitch at Morrisville's Church St. Park—home of the inaugural Minor League Cricket championship in 2021—where the Morrisville Raptors will look to bowl and bat their way to a hot start to the season this month. They'll face off against these teams in July (and spectators are welcome with free admission!): 
vs. New Jersey Somerset Cavaliers, July 1
vs. The Philadelphians, July 2
vs. Manhattan Yorkers, July 4
vs. Fort Lauderdale Lions, July 23 and 24
Apex Legends Global Series Championship
July 7-10
Game on! Raleigh's PNC Arena is ready to host 40 of the world's top Apex Legends squads as they compete for a total of $2 million in the first-ever Apex Legends Global Series Championship event in front of a live audience (tickets are on sale and going fast!).
A whole bunch of big names and local favorites will take the stage in July. Save these dates!
Tim Meadows, June 30-July 2
Pauly Shore, July 8-10
Joe Mande, July 11
Brent Pella, July 13
King Bach, July 15-16
Jared Freid, July 21-23
Luenell, July 29-31
At Raleigh Improv: 
Localista Summer Bazaar 2022
July 9
An evening of shopping at Moore Square in downtown Raleigh with a variety of local makers, artisans and small business owners selling clothing, jewelry, handicrafts, artwork, ethnic goods, spices, sauces, fairy hair and more (plus food trucks and live music!).
Paw Patrol Live! The Great Pirate Adventure
July 9-10
Yes, the last couple of years have been RUFF on all of us, but Paw Patrol Live! is back in action and ready to roll in Raleigh! Do not miss this PAWsome opportunity to see Ryder and the whole pack as they set sail in a pirate-themed live touring stage performance, an adventure-filled high-seas mission aboard the Sea Patroller as they save their mateys, Carlos and Tracker, and find some pirate treasure, too!
"Blending Over Backwards" - Whiskey Tour & Tasting
July 12
Just like its signature blended whiskey, Ole Raleigh Distillery in Zebulon, N.C., is a blend of old and new. Come take a behind-the-scenes tour with owner Brandon McCraney of this 10,000-square-foot facility that includes the production facility, tasting room, whiskey barrel storage and more (plus, of course, get a taste of the newest batch of handcrafted spirits!). Note: This is a ticketed event with limited spots!
July 15-17 and 22-24
One of America's most spectacular gardens—a secret among some locals but a sanctuary to plant lovers around the world—is open to the public just eight weekends per year in Raleigh, N.C. Located 12 miles south of downtown Raleigh, Juniper Level Botanic Garden is a 28-acre campus showcasing more than 27,000 different kinds of native perennials, exotic plants, rare delights and unusual specimens of trees and shrubs not found many (or any) other places on earth. This "Eden of rare plants" draws gardeners, researchers and fans of beautiful plants from across the globe each year
Orchestra Noir: The Atlanta African-American Orchestra
July 16
Founded in 2016 by Maestro Jason Ikeem Rodgers, Orchestra Noir aims to celebrate the cultural achievements of African American music pioneers across all genres of music, including classical, hip hop and R&B. This event, dedicated to 1990s music, promises to showcase what Rodgers's mission has always been: to celebrate the cultural achievements of African American pioneers across all genres of music.
Outdoor concert season is in full swing! A sampling of open-air shows this month is below, but first it's worth highlighting that rock legends Rage Against the Machine (plus hip hop icons Run the Jewels) will take to the stage at PNC Arena on July 31. New Kids on the Block (July 22) and Shawn Mendes (July 23) will play the area's largest indoor venue this month as well!
North Carolina Symphony Summerfest: Dvořák New World Symphony, July 1
Smooth Nights at KBA, July 2
Summer Jam: The Commodores, July 8
North Carolina Symphony Summerfest: Disco Fever, July 9
North Carolina Symphony Summerfest: An Evening with Sidecar Social Club, July 16
At Coastal Credit Union Music Park at Walnut Creek:
Train: AM Gold Tour, July 1
Luke Bryan, July 8
OneRepublic, July 9
The Chicks & Patty Griffin, July 12
Dave Matthews Band, July 22
Phish, July 29
At North Carolina Museum of Art:
Jazz at the NCMA: Take 6 with Special Guest Najee, July 7
Jazz at the NCMA: Arturo O'Farrill and the Afro Latin Jazz Ensemble with Special Guest Veronica Swift, July 14
Dino & Dragon Stroll
July 16-17
This family-friendly event at the Raleigh Convention Center will let you stand next to life-size dinosaurs and dragons standing over 25 feet tall and spanning over 60 feet long! During Dino & Dragon Stroll, experience a journey into the Mesozoic Era with prehistoric dinosaurs from the Triassic, Jurassic and Cretaceous periods, throughout! Guests are able to get up close and personal with more than 75 life-like creatures, including T-Rex, Velociraptors and Stegosaurus, to name a few.
CHEER Live
July 17
Bringing together fan favorites from the two most successful rival cheer programs in the country—Navarro College and Trinity Valley Community College—CHEER Live features the Netflix-famous stars Maddy Brum, Angel Rice, Dee Joseph, Gillian Rupert, coach Monica Aldama and more taking to the mat at Red Hat Amphitheater for an electrifying exhibition of never-before-seen stunts and stage performances. 
July 21
In this workshop with Lisa Grele—master gardener and executive director of Raleigh City Farm—participants will enjoy a tour of the farm gardens, sip local lemonade and learn how to harvest, arrange and care for your own cut flowers (celosia, coneflowers, dahlias, snapdragons, hydrangeas and more are in bloom!). This ticketed workshop has limited spots available and is expected to sell out in advance. 
July 22-23
Live music, a beer garden, a barbecue competition (sanctioned by the Kansas City Barbecue Society) and more make for one of Apex's tastiest events of the year.
July 24
Enjoy a food-filled afternoon in downtown Cary. Taste some of the area's best food (barbecue, burgers, beignets and more!), enjoy cool beverages from craft beer and wine vendors and relax to the music of great local performers. More than 30 total vendors will be on hand—see you there!
July 24
Cheers to nine years at Raleigh's favorite cycling-themed brewery with a block party that includes beer, bikes, bands, food and more! A group bike ride rolls out at 11:30am, followed by nearly 10 hours of live music and good vibes from local bands including Jack the Radio, Sons of Paradise, Barefoot Manner and others.
July 28
Live music from Amy Jae, specialty cocktails, a visit from Santa, yard games and more fun activities at Raleigh Beer Garden for this special event that supports the Capital City Clauses mission of enriching children's lives.
July 28
It's safe to say that Christina Wrenn has put her horticulture degree from North Carolina State University to good use—Wrenn's Farm is now run by Christina and her husband, Austin, where the alternate between strawberry and flower season to fulfill demand at local markets. In this limited-space workshop, join Christina at the farm to explore more than an acre of ornamental flowers and create your own arrangement (all while enjoying a cold drink and some tasty ice cream!). 
July 28-31
A four-day festival for fans of pop culture, superheroes, science fiction, anime and more, GalaxyCon Raleigh will be back and bigger than ever at the Raleigh Convention Center in July. Featuring celebrity guests, comic book creators, artists, cosplayers and other industry guests, GalaxyCon Raleigh is expected to bring an incredible 30,000 attendees together in downtown Raleigh to see and be seen, to meet celebrities, go head-to-head in video games and have a blast participating in all things geek!
July 28-31
The seventh annual National Women's Theatre Festival features four full days of workshops, performances, talks, networking and co-creating activities on a variety of topics that advance gender parity and social justice in theatre. The theme of this year's event is "A Maker Space," with an emphasis on the artist's process and making space for artists to get inspired and re-engage with their craft. Performances of new works will be followed by hands-on workshops and trainings in the methodologies the artists used to create the piece. 
Through Sept. 4
At this special, ticketed exhibition at the state's most-visited museum, step back in time 290 million years to the age before the dinosaurs. Explore vivid artwork, fascinating fossils and life-sized models of a giant saber-toothed predator, saw-toothed shark and many other bizarre creatures that dominated life on land and sea before the most devastating mass extinction the world has ever known.
Comments