Things to Do in Raleigh, N.C.: June 2022
Wednesday, June 01, 2022, 4pm by visitRaleigh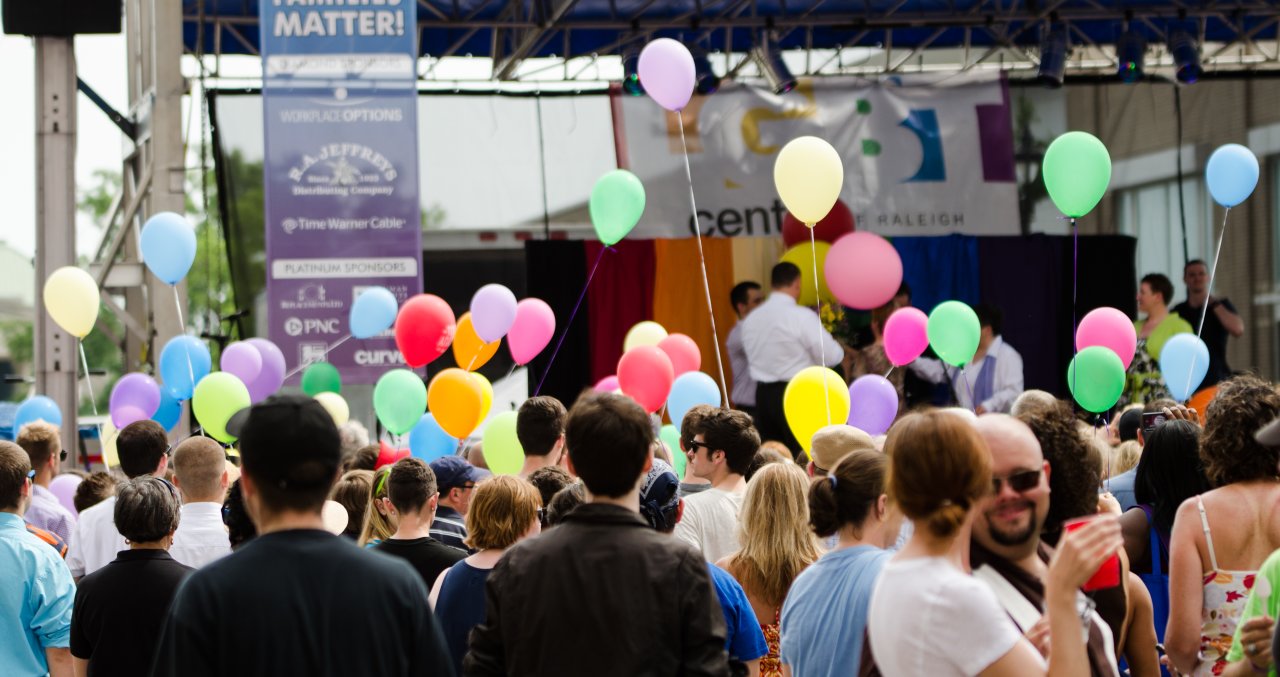 Every two weeks, we send out a newsletter that includes the best of the best upcoming events. If you sign up for our E-magazine, you'll get those, plus all the best new content (our favorite brunch spots, for example, or the details on a hidden kayaking gem just outside of Raleigh).
---
Hello, summer! June is an incredible time to visit the Raleigh area, with tons of opportunities to do, see and explore more in the City of Oaks than ever. Our best advice? Use these long days and warm weather to the fullest by getting outdoors and staying active! 
 
REX Hospital Open
June 2-5
Part of the Korn Ferry Tour—the playing field where future golf stars compete to earn their PGA Tour cards—the REX Hospital Open will tee off for the 32nd year at The Country Club at Wakefield Plantation. The four-day tournament also features kid-friendly activities, live music, totally free admission (and parking) and more.
Holly Springs International Food Festival
June 3
A new event for 2022, visitors are invited to taste, learn and unite at the Holly Springs International Food Festival, celebrating a variety of food, beverages and entertainment representing more than a dozen countries. Bring blankets and chairs for lawn seating outside the Holly Springs Cultural Center to enjoy live entertainment—polka, jazz, Bollywood dancing and more! This event is free to attend with about a dozen local food and beverage vendors on hand.
Raleigh Little Theatre presents In The Heights
June 3-19
Directed by Patrick Torres (and featuring music and lyrics by Lin-Manual Miranda), In the Heights tells the universal story of a vibrant community in New York's Washington Heights neighborhood, a place where the coffee from the corner bodega is light and sweet, the windows are always open and the breeze carries the rhythm of three generations of music. Follow bodega owner Usnavi and his friends as they dream of a brighter future in this Tony Award-winning musical.
11th Annual Apex Latino Arts Festival
June 4
Celebrate Latino arts and culture in downtown Apex with piñata breaking, children's arts and crafts workshops, local art exhibits, a culinary adventure, Latin American dance, music performances and more.
Bubbles & Brisket
June 4
This second annual event, presented by the NC F&B Podcast, is a collaboration of chefs, pitmasters, winemakers and brewers pairing sparkling bubbles with a variety of cooking techniques and side dishes that feature everyone's favorite—brisket—from 10 Tar Heel State barbecue chefs.
Raleigh's International Food Festival
June 4
Celebrate Raleigh's diverse community and welcoming spirit by trying food, beer and wine (plus listen to live music and see more entertainment) from around the world. Nearly 20,000 attendees are expected in downtown Raleigh's City Plaza for the event.
NCAA Division II Baseball Championship
June 4-11
In Cary, the USA Baseball National Training Complex—hosting the NCAA Division II Baseball Championship for the 12th time—will be home to a week of action on the diamond as eight teams compete in the double-elimination tournament to claim the ultimate prize. Admission for fans is totally free all week!
Fenton's Grand Opening Celebration
June 4-5
At Fenton—the mixed-use, 440,000-square-foot live-work-play district in Cary—a much-awaited opening weekend for phase 1 of the development is finally here. On hand to help celebrate will be all kinds of entertainment—scavenger hunts, live music, skaters, chalk artists, hot air balloon rides, fitness classes, an appearance from TikTok superstars Cost 'n' Mayor and more! 
Triangle Restaurant Week
June 6-12
A week-long celebration of culinary excellence, Triangle Restaurant Week sees some of the area's best restaurants offer up special, three-course menu options at fixed pricing ($15 for lunch, and $20, $25 or $30 for dinner), a great opportunity for residents and visitors alike to return to an old favorite dining spot or discover a new one.
Exhibition: Fault Lines: Art and the Environment
Through June 17
Explore humanity's relationship to the environment through an immersive, multimedia exhibition and outdoor sculpture installations in the Ann and Jim Goodnight Museum Park at the North Carolina Museum of Art. Through video, photography, sculpture and mixed-media works, 14 contemporary artists focus on current concerns and offer new perspectives, addressing urgent environmental issues, consequences of inaction and opportunities for sustainable environmental stewardship and restoration.
Outdoor concert season is officially here! A taste of what's to come this summer in the City of Oaks: 
Parker McCollum, June 4
Maren Morris: Humble Quest Tour, June 9
Ben Rector: The Joy of Music Live, June 10
Rebelution Good Vibes Summer Tour, June 11
Flume: Palaces Tour, June 12
The War On Drugs, June 13
GOOSE: Dripfield Summer Tour, June 15
Cody Johnson, June 16
Flogging Molly & The Interrupters, June 21
H.E.R.: Back of My Mind Tour, June 24
North Carolina Symphony Summerfest: Beethoven, Symphony No. 9, June 4
North Carolina Symphony Summerfest: Movie Music Classics, June 11
North Carolina Symphony Summerfest: All Mozart, June 12
Robert Plant & Alison Krauss, June 14
North Carolina Symphony Summerfest: Havana Nights, June 17
North Carolina Symphony Summerfest: Juneteenth Celebration, June 18
Trombone Shorty's Voodoo Threauxdown, June 21
Billy Strings, June 23-25
North Carolina Symphony Summerfest: The Music of Queen, June 26
Pat Benatar & Neil Giraldo, June 27
At Coastal Credit Union Music Park at Walnut Creek:
At the North Carolina Museum of Art:
The Mavericks with Maggie Rose, June 8
Juneteenth Joy: A Celebration of Freedom and Gospel Music, June 17
Jazz at the NCMA: Ledisi Sings Nina with Special Guest Al Strong, June 23
Jazz at the NCMA: Jonathan Butler with Special Guest Avery Sunshine, June 30
As part of the North Hills Beach Music Series at Coastal Credit Union Midtown Park:
BlackWater Band, June 2
Too Much Sylvia, June 9
Chairman of The Board, June 16
The Embers ft. Craig Woodard, June 23
Finding Patience, The Musical: The Story of Holly Springs
June 9-24
Presented by Local Legacy Productions and the Town of Holly Springs, moving music, stirring songs, expressive dancing and more than enough heart bring Holly Springs history back to life in this original play-turned-musical that first debuted in 2017. Audiences will follow Patience, a formerly enslaved woman who moved to town with newfound freedom after the Civil War, as she meets important characters from Holly Springs' past.
The Justice Theater Project presents Man of La Mancha
June 10-26
A poignant, moving musical, Man of La Mancha—based on Miguel de Cervantes' epic 17th-century novel Don Quixote—is one of the most revered productions in Broadway history. Powerful, brutal, hilarious and heartbreaking, this Justice Theatre Project rendition—directed by Adam Twiss—celebrates the perseverance of a dying old man who imagines himself the gallant knight Don Quixote, on a noble quest to right all wrongs.
AfroChella
June 11
A fun, festive evening at Raleigh Union Station honoring the African American Cultural Festival of Raleigh and Wake County's 13th anniversary (and in anticipation of the festival's Labor Day weekend affair this year). This AfroChella-inspired fundraising event is a night of fun, drinks, music, dance and celebration! Come out in your African garb and help celebrate African culture with style and grace. This is a ticketed event that is expected to sell out.
Apex Pride Festival
June 11
A day of inclusion, music, food and games in Apex for the second annual Apex Pride Festival. Live music from Peak City Band, Smuve and others, plus drag performances, a food truck rodeo, kids activities and more.
Run for Love 5k
June 11
This annual 5k race at Dorothea Dix Park is presented by local running store Runologie, benefitting the LGBT Center of Raleigh. Music, a drag show, popsicles, sweet finisher medals and an after-party at Trophy Brewery + Taproom? Count us in!
N.C. Hops Festival
June 11-12
For two days, sip, shop, dine and groove at the N.C. Hops Festival at the North Carolina State Fairgrounds. More than 100 local beers, ciders and seltzers will be on hand to sample, and live music, local makers and food trucks will help round out an event worthy of raising a glass to.
Life Before Dinosaurs: The Permian Monsters at North Carolina Museum of Natural Sciences
Through Sept. 4
At this special, ticketed exhibition at the state's most-visited museum, step back in time 290 million years to the age before the dinosaurs. Explore vivid artwork, fascinating fossils and life-sized models of a giant saber-toothed predator, saw-toothed shark and many other bizarre creatures that dominated life on land and sea before the most devastating mass extinction the world has ever known.
Raleigh Retro Gamers Expo and Pop-Up Market
June 11
This free event will bring thousands of retro games and consoles—plus a mobile gaming trailer—to downtown Raleigh's Moore Square for a day of throwback and modern gaming.
Town of Cary's Pimento Cheese Festival
June 11
In downtown Cary, food trucks will line the streets to serve their regular menu, along with new dishes featuring a Southern delicacy: pimento cheese! Enjoy live music, grab a drink from local breweries and taste some of the best pimento cheese samples from local restaurants. Come hungry!
Downtown Raleigh Food Truck Rodeo
June 12
Food trucks as far as you can see (literally!). The Downtown Raleigh Food Truck Rodeo brings more than 50 food trucks to the city center, spanning a half-mile and 11 city blocks and drawing thousands of hungry visitors to taste the best of the best from local trucks. It's one of the biggest rodeos in the country!
Geek and Grub Market
June 12
A celebration of all things geek, this event is exactly what you'd hope for—superhero costumes, giant board games, good food and local geek-themed artisans and vendors on hand to surprise and delight.
21Marbles
June 17
Play like a kid to support all kids! Join Marbles Kids Museum for a 21-plus evening event. Come play in the museum, enjoy themed activities and dance the night away with a DJ. Arcade games, a supermarket sweep challenge, human foosball, neon Nerf battles and much more will also take place! Beer and wine will be available for purchase. 
Juneteenth Joy: A Celebration of Freedom and Gospel Music + Music and Movie Night
June 17-18
A Juneteenth weekend kickoff at the North Carolina Museum of Art, Fri. evening at the museum park will feature uplifting music from local legends and Grammy-winning artists: Gene Hoskins, The Napper Singers, Kelontae Gavin, Kierra Sheard, Le'Andria Johnson, Hezekiah Walker & LFC and Fred Hammond.
On Sat. evening, celebrate Black culture by arriving in style in your best 1960s fashion as the museum honors the people that fought for civil rights in the U.S. Be ready for a dance party with grooves from soul genres followed by a screening of the Oscar-winning documentary Summer of Soul taking place at sundown.
Celebrate Juneteenth at the North Carolina Museum of History
June 17
Drop in at the North Carolina Museum of History for an afternoon of activities inspired by oldest nationally celebrated commemoration of the ending of slavery in the U.S. Meet members of the Battery B Second Regiment—U.S. Colored Light Artillery Civil War reenactors—as they reveal the legacy of the courageous soldiers in the struggle for freedom and citizenship during the American Civil War. 
In the evening, PBSNC will debut a new 30-minute documentary film at the museum, George Henry White: Searching for Freedom. The historical biographical film chronicles the career of African American U.S. congressman George H. White, whose last term in Congress ended in 1901 after the disenfranchisement of African Americans across N.C.
BBQ Festival & Celebration of Dads
June 18
At Phillips Farms of Cary—serving the Raleigh area for more than 100 years now—a year-round slate of events fills the calendar. This month—aside from weekly farmers' markets on Sat. mornings—barbecue and dads will take the spotlight just one day ahead of Father's Day. Food trucks, music, farm animals, face painting, wagon rides and more will make a great time for the whole family!
Borrowing Something Sweet: Honey Tasting and Hive Tour
June 18
Meet Steve and Shannon Baxter, local beekeepers and owner's of Baxter's Bees, and come to the Stone Ridge Farm Market in Zebulon for a scenic outdoor experience where you can taste a range of different local honeys, explore the construction of a beehive up close and learn straight from the local experts why beekeeping is such a fascinating and vital part of our lives. This event is produced in partnership with People-First Tourism.
Capital City Juneteenth Celebration at Dorothea Dix Park
June 18
An afternoon of food and entertainment at Dorothea Dix Park in celebration of Juneteenth, with live music, guest speakers, dancers, kids activities and more. 
Town of Cary Juneteenth Celebration
June 19
Programming in downtown Cary will include a processions, speakers, dancers and live music—with food vendors including barbecue and Italian ice on hand—plus a special, one-man performance of The Fire of Freedom by award-winning artist Mike Wiley (a ticketed event inside Cary Arts Center).
Out! Raleigh Pride
June 25
Out! Raleigh Pride is the area's annual, family-friendly street festival that celebrates the LGBT community and its allies, and the festival celebrates 10 years of festivals in 2022! Organized each year by the LGBT Center of Raleigh, the festival's speakers, performers and vendors (and a Kids Zone) bring eight hours of fun and family to downtown Raleigh's Fayetteville Street district.
What else is hot this month? See below for more events we're saving the date for! 
Holly Springs Salamanders games, various dates
Queer Community Market, June 4 and 25
Bold Batch Creamery Pop-Up at The Willard, June 5
Plant & Sip at Ruby Deluxe, June 8
Burning Coal Theatre Company presents WHAT IF IF ONLY and AIR, June 9-26
Museum After Dark: My Name is Pauli Murray Film Screening, June 16
Special Event: Bruce Bruce at Goodnights Comedy, June 17-19
North Carolina FC vs. Charlotte Independence, June 18
The Body Party: Secret Garden Ball, June 18
Father's Day Soulful Brunch Experience + Live Concert, June 19
Rupi Kaur: World Tour, June 24
FRESH Sounds with Carly Prentis Jones + Friends, June 25
James Taylor, June 25
Exhibit: B'rukhim Haba'im: Stories of Welcome, June 28-Aug. 31
Comments