Things to Do in Raleigh, N.C.: May 2022
Friday, April 29, 2022, 1pm by visitRaleigh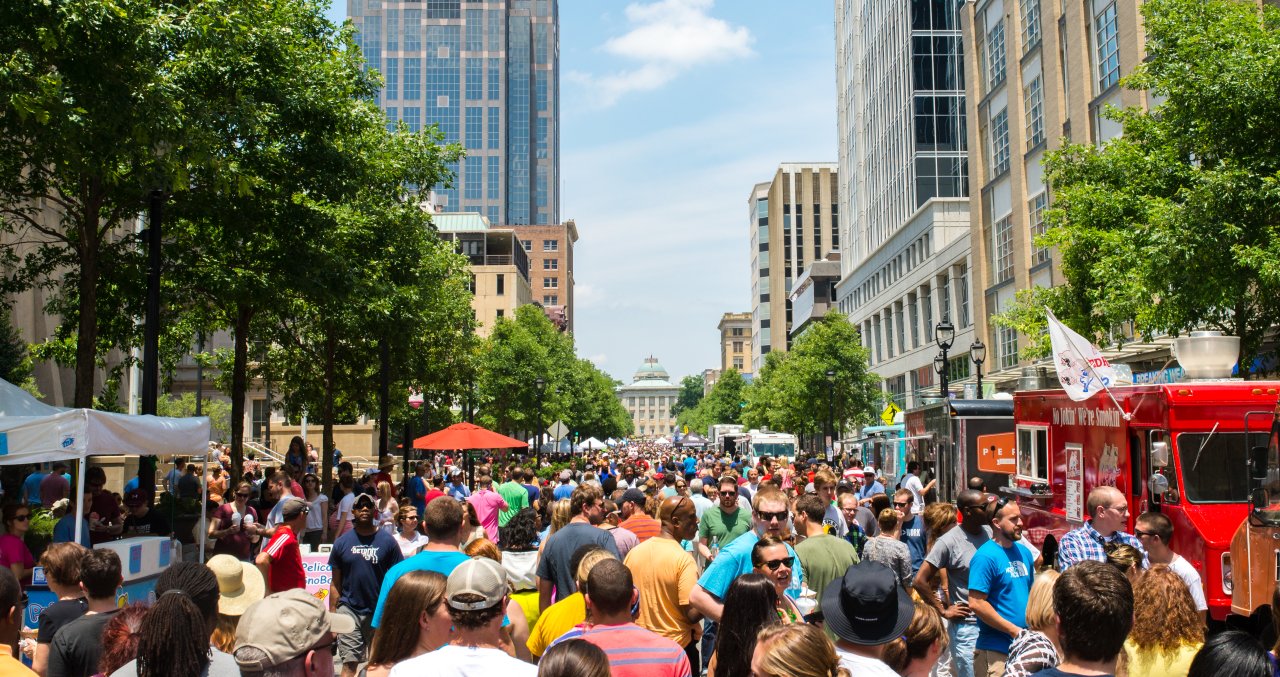 Every two weeks, we send out a newsletter that includes the best of the best upcoming events. If you sign up for our E-magazine, you'll get those, plus all the best new content (our favorite brunch spots, for example, or 10 ways to plan a perfect weekend getaway in the Raleigh area).
---
Hello, May! A busy spring continues in the Raleigh area this month—longer days and lots of sunshine mean it's time to get outdoors and explore. Temperatures have hit a sweet spot, patios are open, picnics are in full swing, the calendar is packed with major events and there's never been a better time to visit the City of Oaks!
 
May 1
For a kickstart to bike month in Raleigh, join bike experts and advocates Oaks and Spokes for a 31-mile ride that circles the city using the Capital Area Greenway System (pack your snacks, water and helmet, please!). 
HerbFest
April 29-May 1 and May 6-8
Those who love to cook will love HerbFest! Stroll through downtown Wake Forest's charming White St. and shop organic, non-GMO herbs and vegetables, plus heirloom tomatoes and peppers and beautiful perennials specific to the area.
Weekly on Sundays, beginning May 1
Located in the heart of downtown Raleigh, Moore Square Market highlights local vendors and their farm-fresh food and artisanal goods on a weekly basis. Open weekly on Sun. from May through Oct., special programming, live music, kids' activities and more are on hand to offer something for the entire family.
Teddy Swims, May 3 at Lincoln Theatre
PUP, May 4 at The Ritz
LIVE at Lake Raleigh with Tumbao, May 5 at Lake Raleigh
Pastor Shirley Caesar & The Caesar Singers, May 5 at Duke Energy Center for the Performing Arts
Tori Amos, May 6 at Duke Energy Center for the Performing Arts
AJR, May 7 at Red Hat Amphitheater
Freddie Gibbs, May 8 at Lincoln Theatre
Lucius, May 12 at The Ritz
Friday Night on White: Sleeping Booty Band, May 13 in downtown Wake Forest
Aly & AJ, May 13 at Lincoln Theatre
The Dead South, May 15 at The Ritz
Casting Crowns and Hillsong Worship, May 16 at PNC Arena
Rex Orange County, May 16 at Red Hat Amphitheater
KISS, May 17 at Coastal Credit Union Music Park at Walnut Creek
Old Crow Medicine Show, May 20 at North Carolina Museum of Art
Foo Fighters, May 20 at Coastal Credit Union Music Park at Walnut Creek
Tim McGraw, May 21 at Coastal Credit Union Music Park at Walnut Creek
The Lumineers, May 24 at Coastal Credit Union Music Park at Walnut Creek
Little River Band, May 26 at Koka Booth Amphitheatre
Herbie Hancock, May 29 at North Carolina Museum of Art
Jesse McCartney, May 31 at The Ritz
North Carolina Theatre presents Ring of Fire
Through May 8
A foot-stompin', crowd-pleasin' salute to The Man in Black! Johnny Cash's remarkable life story unfolds on stage through more than two dozen of the legend's classic hits, including "I Walk The Line," "A Boy Named Sue," "Folsom Prison Blues" and more in this production from North Carolina Theatre.
Through May 29
Ever dreamed of stepping into a painting? Van Gogh: The Immersive Experience is a 20,000-square-foot light-and-sound spectacular featuring two-story projections of the artist's most compelling works. Visitors will encounter the brilliance of one of history's greatest artists in 360°, featuring a virtual reality experience, and discover the inspiration behind eight of his iconic works, including Vincent's Bedroom at Arles and Starry Night Over The Rhone River.
At Five County Stadium in Zebulon—where the Carolina Mudcats have been a staple for more than 30 years—the 2022 Minor League Baseball season is officially underway (be on the lookout for Bark in the Park Tuesdays, Thirsty Thursdays, Friday Night Fireworks and more promotions all season long!). This month the Mudcats home schedule breaks down like this: 
North Carolina Museum of Art hosts Fault Lines: Art and the Environment
Through June 17
Explore humanity's relationship to the environment through an immersive, multimedia exhibition and outdoor sculpture installations in the Ann and Jim Goodnight Museum Park. Through video, photography, sculpture and mixed-media works, 14 contemporary artists focus on current concerns and offer new perspectives, addressing urgent environmental issues, consequences of inaction and opportunities for sustainable environmental stewardship and restoration.
Friday Family Flicks: Encanto
May 6
A free-admission family movie on the big screen outdoors in Garner. Concessions available. Bring lawn chairs and blankets.
En Plein Air Fuquay-Varina
May 6-7
En Plein Air is an exciting, free outdoor event in Fuquay-Varina as a way to support local artists and bring public art to the town's streets. On Fri. and Sat. afternoons of this special event, a contest of skills will challenge each artist to create an original oil or acrylic masterpiece of a Fuquay-Varina landscape. 
May 6-8
One of America's most spectacular gardens—a secret among some locals but a sanctuary to plant lovers around the world—is open to the public just eight weekends per year in Raleigh, N.C. Located 12 miles south of downtown Raleigh, Juniper Level Botanic Garden is a 28-acre campus showcasing more than 27,000 different kinds of native perennials, exotic plants, rare delights and unusual specimens of trees and shrubs not found many (or any) other places on earth. This "Eden of rare plants" draws gardeners, researchers and fans of beautiful plants from across the globe each year
May 6-8
Head to the Jim Graham Building at the North Carolina State Fairgrounds for an upscale, vintage-inspired market featuring original art, antiques, clothing, jewelry, handmade treasures, home décor, outdoor furnishings, consumable yummies, seasonal plantings and more. 
41st Annual Apex PeakFest
May 7
Salem St. in historic downtown Apex comes alive with more than 20,000 visitors during PeakFest. For 40 years now, the arts and crafts festival has brought families together for a day of fun, food and fellowship. The town of Apex's largest annual event, PeakFest has all-day live music, all the arts and crafts you can imagine, entertainment for kids and food vendors that bring their best State Fair-style goodies.
Fest in the West
May 7, 2022
Celebrate Cary's rural past at this day filled with food trucks, local breweries, pie-eating contests, kids activities, live music and more. Empty plates, full bellies and a satisfied crowd is a sure thing, plus festival-goers will head home with souvenir beer cups!
Meet in the Street Festival
May 7
A day filled with food, fun and entertainment in historic downtown Wake Forest for 40 years running, Meet in the Street pulls together all-day live music plus an additional stage of entertainment with dancers, martial arts, magicians and more. A long list of food trucks and are sure to keep festival-goers happy!
May 12
Join artist Lauren Blackwell and enjoy a beer or cocktail from Wye Hill Kitchen & Brewing while painting a beautiful landscape of Raleigh's iconic skyline view from the Boylan Bridge vantage point. This event is produced in partnership with People-First Tourism.
Longleaf Film Festival
May 13-14
A free-to-attend film festival that highlights the best short- and feature-length documentary and narrative films, the Longleaf Film Festival is held annually at the North Carolina Museum of History in downtown Raleigh. In 2019 (2020 and 2021 were virtual affairs), the festival screened 59 films with a Tar Heel State connection, drawing more than 1,000 attendees for the films, panels and popcorn.
Life Before Dinosaurs: The Permian Monsters at North Carolina Museum of Natural Sciences
May 14-Sept. 4
At this special, ticketed exhibition at the state's most-visited museum, step back in time 290 million years to the age before the dinosaurs. Explore vivid artwork, fascinating fossils and life-sized models of a giant saber-toothed predator, saw-toothed shark and many other bizarre creatures that dominated life on land and sea before the most devastating mass extinction the world has ever known.
May 14
Join Ernest Dollar—director of the City of Raleigh Museum—at Dorothea Dix Park to learn about the Union troops who camped on the state hospital grounds in the final days of the war, Raleigh's earthworks that cut through the property and the impacts of the Civil War on the hospital and patients.
May 14
An evening of shopping at Moore Square in downtown Raleigh with a variety of local makers, artisans and small business owners selling clothing, jewelry, handicrafts, artwork, ethnic goods, spices, sauces, fairy hair and more (plus food trucks and live music!).
May 15
Join Sunday Supper Live! in support of minority-owned food trucks, retail and dessert vendors who were disproportionately impacted by the pandemic. Live music, community dance groups, great food and more at Cary's Koka Booth Amphitheatre!
Carolina Ballet presents Giselle
May 19-22
Carolina Ballet closes out the 2021-2022 season with one of the most celebrated stories ever told through the traditions of classical ballet, Giselle. This program is filled with romance, heartbreak, tragedy and love. First performed in 1841, the choreography used in this production derives from legendary choreographers Jean Coralli, Jules Perrot and Marius Petipa.
May 20-22
Putting the best of N.C. food and beverage on display, the Got to Be NC Festival offers tons of eating opportunities, live music, a huge collection of antique tractors, a carnival for children and more activities (plus free parking and admission) at the North Carolina State Fairgrounds.
Artsplosure - The Raleigh Arts Festival
May 21-22
One of the Southeast's premier arts festivals, Artsplosure - The Raleigh Arts Festival attracts more than 80,000 people to downtown Raleigh during the third weekend of May each year. Celebrating fine visual art and live music since 1980, the festival puts more than 180 artists' work, using countless mediums, on display for all to see and enjoy during the free festival. This year's festival will also feature Evanescent, an immersive light and sound exhibition from an Australian design team making its first appearance in the U.S.
May 21
Tasty seafood, jazzy music and artists in action highlight this fun-filled day of French immersion at Raleigh's European-esque Lafayette Village.
Spring Into the Arts Walk
May 21
Located in Wendell's historic downtown district, this open-air arts competition features a classic car show, chalk art demonstrations, live music, a silent auction, tons of activities for kids and more.
Honey Tasting and Hive Tour with Baxter's Bees
May 22
Meet Steve and Shannon Baxter, local beekeepers and owner's of Baxter's Bees, and come to the Stone Ridge Farm Market in Zebulon for a scenic outdoor experience where you can taste a range of different local honeys, explore the construction of a beehive up close and learn straight from the local experts why beekeeping is such a fascinating and vital part of our lives. This event is produced in partnership with People-First Tourism.
May 22 (recurring on fourth Sun. of each month)
With a mission to inspire self-sufficient communities and support Black farmers and entrepreneurs, the Black Farmers Market launched in summer of 2020, holding monthly events in the City of Oaks at the YMCA of Southeast Raleigh. You'll find farmers, gardeners, florists, bakers, seafood sellers and more offering their farm-fresh produce or hand-crafted goods. According to the creators of the event, there are more than three million farmers in America today, but less than 2% of those are Black. A visit to the market is an easy way to support these entrepreneurs—and of course people of all backgrounds are welcome to attend!
John Mulaney: From Scratch
May 22
A two-time Emmy and WGA award-winning writer, actor and comedian, John Mulaney—host of Saturday Night Live four times and creator of multiple Netflix stand-up specials—comes to Raleigh's PNC Arena for a night of big laughs. 
NC Beer Mile
May 26
Drink, run, repeat at the seventh annual Beer Mile held at Cary's Bond Brothers Beer Company. Four beers, one mile, live music, lots of food and plenty of friends make this a lighthearted event and good time for all.
May 26
One of Waverly Place's signature events returns with a new spin! At the Spring Wine and Brew Walk, guests can sample red, white and sparkling wine along with local craft beers at select Waverly Place merchants. A $25 donation to the Kay Yow Cancer Fund to aid in the fight against all cancers affecting women allows access to the event, along with a sampling glass and Waverly Place Wine Walk Passport.
May 26
Raleigh's Vidrio restaurant is hosting a "Taste Tour of the Mediterranean" monthly dinner series. The destination and menu inspiration will change each month as they work their way through the Mediterranean. The next destination: Egypt! Immerse yourself in an exclusive multi-course cultural dinner experience filled with authentic and elevated Egyptian cuisine hosted by N.C. Chef of the Year Saif Rahman.
Animazement
May 27-29
Get in on the action at Animazement, a three-day Japanese animation and culture celebration over Memorial Day weekend that draws 15,000 attendees to the Raleigh Convention Center. Cosplay is a huge draw: guests are encouraged to dress up as their favorite characters simply for fun, or to participate in contests showcasing their talents!
Brew 'n' Choo
May 28
Food trucks and local breweries will be on hand for Brew 'n' Choo, a series of family-friendly events at the North Carolina Railway Museum & New Hope Valley Railway that offers the rare opportunity to take a one-hour train ride through the woods (food and beverages allowed on the train!) and/or a 45-minute walking tour of the railway and museum. 
May 29
One of the sweetest events of the year, NC Sugar Rush is an all-dessert food truck rodeo held at Raleigh's City Market. More than 20 vendors—offering a range of goodies from cotton candy to cupcakes to cherry pies—will be on hand, along with face painters, balloon artists and more to keep the kids entertained.
Comments