Things to Do in Raleigh, N.C.: November 2016
Monday, October 24, 2016, 6am by Michael Robson
Local Shopping, Arts Watching
Raleigh, N.C., starts gearing up for the holidays this month! Shopping sprees, light displays, ballets and hockey games make for perfect weekend adventures, date nights and family gatherings. 
It's easy to spend a day exploring independently-owned shops and stores around town. In North Hills, you'll find high-end boutiques, gift shops and department stores—a perfect way to knock out some holiday shopping before the Annual Tree Lighting Celebration (11/19). In downtown Raleigh it's easy to find unique gifts and locally-made goods. Circle a few blocks and you can stop in all types of shopping spots—Port of Raleigh, Videri Chocolate Factory, Holder Goods & Crafts, Deco Raleigh, Holly Aiken - Stitch plus Moon and Lola, the fast-growing, Kelly Shatat-owned jewelry store that's earned high praise from big names like Oprah (yes, that Oprah). 
From there, it's just a hop, skip and a jump over to the Duke Energy Center for Performing Arts for a matinee or a nightcap where you'll find world-class arts performances like North Carolina Theatre's Rudolph the Red-Nosed Reindeer: The Musical (11/25-12/24), Carolina Ballet's Carmina Burana (11/23-27) and a special concert from North Carolina Symphony, Holiday Pops (11/25-26). At Raleigh Little Theatre, you won't want to miss A Charlie Brown Christmas/Jingle Bell Jukebox (10/28-11/13).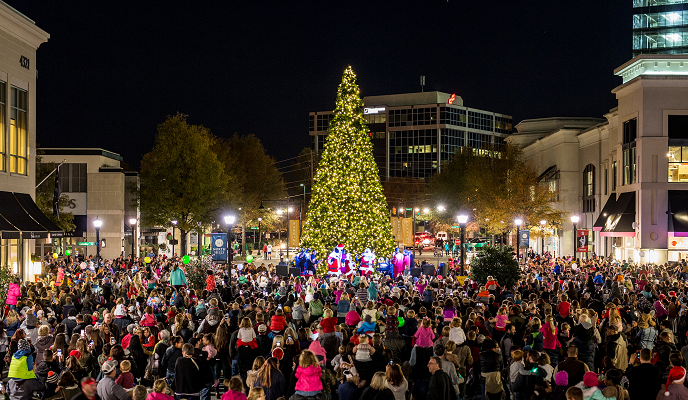 Festivals, Parades and Ice Skating Dates
Cool weather and the changing of leaves in Raleigh has meant one thing for 72 years now—the WRAL Raleigh Christmas Parade (11/19) is on the horizon! The largest Christmas parade between Atlanta and Washington, D.C., will march through downtown Raleigh for more than two hours, drawing nearly 60,000 visitors to the streets to see marching bands, dancers, classic cars, super heroes and Santa Claus. Bring the whole family (including pets!) plus some chairs—there's great street-side viewing everywhere on the 1.4-mile route.
Immediately following the parade, one of the area's most unique wintertime experiences gets an early start—Ice Raleigh, Raleigh's only natural ice outdoor skating rink, opens up for the season directly in the center of the city. The 45' x 90' rink is open through Jan. 29, perfect for both date nights or days with the kids. Check the schedule for things like DJ nights, themed nights and discount days (regular price is $10, which includes skate rental).
Another super trip-worthy event for the whole family returns for a second straight year this month—the N.C. Chinese Lantern Festival (11/25/16-1/15/17) brings 20 all new, larger-than-life lanterns to Koka Booth Amphitheatre in Cary. Made up of thousands of LED lights, displays light up the skies and mesmerize visitors on this one-hour walking tour. Have your cameras ready for the Chinese Dragon that sits on Symphony Lake!
And speaking of larger-than-life displays, the North Carolina Museum of Art will celebrate the grand re-opening of the expanded Museum Park (11/6) with some help from giant, glowing bunnies (yes, we said giant, glowing bunnies). The temporary display, Amanda Parer's Intrude, will be on hand to help the museum celebrate expanded, gorgeous public spaces and new permanent art installations at the country's largest museum art park. There will be bike tours, a discovery walk, food trucks, live music and more—don't miss it! While you're there, stop inside the museum to check out Rolling Sculpture: Art Deco Cars From the 1930s and 40s (through 1/15/17) as well as these nine Instagram-worthy spots around the campus.
Just southwest of Raleigh, foodies get a perfect opportunity for a Thanksgiving dinner practice run at SAVOR Fuquay-Varina (11/12), where the area's top innovative restaurants, taverns and caterers square off for culinary prizes in a number of different categories. Festival-goers reap the rewards, with samples from all the competing dishes ready to be taste tested, judged, then tasted again (just to be sure!).

Big Bands with Lots of Fans
Nov. is a great a month to rediscover some of Raleigh's legendary indoor music venues. With the most live music in N.C., you won't be low on options. But here's where we'd start—Raleigh artist Boulevards, fresh off a release of a new album, Groove!, plus a performance at the homegrown Hopscotch Music Festival in Sept., takes the stage at Lincoln Theatre (11/11). The '80s funk-inspired artist is easy to love, with upbeat, old-school vibes that truly shine in live performances.
Over at The Ritz, Partynextdoor (11/12), Elle King (11/14) and The Naked and Famous (11/20) headline another month of national acts. The Pour House Music Hall will host Gaby Moreno (11/1), Rainbow Kitten Surprise (11/5), The Delta Bombers (11/6) and Anderson East (11/12), while just a few blocks away Azizi Gibson (11/10) and Sweater Beats (11/20) play KINGS. More picks for the month include Last Call Messiahs (11/12) at Deep South The Bar and Grammy Award-winner Patty Griffin (11/20) at Duke Energy Center for Performing Arts.
For a complete list of more than 130 concerts in Nov., see our calendar of events here.
More November Picks

Two holiday tradition shopping events are on tap at the Raleigh Convention Center. Junior League of Raleigh's A Shopping Spree! (11/3-6) brings regional and national retailers to downtown Raleigh for four days of non-stop fun, plus the Carolina Artisan Craft Market (11/11-13) shines a light on local, handcrafted goods.  
The NHL's Carolina Hurricanes have a big month ahead—they'll play seven home games at PNC Arena in Nov., including games against the New Jersey Devils (11/6), Washington Capitals (11/12) and Montreal Canadiens (11/18). See the full home schedule for the 'Canes here.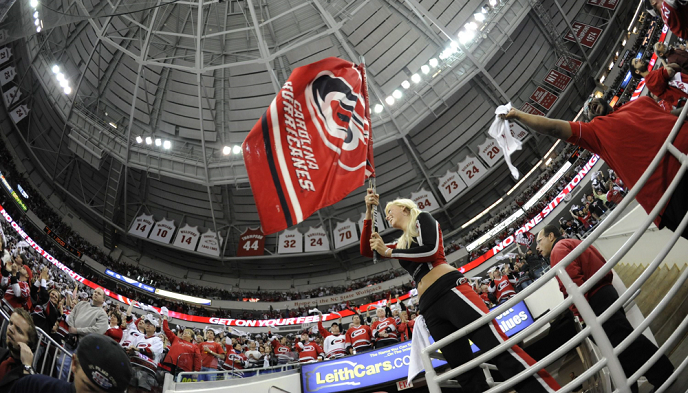 Musicians, artists, dancers and storytellers from N.C.'s eight state-recognized tribes will gather for the 21st Annual American Indian Heritage Celebration (11/19) at the North Carolina Museum of History to celebrate the state's American Indian culture, past and present.
For Moonlight in the Garden (11/5-12), the J.C. Raulston Arboretum at N.C. State University will open up the gates after dark for the first time in more than a decade for visitors to enjoy a crisp autumn stroll, light displays, bands and food trucks.
The Town of Wendell's annual holiday tradition, Wendell Wonderland (11/23-12/31), kicks off this month. The choreographed light show, with more than 400,000 lights, comes alive and dances to music each evening at 6pm. 
New Hope Valley Railway's Beer, BBQ, & Choo Choo (11/13) is set to be another good one. Visitors can explore the museum of historic train artifacts, plus hop aboard a working train for a fun excursion. Plenty of BBQ vendors will be on hand, plus beer from local-favorite brewery Fortnight Brewing Company.
The North Carolina State University Wolfpack hits the gridiron with big home football games against Florida State University (11/5) and University of Miami (11/19), plus basketball season gets underway with early non-conference games against Georgia Southern University (11/11) and St. Francis College (11/13).
For a complete calendar of events in the area, click here.
North Hills Tree Lighting Celebration photo credit: Terrene Jones Photography via North Hills
Comments