Things to Do in Raleigh, N.C.: November 2018
Wednesday, October 31, 2018, 3pm by visitRaleigh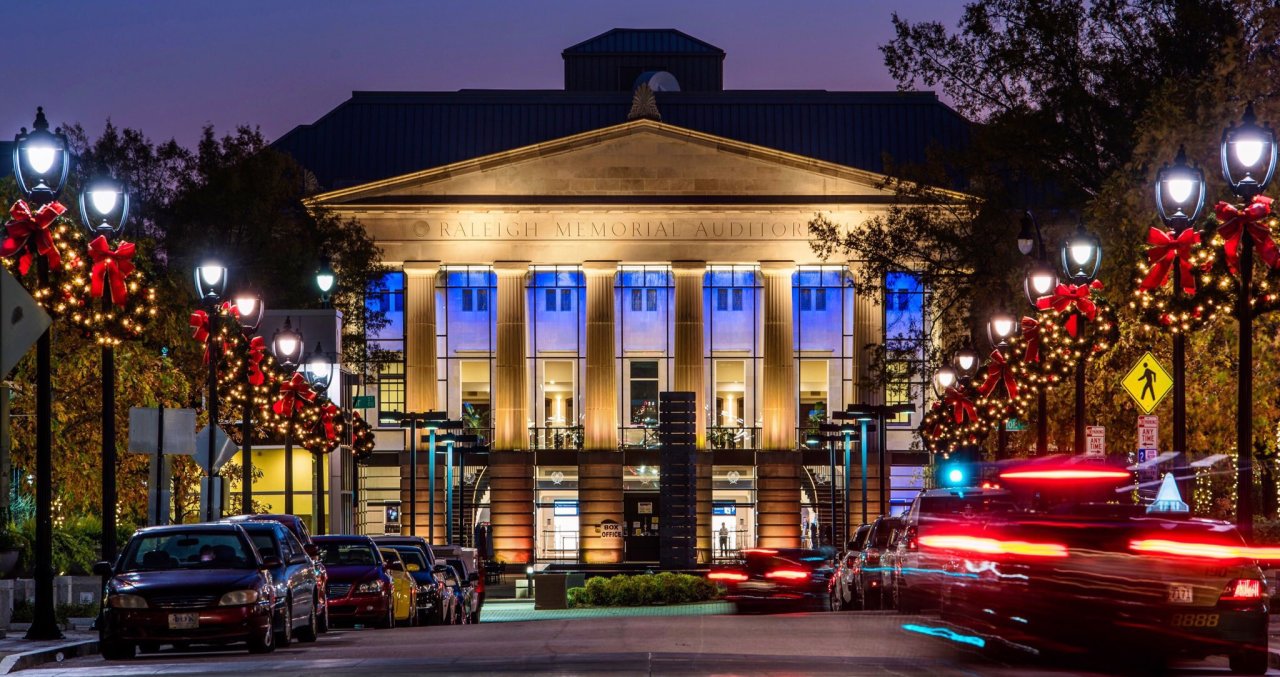 Festivals, parades and light displays—the Raleigh area is gearing up for the holidays this month! Shopping sprees, ballets, hockey games and more make for perfect weekend adventures, date nights and family gatherings. Have your jackets, scarves and boots ready? Let's dive in!
 
Women's: Semifinals, Nov. 2; Final, Nov. 4
Men's: Championship game only, Nov. 11
Four teams will battle it out at Sahlen's Stadium at WakeMed Soccery Park in Cary for the chance to call themselves champions. The Atlantic Coast Conference, perennially one of America's top conferences in the women's soccer world, boasts five nationally-ranked teams among the eight left playing for spots in Cary. Semifinal games will take place Fri., Nov. 2, with the two winners battling for the trophy on Sun., Nov. 4. Tickets are available here, and kids 18 and under get in for free. On the men's side, the championship game will also be played at WakeMed Soccer Park on Sun., Nov. 11—tickets are available here, with kids 18 and under getting in free.
Moonlight in the Garden at JC Raulston Arboretum at North Carolina State University
Nov. 8-10 and 15-17
A magical lighting exhibition that's suited for the entire family, Moonlight in the Garden at JC Raulston Arboretum is a once-per-year opportunity to see the gardens artfully illuminated by colorful lights. Each evening of the ticketed event is paired with live music, food trucks, hot apple cider, fire pits and marshmallows to roast!
Seven home games in Nov.
The NHL's Carolina Hurricanes, back in action and off to a hot start this season, will play an important seven home games at PNC Arena this month. They'll take on the Red Wings (11/10), Blackhawks (11/12), Blue Jackets (11/17), Devils (11/18), Maple Leafs (11/21), Panthers (11/23) and Ducks (11/30).
74th Annual Raleigh Christmas Parade
Nov. 17
The largest Christmas parade between Atlanta and Washington, D.C., will march through downtown Raleigh for more than two hours, drawing nearly 60,000 visitors to the streets to see marching bands, dancers, classic cars, superheroes and Santa Claus. Bring the whole family (including pets!) plus some chairs—there's great street-side viewing everywhere on the 1.4-mile route.
23rd Annual American Indian Heritage Celebration
Nov. 17
Musicians, dancers, artists, storytellers and authors from N.C.'s eight state-recognized tribes will gather for this popular family event. For all ages, the celebration is a firsthand opportunity to learn about the state's American Indian culture, past and present. Activities include craft demonstrations, hands-on activities, games, foods and much more.
Annual North Hills Tree Lighting
Nov. 17
The annual lighting of a 41-foot-tall Christmas tree, a visit from Santa Claus, trackless train rides for kids, live music and plenty of vendors on hand make this celebration an equally great event for families and a fun date idea. Arrive a tad early to join in on the Holiday Sip & Shop to knock out some shopping at local retailers like Peter Millar, Quail Ridge Books, Scout & Molly's plus more while enjoying complimentary hot chocolate and cider.
Nov. 21-Dec. 31
This spectacular, drive-in style light show, featuring more than 400,000 total lights synced to holiday music, was created by the Williams family of Wendell, who painstakingly design and assemble the glowing (and growing) event each year. Visitors park (or stand) and watch the show—which typically runs between 30 and 45 minutes depending on the year—from the viewing area in front of the display. Admission is free, and donations are accepted. Join in on the fun seven days a week from Nov. 21 through the end of the year at 10 S. Cypress St. in Wendell.
Rudolph the Red-Nosed Reindeer: The Musical
Nov. 23-Dec. 23
Based on the animated television special "Rudolph The Red-Nosed Reindeer" and the stage production directed and conceived by Jeff Frank and First Stage, the characters you know and love—Rudolph, the Abominable Snowman, Santa and Mrs. Claus and more—come to life in this Broadway Series South production.
North Carolina Chinese Lantern Festival-Cary
Nov. 23, 2018-Jan. 13, 2019
A super trip-worthy event for the whole family returns for a fourth straight year! The North Carolina Chinese Lantern Festival brings more than 20 larger-than-life lanterns to Koka Booth Amphitheatre in Cary. Made up of thousands of LED lights, displays light up the skies and mesmerize visitors on this one-hour walking tour (have your cameras ready for the spectacular Chinese Dragon that sits on Symphony Lake!). Beyond beautiful lanterns, the ticketed festival also welcomes a showcase of Chinese culture—nightly performances (6:30, 7:30 and 8:30pm) featuring martial arts, traditional dance, acrobatics, drum performances and more.
Downtown Raleigh Tree Lighting Celebration
Nov. 30
Save the date for the Downtown Raleigh Tree Lighting Celebration! Arrive early for dinner and socializing in downtown with family and friends, then make your way to the Duke Energy Center for the Performing Arts to enjoy some tasty snacks and beverages from local vendors, holiday music and the opportunity to meet Santa Claus as he walks around the crowd meeting and greeting everyone (bring your cameras!). For the grande finale, Mayor Nancy McFarlane will take the stage to light downtown Raleigh's tree.
The Beyond: Georgia O'Keeffe and Contemporary Art
Open through Jan. 20, 2019
Georgia O'Keeffe (1887-1986), one of America's most well-known and influential artists, is internationally recognized for her revolutionary ways of visually interpreting the world. Through her early embrace and innovative use of abstraction and color, she became known for her paintings of larger-than-life flowers, city skyscrapers, desert landscapes and more. The Beyond: Georgia O'Keeffe and Contemporary Art brings together more than 35 of O'Keeffe's works as the centerpiece of an exploration of her continued force as a touchstone for contemporary art. Alongside her work at the North Carolina Museum of Art, The Beyond features sculptures, photography and paintings by emerging contemporary artists including Louise Jones, Anna Valdez, Caroline Larsen and Britny Wainwright, who evoke and expand upon O'Keeffe's innovative artistic language.
The North Carolina Roots of Artist Ernie Barnes
Open through March 3, 2019
Explore the work of athlete-turned-artist Ernie Barnes, a Durham, N.C., native best known for his widely-imitated, unique style of elongation, energy and movement that made him one of the premier figurative artists of the late 20th and early 21st centuries, in a new exhibit at the North Carolina Museum of History. Barnes, affectionately nicknamed "Big Rembrandt" by his football teammates, is known in pop culture for his art on the television series Good Times. Most notable is Barnes' iconic dance scene, The Sugar Shack (seen below), that appeared on a Marvin Gaye album cover and in the closing credits of Good Times. Titled "The North Carolina Roots of Artist Ernie Barnes," the free-admission exhibit showcases many unpublished original paintings as well as artifacts from his life.
From Plantation to Park: The Story of Dix Hill
Open through June 19, 2020
The City of Raleigh Museum (COR Museum) has unveiled a new permanent exhibit about the history of Dorothea Dix Park. The exhibit, a joint venture with the Dix Park Conservancy, explores the long history and future of Raleigh's newest park. From Plantation to Park explores four perspectives on the land known as Dix Hill.
It's a great time of year to rediscover some of Raleigh's legendary indoor music venues—with the most live music in the state, you won't be low on options! Some dates we've marked our calendars for this month:
AJR (11/1)
Young the Giant (11/3)
Travis Scott (11/9)
Iron & Wine (11/10)
The Infamous Stringdusters (11/11)
Kamasi Washington (11/15)
Tech N9ne (11/17)
Queen Naija (11/20)
Unknown Hinson (11/24)
for King & Country's Little Drummer Boy Christmas Tour (11/29)
Kick your holiday shopping into high gear at the Carolina Artisan Craft Market (11/2-4), featuring more than 115 local artists specializing in handcrafted furniture, jewelry, pottery and more.
Cheer on the North Carolina State University Wolfpack as they play two pivotal home football games this month—they'll face off against Florida State (11/3) and Wake Forest (11/8)—plus watch local rivals Saint Augustine's University and Shaw University (11/3) battle it out at the George Williams Athletic Complex.
Head to the Duke Energy Center for the Performing Arts to catch So You Think You Can Dance (11/4), featuring performances from the top 10 contestants from season 15 of the popular television show.
The inaugural Han-Ma-Dang Raleigh Korean Festival (11/10) will showcase a wide variety of extravagant performances, traditional cuisine, a fashion show, vendors selling authentic goods and special performances.
They were just four guys from Jersey—until they sang their first note! North Carolina Theatre's Jersey Boys (11/13-18) blends top 10 hit songs with a story of imperfect offstage harmony.
Featuring epic mobiles by Durham artist Guy Solie and mesmerizing choreography by co-artistic directors Robert Weiss and Zalman Raffael, Carolina Ballet's The Planets (11/21-25) will take you on an exciting, out-of-this world journey. This program will also feature George Balanchine's Apollo.
Vintage Market Days presents "Merry & Bright" (11/30-12/2), an upscale vintage-inspired indoor/outdoor holiday market at the North Carolina State Fairgrounds.
Raleigh Little Theatre's Cinderella (11/30-12/16), a visually-stunning musical comedy, combines elegant costumes and scenery with singing and dancing, conniving step-relatives and resourceful fairy folk.
To see a full calendar of events in Raleigh, N.C., click here!
Comments