Things to Do in Raleigh, N.C.: November 2019
Thursday, October 31, 2019, 2pm by visitRaleigh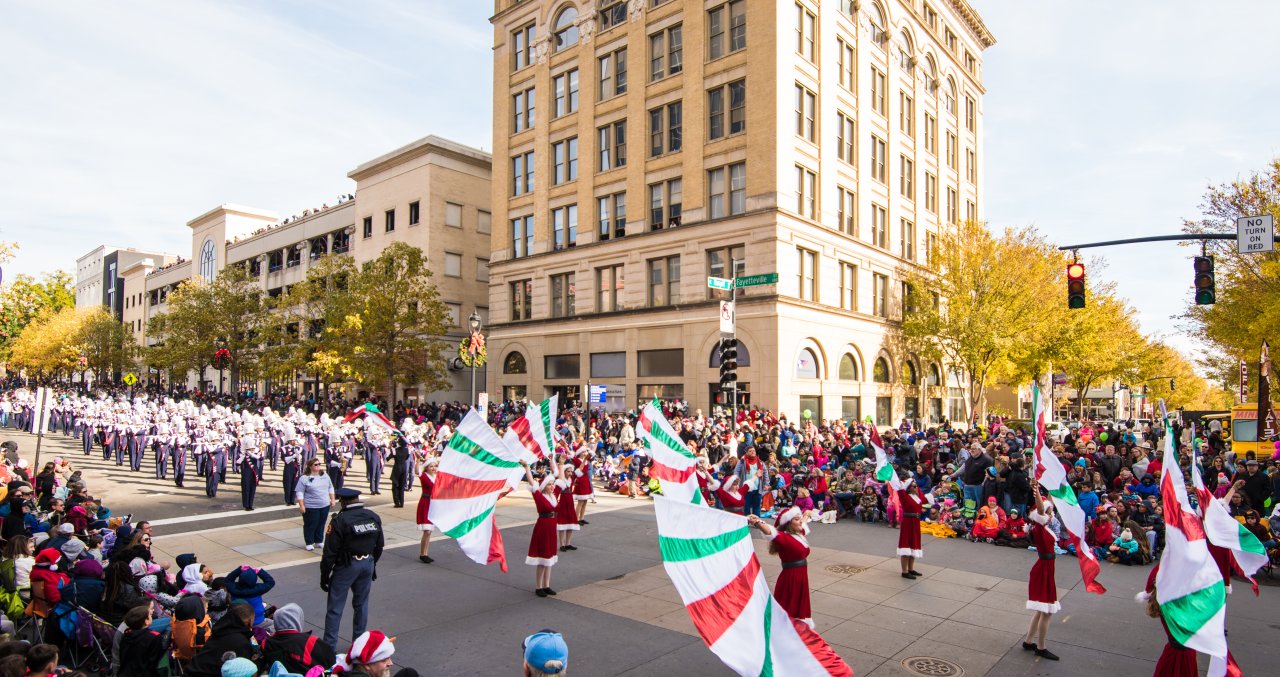 Festivals, parades and light displays—the Raleigh area is gearing up for the holidays this month! Shopping sprees, ballets, hockey games and more make for perfect weekend adventures, date nights and family gatherings. Have your jackets, scarves and boots ready? Let's dive in!
 
Through Jan. 19, 2020
Frida Kahlo, Diego Rivera, and Masterpieces of Modern Mexico from the Jacques and Natasha Gelman Collection at the North Carolina Museum of Art presents the paintings of two icons of the 20th century. Few artists have captured the public's imagination with the force of Mexican painter Frida Kahlo (1907-54) and her husband, the Mexican painter and muralist Diego Rivera (1886-1957). This is a special exhibit ticketed in conjunction with Scott Avett's INVISIBLE.
Exhibit: ¡Viva Viclas! The Art of the Lowrider Motorcycle
Through Feb. 9, 2020
¡Viva Viclas! is a celebration and exploration of the art and culture of the lowrider motorcycle. Vicla is a slang term for a style of lowrider motorcycle customization popularized by Chicanos/Mexican-Americans and is derived from the Spanish word for bicycle—bicicleta. The exhibition—on display at CAM Raleigh—features 10 custom lowrider Harley-Davidson motorcycles and 12 artworks inspired by themes in Vicla culture, including heart, pride, brotherhood and respect.
Nov. 1-3
The 50th year of the Carolina Designer Craftsmen Guild's annual Nov. event, the Carolina Artisan Craft Market at the Raleigh Convention Center, is a trusted resource for art collectors and first-time buyers looking for the finest contemporary and traditional craft being made in America. You'll find a variety of glass, ceramics, wood, metal, leathers, basketry, printmaking, furniture and more.
Join the best fans in hockey at PNC Arena to cheer on the NHL's Carolina Hurricanes. Off to a hot start this season, the Canes are looking to build upon their run to the Eastern Conference Final a year ago. In Nov., they'll take on:
Detroit (11/1)
New Jersey (11/2)
New York Rangers (11/7)
Ottawa (11/11)
Philadelphia (11/21)
Florida (11/23)
Nashville (11/29)
A whole bunch of big names and local favorites will take the stage this month. Save these dates!
Lavell Crawford (11/1-3)
Tony Roberts (11/7-10)
Logan Guntzelman (11/8-9)
Adele Givens (11/22-24)
Ali Siddiq (11/29-12/1)
At Raleigh Improv:
Loni Love (11/1-2)
Cristela Alonzo (11/5)
Erik Griffin (11/7-9)
Affion Crockett (11/15-17)
Pete Holmes (11/22-24)
Steve Brown (11/29-12/1)
Moonlight in the Garden
Thurs.-Sat., Nov. 7-16
A magical lighting exhibition that's suited for the entire family, Moonlight in the Garden at JC Raulston Arboretum is a once-per-year opportunity to see the gardens artfully illuminated by colorful lights. Each evening of the ticketed event is paired with live music, food trucks, hot apple cider, fire pits and marshmallows to roast!
Women's: Semifinals, Nov. 8; Final, Nov. 10
Men's: Championship game only, Nov. 17
Four teams will battle it out at Sahlen's Stadium at WakeMed Soccery Park in Cary for the chance to call themselves champions. The Atlantic Coast Conference, perennially one of America's top conferences in the women's soccer world, boasts six of the top 15 teams in the country. Semifinal games will take place Fri., Nov. 8, with the two winners battling for the trophy on Sun., Nov. 10. Tickets will be $10 at the gate for adultsOpens in New Window, and kids 18 and under get in for free. On the men's side, the championship game will also be played at WakeMed Soccer Park on Sun., Nov. 17.
North Carolina Theatre presents Having Our Say: The Delany Sisters' First 100 Years
Nov. 8-17
Trailblazers, activists, sisters and best friends Sadie and Bessie Delany—both over 100 years old—take audiences on an inspiring and entertaining journey as they recount the triumphant stories of their lives, from growing up in Raleigh, N.C., as the daughters of a former slave, to integrating a New York suburb during the Harlem Renaissance. This Tony Award-nominated adaptation of the real-life sisters' memoirs is a funny and heartfelt family drama you won't want to miss.
Arts N.C. State presents The Colored Museum
Nov. 14-24
A play written by George C. Wolf that first debuted in 1986, The Colored Museum's satire has electrified, discomforted and delighted audiences of all colors, redefining ideas of what it means to be black in contemporary America. From Git on Board to The Last Mama-on-the-Couch Play, the "exhibits" undermine stereotypes—old and new—and return to the facts of what being black means. Directed by Ron Foreman.
 
Exhibit: Toy Boom!
Through Jan. 3, 2021
A fun, new exhibit at the North Carolina Museum of History, Toy Boom! examines the toys of the Baby Boomer era in America. The artifacts in Toy Boom! are curated into unique environments, including TV westerns, space age, zany toys, creative toys, dolls, action figures and more. Visitors can see toys come to life with fun, hands-on interactive activities. Attendees can look forward to reliving their childhood with a larger-than-life Twister board, a giant Lite-Brite wall, an Etch A Sketch station, working Hot Wheels racing tracks (complete with inversion loops) and more.
Vintage Market Days of the NC Triangle presents "Home for the Holidays"
Nov. 15-17
Vintage Market Days is an upscale vintage-inspired market featuring original art, antiques, clothing, jewelry, handmade treasures, home décor, outdoor furnishings, consumable yummies, seasonal plantings and so much more at the Jim Graham Building at the North Carolina State Fairgrounds.
 
A GEMS Journey: Facets of Change
Nov. 17
Starring Teepa Snow and the PAC Players, A GEMS Journey will take you through the GEMS of dementia with a play that explores each step along the way. This event—to be held at the Garner Performing Arts Center—will show you how to offer stronger support and allows for conversations around these GEMS states. Watch and learn as the players try out different methods of care as Teepa transitions through the GEMS states of dementia and join in the problem solving for a more positive approach.
 
North Carolina Chinese Lantern Festival-Cary
Nov. 22, 2019-Jan. 12, 2020
A super trip-worthy event for the whole family returns for a fifth straight year! The North Carolina Chinese Lantern Festival brings more than 20 larger-than-life lanterns to Koka Booth Amphitheatre in Cary. Made up of thousands of LED lights, displays light up the skies and mesmerize visitors on this one-hour walking tour (have your cameras ready for the spectacular Chinese Dragon that sits on Symphony Lake!). Beyond beautiful lanterns, the ticketed festival also welcomes a showcase of Chinese culture—nightly performances featuring martial arts, traditional dance, acrobatics, drum performances and more.
24th Annual American Indian Heritage Celebration
Nov. 23
Musicians, dancers, artists, storytellers and authors from N.C.'s eight state-recognized tribes will gather at the North Carolina Museum of History for this popular family event. For all ages, the celebration is a firsthand opportunity to learn about the state's American Indian culture, past and present. Activities include craft demonstrations, hands-on activities, games, foods and much more.
75th Annual ABC11 Raleigh Christmas Parade
Nov. 23
The largest Christmas parade between Atlanta and Washington, D.C., will march through downtown Raleigh for more than two hours, drawing nearly 60,000 visitors to the streets to see marching bands, dancers, classic cars, superheroes and Santa Claus. Bring the whole family (including pets!) plus some chairs—there's great street-side viewing everywhere on the 1.4-mile route.
Downtown Raleigh Tree Lighting
Nov. 23
Save the date for the Downtown Raleigh Tree Lighting Celebration! Arrive early for dinner and socializing in downtown with family and friends, then make your way to Lichtin Plaza at the Duke Energy Center for the Performing Arts to enjoy some tasty snacks and beverages from local vendors, holiday music and the opportunity to meet Santa Claus as he walks around the crowd meeting and greeting everyone (bring your cameras!). For the grande finale, Mayor Nancy McFarlane will take the stage to light downtown Raleigh's tree.
Annual North Hills Tree Lighting
Nov. 23
The annual lighting of a 41-foot-tall Christmas tree, a visit from Santa Claus, trackless train rides for kids, live music and plenty of vendors on hand make this celebration an equally great event for families and a fun date idea in North Hills. Arrive a tad early to join in on the Holiday Sip & Shop to knock out some shopping at local retailers like Peter Millar, Quail Ridge Books, Scout & Molly's plus more while enjoying complimentary hot chocolate and cider.
The Global Holiday Festival and Market
Nov. 23
The Global Holiday Festival and Market is a day of celebration honoring holidays and traditions from around the world. Join dozens of ethnic communities from across the region in downtown Raleigh's Moore Square for a day of food, shopping, entertainment and community engagement. Come celebrate the unique diversity of the Raleigh area and enjoy the wintertime festivities!
 
Cirque de Noel with the North Carolina Symphony
Nov. 27-30
The circus meets the symphony! Stunning aerial feats, mind-boggling contortions and jaw-dropping juggling acts will take your breath away. With these awe-inspiring acrobatics accompanied by musical holiday favorites, this event is sure to fill you and your family with the wonder of the season. Arrive at the Duke Energy Center early to meet Santa in the lobby!
 
Nov. 27-Dec. 31
This spectacular, drive-in style light show, featuring more than 400,000 total lights synced to holiday music, was created by the Williams family of Wendell, who painstakingly design and assemble the glowing (and growing) event each year. Visitors park (or stand) and watch the show—which typically runs between 30 and 45 minutes depending on the year—from the viewing area in front of the display. Admission is free, and donations are accepted. Join in on the fun seven days a week from Nov. 27 through the end of the year at 10 S. Cypress St. in Wendell.
Nov. 28-29
Two opportunities to let the professionals do the work on Thanksgiving! Braise at the Raleigh Marriott Crabtree Valley will host a Thanksgiving brunch buffet from 11:30am-3:30pm on Thanksgiving Day, and Irregardless Café will host its traditional Thanksgiving service on both Thurs., Nov. 28 (all day), and Fri., Nov. 29 (dinner). You can also pre-order a take-out meal for the family from Irregardless ahead of time.
Rudolph the Red-Nosed Reindeer: The Musical
Nov. 29-Dec. 24
Based on the animated television special "Rudolph The Red-Nosed Reindeer" and the stage production directed and conceived by Jeff Frank and First Stage, the characters you know and love—Rudolph, the Abominable Snowman, Yukon Cornelius, Hermey, Santa and Mrs. Claus and more—come to life in this Broadway Series South production at the Duke Energy Center.
A Snow White Christmas
Nov. 30-Dec. 8
Fun for the entire family, enjoy this wonderful, witty retelling of a classic fairytale at the Duke Energy Center. With a score consisting of well-known pop songs, follow Snow White and her Seven Dwarves as they try to save Christmas from her Wicked Aunt. This British Panto style performance will have you laughing in the aisles and singing from your seats.
 
Holiday Pop-Up at Transfer Co. Ballroom
Nov. 30
Triangle Pop-Up is bringing you a magical holiday shopping event in the newly-opened Transfer Co. Ballroom at Transfer Co. Food Hall! Join Triangle Pop-Up for their curated selection of 50 local artists and makers, live jazz, photo booth and other holiday surprises.
 
Exhibit: From Plantation to Park: The Story of Dix Hill
Open through June 19, 2020
The City of Raleigh Museum (COR Museum) has a new, permanent exhibit on hand about the history of Dorothea Dix Park. The exhibit, a joint venture with the Dix Park Conservancy, explores the long history and future of Raleigh's newest park. From Plantation to Park explores four perspectives on the land known as Dix Hill.
It's a great time of year to rediscover some of Raleigh's legendary indoor music venues—with the most live music in the state, you won't be low on options! Some dates we've marked our calendars for this month:
Big Wild - Superdream Tour (11/1)
Jidenna: 85 to Africa Tour (11/2)
Live National Presents K.R.I.T. - From The South With Love (11/7)
The Black Keys - Let's Rock Tour (11/8)
Roy Orbison & Buddy Holly: The Rock 'n' Roll Dream Tour (11/9)
Tiffany Young - Magnetic Moon Tour (11/12)
Pink Talking Fish (11/13)
Cherub (11/14-15)
Wayne Harper (11/15)
Lettuce (11/16)
Ariana Grande (11/22)
ATLIENS (11/22)
Caamp By and By (11/23)
Maverick Rose (11/29)
Looking ahead: December events in Raleigh, N.C.
An Evening with David Sedaris, Dec. 1
Christmas on Salem Street, Dec. 6-8
Tom Green, Dec. 6-8
Boylan Heights Art Walk, Dec. 8
Fuquay-Varina Christmas Parade, Dec. 8
Theatre In The Park presents A Christmas Carol, Dec. 11-15
Disney on Ice presents: Road Trip Aventures, Dec. 11-15
State Capitol Tree Lighting Ceremony, Dec. 12
NCAA Men's College Cup, Dec. 13 and 15
48th Annual Oakwood Candlelight Tour, Dec. 14-15
Carolina Ballet presents The Nutcracker, Dec. 18-29
WRAL First Night Raleigh 2020, Dec. 31
 
Comments