Things to Do in Raleigh, N.C.: October 2019
Tuesday, September 24, 2019, 4pm by visitRaleigh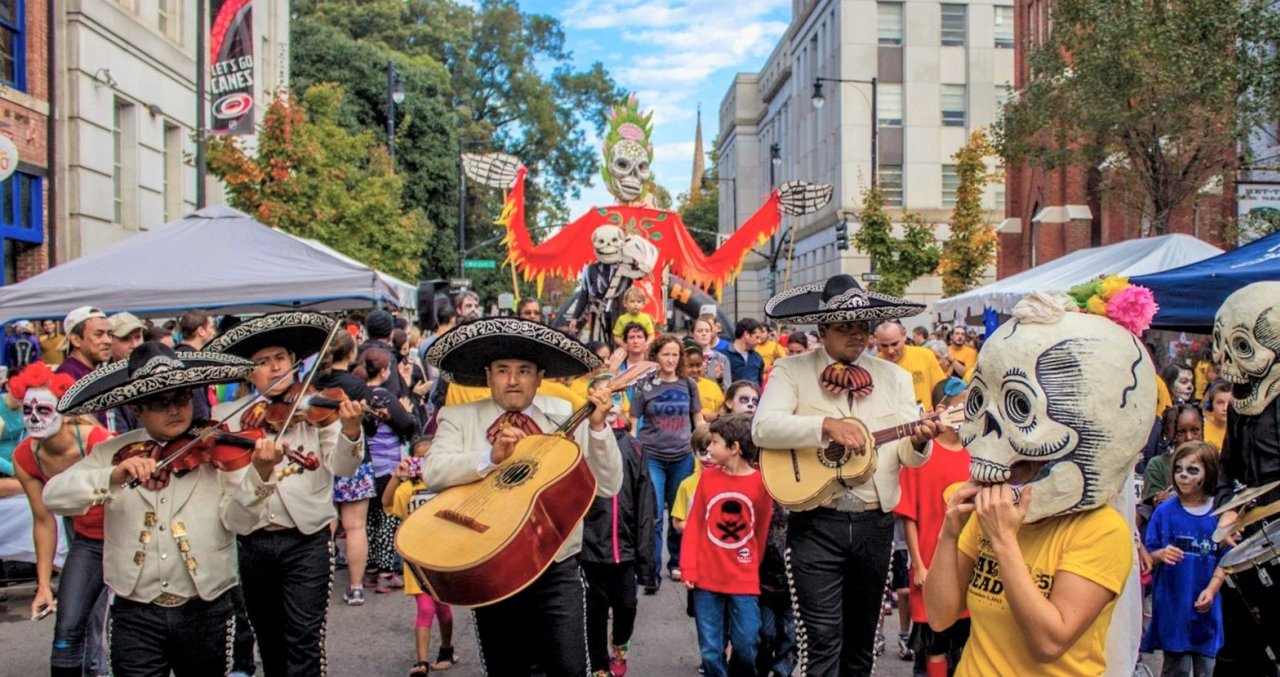 Every two weeks, we send out a newsletter that includes the best of the best upcoming events. If you sign up for our E-magazine, you'll get those, plus all the best new content (the details on America's best new pizza joint, for example, or the inside scoop on the best free things to do in Raleigh).
---

It's so long to summer, hello to fall! We'll miss these warm-weather months—baseball games, summer festivals, outdoor concerts and such. But we're ready to embrace a new season and the new experiences that come with it in the Raleigh area—hockey games, cultural festivals, holiday shopping, pumpkin pies, lots of ways to experience the arts and (last but not least!) the N.C. State Fair!
 
Carolina Hurricanes vs. Montreal Canadiens (opening night!)
Opening night is Oct. 3
Fresh off a dramatic playoff run to the Eastern Conference Finals in the 2018-2019 season, the NHL's Carolina Hurricanes return to PNC Arena for a new year with new expectations. They'll open up the schedule with a home game against Montreal and will play an additional five home games during the month of Oct.:
vs. Tampa Bay (10/6)
vs. New York Islanders (10/11)
vs. Columbus (10/12)
vs. Chicago (10/26)
vs. Calgary (10/29)
Casktoberfest
Oct. 3
Cheers to seasonal beers! Big Boss Brewing Company's Casktoberfest transforms the brewery into a giant beer hall with 30+ one-of-a-kind cask ales, just in time to head into the new fall season.
Exhibit: Toy Boom!
Opens Oct. 4
A fun, new exhibit at the North Carolina Museum of History, Toy Boom! examines the toys of the Baby Boomer era in America. The artifacts in Toy Boom! will be curated into unique environments, including TV westerns, space age, zany toys, creative toys, dolls, action figures and more. Visitors can see toys come to life with fun, hands-on interactive activities. Attendees can look forward to reliving their childhood with a larger-than-life Twister board, a giant Lite-Brite wall, an Etch A Sketch station, working Hot Wheels racing tracks (complete with inversion loops) and more.
Theatre In The Park presents Dracula
Oct. 4-20
Back by popular demand, Ira David Wood III adapts Bram Stocker's gothic tale of the world's most famous vampire. Dracula delves into the shadows, peers into the souls of men and discovers the truth of hidden monsters underneath the false veneers of Victorian society and norms!  
 
Tacos 'N Taps Festival
Oct. 5
This all-you-can-taste beer and tequila festival takes you south of the border for foodie fun—tacos, margaritas, 80+ beers, mariachi bands and other live music, pinata punching, contests and other surprises await at Cary's Koka Booth Amphitheatre.
Oct. 5
A celebration of Latino culture (and a search for the best tamale in Raleigh!) at Dorothea Dix Park, this free-admission event will include authentic performances from local groups, games and inflatables for kids, Latin dance lessons, local art exhibits, food trucks and a variety of tamales to purchase. Guests may bring their own food as well. Dogs are permitted (on a leash).
 
Celebrate Fuquay-Varina Festival
Oct. 5
A celebration of all things Fuquay-Varina (a quaint town just outside of Raleigh with beer, barbecue, shopping and more), Celebrate Fuquay-Varina provides live entertainment, craft beer, food, a chili cook-off, art vendors, kids games and more for a day full of family fun.
Oak View Farm Fest
Oct. 5
Visit this old-time county fair—taking place on a 19th-century historic farmstead—featuring live entertainment, historical crafts, agricultural displays, farm animals, antiques, fishing, pony rides, carriage rides, activities for kids, food and much more.  
 
92nd Annual Wendell Harvest Festival
Oct. 5
A tradition dating back to 1927, the Wendell Harvest Festival features a parade, more than 100 craft vendors, a beer garden, games for kids and adults and live music (fun for the entire family!).  
Oct. 5
This second annual event, presented by the Chinese-American Friendship Association of N.C., features delicious Chinese food, traditional arts and live performances (dragon and lion dances, martial arts demonstrations, musical performances, children's activities and more) at Bicentennial Plaza in downtown Raleigh.
 
Video Games Live - North Carolina Symphony Special Event Concert
Oct. 5
Experience music from the most popular video games of all time performed by the North Carolina Symphony, featuring Mario™, Zelda™, Halo®, Warcraft®, Final Fantasy®, and more! Gamers and non-gamers alike will be dazzled by synchronized cutting-edge video screen visuals, state-of-the-art lighting and special on-stage interactive segments.
 
Oct. 6
Food trucks as far as you can see (literally!). The Downtown Raleigh Food Truck Rodeo brings more than 50 food trucks to the city center, spanning a half-mile and 11 city blocks and drawing thousands of hungry visitors to taste the best of the best from local trucks. It's one of the biggest rodeos in the country!
Tried-and-true recipe for a great time: a dash of good weather, a heap of live music and plenty of good friends. With the most live music in North Carolina, Raleigh knows how to rock the fall! Some dates we've marked our calendars for this month:
The Head and the Heart - Living Mirage Tour (10/1)
Wale - Everything is Fine Tour (10/3)
Whitey Morgan (10/3)
ZZ Top - 50th Anniversary Tour (10/5)
Dream Theater: Distance Over Time Tour (10/5)
Zedd (10/5)
Rick Ross - Port of Miami 2 Tour (10/6)
Sara Bareilles: Amidst The Chaos Tour 2019 (10/8)
Luke Bryan: Sunset Repeat Tour 2019 (10/12)
Coheed and Cambria (10/15)
Wilco (10/16)
Post Malone (10/17)
Homegrown Music Fest at the N.C. State Fair (10/17-27)
Bon Iver w/ Feist (10/19)
MercyMe - Imagine Nation Tour (10/20)
Bastille: Doom Days Tour Part 1 (10/25)
Carolina Ballet presents Frankenstein
Oct. 10-27
What better way to get in the spirit of the spooky season than an evening of chills and thrills? This Halloween, Carolina Ballet artistic director Zalman Raffael unveils his all-new production of Frankenstein!
SAS Championship
Oct. 11-13
See some of golf's best at the SAS Championship, a PGA Tour Championships event. Held annually at Prestonwood Country Club in Cary, the event is widely recognized as one of the most important events of the year. The tournament is will once again play host to 'Wildcard Weekend'—the last full-field event before the Charles Schwab Cup Playoffs.
Theatre Raleigh presents Around the World in 80 Days
Oct. 11-27
Phileas Fogg, eccentric millionaire, is on a daring race against time! Join him and three unlikely companions on a globe-trotting musical adventure featuring hot air balloons, elephants, stolen diamonds and wacky disguises in this over-the-top production from Theatre Raleigh.  
 
NC Wine, Cheese & Chocolate Festival
Oct. 12
This fourth annual event at Lafayette Village gets bigger and better every year. Taste local and regional chocolates and cheeses paired with a variety of wines from across the world (including some local favorites). Sit, sample and listen to live music, shop local vendors and take home a souvenir wine glass at the end of the day.
 
Cary Diwali Celebration
Oct. 12
Unveiling yet another chapter in the celebration of India's rich heritage and culture, Cary Diwali 2019 promises to take you on an unforgettable journey. Join the celebration at Koka Booth Amphitheatre for Sur Sahitya, a confluence of art, music and literature. This year's featured performers are playback singers Mahalakshmi Iyer, whose voice can be heard on the Slumdog Millionaire soundtrack, and Anubhav Suman. 
Exhibit: Southbound: Photographs of and About the New South
Through Dec. 29
At the Gregg Museum of Art & Design, Southbound presents the vision of the South from 56 photographers over the first two decades of the 21st century. Accordingly, the exhibit offers a composite image of the region. The photographs echo stories told about the South as a bastion of tradition, as a region remade through Americanization and globalization and as a land full of surprising realities.  
Beericana Craft Beer and Music Festival
Oct. 12
This fast-growing beer and music festival held at beautiful Sugg Farm Park brings together more than 70 breweries (including most of the nearly 30 craft beverage brewers in Raleigh, N.C.) and more than 20 food trucks, along with a full lineup of Americana jams, to celebrate good friends, good beer and good times in Holly Springs.
Raleigh Roots History Festival
Oct. 12
The inaugural Raleigh Roots History Festival at Moore Square in downtown Raleigh will be a celebration of the rich history of the founding and creation of N.C.'s capital city. The event will feature living history, demonstrations, carriage rides, speakers, vendors and more.  
 
Harvest Dinner at Raleigh City Farm
Oct. 13
Raleigh City Farm is hosting Harvest Dinner, a four-course meal under the stars created by chef Coleen Speaks (of the critically-acclaimed Hummingbird). Wine Authorities will provide exclusive wines from wineries around the world, and Durham, N.C.'s Fullsteam Brewery will share their seasonal beers. Truly a unique (and tasty) night to be a part of!  
 
A whole bunch of big names and local favorites will take the stage this month. Save these dates!
John Caparulo (10/3-5)
Chris Laker (10/4-5)
Blake Wexler (10/9)
Michael Coylar (10/11-13)
Chrissie Mayr (10/17-19)
Dan Soder (10/17-19)
Matt Braunger (10/24-26)
At Raleigh Improv:
Dusty Slay (10/4-6)
Godfrey (10/10-12)
Anjelah Johnson (10/13)
 
Oct. 15-20
The world's greatest love story takes to the streets of New York in the landmark Tony Award-winning musical, West Side Story. Shakespeare's Romeo and Juliet is given a modern twist as two young, idealistic lovers find themselves caught between warring street gangs, the Jets and Sharks.
2019 N.C. State Fair
Oct. 17-27
The largest annual event in the state, the N.C. State Fair draws one million visitors through the gates each Oct. Eleven days of high-flying rides, deep-fried foods, live music, stunt shows and other entertainment (including nightly fireworks) has been a can't-miss event for generations of families—the 2019 version of the N.C. State Fair marks the 152nd year of the event!
Triangle Oktoberfest
Oct. 18-19
The sixth annual Triangle Oktoberfest at Koka Booth Amphitheatre in Cary is expected to provide plenty of family-friendly activities including live music, storytelling, dancing and traditional Bavarian food and fare (plus local and authentic German beers on hand).
Falling for Local at Dorothea Dix Park
Oct. 19
A festival for autumn lovers at Dorothea Dix Park, Falling for Local will feature live music, local makers and vendors, craft beer, food trucks, games for kids, hay rides, free pumpkins and more for what's expected to be a big crowd on hand.  
 
Raleigh Little Theatre presents You're A Good Man, Charlie Brown
Oct. 25-Nov. 3
Charles Schulz's beloved comic comes to life in Clark Gesner's classic musical and the whole gang is here! Bossy Lucy is hopelessly in love with piano prodigy Schroeder who doesnt give her the time of day, perfectionist Sally is still mocking blanket-toting Linus, Snoopy is in the doghouse and blockhead, himself, Charlie Brown, is in rare form.
 
Day of the Dead 5k
Oct. 26
A day for reflection and honoring the memories of loved ones, the 9th annual Day of the Dead 5k—hosted by Centro and raising money for the Boys & Girls Club—expects hundreds of attendees to participate in the run, bike rides, altar offerings and live music.  
Exhibit: Frida Kahlo, Diego Rivera and Masterpieces of Modern Mexico from the Jacques and Natasha Gelman Collection
Oct. 26, 2019-Jan. 19, 2020
Frida Kahlo, Diego Rivera, and Masterpieces of Modern Mexico from the Jacques and Natasha Gelman Collection at the North Carolina Museum of Art presents the paintings of two icons of the 20th century. Few artists have captured the public's imagination with the force of Mexican painter Frida Kahlo (1907-54) and her husband, the Mexican painter and muralist Diego Rivera (1886-1957).
2019 National Women's Soccer League (NWSL) Championship
Oct. 27
The NWSL—now in its seventh season and featuring many of the best soccer players in the world—will decide the 2019 champion at WakeMed Soccer Park in Cary. The North Carolina Courage, defending league champions based in Cary, will hope to play for a title in front of a loud home crowd.
 
Carolina Artisan Craft Market, Nov. 1-3
The Black Keys - Let's Rock Tour, Nov. 8
Moonlight in the Garden, Nov. 7-16
College Football: NC State vs Clemson, Nov. 9
Vintage Market Days of the NC Triangle Presents: "Home for the Holidays", Nov. 15-17
North Carolina Chinese Lantern Festival, opens Nov. 22
Ariana Grande, Nov. 22
24th Annual American Indian Heritage Celebration, Nov. 23
75th Annual Raleigh Christmas Parade, Nov. 23
The Global Holiday Festival and Market, Nov. 23
Rudolph the Red-Nosed Reindeer: The Musical, opens Nov. 29
Comments