Things to Do in Raleigh, N.C.: October 2021
Tuesday, September 28, 2021, 4pm by visitRaleigh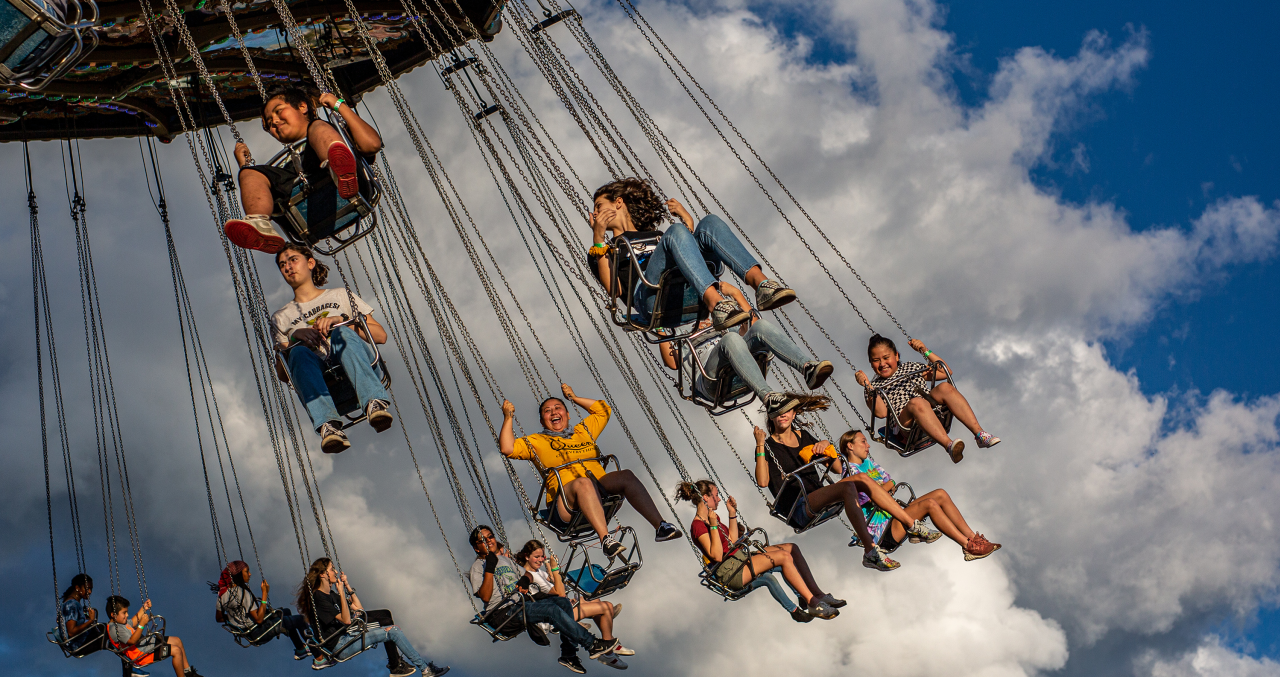 Every two weeks, we send out a newsletter that includes the best of the best upcoming events. If you sign up for our E-magazine, you'll get those, plus all the best new content (where to find the best wine bars, for example, or a guide to pumpkin patches and corn mazes to enjoy this fall).
---

It's so long to summer, hello to fall! The month of Oct. is shaping up to be a big one—hockey games, cultural festivals, holiday shopping, pumpkin pies, lots of ways to experience the arts and (last but not least!) the N.C. State Fair are coming right up!
 
Oct. 1-2
The biggest week in bluegrass is back in Raleigh! The International Bluegrass Music Association brings their business conference, along with the world's most talented bluegrass musicians, to the City of Oaks during this week, capped off with IBMA Bluegrass Live! powered by PNC, a two-day, free street festival that sets up five stages of free music, a dance tent, tons of art vendors and more. The ticketed Main Stage at Red Hat Amphitheater will feature Béla Fleck's My Bluegrass Heart, The Del McCoury Band, Steep Canyon Rangers, Yonder Mountain String Band and more of the genre's biggest stars.
Oct. 1-2
The sixth annual Triangle Oktoberfest at Koka Booth Amphitheatre in Cary is set to provide plenty of family-friendly activities including live music, storytelling, dancing and traditional Bavarian food and fare (plus local and authentic German beers on hand).
Theatre In The Park presents The Gravitational Pull of Bernice Trimble
Oct. 1-17
In this quirky dramedy directed by Jesse Gephart, the action revolves around Bernice Trimble, a recently widowed 55-year-old that was just diagnosed with early onset Alzheimer's. Her family is dealing with the news in their own very different ways but Bernice is still as vivacious as ever, always up for a good laugh and, most of all, ready to finally put herself first.
Oct. 2
A celebration of all things Fuquay-Varina (a fast-growing town just outside of Raleigh with beer, barbecue, shopping and more), Celebrate Fuquay-Varina provides live entertainment, craft beer, food, a chili cook-off, art vendors, kids games and more for a day full of family fun.
93rd Annual Wendell Harvest Festival
Oct. 2
A tradition dating back to 1927, the Wendell Harvest Festival features a parade, more than 100 craft vendors, a beer garden, games for kids and adults and live music (fun for the entire family!).  
Minor League Cricket - Finals Weekend Celebration
Oct. 2-3
Enjoy a full weekend of cricket at the Toyota Minor League Cricket Championship finals! Morrisville's beautiful Church Street Park will play home championship weekend—semifinals on Sat., championship match on Sun.—with player meet-and-greets, family-fun activities, food trucks, music, giveaways and more to keep everyone entertained.
Fresh off back-to-back-to-back appearances in the Stanley Cup Playoffs, the NHL's Carolina Hurricanes return to PNC Arena for a new year with high expectations. They'll open up the schedule with a home game against Nashville and will play an additional five home games during the month of Oct.:
Movies in the Garden: Hocus Pocus
Oct. 7
Expect a spooky-good time at Raleigh Little Theatre's beautiful outdoor amphitheater, where Disney's 1993 witchy family comedy be shown on the big screen. Movie time is 7pm, food trucks open at 6pm and adult beverages will be sold by Raleigh Brewing Company. This is a ticketed, pay-what-you-can event with limited seating.
So much live music
Who's ready to rock? Live music is back in a big way this month in the Raleigh area!
BEYOND: The Cary Film Festival
Oct. 7-10
BEYOND: The Cary Film Festival offers the sweetest Southern hospitality for veteran and newly minted creatives to celebrate short films (less than 30 minutes) and screenplays in all genres. This year's event features 35 independently produced short films presented with workshops for all experience levels, including a screenwriting masterclass.
Oct. 9
Diwali is the most widely celebrated religious and cultural event in India and marks the victory of good over evil, light over dark and the beginning of the New Year. Each year Cary Diwali includes music, dance, theater performances, a handicraft bazaar, Indian food vendors, sponsor booths, an exhibition of Indian art and culture, activities for children, demonstrations and so much more at Koka Booth Amphitheatre!
Oak and Smoke 2021
Oct. 9
Oak City Brewing Company is teaming up with Redneck BBQ Lab for a full day of a beer-drinking, BBQ-slinging and banjo-pickin' good time in Knightdale.
Oct. 9
This much-loved beer and music festival held at beautiful Sugg Farm Park returns for 2021, bringing together more than 40 breweries and a dozen food trucks, along with a full lineup of Americana jams, to celebrate good friends, good beer and good times in Holly Springs. Tickets are available as general admission (including unlimited beer tastings) or music-only. 
Artsplosure - The Raleigh Arts Festival
Oct. 9-10
One of the Southeast's premier arts festivals, Artsplosure - The Raleigh Arts Festival attracts more than 80,000 people to downtown Raleigh during the third weekend of May each year. Celebrating fine visual art and live music since 1980, the festival puts more than 180 artists' work, using countless mediums, on display for all to see and enjoy during the free festival.
Oct. 15-17 (Championship weekend)
See some of golf's best at the SAS Championship, a PGA Tour Champions event. Held annually at Prestonwood Country Club in Cary, the event is widely recognized as one of the most important events of the year.
Oct. 12-17
Based on the hilarious hit film, 9 to 5—presented by North Carolina Theatre at the Duke Energy Center for the Performing Arts—is an outrageous, 1980s-era revenge story of friendship and female empowerment. Three women, working at the mercy of their manipulative misogynist boss, live out their wildest workplace fantasy—giving the boss the boot. With a high-energy, huge-hearted score by the iconic Dolly Parton, 9 to 5 is about finally getting credit (and getting even!).
2021 N.C. State Fair
Oct. 14-24
Worth. The. Wait! Back after cancelation in 2020, the state's largest annual event draws one million visitors through the gates each Oct. and marks what many consider to be the unofficial beginning of the fall season. Eleven days of high-flying rides, deep-fried foods, live music, stunt shows and other entertainment (including nightly fireworks) has been a can't-miss event for generations of families—the 2021 version of the N.C. State Fair marks the 153rd year of the event!
Oct. 14-31
Marking a triumphant return to live performances, Carolina Ballet will open the 2021-2022 season with this new Halloween tradition—The Legend of Sleepy Hollow. Fans of the supernatural will enjoy this program of frights and delights that include director Robert Weiss' Lady in the White Veil and The Raven. Spine-tingling and eerie, do not be surprised if you stumble upon an ominous ghost, a creepy blackbird or the Headless Horseman himself!
Oct. 16
A festival for autumn lovers at Dorothea Dix Park, Falling for Local will feature live music, local makers and vendors, craft beer, food trucks, games for kids, hay rides, free pumpkins and more for what's expected to be a big crowd on hand.  
N.C. Wine Festival
Oct. 16
For more than 20 years the N.C. Wine Festival has delivered local wineries, artisans, music, food and fun. This year's ticketed event—held at Koka Booth Amphitheatre—will provide more than 30 Tar Heel State wineries to sample from, plus have live music on hand from Chairmen of the Board, The Shakedown and the Jason Adamo Band.
Paula Poundstone (plus more stand-up comedy)
Author and comedian Paula Poundstone—known as one of the most influential stand-up comedians of our time—brings her smart, observational humor and spontaneous wit to the Duke Energy Center for the Performing Arts. More laugh-out-loud events in Oct.: 
At Raleigh Improv: 
Raleigh Night Market
Oct. 21
This ultra-popular event showcases locally made goods and provides a night of entertainment with music, performers, food, drinks and more under the lights at downtown Raleigh's Moore Square. 
Oct. 23, 2021-Jan. 17, 2022
First aired in 2010, Downton Abbey™ was once among the most widely watched television dramas in the world, and one of the many things we loved about it was savoring the gorgeous costumes worn by the British aristocracy of the early 20th century. Coming this fall, you can experience them once again in all their exquisite glory at the North Carolina Museum of History. Dressing the Abbey will feature 35 costumes worn by the stars of Downton Abbey™ and show the progression of style from 1912 to 1923. The exhibition showcases the turbulence and changes in the late Edwardian era through the 1920s by means of the fashions of the period while evoking fans' favorite moments from the highly successful six-season run.
Oct. 23, 2021-Jan. 23, 2022
One of the most celebrated artists in turn-of-the-20th-century Paris, Alphonse Mucha created sumptuous posters and advertising—promoting such everyday products as cigarette papers and tea biscuits—that transformed the streets of Paris into open-air art exhibitions. This special exhibition at the North Carolina Museum of Art celebrates the Mucha Trust collection's first major U.S. tour in 20 years, featuring a vast array of posters, illustrations, ornamental objects and rarely seen sculpture, photography and self-portraits.
Dark Raleigh Walking Tour
Oct. 28-29
Interested in historic ghost stories of Raleigh's past? The Friends of the City of Raleigh Museum brings to life the stories of the Capital City's tortured souls in Dark Raleigh, an "after-hours" interactive walking tour that last approximately one hour and is recommended for ages 16 and up.
North Carolina Symphony presents Star Wars & More
Oct. 28-30
Kick off Halloween weekend with music from epic John Williams scores including Jurassic Park, Harry Potter, E.T., and of course, music from Star Wars.
North Carolina Master Chorale presents Bewitched
Oct. 29
Kicking off a 79th season, forty voices of the North Carolina Master Chorale will cast a spell on the audience with an evening of a bubbling brew of selections from Bach, Brahms and Britten (in addition to pop and musical theatre tricks and treats). The concert will feature pianist Susan McClaskey Lohr along with bass and drums.
Halloween Contest at FLEX
Oct. 30
This no-cover costume contest at FLEX—an LGBTQ nightclub open to all for more than 20 years in downtown Raleigh—will dish out awards for best Halloween costumes in a variety of categories (plus provide endless entertainment and dancing opportunities). 
Header image by Brian Magee Photography
Comments