Things to Do in Raleigh, N.C.: Sept. 2021
Thursday, August 26, 2021, 12pm by visitRaleigh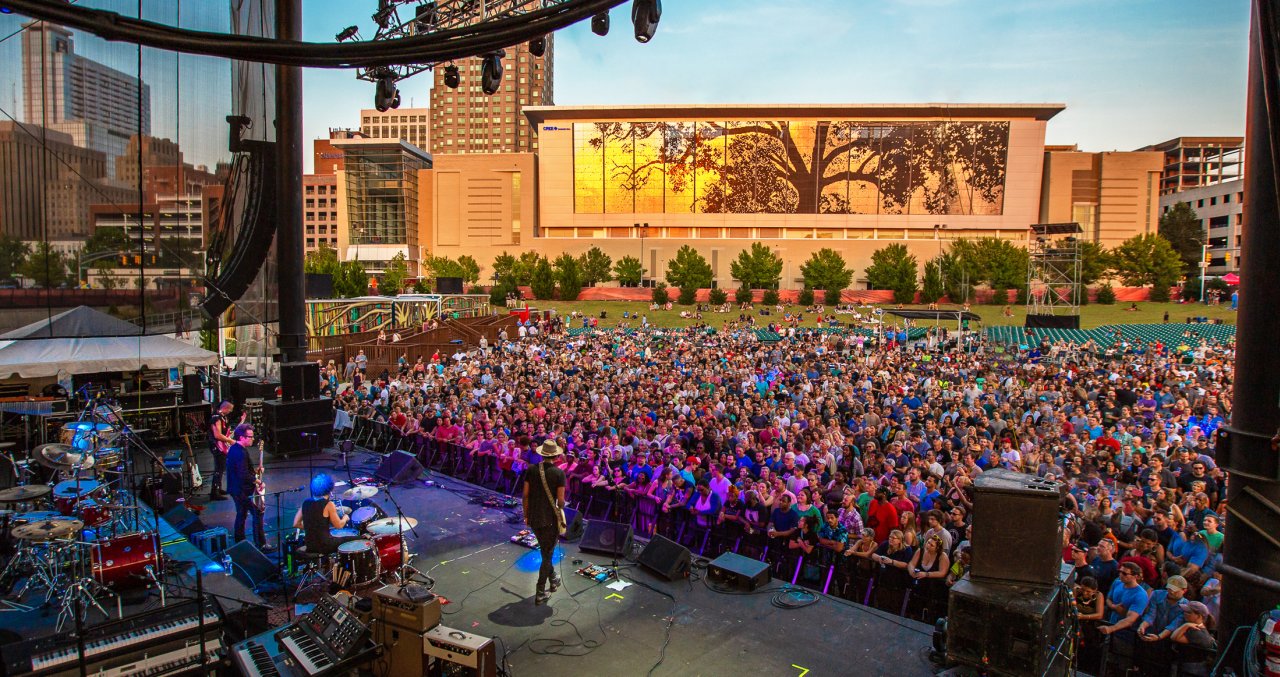 Every two weeks, we send out a newsletter that includes the best of the best upcoming events. If you sign up for our E-magazine, you'll get those, plus all the latest insider content (the best restaurants in downtown Raleigh, for example, or 20 of our favorite summer date ideas).
---

Who's ready for a Raleigh road trip? Summer may be hitting its final stretch but festival season is just getting ready to peak in the Raleigh area. In a destination known for sprawling, rocking, community-wide festivals, the month of Sept. is the crown jewel. Music, beer, arts, bikes, culture—the very best of the City of Oaks is on display all month long! 
 
Sept. 2 vs. USF; Sept. 18 vs. Furman; Sept. 25 vs. Clemson
WOLF! The North Carolina State University Wolfpack football team is back in action for another season at Carter-Finley Stadium. They'll kick things off with a game against University of South Florida on Sept. 2, then return home again on Sept. 18 to take on Furman University and Sept. 25 to battle Clemson.
12th Annual African American Cultural Festival
Sept. 4-5
An annual celebration of African American culture expressed through art, music, food and community, this two-day downtown Raleigh festival showcases local, national and international artists, performers, food vendors and area business owners. Now in its 12th year, the free-admission festival draws nearly 40,000 attendees per year to what's now considered Raleigh's premiere destination for teaching, sharing and celebrating the distinctive folk and cultural traditions of African Americans in N.C. and from around the world.
Sept. 9-16
Featuring eight nights of performances from some of America's finest dance companies, American Dance Festival is set to host their first ever outdoor festival this year at the North Carolina Museum of Art's Joseph M. Bryan Jr., Theater. Each night will feature a ticketed, 60-minute performance with no intermission (and tickets are on sale now!).
Hopscotch Music Festival
Sept. 9-11
Reconfigured as an outdoor-only festival for 2021, the 11th annual Hopscotch Music Festival—time and time again named as one of America's can't-miss independent music events—is thrilled to be back and ready to jam in the center of the City of Oaks. Nearly 30 bands will play across two downtown venues over three days, with headlining acts that include Animal Collective, Flying Lotus, Dr. Dog, Parquet Courts, Archers of Loaf and many more. Passes are more limited for this year—two venues can't hold as many as the typical 10-plus—so grab those tickets quickly for one of the best weekends of the year!
A huge month of live music goes beyond just Hopscotch Music Festival. A sampling of the best indoor and outdoor concerts in Sept. is below:
Incubus, Sept. 2
Tailgate N' Tunes (with Sister Hazel), Sept. 3
Nightrain with LA Maybe, Sept. 4
Primus, Sept. 4
Park After Dark (with NiiTo), Sept. 8
Lil Baby, Sept. 10
Luke Combs, Sept. 10 and 11
The Legacy Motown Revue, Sept. 10
Boney James, Sept. 12
Lord Huron, Sept. 12
Jack Harlow, Sept. 14
Maroon 5, Sept. 15
Futurebirds, Sept. 16
Dierks Bentley, Sept. 17
Outlaw Music Festival, Sept. 18
Phoebe Bridgers, Sept. 20
Coheed and Cambria, Sept. 22
Big Thief, Sept. 22
TLC with Bone Thugs-N-Harmony, Sept. 24
Band of Horses, Sept. 25
The Killers, Sept. 27
Guns N' Roses, Sept. 29
The Beach Boys, Sept. 29
Sept. 10
A favorite summertime event in charming downtown Wake Forest, Friday Night on White invites visitors to bring blankets, lawn chairs and their best dance moves out to White St. (the main avenue where White Street Brewing Company, Shorty's Famous Hot Dogs, Bodega and other favorites await). Party band Crush will take to the main stage from 6-9pm, and food trucks and a beer tent will keep event goers plenty happy.
Beer, Bourbon, BBQ Festival
Sept. 10-11
Beer sipping, bourbon tasting, music listening and barbecue eating—what's not to love? Don't miss the two-day Beer, Bourbon, BBQ Festival at Cary's Koka Booth Amphitheatre. Admission buys you a souvenir sampling glass so you can enjoy an all-you-care-to-taste sampling of beer and bourbon, plus chow down on some pulled pork, ribs, biscuit and more, all while enjoying all-day live music.
N.C. International Auto Expo
Sept. 10-12
The 34th annual N.C. International Auto Expo moves to a new venue this year—the Raleigh Convention Center will fill 150,000 square feet of space with the newest cars, trucks and sports utility vehicles from all of the world's biggest auto makers (some test drives are expected to be available). See you there, car enthusiasts!
40th Annual Apex PeakFest
Sept. 11
Salem St. in historic downtown Apex comes alive with more than 20,000 visitors during PeakFest. For 40 years now, the arts and crafts festival has brought families together for a day of fun, food and fellowship. The town of Apex's largest annual event, PeakFest has all-day live music, all the arts and crafts you can imagine, entertainment for kids and food vendors that bring their best State Fair-style goodies.
Brewgaloo
Sept. 17-18
Voted America's best beer festival two years in a row now by USA TODAY readers, N.C.'s largest craft beer event features 100 breweries, 50 food trucks and draws 30,000 people to downtown Raleigh each year. Brewgaloo, which has free admission on Sat. (so bring plenty of friends!), allows you to purchase either beer samples or full pints from breweries located across the state. 
Laugh-out-loud comedy shows
Ready for a laugh-out-loud good time? Big name performers are lined up at two of the area's best comedy clubs! 
Josh Pray, Sept. 2
Ryan Kelly, Sept. 14
Bill Bellamy, Sept. 17-19
Annie Lederman, Sept. 23-25
At Raleigh Improv:
Aries Spears, Sept. 2-5
Arnez J, Sept. 16-19
Bob Saget, Sept. 24-25
TJ Miller, Sept. 30-Oct. 2
Capital City Bikefest 2021
Sept. 17-19
Capital City Bikefest is a free, family-friendly, three-day event at the Tobacco Road Harley-Davidson dealership. Now in its 16th year, the event celebrates Raleigh's rich motorcycle culture and features live music, parades, charity rides, stunt shows, vendors and more.
Raleigh Little Theatre presents The Velocity of Autumn
Sept. 17-Oct. 3
In this comedy written by Eric Coble, Alexandra—an 80-year-old artist in a showdown with her family over where she'll spend her remaining years—barricades herself in her Brooklyn home and is ready for war. What plays out is wickedly funny and a wonderfully touching discovery of the fragility and ferocity of life.
Note that this performance is indoors, and tickets will be sold at 50% capacity.
Juniper Level Botanic Garden's Open Nursery and Garden Days
Sept. 17-19 and Sept. 24-26
One of America's most spectacular gardens—a secret among some locals but a sanctuary to plant lovers around the world—is open to the public just eight weekends per year in Raleigh, N.C. Located 12 miles south of downtown Raleigh, Juniper Level Botanic Garden is a 28-acre campus showcasing more than 27,000 different kinds of native perennials, exotic plants, rare delights and unusual specimens of trees and shrubs not found many (or any) other places on earth. This "Eden of rare plants" draws gardeners, researchers and fans of beautiful plants from across the globe each year for select, free-admission open house dates.
Fairgrounds Southern Ideal Home Show
Sept. 17-19
A vibrant marketplace where you can shop for home-related products and services, experience stunning displays to help inspire your next home project, connect with industry experts and enjoy informative presentations from renowned local and international home professionals. Whether you're joining with a specific project in mind or just looking for some inspiration, the local home professionals have you covered with 250-plus booths to explore!
Theatre Raleigh presents Peace of Clay
Sept. 22-Oct. 3
A new work by two of the region's most exciting playwrights—Mike Wiley and Howard L. Craft—Peace of Clay explores the pressures, hopes and aspirations of a young man coming of age in a southern city in the 1980s. The play is a meditation on an African-American lower-working-class family in pursuit of an American dream that always seems to exist just beyond their grasp.
Raleigh Balloon Glow
Sept. 24-26
Bringing big fun to downtown Raleigh's beautiful Dorothea Dix Park, Raleigh Balloon Glow is a three-evening event featuring hot air balloons glowing at dusk, tethered balloon rides, food vendors, arts and craft vendors plus activities for the kids. This is a ticketed-entry event with per-car admission (tethered balloon ride tickets sold separately).
Black Indians NC 2021 Powwow
Sept. 25
A traditional Southeastern style powwow with educational awareness about African American and Native American people from N.C., this powwow will feature traditional drum group music, dancers, retail and nonprofit vendors, a Black Indians N.C. "Conversation Circle" panel, a special presentation honoring tribes local and more.
Farmers Fall Festival in downtown Cary
Sept. 25
Celebrate fall in the heart of downtown Cary! This event celebrates the harvest season when our farmers are bringing in their fall bounty during the first crisp days of fall. There will be live music on the main stage, a kids performance area, fun games and interactive exhibits, local food and craft beer, art and crafts and a mid-day pie-eating contest. 
Festa Italiana Raleigh
Sept. 25
Festa Italiana celebrates Italian culture and heritage in the Raleigh area, bringing together an expected 12,000 attendees for the third annual event in downtown Raleigh. A full day of Italian food, beer, wine, live music, kids activities and more are on the docket!
Dude Perfect
Sept. 26
For their second ever live tour, fans can experience YouTube sensations Dude Perfect up close and personal when they bring the action right into the audience with crazy stunts, competitive battles, some of their most funny and embarrassing stories and several of their most popular segments from their award winning "Overtime" series like "Cool not Cool" and "Wheel Unfortunate" with Ned Forrester.
Black Farmers Market
Sept. 26
With a mission to inspire self-sufficient communities and support Black farmers and entrepreneurs, the Black Farmers Market launched in summer of 2020, holding monthly events in the City of Oaks at the YMCA of Southeast Raleigh. You'll find farmers, gardeners, florists, bakers, seafood sellers and more offering their farm-fresh produce or hand-crafted goods. According to the creators of the event, there are more than 3 million farmers in America today, but less than 2% of those are Black. A visit to the market is an easy way to support these entrepreneurs—and of course people of all backgrounds are welcome to attend!
Open every fourth Sun., 1:30-4pm.
Looking ahead: October events in Raleigh, N.C.
IBMA Bluegrass Live! powered by PNC, Oct. 1-2
Triangle Oktoberfest, Oct. 1-2
93rd Annual Wendell Harvest Festival, Oct. 2
Cary Diwali Celebration, Oct. 9
Oak and Smoke 2021, Oct. 9
Artsplosure - The Raleigh Arts Festival, Oct. 9-10
SAS Championship, Oct. 11-17
2021 N.C. State Fair, Oct. 14-24
Falling for Local, Oct. 16
N.C. Wine Festival, Oct. 16
Header photo by Garrett Poulos
Comments