Things to Do July 4th Weekend in Raleigh, N.C.
Tuesday, June 30, 2020, 11am by visitRaleigh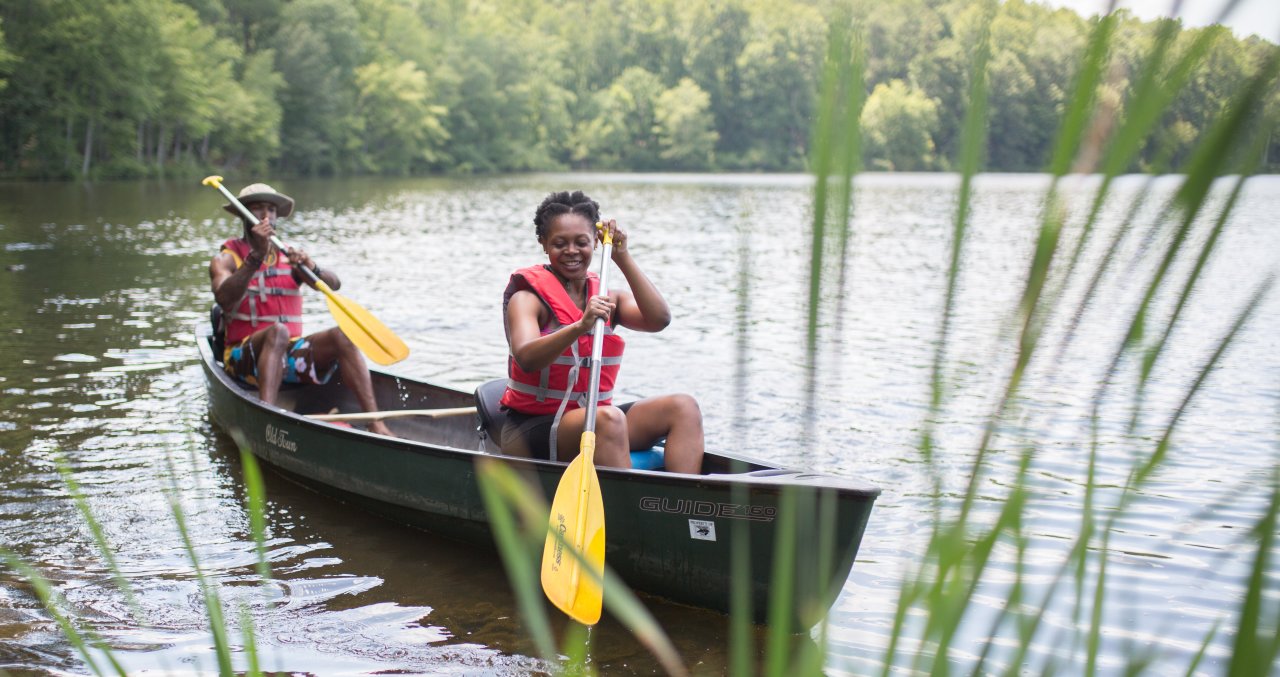 While it's certainly beginning to feel a lot like summer, the coming July 4th holiday is going to be a different one to say the least. There will be no in-person firework showcases, no baseball games and no outdoor concerts in major venues to attend.
Parks, restaurants and some attractions are open in the Raleigh area, however, and there's plenty to safely explore for a long weekend. Here's what we have in our plans!
 
Dig into N.C. State Fair foods at a special drive-through event
Drive-through Fair foods? Count us in! The N.C. State Fair—the state's biggest annual event held in Raleigh each Oct.—has been holding a series of social distance-friendly events to help support their vendors and provide a treat for the public in recent weeks. From July 3-5, the North Carolina State Fairgrounds will be open and taking drive-through orders of funnel cakes, cotton candy, deep-fried Oreos and more—all without the need to get out of your car. The event will run noon-8pm each day and will be cash only.
The 2020 version of the Fair is on our calendars to be held Oct. 15-25 this fall, and no final decisions have been made on whether the event will happen as scheduled.
Tune in for a virtual Independence Day celebrations
While Raleigh, Cary and other Wake County towns have canceled their annual in-person Independence Day events, some have put together a way to virtually celebrate the holiday.
Wake Forest: The town will launch a fireworks display on Fri., July 3, with the show airing at 9:30pm on Facebook Live (and later re-broadcast on WFTV 10).
Garner: Instead of the traditional in-person celebration—which historically has included fireworks, food vendors, kids activities and a performance by the North Carolina Symphony—the Town of Garner is planning a television/video program that would feature homegrown entertainment talent: Scotty McCreery, Lorraine Jordan, Ericka Lee, The Hall Sisters and more, plus special messages from Mayor Ken Marshburn, NFL star Nyheim Hines and others. You can watch this special show on demand on the town's YouTube channel starting July 3 or, if you're in Garner, on government access channel GTV11 when it premiers on July 3 at 8pm.
Holly Springs: Three ways over three days to celebrate: A free virtual Mo' Jazz concert, streaming on the Holly Springs Cultural Center's Facebook page as well as the Town of Holly Springs' Facebook page on Fri., July 3, at 7pm; a Farmer's Market, 8am-noon on July 4, that will include an art contest; and a virtual fireworks display, streaming live on the town's YouTube channel at 9:15pm on July 5.
Take a night off from cooking and find out which restaurants have safely opened
Many restaurants (and breweries) in the Raleigh area are open, operating at 50% seating capacity for dine-in/patio service and/or offering takeout meals.
A few dine-in picks: 42nd St. Oyster Bar and Seafood Grill; Mandolin; ORO Restaurant & Lounge; Plates Neighborhood Kitchen; Scratch Kitchen and Taproom; The Cortez.
A few takeout faves: Centro; Crawford and Son; Oakwood Pizza Box; Poole's Diner; Prime Barbecue; Royale; The Fiction Kitchen.
See a list of nearly 200 open restaurants and breweries here.
Sign up for something to laugh at with new live comedy shows
Goodnights Comedy Club, providing laugh-out-loud fun for nearly 40 years on the edge of downtown Raleigh, is back open (with health and safety precautions in place, including limited seating). Comedians Jourdain Fisher and Brent Blakeney—two North Carolinians—will headline special events scheduled for Fri., July 3, and Sat., July 4. Highly recommended for a pre-show meal: Irregardless Café, just a few doors down, is one of the area's oldest and most respected restaurants (with a vegetarian-forward menu!).
Plan the perfect picnic at Dorothea Dix Park
One on Raleigh's most treasured outdoor spaces, there are big plans in the works for the 308-acre Dorothea Dix Park. For now though, massive open fields and skyline views make for a popular spot for hammocks, frisbees, kites, bike riding and certainly picnics. Pack your coolers, chairs, blankets and sunscreen and find your spot (there's plenty of room for everyone!).
Bike or run to one of the highest points in Wake County
Opened 10 years ago this July, Green Hills County Park was the result of transforming the 73-acre site—previously a landfill—back into a public space filled with greenery and a massive hill that's perfect for running and biking up and down
The park is made of 1.8 miles of paved trails, two miles of mountain biking trails, a small mountain biking skills practice area and a 1.4-mile cycling, running and walking lane that circle the main hill. The main attraction, The Top of the Hill Trail, is a short, steep and rocky climb (almost 200 feet of elevation are gained in just under a tenth of a mile), rewarded with a 360-degree view of Wake County that can't be found anywhere else—on a clear day, you'll be able to see the downtown Raleigh skyline in the distance (nearly 10 miles away!). A second steep hill, slightly smaller and just a stones throw away, makes for a good warm-up or practice run.
Zip, swing and climb through trees at a treetop adventure course
Fun for the whole family, two treetop adventure courses are welcoming back customers.
At Go Ape (re-opening July 4), ages 10 and up can take on a canopy course that includes a 500-foot-long zipline, platforms as high as 50 feet in the air and more than 40 obstacles to make their way through (total course time between two and three hours). A smaller course is available for younger children as well.
At TreeRunner Adventure Park, seven courses and three difficulty levels are made up from more than 70 total obstacles that reach as high as 40 feet. On Fri. nights through summer, the park puts on Glow Nights, featuring color arches, LED sequence lighting, lasers and glow attire given to all paid climbers.
Hit golf balls from a third-floor overlook (outdoors, with air conditioning!)
Looking for big entertainment? Drive Shack—the interactive golf complex that caters to big groups—opened in 2019 in Raleigh. The three-story complex includes 96 golf bays, a full-service restaurant, a rooftop bar, more than 300 televisions, an arcade area, meeting rooms and more. 
Drive Shack allows guests and groups to rent bays by the hour, giving them access to wait-service, unlimited driving range balls, full sets of TaylorMade golf clubs, a climate-controlled seating area, televisions and more. 
The 260-yard-long driving range combines physical targets to aim for with augmented reality and virtual games. The range utilizes TrackMan technology, pinpointing the flight of your golf ball and allowing you to virtually play real-world championship golf courses or go head-to-head against friends to collect points for hitting physical targets (games are tracked and scored on television screens inside your bay). 
Tackle a lengthy hike at Umstead State Park
One of N.C.'s most-visited state parks, William B. Umstead State Park remains a peaceful getaway thanks to its sheer size—more than 5,000 acres of forest, trails and lakes sit on the edge of Raleigh, Cary and Morrisville. With 13 miles of multi-use trails that follow a series of rolling hills (perfect for horseback riding, jogging and cycling) and 22 miles of dedicated hiking trails, this is a must-hit destination for outdoor enthusiasts.
Of the major hiking trails, Sycamore is the longest, a moderately-easy loop trail with plenty of elevation changes and lots of shade that runs beside Sycamore Creek for a total of 7.2 miles and has the option to connect to many other trails along the way. See the park map here (PDF).
Note that Umstead State Park has been very busy over the last few months, and the entrances will be closed once park reaches capacity. Plan to go early or late in the day.
Pick out fresh watermelon at the State Farmers' Market
Open from 9am-5pm daily, the State Farmers' Market, Raleigh is made up of 30,000 square feet of fresh vegetables, produce, flowers and specialty goods. What's in season right now? Watermelon, cantaloupe, peaches and more summertime favorites.
Launch a kayak and do some easy paddling
Up for a paddling adventure? While kayak rentals are on hold due to COVID-19, if you're lucky enough to have one yourself, there's still fun to be had on the water this summer. One great spot to launch your 'yak? Robertson Millpond Preserve, in the town of Wendell, is a hidden 85-acre refuge for nature lovers, canoeists and kayakers. Opened to the public in 2015, the blackwater swamp property is the only bald cypress habitat in the Raleigh area, creating a unique experience of paddling through a forest-like setting.
See four more spots to launch your own car-top boat here.
Celebrate Angus Barn's 60th birthday with a perfect chocolate chess pie
A family-owned institution for 60 years now, the double doors of the now-fabled Angus Barn swung wide on June 28, 1960—a 275-seat steak-and-potatoes based restaurant dreamt up by owner Thad Eure, Jr., that aimed to provide families and travelers to the Raleigh area with impeccable service.
Today, more than 20,000 nights, 14 million customers served, one complete rebuild (the restaurant burned to the ground just four years after opening and was promptly rebuilt twice as big) and a half-dozen expansions later, the 650-seat Angus Barn remains one of the most sought-after destination dining spots in the Southeast.
Angus Barn is currently open for dine-in and takeout service, and you can also make the restaurant's world-famous chocolate chess pie at home with the recipe found here!
Take part in a virtual Wine and Design class (paint kit included!)
A perfect girls night or date night activity, Wine and Design—founded in Raleigh and seen on ABC's "Shark Tank"—has adapted in recent months to offer virtual art classes so you can create your own masterpiece (and enjoy your own wine) at home. On July 4 at 8pm, they're set to host another at-home paint party. Tickets are required, and come with a paint kit that you can pick up from the Wine and Design location in downtown Raleigh. Can't make it this weekend? They've got a full schedule of in-person and at-home events coming up!
Book a weekend of luxury at one of the world's top-rated hotels
Tucked into 12 acres of woodlands overlooking a private lake in Cary, a world-class getaway awaits—literally! As it turns out, a soothing spa, five-star cuisine, gracious staff and 150 spacious guest rooms and suites are a recipe for a big success.
The Umstead Hotel and Spa—previously recognized by AAA as a Five-Diamond property and by Condé Nast Traveler as the third-best hotel in the U.S.—has earned another major accolade. Forbes Travel Guide has named The Umstead Hotel, its fine-dining restaurant Herons and The Umstead Spa as Five-Star award winners, the highest-achievable ranking.
How big of a deal is that? No other hotel, restaurant or spa in the state of N.C. earned a Five-Star rating, and The Umstead is one of only 12 properties in the world to earn triple Five-Star status.
To start planning your trip, you can browse seasonal packages on the hotel's website.
Header photo: Brian Strickland
Comments