Things to Do Over Thanksgiving Weekend in Raleigh, N.C.
Thursday, November 16, 2017, 3pm by visitRaleigh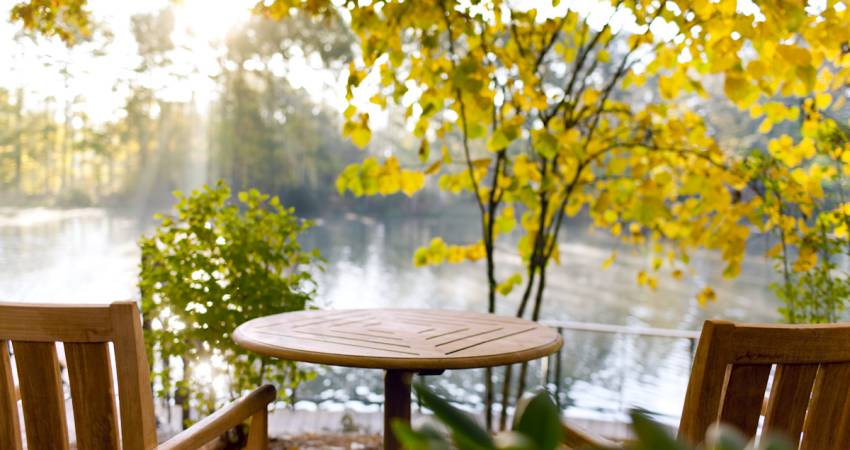 Looking for things to do in Raleigh, N.C., over Thanksgiving weekend? We've got you covered! From holiday shopping sprees and dazzling light displays to a heavyweight match-up on the football field, below are 25+ ideas on how to stay busy and active after Turkey Day in the City of Oaks.
 
Holiday Shopping Sprees
Hungry to get your holiday shopping started (and finished!)? Use this list of Raleigh-made eats and drinks—chocolate, beer, barbecue sauce and more—to start your search for stocking stuffers and tasty treats.
Looking for even more gift ideas? Raleigh, N.C.'s passionate entrepreneurs and thriving maker scene provide plenty of options.
Sat., Nov. 25, is Small Business Saturday. Sandwiched between Black Friday and Cyber Monday, it's a dedicated day for local retailers to take the spotlight. The Downtown Raleigh Alliance has a list of retailers participating (with special hours and deals) in downtown Raleigh.
 
Dazzling Light Displays
Lake Myra Christmas Lights (11/22-12/31), a drive-in style, interactive light show featuring more than 400,000 total lights synced to holiday music, lights up downtown Wendell during the holiday season (and always has free admission).
Piper Lights (opening 11/25), a family-run display that came out victorious in a head-to-head battle in last year's Great Christmas Light Fight television show, features an incredible number of unique displays that take over their entire property and hop across a pond, creating a gorgeous reflection.
Returning for a third straight year, the North Carolina Chinese Lantern Festival (11/24/17-1/14/18) puts more than 20 jaw-dropping traditional Chinese lanterns on display. More than 100,000 people visited the festival last year!
For more light displays and upcoming tree lightings, see this list that covers the entire holiday season.
 
Can't-Miss Museum Exhibits
A new, highly-anticipated featured exhibition at the North Carolina Museum of Art has just opened up! Inspiring Beauty: 50 Years of Ebony Fashion Fair (through 1/21/18) showcases 50 years of beauty, style and empowerment of African Americans.
Recently announced as the North Carolina Museum of History's most-visited exhibition ever (more than 200,000 visitors since opening in April 2017!), North Carolina and World War I commemorates the centennial of the U.S.'s entry into World War I, focusing on N.C.'s role in the "War to End All Wars."
Visit CAM Raleigh to check out artist Dorian Lynde's critically-acclaimed "No Damsel" exhibit, featuring a series of murals of your favorite Disney princesses re-imagined as 21st century street savvy women. 
On-Field, On-Ice Action
The Carolina Hurricanes face off against the Toronto Maple Leafs (11/24) and Nashville Predators (11/26) in their final home games of the month at PNC Arena. 
Just steps away at Carter-Finley Stadium, nearly 60,000 fans will pack the house to see the North Carolina State University Woflpack football team close out their regular season with a gridiron match-up against rival University of North Carolina at Chapel Hill (11/25). 
Performing Arts Productions
The characters you know and love—Rudolph, the Abominable Snowman, Santa and Mrs. Claus and more—come to life in this Broadway Series South production of Rudolph the Red-Nosed Reindeer: The Musical (11/24-12/24) at the Duke Energy Center for the Performing Arts.
Catch the comedy classic Home Alone (11/24-25) in a special event concert by the North Carolina Symphony, complete with a charming score by John Williams and a chance to meet Santa Claus before the show. 
The Carolina Ballet's 20th anniversary season continues with a production of "Messiah" (11/22-26).
Live Music Events
Diali Cissokho & Kaira Ba at KINGS (11/24)
The Ultimate Johnny Cash Tribute Show at The Cary Theatre (11/24)
Nantucket at Lincoln Theatre (11/25)
The Love Language at KINGS (11/25)
Unknown Hinson at The Pour House Music Hall (11/25)
Seether at The Ritz (11/26)
See a complete list of live music events over Thanksgiving weekend here!
 
More Weekend Picks
Embrace the holiday season in full and seek out a delicious cup of hot chocolate at one of these favorite cozy spots. 
Browse through these 30 hand-picked experiences for your fall bucket list in Raleigh, N.C.
Out late with friends and family and need a bite to eat? Check out these 18 spots in downtown Raleigh that stay open late to serve pizza, burgers, dogs and more.
Grab the kids and head to the Wells Fargo IMAX Theatre at Marbles in downtown Raleigh to see holiday favorite Polar Express 3D on the giant screen.
Learn everything you've ever wanted to know about the science of piracy, booby traps and treasure hunting at the North Carolina Museum of Science's Finally Friday: The Goonies event (11/24).
See comedian Michael Blackson (11/24-26) at Goodnight's Comedy Club, the legendary downtown Raleigh comedy club that's been in business for more than 30 years.
Preemptively burn off some calories (and work up a serious appetite) by joining in on the Runologie Presents Trophy Turkey Trot 10k at Dorothea Dix Park (11/23—Thanksgiving morning!)
Sip on craft beers and cocktails at some of Raleigh's most unique gathering spots with our guide to rooftop, hidden and underground bars. 
Want even more ideas? Check out our full calendar of events, here.
Comments