Artsplosure - The Raleigh Arts Festival Returns, May 21-22, to Downtown Raleigh
Wednesday, May 04, 2022, 9am by visitRaleigh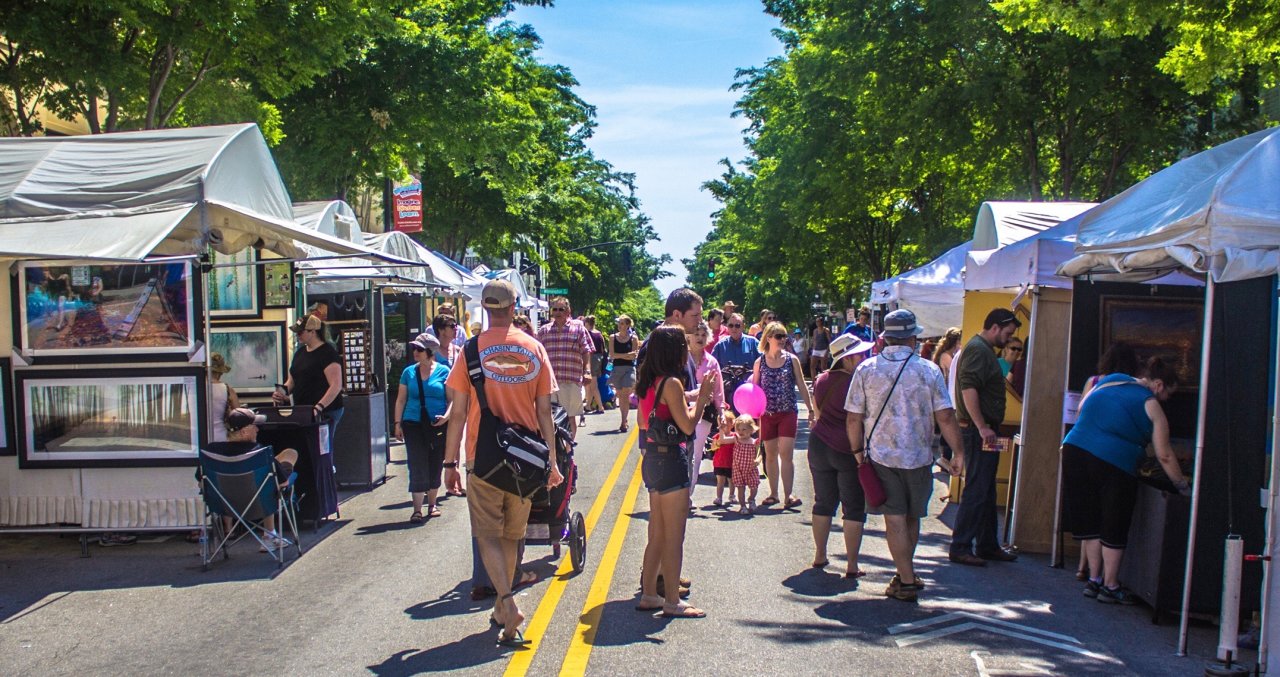 Mark your calendars—one of the Raleigh area's longest-running (and most-anticipated) festivals returns to downtown Raleigh, May 21 and 22! Artsplosure - The Raleigh Arts Festival is taking over Fayetteville St. to showcase live music performances, art installations and an art market featuring 170 local and regional visual artists.
Originally conceived in 1978, Artsplosure has taken place over the third weekend in May for more than 40 years now. After cancelation in 2020 due to the pandemic—and a temporary move to Oct. in 2021—the festival is ready to return to its original weekend. Here's why you don't want to miss out!
See emerging artists before they're big
Artsplosure prides itself in being known as a free "discovery festival," spotlighting up-and-coming talent on the verge of their breakthroughs. Since its first festival in April 1980, Artsplosure has presented thousands of established and emerging artists whose works span many disciplines and art forms. Musicians that have previously performed at Artsplosure (including Brittney Spencer and Aaron Lee Tasjan) are now performing sold-out shows across the country.
"We also have one of the most diverse showcases of bands and artists from all walks of life and genres," states Lucy Tobias, marketing director at Artsplosure. "Our headliners this year are Indigo de Souza and Country Soul Songbook." In total, 11 artists will take to the stage over two days on Fayetteville St.
Lucy is especially looking forward to the art market, where eclectic local art is on display (and, of course, for sale). The art market was curated for Artsplosure to feature a diverse range of high-quality artwork—a blind jury made up of several community members with expertise in visual arts carefully picked the artists from nearly 500 applicants. 
Note: The art market will be open Sun, 10-11am, specifically for patrons with accessibility needs.
Unlock your inner child with Evanescent
This year's biggest piece of art comes with a big pedigree—Atelier Sisu's Evanescent is a colorful, immersive light and sound installation making it's debut in the U.S. at Artsplosure. The use of dichroic film creates the illusion of the bubble-like form. The work seeks to emulate the magic of bubbles and appeal to their universal playfulness and joy we felt as kids. Additionally, the artwork encourages its audience to consider the world around them as a space of transience and fragility (like that of a bubble). 
The exhibit is originally from Australia, and is currently being transported to Raleigh from recent shows in Taiwan, Lithuania and Athens.
Bring the whole family to enjoy
No need to leave anyone at home, Artsplosure is a family-friendly (and free admission) event for all to enjoy. "We want people to know that all are welcome to join in on the fun," says Cameron Laws, the program director at Artsplosure. "Kids can participate in Kidsplosure—a free, kid-centric section of Artsplosure!" 
Kidsplosure will be taking place on both days of Artsplosure. Kids can expect musical performances, magic shows and tons of crafts (including paper marbling, foam soap prints, community weaving and more).
Artsplosure is committed to making its festivals welcoming, accessible and enriching to all people, including individuals with disabilities. There will be a wide variety of art and educational programs to satisfy a large range of audience interests. For more information on the festival's commitment to accessibility, click here.
More upcoming events in Raleigh, N.C., to plan around
North Carolina Museum of Art hosts Fault Lines: Art and the Environment, through June 17
Life Before Dinosaurs: The Permian Monsters at North Carolina Museum of Natural Sciences, May 14-Sept. 4
Carolina Ballet presents Giselle, May 19-22
Got to Be NC Festival, May 20-22
Animazement, May 27-29
NC Sugar Rush, May 29
Raleigh Little Theatre presents In the Heights, June 3-19
Raleigh's International Food Festival, June 4
Town of Cary's Pimento Cheese Festival, June 11
Robert Plant & Alison Krauss, June 14
Juneteenth Festival at Dorothea Dix Park, June 18
Out! Raleigh Pride, June 25
Header photo by Keenan Hairston
Comments