Transfer Co. Food Hall is Raleigh's Massive New Foodie Attraction
Thursday, February 07, 2019, 1pm by Michael Robson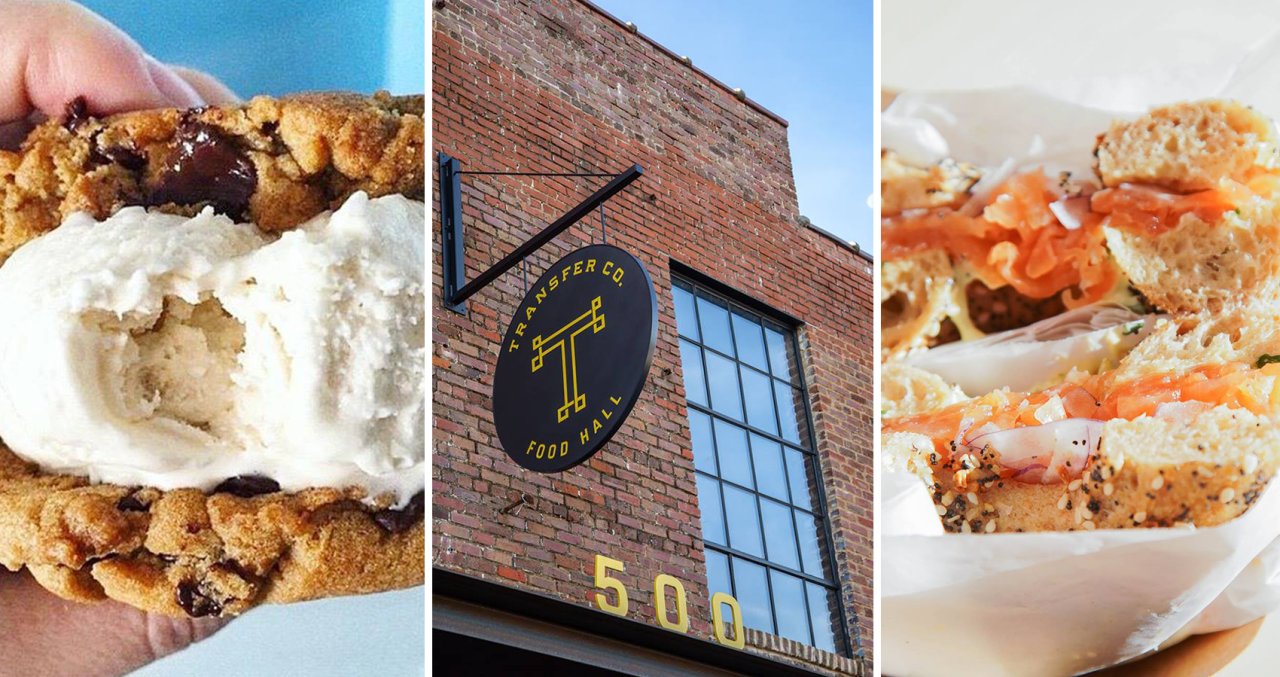 Updated April 23, 2019
Big news, foodies—bagels, beer, burritos and more goodies have arrived in one awesome space in Raleigh, N.C.!
Transfer Co. Food Hall, a food hall and market housed in a 43,000-square-foot renovated warehouse in downtown Raleigh's Olde East neighborhood (just a few minutes on foot from the North Carolina State Capitol, Duke Energy Center for the Performing Arts, CAM Raleigh and more), is now open!
The venue—the brainchild of Transfer Co. founder Jason Queen—will serve as a gathering space for food producers, makers, vendors, restaurateurs, their guests and the local community.
The highly-anticipated foodie attraction already grabbed national attention after The Washington Post visited for a recent travel story about the City of Oaks:
How can you go wrong with a brewer, baker and killer chocolate-maker, a creative partner who happens to be the Avett Brothers' cellist and a general manager who happens to be a popular local DJ? Transfer Co. Food Hall is a gorgeous new gathering spot and food space in the oft-overlooked east side of downtown.
So—what can you chow down on, and when? As of April 21, 2019, the carefully-curated list of vendors are generally open lunchtime through the evening, Wed.-Sun., and are expected to add more weekday hours in the coming weeks (check with each vendor on social media before heading their way).
As for the vendors that have already opened, here's a quick rundown:
Chef Clarke Merrell opened Dank Burrito as a food truck in 2014 and less than a year later won National Food Truck Rookie of the Year. Using flavorful bases that vary from pulled-pork to shaved ribeye, Dank Burrito creates unique combinations that make for addicting results (think house-made salsas and pico, then add toppings like ginger slaw, kimchi, and dank yum yum sauce). Hard to miss, the graffiti-themed burrito joint is now slinging fresh tacos, bowls and burritos at their colorful new home inside of the food hall.
Benchwarmers, serving wood-fired bagels and craft coffee, is an exciting new collaboration from the masterminds behind Jubala Coffee—one of Raleigh's beloved, local coffee shops—and Boulted Bread, a bakery that earned acclaim with one of Food & Wine's Top Croissants in America. Not your average bagel shop, the menu—the work of chef John Knox—includes unique sandwiches like a house-cured lox with deviled egg spread and duck rillette with sour cherries and pickled onions. It hasn't taken long for people to notice--the shop has already earned a 'highly recommended' nod from Bon Appétit.
A taste of the Mumbai street-food scene with a variety of authentic bite-sized offerings in an atmosphere designed to cultivate conversation, Chhote's (Cho-Tays) is led by Anson Fernandes, a Mumbai native and founder of Biryani MAXX Indian Cuisine in Cary. (a critically-acclaimed restaurant in its own right, named one of the "brightest hidden culinary gems" in the area by the News and Observer in 2017). A small but varied menu is highlighted by chicken tikka masala (yogurt and spice-marinated chicken cooked in creamy tomato sauce) and samosa chaat (spice-flavored potatoes stuffed inside a baked pastry, topped with garbanzo beans, chutney, yogurt and more).
Locals Oyster Bar
Led by chef Eric Montagne, Locals Oyster Bar is offering a menu of fresh oysters, seafood and handcrafted cocktails (plus a fresh fish market to open at a later date). The shrimp roll (seen below) and oyster poutine options from the menu have already been hailed as favorites by early-adopter diners.
A brand-new Asian concept led by a team of restaurateurs with more than 20 years of experience, Bul Box is serving noodles, Korean-style meats, dumplings and more in the front half of the food hall. Small boxes offer an array of ramen, wings and other options that are packed with flavors (the bul-streak fries—fries topped with bulgogi, cheese and egg—are an early menu favorite). Signature boxes—made with your choice of rice, noodles or a greens mix, plus a grilled meat—is a large meal served with grilled veggies, a handmade dumpling, green beans, cucumber salad and a perfectly gooey soft-boiled egg. Just in time for these warm-weather months, the menu is rounded out with a variety of bubble tea slashes (matcha, milk tea, pomegranate and other options!). 
Bringing some spice to the food hall, Che Empanadas, a beloved catering business that has been delivering Argentine-style empanadas to customers for years, has opened their first brick-and-mortar restaurant. For owners Anabel and Mark Rossbach, the baked pastries (filled with meat, vegetable, vegan and dessert offerings) are a taste of home.
Burial Beer Co.—based in Asheville, N.C., and named one of the world's best small breweries by Craft Beer & Brewing magazine in 2018—has opened a cozy space that's part taproom, part art gallery dubbed The Exhibit (where eager crowds are lining up early for special beer releases). Be on the lookout for Dank Burrito, a food truck that will open a brick-and-mortar inside the food hall later in 2019, parked outside the The Exhibit with limited weekly hours for the time being.
Dessert lovers, rejoice! Captain Cookie & The Milkman is a bakery and dairy bar serving fresh-baked cookies, local creamery milk and made-to-order ice cream sandwiches (making this the ultimate stop during the summer months after hopping off the greenway trail located directly behind the food hall!).
More vendors, including a locally-loved barbecue restaurant, are expected to open in the coming months. See the full vendor list here.
Transfer Co. Food Hall is located at 500 E. Davie St. in downtown Raleigh. To see more photos and stay up to date on vendor news, follow them on Instagram.
Header photos courtesy of Transfer Co. Food Hall
Comments