True Grit: 15 Authentic Southern Foods You'll Find in Raleigh, N.C.
Tuesday, February 12, 2019, 10am by visitRaleigh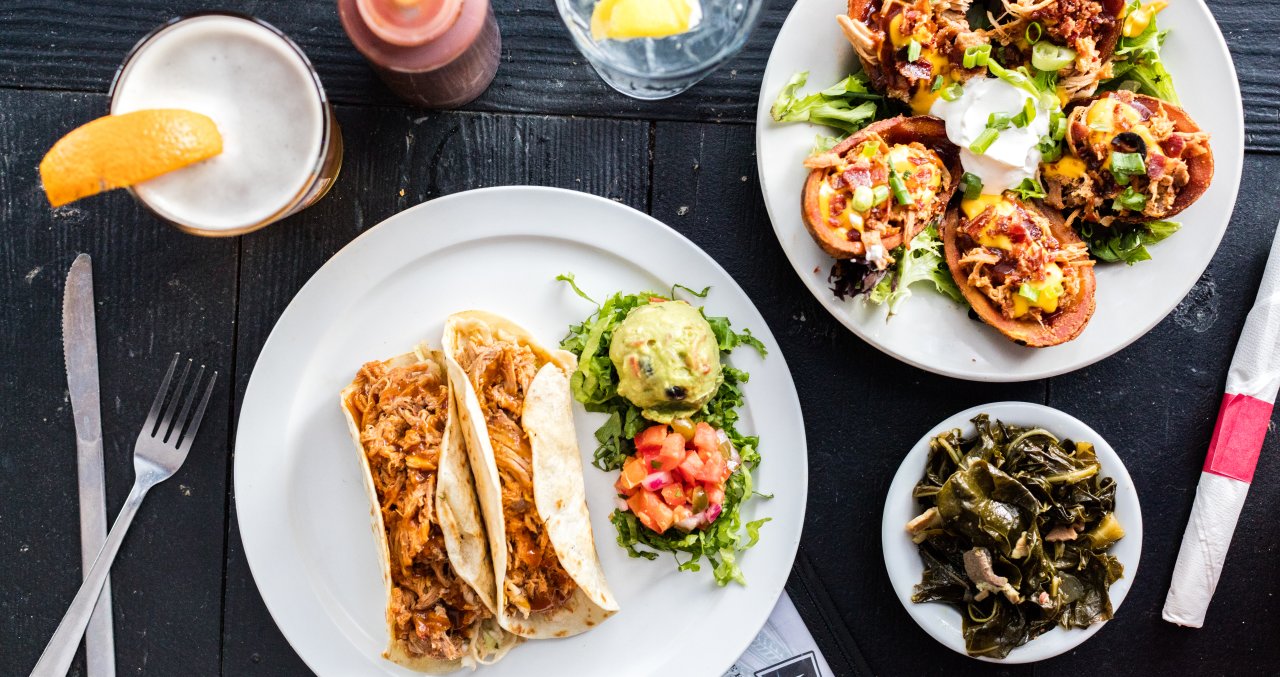 Nothing says Southern hospitality quite like Southern comfort food, and the Raleigh area dishes up some of the best around. Here's the scoop on a few of our favorites—what they are, where to find them and how to eat them!
 
Fried chicken
We're always frying up something in the South, and no Southern-fried favorite is more iconic than fried chicken. Around here, we like our fried chicken golden, crispy, tender and juicy. Mecca Restaurant, Driftwood Southern Kitchen and the State Farmer's Market Restaurant are go-to establishments for this delicious favorite. For a trendy chicken and waffles dish, stop by Beasley's Chicken + Honey, another Ashley Christensen restaurant in downtown Raleigh, or Dame's Chicken & Waffles in Cary.
If your tastes lean toward vegan, don't get your feathers ruffled. The Fiction Kitchen offers tasty, crispy fried "chicken" and waffles with marinated, herb-seasoned and fried mock chicken served on a Belgian waffle. And, for a different twist on a Southern favorite, sample the Korean fried chicken at Soo Café.
Grits
Grits--the popular corn-based dish that's best served with heaps of butter, cheese, salt, tomato gravy, shrimp or anything else your taste buds desire--is perhaps the single most item associated with Southern breakfasts (and we know just where to find some of the best grits to please your palate!).
Whether you're trying grits for the first time or simply looking to start your day off right, stop by Big Ed's City Market Restaurant downtown. Their farm-fresh country breakfasts feature a heaping helping of grits with red eye gravy (or butter, if you prefer). Opened in City Market by "Big Ed" Watkins—who played a role in a number of other go-to breakfast spots including the State Farmer's Market Restaurant in its very early days—this Raleigh mainstay is the real deal, serving down-home Southern recipes Big Ed developed while helping his mother prepare meals back on their family farm.
Another option for great grits is Angie's Restaurant in Garner, where they're serving up Southern-style breakfasts all day.
Think grits are just for breakfast? Think again! Popular grit dishes are popping up on brunch, lunch and dinner menus everywhere. Grab a reservation at the celebrated NOFO @ The Pig in Raleigh's Five Points neighborhood and try the crowd-pleasing shrimp and grits. Housed in a restored Piggly Wiggly grocery store building, this combination café, food market and gift shop not only offers delectable southern fare, but also features an eclectic Southern gift shop and food market. Stop by to put together a custom basket of all your favorite (Southern) things to take home.
 
Biscuits and gravy
When it comes to breaking bread, you'll want to try the supreme bread of the South—the humble biscuit (even better drenched in creamy sausage gravy, a.k.a. sawmill gravy). This Southern comfort food may not be good for your waistline, but it's definitely good for the soul!
With a web address of realbiscuits.com, it's no surprise the State Farmer's Market Restaurant is famous for their homestyle biscuits that come with every meal. Order up a biscuit with sausage gravy from their Famous Real Biscuit menu and walk it off afterwards shopping for produce, plants and other local goods at the adjacent State Farmer's Market (open seven days a week year-round). Or, sample the generously-portioned Southern biscuits and gravy at their younger sister restaurant, Gypsy's Shiny Diner. For adventurous vegans looking to sample a taste of the South, The Fiction Kitchen serves up a savory vegan "soysage" gravy over fresh baked vegan biscuits.
Tip: If sausage gravy is not your jam, these Southern masterpieces go equally as well with butter, jelly, honey or apple butter (a delicious, buttery, creamy, apple-saucy spread).
North Carolina country ham
Behold the country ham—a classic, briny Southern tradition that is aged, smoked, dried and cured to perfection. If you haven't had the pleasure, may we suggest you try it for breakfast with red eye gravy and hot cakes at Big Ed's City Market Restaurant downtown, or as the perfect companion to the warm, flaky, made-from-scratch biscuits at Mecca Restaurant (the oldest restaurant in the city of Raleigh, open since 1930!).
Collard greens
While visiting, you'll want to be sure to eat your greens—collard greens, that is. If you're not already a fan, our tasty suggestions are guaranteed to make you a collard convert. For traditional-style collards, try the fresh greens they're serving up at Driftwood Southern Kitchen, Stanbury and 42nd St. Oyster Bar & Seafood Grill. You may also want to sample the greens at Lucky 32 in Cary or venture over to Fuquay-Varina for a visit to Joyce and Family Restaurant for an all-you-can-eat, Southern-style buffet complete with all the collards you can handle.
Tip: For a true Southern twist, add a splash of apple cider vinegar to your collard greens.
Mac and cheese
This Southern star works equally well as a popular side with a barbecue dinner or as a full entrée. Truth be told, there's probably a higher percentage of cheese than mac in the Raleigh version of this dish, but we guarantee it's 100-percent delicious.
Choose to keep it simple and classic with the mac and cheese side at the iconic Clyde Cooper's BBQ, or indulge yourself with the unforgettable macaroni au gratin at Poole's Diner—the flagship restaurant of passionate mind and award-winning chef Ashley Christensen where more than 15,000 dishes of the gourmet, gooey goodness are served each year. If you're looking for variety, then tempt your taste buds at Relish Craft Kitchen & Bourbon Bar, a local mecca of mac and cheese that touts a full menu of specialty skillets. Try the Southern Mac with pimento cheese and bacon or the Mexican Mac with chorizo and pepper jack cheese.
Fried green tomatoes
Fried "green" tomatoes (FGT)? Yeah, it's a thing. This trendy Southern side dish features unripe tomatoes washed in egg and buttermilk, coated in cornmeal and fried to perfection. Served as an app or tangy entree (sometimes on a burger or sandwich), fried green tomatoes continue to appear on tables across the South—and Raleigh offers some of the best.
Try the amazing FGT apps at The Pit or Tobacco Road Sports Café. You could also sample the BL & Green T sandwich at Relish Craft Kitchen & Bourbon Bar or the Fried Green Tomato & Burrata sandwich with spicy bacon jam at Tupelo Honey. If you're lucky, you might even score an original FGT recipe to take back home.
Barbecue
Here on Tobacco Road, we take our barbecue just as seriously as we take our basketball. Local enthusiasts are fiercely loyal to their BBQ of choice, which essentially comes in two forms—Eastern and Lexington-style. Sitting at a near perfect geographic crossroads between these two camps, Raleigh can be a hotbed of barbecue debate. But no matter which side of the fence you're on, we can all agree on one thing: Sampling this Southern tradition in Raleigh is an absolute must.
Offering legendary BBQ since 1938, Clyde Cooper's BBQ is a beloved, downtown Raleigh institution—and a go-to joint for barbecue at its finest. With a full range of traditional barbecue dishes, their menu offers a ton of flavor with a side of hush puppies and pork skins. Just a few blocks away, The Pit is cooking up whole hogs (Eastern-style), offering a variety of barbecue dishes with a range of sauces and sides and a smorgasbord of barbecue goodness.
Just a short drive away in Fuquay-Varina, Aviator SmokeHouse is serving up backyard barbecue and brews, with pub grub to boot. Their extensive menu boasts inventive sauces including some blazing-hot options to heat up your dining experience.
For even more info on our pigs and 'cues, check out our Guide to Barbecue in Raleigh, N.C.
Chicken pastry
Chicken pastry, chicken and dumplings, chicken slick—call it what you will. This batch of warm deliciousness is the epitome of Southern comfort food and serves as a hearty, satisfying side or meal all on its own. Try it at one of our favorite local hangouts such as Community Deli and Ole Time Barbecue in Raleigh or Carolina Barbecue in Garner. We're sure you'll love every last spoonful.
Carolina-style hamburgers and hot dogs
When in the Raleigh area, don't miss this Southern take on two old favorites—these burgers and dogs come with the unbeatable combination of mustard, chili, onions and slaw (or, as we Southerners like to put it, "all the way").
Sample a delicious, made-to-order burger or a classic Carolina Packer red hot dog at Char Grill (a Raleigh original with six area locations), swing by Community Deli (where you'll find $1 dogs each Wed. that pair perfectly with hand-squeezed lemonade), or roll into one of Cook Out's five locations and order your burgers "Cookout style" for all the classic Carolina fixin's—you can even pair it with one of their 40-plus milkshake flavors for a delicious and decadent combo.
Deviled eggs
Southern-style deviled eggs, a popular hors d'oeuvre that's been making appearances at family reunions, cookouts and parties for generations, are just heavenly! This finger food has even scored its own dedicated dish—the deviled egg tray—plus earned a place on menus across the area.
Try deviled eggs as an appetizer with chili-spiced, hickory-smoked bacon and tomato at the The Oak, or as a simple side with a barbecue dinner at The Q Shack at North Hills. For a walk on the wild side and try the Voodoo deviled eggs at Lucky 32 in Cary.
Pimento cheese
If you haven't tried pimento cheese, you're missing out on one of the best things since sliced bread (and we highly recommend you spread it on a slice). Southerners enjoy this amazing cheese concoction on crackers, in a grilled cheese sandwich, added to deviled eggs, mixed into grits—basically every way from Sunday.
Try a classic grilled pimento and cheese sandwich at Community Deli or kick it up a notch with the grilled pimento cheese with fried green tomatoes and bacon at The Big Easy. Sample this signature specialty at Relish Craft Kitchen & Bourbon Bar with pimento cheese and homemade crackers, pimento cheese fritters with pepper jelly appetizers, or the popular Southern Mac skillet. If you're lucky enough to snag a booth or seat at the bar at the aforementioned Poole's Diner, be sure to check the menu board and order the pimento cheese starter when it's available.
Hush puppies
As Southern specialties go, hush puppies, the casual cousin of cornbread, are certainly a finger-food worthy of tasting. Rumor has it these crispy, bite-sized nuggets get their name from days gone by when cooks would use them to quiet their dogs. That may be an old wives' tale, but one thing's for sure—restaurants all over are serving up orders of them by the basket full.
If you're eating barbecue or seafood in the South, chances are it will come with a side of piping-hot hush puppies. N.C. Seafood Restaurant at the Farmer's Market  and Captain Stanley's Seafood are two local favorites where both the seafood and puppies are on point. Queue up for some local 'cue and a basket full of golden nuggets at Ole Time BBQ, or drop in at Clyde Cooper's BBQ, where you can order your puppies along with a bag of pork rinds.
Sweet potato pie
N.C. is the leading producer of the sweet, satisfying, healthy and versatile sweet potato, so it's no surprise that we've perfected the sweet potato pie.
There's no sweeter spot to try sweet potato pie than Slice Pie Company, whose pie crust earned them a highly-sought blue ribbon award once upon a time at the N.C. State Fair. You can also sample this crowd-pleasing seasonal offering at Beasley's Chicken + Honey, or for a little variety, try a different take on this Southern classic with the sweet potato pie croissant at lucettegrace. Any way you slice it, it's heaven on a plate.
Peach cobbler
Summertime in Raleigh means fresh peach cobbler that's sweet as sugar. As a leading state in peach production, you can go straight to the source at the State Farmer's Market Restaurant, where the peach cobbler is the perfect combination of sweet, tangy fruit, mild spices and a buttery, baked crust. Tip: Go for the daily lunch specials featuring a meat, two vegetables and a complimentary dessert that's downright peachy!
For a French twist on this Southern classic, stop by Saint Jacques French Cuisine in North Raleigh and sample the peach cobbler with lavender ice cream. Oui!
Header image by Keith Isaacs
Comments