Why Raleigh Favorite Whiskey Kitchen Graces the Cover of the New VisitNC Travel Guide
Friday, January 11, 2019, 2pm by visitRaleigh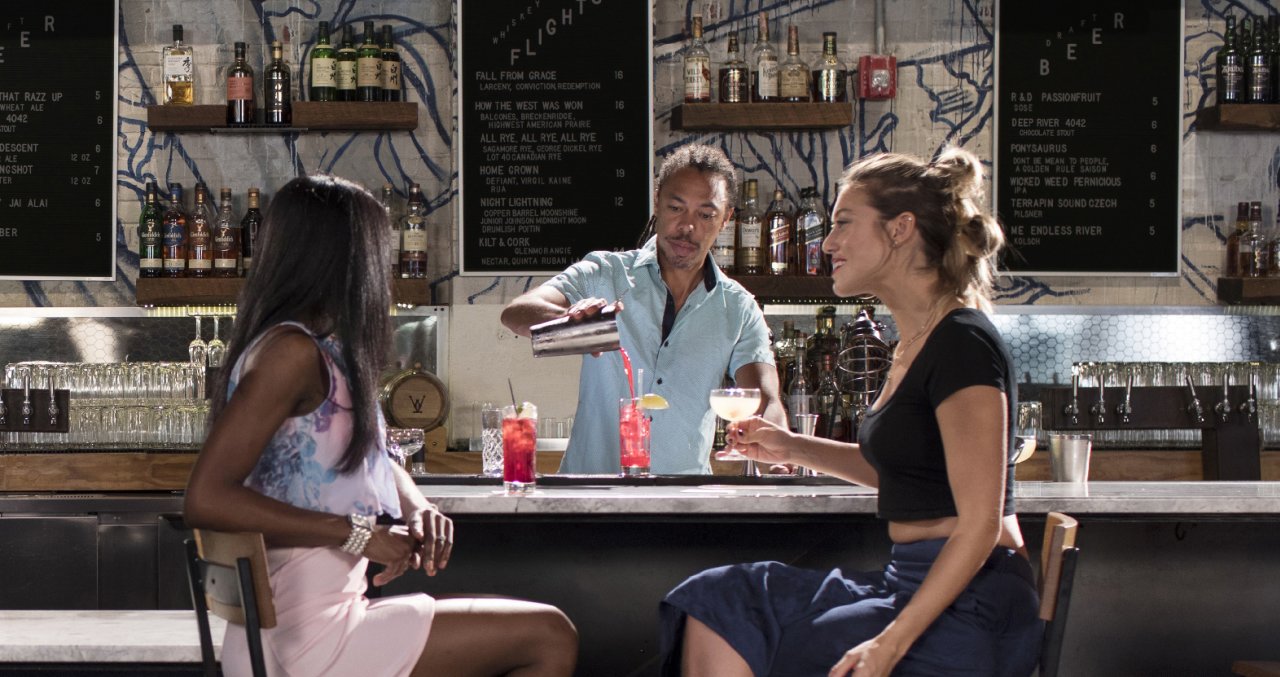 Big news for the City of Oaks! A local-favorite dining and drinking spot in Raleigh, N.C., graces the cover of the newest Official North Carolina Travel Guide.
Opened in 2016, Whiskey Kitchen—a downtown Raleigh bar and restaurant known for its massive selection of whiskey, food menu full of Southern inventions and wildly-popular outdoor patio—has earned the feature spot.
Each year, the Official North Carolina Travel Guide inspires travelers to seek first-time experiences that create enduring memories in destinations across the state. Three different travel guide covers were produced for 2019, with the Piedmont version showcasing Whiskey Kitchen (the two additional covers showcase Green River Adventure in Saluda and the Kitty Hawk Kites 1902 Wright Glider Experience in Nags Head). The guide—of which 500,000 printed copies are made—is produced by Visit North Carolina (VisitNC), the official state tourism office of N.C.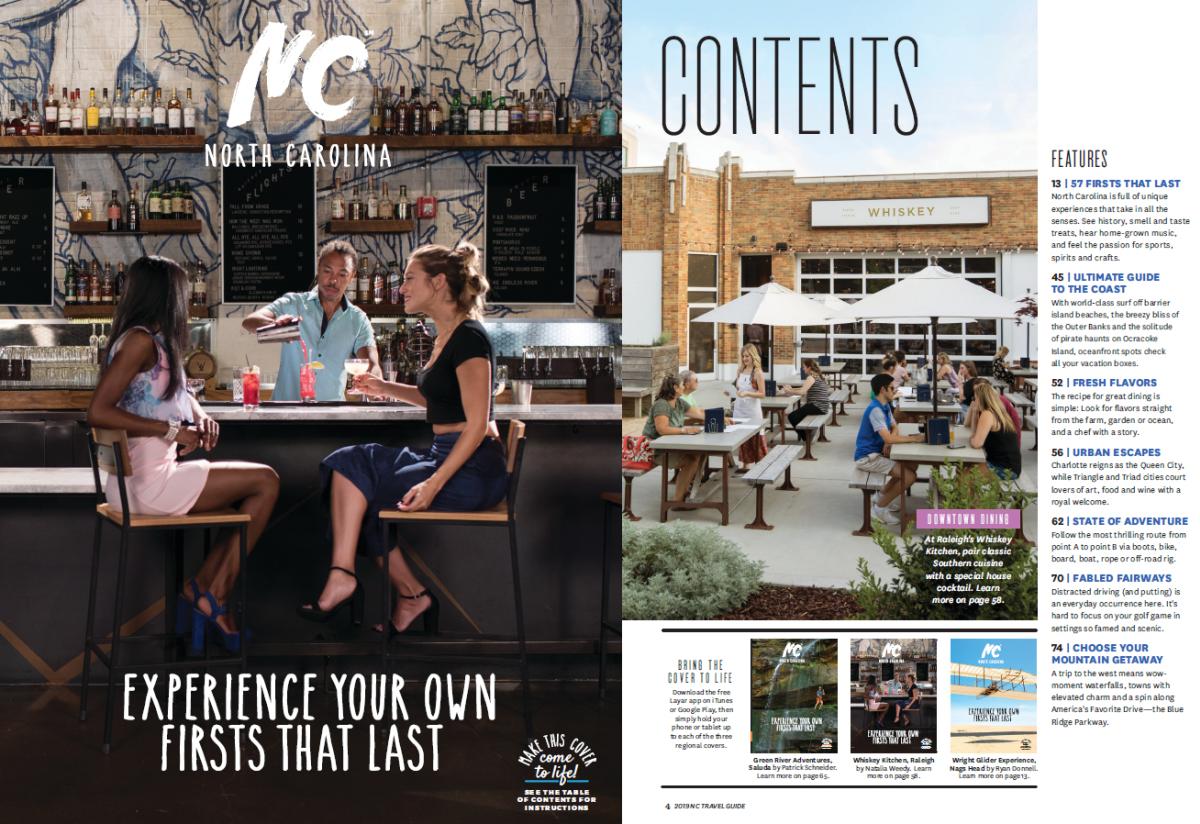 The brainchild of owner/chef Michael Thor and partner Jeff Mickel, Whiskey Kitchen describes itself as "one part neighborhood bar and one part Southern kitchen"—the two come together beautifully like hand in glove. Living up to the name, Thrillist named it the best whiskey bar in the state in 2018.
The space—part industrial, part modern and flooded with natural light—is highlighted by a hand-painted bacchanalian mural that spans the entire length of the bar. And then there's the bar itself, featuring more than 300 whiskies from around the world, including an impressive collection of single malt Scotch and bourbon.
Try one of the craft house cocktails such as The Glasgow Smile, The Botanist or the Beer and Loathing (a bourbon, honey and IPA combo that we'd spring for at any time of the year). Or, have one of their knowledgeable barkeepers make or shake you up a perfect classic cocktail. An Old Fashioned with Four Roses Small Batch, anyone? There's always a variety of new and interesting rotating cocktails, so be sure to ask about their latest concoction. The menu also offers a nice selection of native Carolina-crafted whiskies that draw on our history and apply modern twists to a native spirit.
Craft brew and wine lovers? Don't let the name Whiskey Kitchen fool you. The bar has a generous selection of interesting wines and one-of-a-kind local draft and bottled beers to satisfy the most avid craft brew and vino aficionados out there.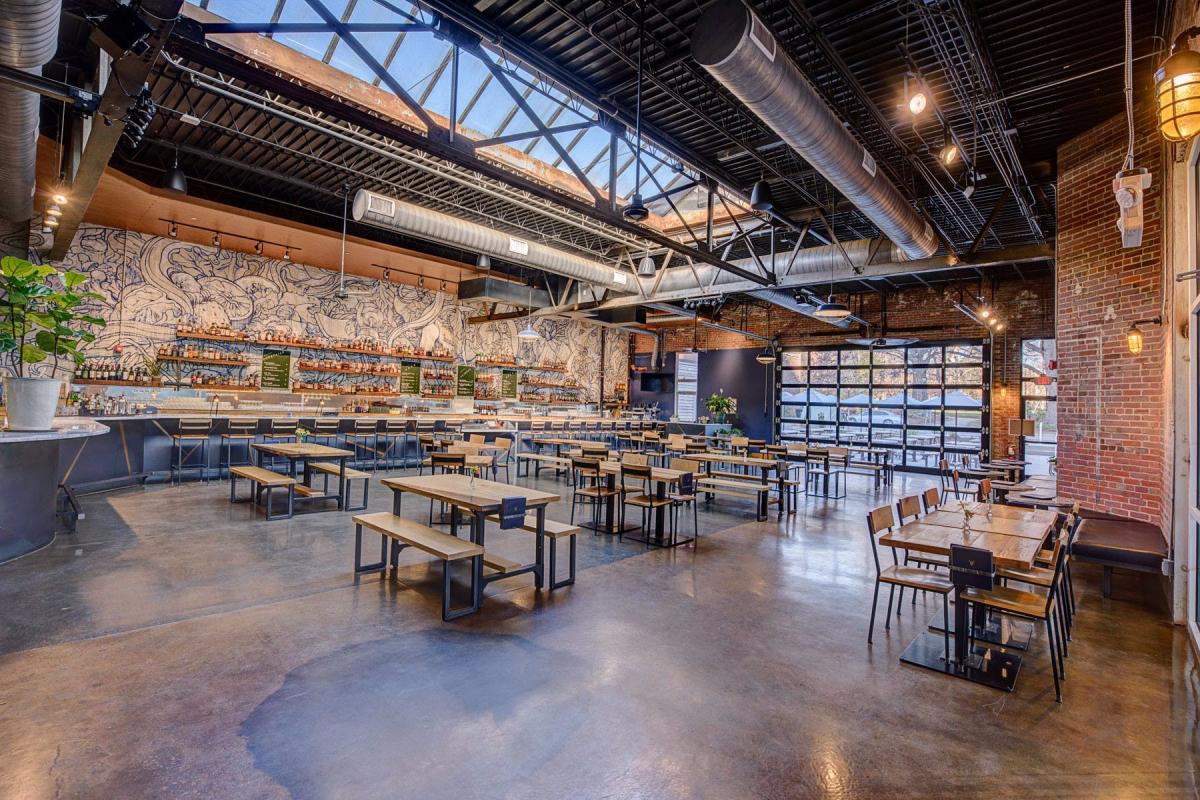 Serving dinner, lunch and brunch, the food selection is highly innovative, loaded with surprises and extraordinarily delicious.
Start with the Local Sausage, the mouth-watering Cornbread or Fried Cauliflower as you sip your favorite libation. A must-have starter to whet your appetite for what's to come? The Cracklin' Biscuits—light, crispy buttermilk biscuits topped with pork cracklin' (unapologetically Southern!).
When you're ready to really dig in, consider the perfectly-spiced Lamb Burger with creamy Shepherd's blend cheese, Vesta aioli, basil and mint. Or, opt for the popular Burgoo Stew that features locally-raised pork shoulder, smoked chicken, sweet potato, lima beans, crispy tater strips and barrel-aged Worcestershire sauce.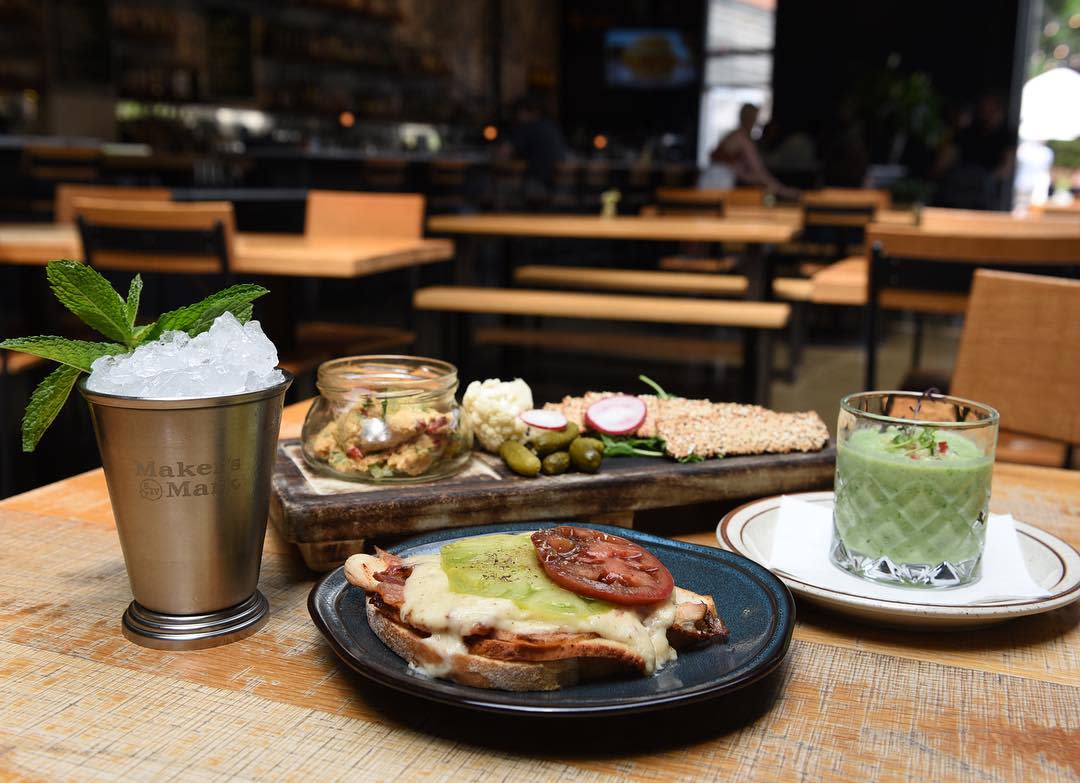 For dessert (if you have room!), there's the Sweet Potato Pie, a delectable take on a Southern classic, a Panna Cotta that features a chocolate mousse from Videri Chocolate Factory and Shoo Fly Pie, a Southern take on a traditional Pennsylvania Dutch recipe made with bourbon caramel. 
A recent visitor noted a sign out front that read, "Welcome to Whiskey Kitchen. Please seat yourself. We got the rest." Those are pretty good instructions for how to approach your visit. Find a nice table inside the airy, industrial-style space, or outside on the beautiful patio (heated during the cooler months!) with a view of leafy Nash Square to enjoy your experience. Then, kick back and let the attentive staff take care of you and your dining companions while you savor the wonderful libations and amazing food.
You can view the Official North Carolina Travel Guide here. For an even better experience, download the AR app Layar (available in the App Store and on Google Play), hold your phone in front of the cover and watch the scene come to life.
You can also get your free, 172-page print edition of the guide at the state's nine Welcome Centers; or order it at VisitNC.com.
Cover photo taken by Natalia Weedy; other photos via Whiskey Kitchen
Comments