Program
Welcome, recognitions and reflections on 2020
Mike Smith
President, Kane Realty Corporation
2021-2022 Chair, Board of Directors
Greater Raleigh Convention and Visitors Bureau

Presentation of John B. Ross Jr. Leadership Award
presented to Mark Doble
CEO, Aviator Brewing Company

Presentation of Thad Eure Jr. Memorial Award
presented to Lynn D. Minges
President and CEO
North Carolina Restaurant and Lodging Association

State of Wake County tourism
Dennis Edwards 
President and CEO, Greater Raleigh CVB

Panel discussion
Moderated by Scott Peacock
Director of Public Relations and International Tourism
Greater Raleigh CVB
Closing remarks
Scott Peacock
---
Panelists
Kevin McAteer, Senior Vice President of Sales and Marketing, Concord Hospitality
For the last 15 years, Kevin has led the topline revenue strategies for Concord, which manages over 140 hotels across 24 states in the U.S. as well as hotels in Canada. Concord is also an active developer, opening several hotels during the pandemic and with 19 hotels currently under construction. Kevin is an active member of several Marriott and Hilton franchise advisory committees. 

Kerry Painter, CVE, CMP, CEM, Director/General Manager, Raleigh Convention & Performing Arts Complex
Kerry is general manager and director of the Raleigh Convention and Performing Arts Complex, which includes Raleigh Convention Center, Duke Energy Center for the Performing Arts, Red Hat Amphitheater and Coastal Credit Union Music Park at Walnut Creek. Previously Kerry was general manager in Tulsa, Okla., where the convention center won the Venue Excellence award in 2017. 

Larry B. Perkins, CVE, CPP, CMP, Vice President and Assistant General Manager, PNC Arena 
Larry is an expert on public assembly, facility and sports management and, at PNC Arena, is responsible for developing facility policies, rules and regulations, budget management, Life Safety, legal and code matters. He is also former president of the International Association of Venue Managers and served 24 years as vice president of guest services and facility operation at the Meadowlands Sports Complex in East Rutherford, N.J.

Angela M. Salamanca, chef and owner, Centro and Gallo Pelón Mezcaleria
Angela Salamanca was born and raised in Bogotá, Colombia, before moving to the U.S. at age 17. She worked in the restaurant industry for seven years before pursuing a degree in art and art history. She returned to the industry in 2007 when she opened Centro, and in 2015, Angela opened her second venture, Gallo Pelón Mezcaleria, both in downtown Raleigh; her latest venture is Ex-Voto Cocina Nixtamal in Durham. Angela has two daughters and two dogs and lives in east Raleigh. 
 
---
Sponsors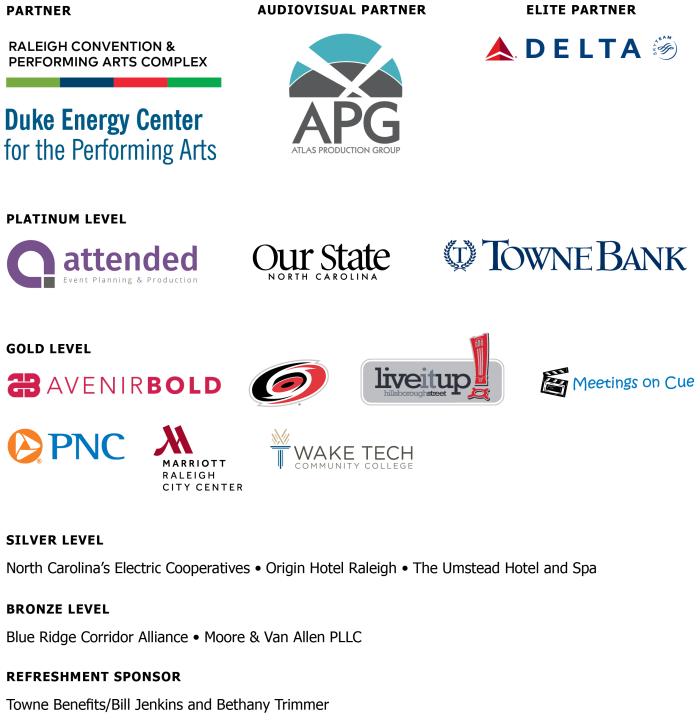 ---
On-screen photo credits:
Alyson Boyer Rode
DVT
Keenan Hairston
John Huisman
Rob Laughter
Eduardo Morán
Garrett Poulos
Triangle Blvd
USA Baseball