Food Halls in Raleigh, N.C.
Raleigh's food scene? It's booming. 
Passionate mind and James Beard Award-winning chef Ashley Christensen was named national Chef of the Year by Eater; Scott Crawford, a five-time James Beard Foundation semifinalist himself, opened his second restaurant in 2019 (Jolie, an intimate French bistro) to much acclaim, and has another coming in 2024; and Maggie Kane's A Place At The Table earned a feature on The TODAY Show thanks to the pay-what-you-can cafe's noble mission to provide the community healthy food for all. 
What else is booming? Food halls. The trend to build massive venues that hold a large number of smaller restaurants—anchoring neighborhoods and shopping centers in urban areas across the U.S.—has officially landed in Raleigh, N.C., with the openings of Morgan Street Food Hall and Transfer Co. Food Hall.
 
Morgan Street Food Hall, the highly-anticipated, multi-vendor food hall located in downtown Raleigh's Warehouse District, opened in summer 2018 to great fanfare (and was voted one of the top 10 best new food halls in the country in Jan. 2019). The repurposed warehouse, measuring 22,000 square feet, provides residents, workers and visitors a unique dining experience from a wide variety of local chefs, restaurateurs and purveyors.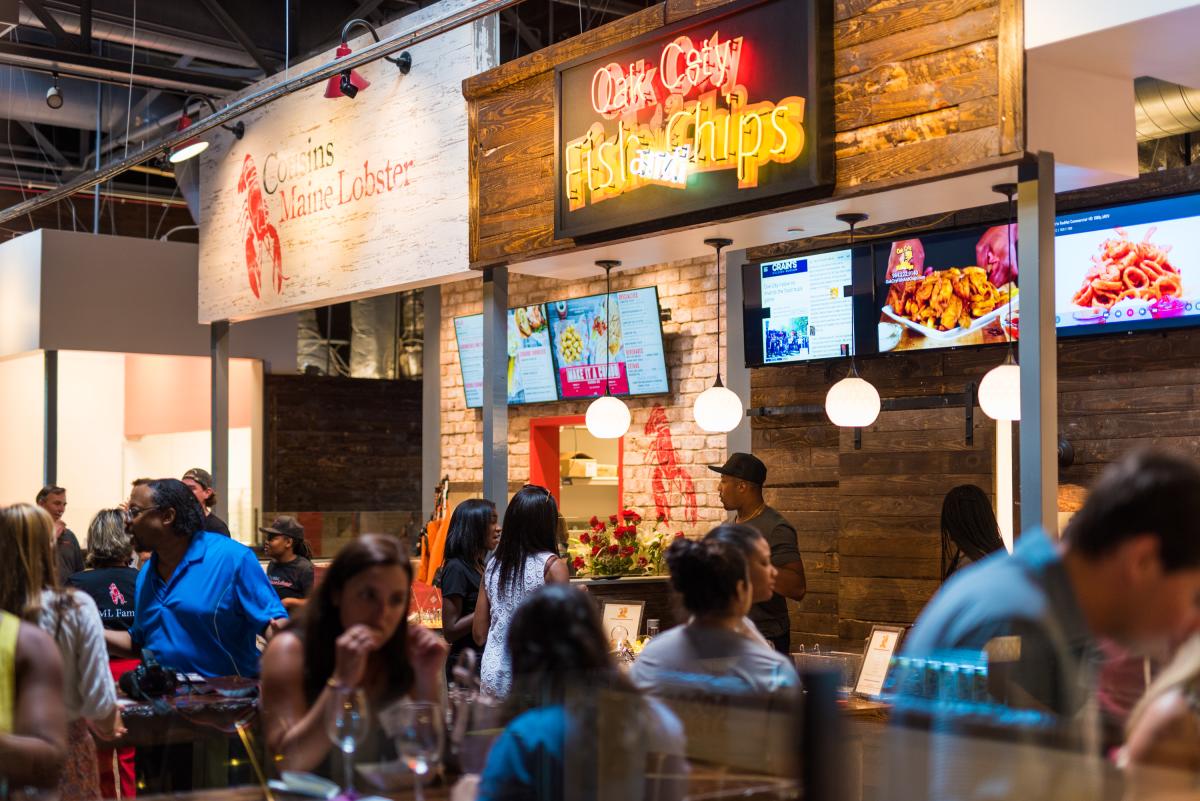 The first of its kind in Raleigh, the space features 20 culinary concepts ensconced in fully-outfitted spaces offering cooked-to-order meals, snacks and specialty foods like crepes, Thai rolled ice cream, bubble tea, lobster rolls, tacos and more, plus specialized retail carts selling packaged food and culinary-related items. The food hall is also home to a massive indoor/outdoor bar, plus a "secret" gin-focused bar—Aunty Betty's—tucked away behind closed doors for a bit more intimacy.
The outdoor space—which has plenty of tables, chairs, bar rails and a gorgeous set of string lights—has proven to be a super-popular hangout spot well into the evenings for family dinners, date nights and groups of friends getting their grub on.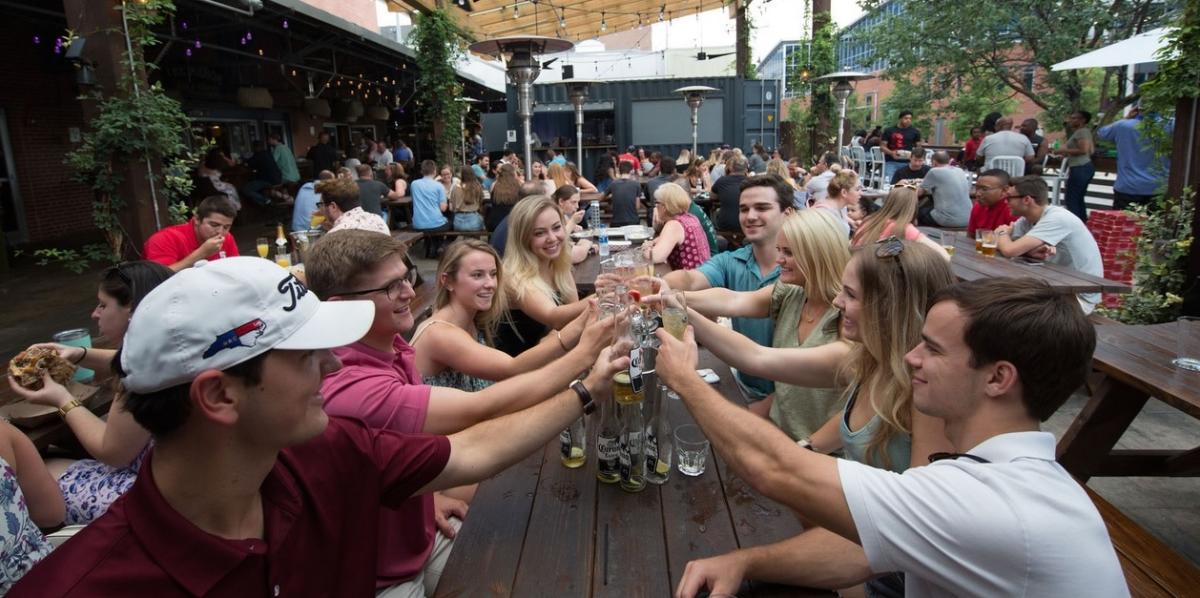 The food vendors at Morgan Street—which include Iyla's Southern Kitchen, an immediate favorite for fried chicken and barbecue; Cow Bar, a new burger concept offering larger-than-life gourmet burgers and fries; and Buena Papa Fry Bar, serving up French fries "con todo" (with EVERYTHING), every tasty topping you could imagine—have you covered from morning to evening. See the full list here. 
The opening is another accomplishment for Niall Hanley, owner of Hibernian Hospitality Group and brainchild behind the food hall as well as some of Raleigh's other boldest eating and drinking establishments, including Raleigh Beer Garden and Watts & Ward.
---
Transfer Co. Food Hall, housed in a 43,000-square-foot renovated warehouse in downtown Raleigh's Olde East neighborhood (just a few minutes on foot from the North Carolina State Capitol), saw its first vendors begin to open to the public in early 2019—it quickly became one of the city's hippest hangout spots from morning to night.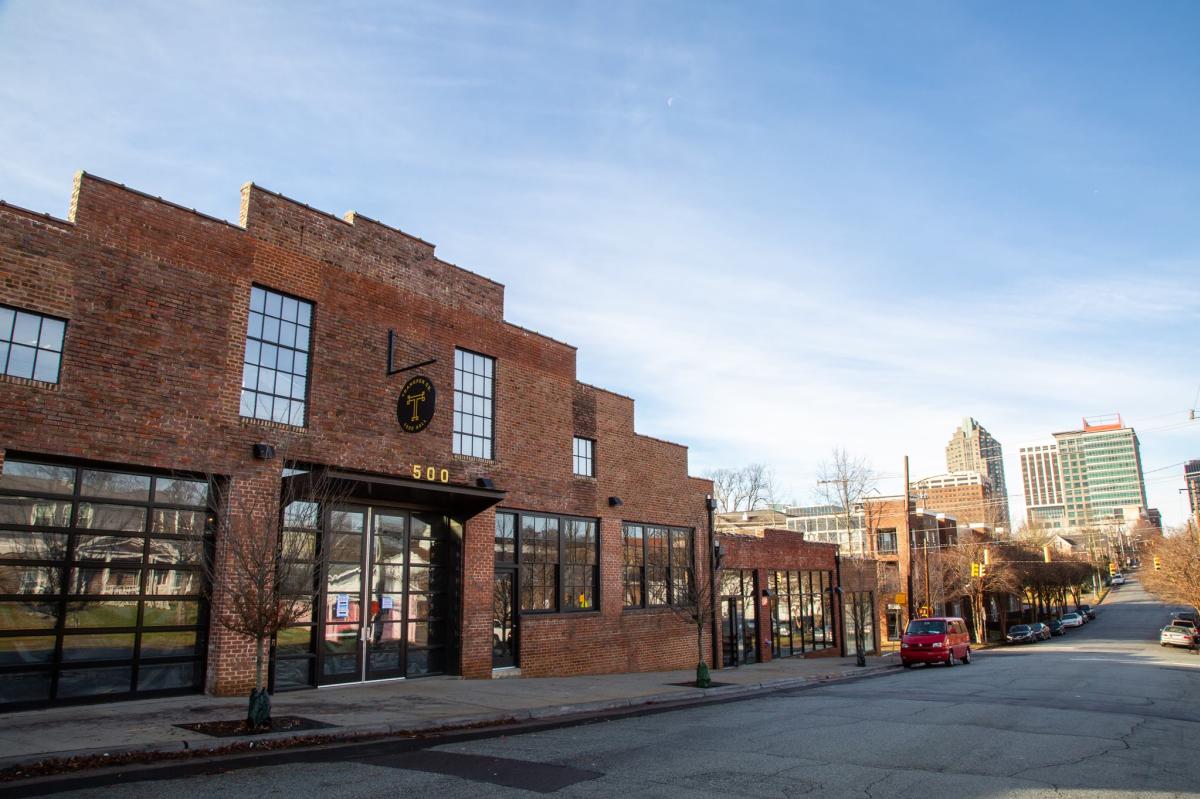 Speaking of morning, Benchwarmers Bagels may well be the most popular breakfast spot in all of Raleigh. Named one of Bon Appétit's 50 Best New Restaurants in America in 2019—and a collaboration between two of Raleigh's most popular coffee and pastry shops (Jubala Coffee and Boulted Bread)—Benchwarmers' wood-fired bagels draw a crowd early and often. 
And at night, Burial Beer Co.—named one of the world's best small breweries by Craft Beer & Brewing magazine—draws eager crowds that fill tables and line up for special beer releases at The Exhibit, a cozy space that's part taproom, part art gallery. 
In between, visitors have their taste buds treated to a variety of flavors from around the world. 
Che Empanadas, a beloved catering business that has been delivering Argentine-style empanadas to customers for years, has opened their first brick-and-mortar restaurant; Bul Box serves noodles, Korean-style meats, dumplings and more—all packed with flavor—to go along with their signature bubble tea options; and Chhote's offers a taste of the Mumbai street-food scene, with a small but varied menu highlighted by chicken tikka masala (yogurt and spice-marinated chicken cooked in creamy tomato sauce) and samosa chaat (spice-flavored potatoes stuffed inside a baked pastry, topped with garbanzo beans, chutney, yogurt and more).
Patio photos of Morgan Street Food Hall and Transfer Co. Food Hall by Brian Strickland