Barbecue in Raleigh, N.C.
Barbecue. Barbeque. Bar-B-Que. BBQ.
No matter how you spell it, we can agree on one thing—with a plate of 'cue in hand, all is right with the world. Barbecue in Raleigh, N.C., is treated a little differently.
We eat it in restaurants, at college-football and NHL-hockey tailgates, in backyards and at church picnics, washed down with a sweet tea or with a beer in hand, surrounded by our family and friends or strangers. Barbecue in N.C. is cooked low and slow and seasoned simply—salt and pepper, then smoke and time does the rest. The details can, and will be, be debated. Drawing influences from across the state, in Raleigh you'll find vinegary, chopped sandwiches, plates of 'cue with a sweet and smoky flavor using a tomato-paste base, whole hogs cooked over wood coals, seasoned shoulders packed into smokers, beer sometimes added to sauces and the occasional gourmet touches.
We hear the question from visitors all the time—which are the best, can't-miss barbecue spots in the Raleigh area? The following spots should get you headed in the right direction, and you can see a full list of places in the listings further down.
 
Clyde Cooper's BBQ                                                           
An institution open since 1938, Clyde Cooper's is one of the oldest restaurants in Raleigh and one of the longest-running barbecue joints in the state. You can't go wrong with a plate of chopped barbecue and fried chicken with some collards on the side. A full meal can be had for well under $10, but Clyde Cooper's BBQ is and always has been cash only—so come hungry, but also come with a little folding money.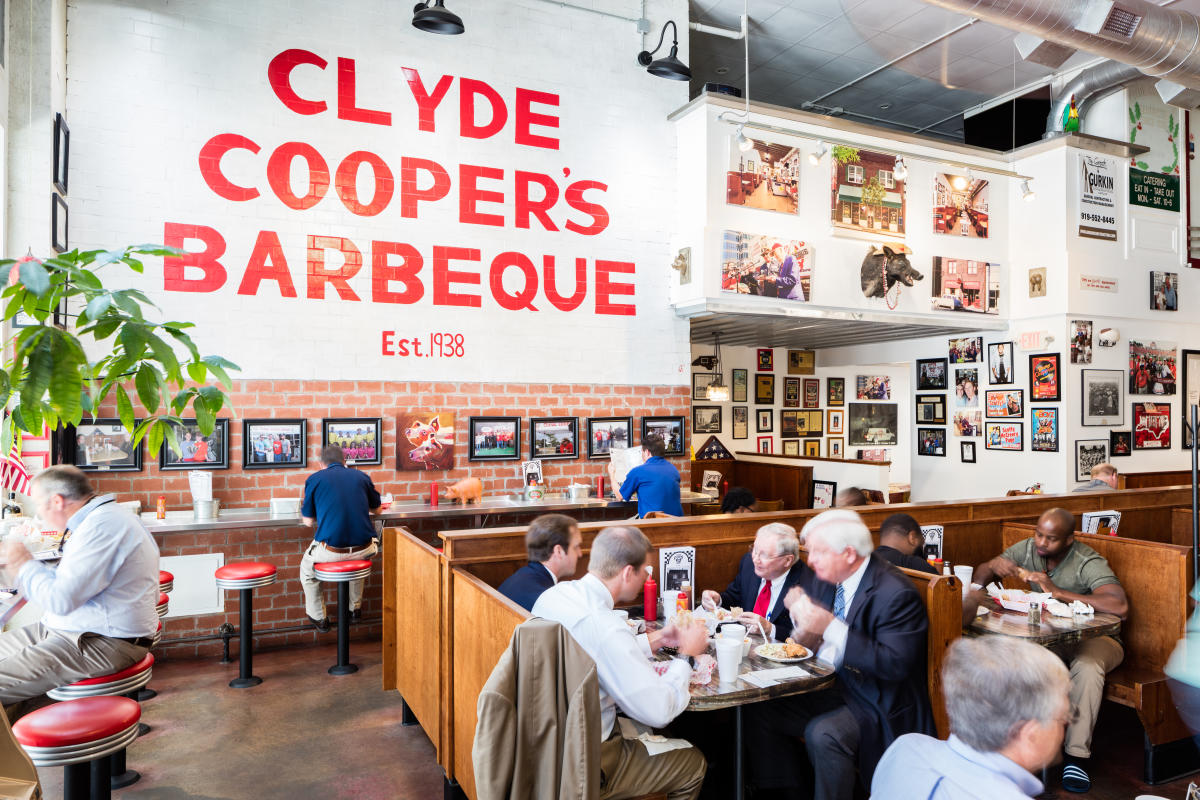 The Pit
The Pit makes no bones about it: this barbecue place serves everything but the squeal. Steeped in Eastern N.C. style, The Pit cooks up a few whole hogs every night and serves them every day, but isn't married to one style—that's evident from the sauces on the table, the Carolina-style ribs and chopped smoked turkey (among other options) on the menu. The Pit is known for adding a gourmet touch to classic sides and offering a higher-than-usual level of barbecue experience.
Prime Barbecue
Prime Barbecue (pictured in header) brings together the flavors of Texas, North Carolina and Kansas City barbecue. Christopher Prieto, a champion pitmaster, self-proclaimed "barbecue nerd" and the mastermind behind Prime Barbecue, opened his first restaurant in Knightdale in early 2020. Expect to find Prieto's award-winning brisket, ribs, pulled pork, sausages, banana pudding and more dotting the menu at this trip-worthy dining stop.
Sam Jones BBQ Raleigh
In early 2021, renowned fourth-generation pitmaster and James Beard Award semifinalist Sam Jones opened the restaurant on Lenoir St. in downtown Raleigh. Jones, known for whole hog barbecue that's served with sweet coleslaw and a generous portion of cornbread, comes from a long line of family that knows Eastern-style barbecue. His family opened the famed Skylight Inn in Ayden, N.C., in 1947, and Jones opened his own restaurant just down the road in Winterville in 2015.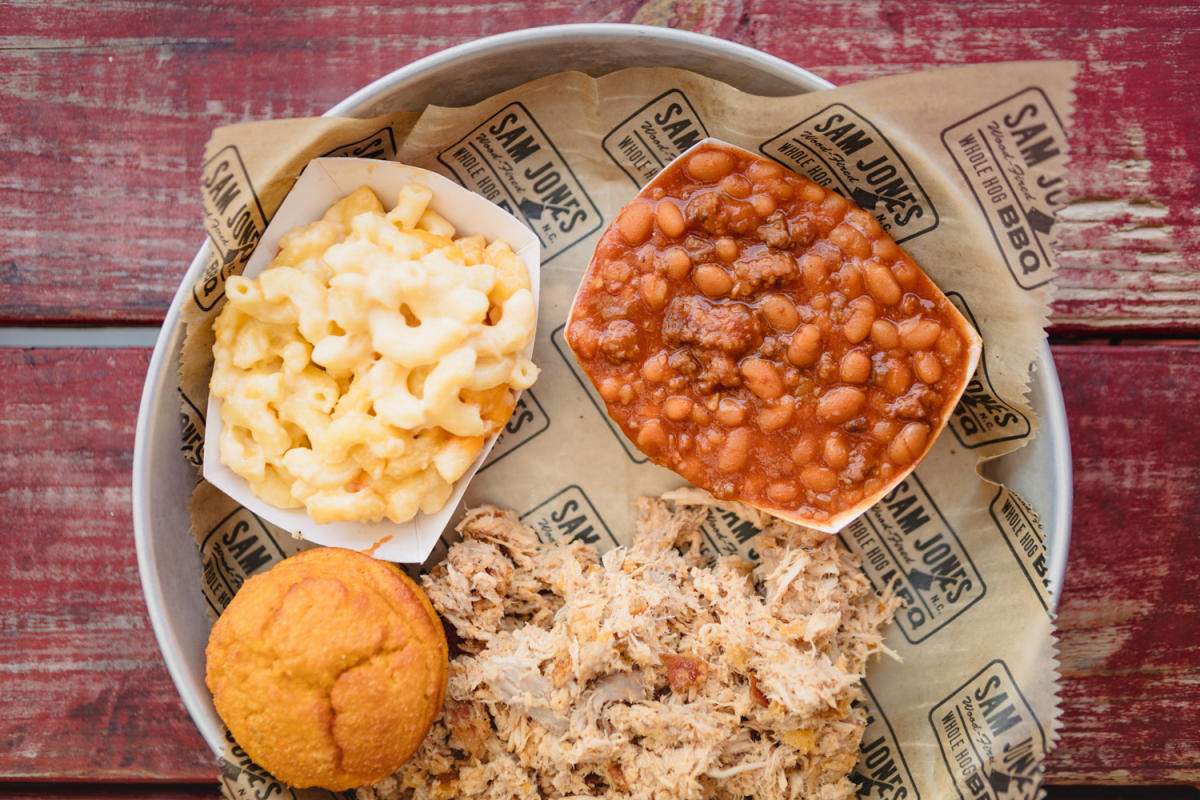 Brew-N-Que
Mike Marcum, also known as Big Mike, has taken all he's learned from running his beloved food truck and turned it into a brick-and-mortar spot that's a hangout as much as it is a restaurant. The chopped pork, chicken 'cue and brisket are perfectly seasoned, expertly smoked and drool-worthy, but Mike's creative flair rules the rest of the menu. House-made pimento cheese, blue cheese slaw, BBQ egg rolls and the Piggy Mac—pork-topped mac-n-cheese that comes with salt-and-vinegar chips and a napkin so you can wipe the tears away (you'll be crying that you can't eat here every day).
Backyard Bistro
Need to watch a game on TV? You can. Want to rub elbows with some North Carolina State University (NCSU) Alumni, an NFL or MLB fan club, a radio personality? This is the spot. Directly across from PNC Arena (home to the NHL's Carolina Hurricanes and NCSU Wolfpack men's basketball team) and Carter-Finley Stadium (where the Wolfpack play home football games), Backyard Bistro's "barbecue is a backyard party" philosophy brings a wide-ranging menu that aims to please.
Aviator SmokeHouse
What do you get when a brewer decides to open a restaurant? A barbecue joint with 20+ beers on tap right across the street from the Taphouse. A mix of barbecue and pub grub—which means everything goes with the beer—SmokeHouse in Fuquay-Varina dishes up barbecue (whole hog, ribs, brisket, smoked chicken and more), onion rings, a mountainous plate of nachos (topped with chicken or barbecue, naturally), loaded tater tots and deep-fried wings.