What's New in Raleigh, N.C.
The Raleigh area is booming with new visitor experiences, making for great story ideas. Get the rundown on new hotels, culinary and nightlife, noteworthy attractions and more.
Accommodation news
New hotels
Heights House Hotel
This historic pre-Civil War-era mansion in downtown Raleigh has been completely renovated and revitalized into a boutique hotel. Named for its location within Raleigh's historic Boylan Heights neighborhood, the 10,000-square-foot, 1858 Italianate-style mansion features nine ensuite guest rooms that have been lovingly restored, 15-foot ceilings and original hardwood floors throughout the space, a total of 10 cozy fireplaces and grand common spaces crafted with immaculate detail and decorated with modern and vintage touches. The indoor/outdoor space is also available for private events for up to 120 guests. This National Historic Landmark is one of the few remaining pre-civil war houses in the area and opened in May 2021.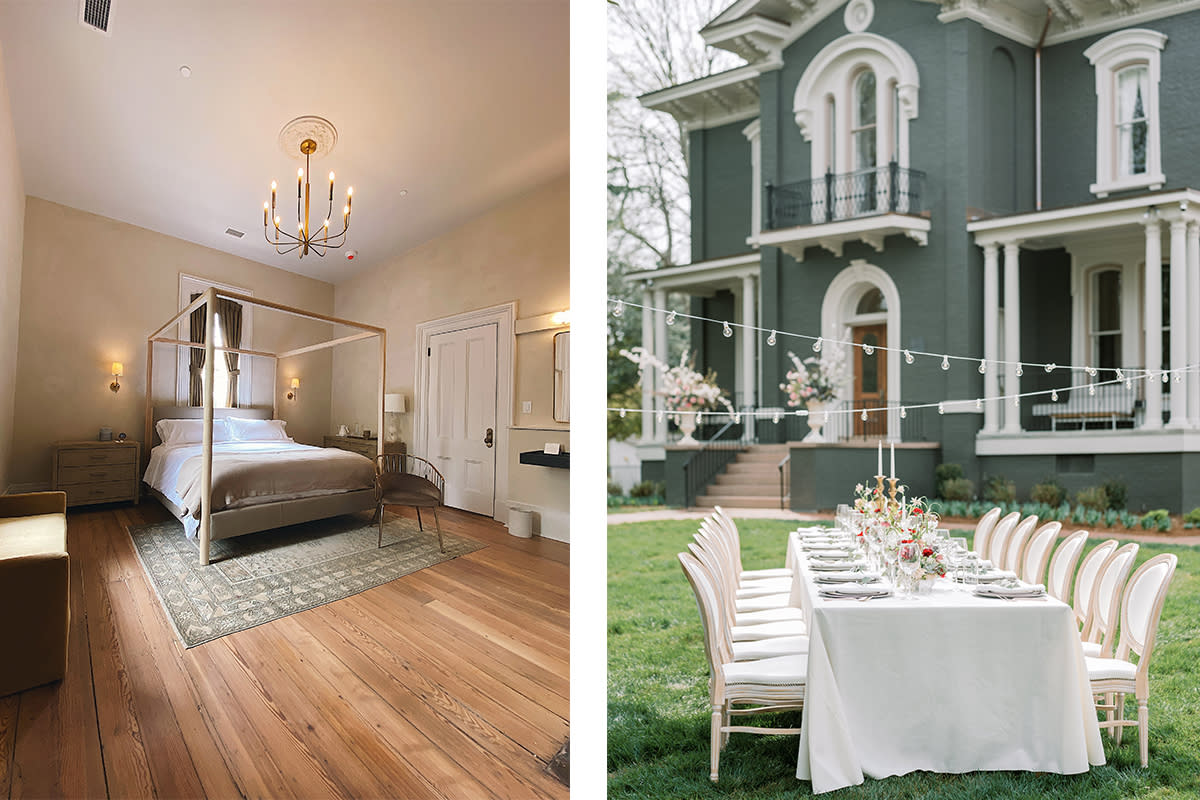 AC Hotel Raleigh Downtown
A thoughtfully designed hotel that blends its European soul with a Southern perspective for those who prefer a sophisticated, yet less complicated, travel experience. AC Hotel Raleigh Downtown adds its harmonious point-of-view to the City of Oaks with sophisticated European-inspired design to reflect the uniqueness and character of its urban location. The 146 elegantly designed, fully equipped guest rooms are perfect for the business and leisure traveler. The property also includes a 7th floor rooftop bar/outdoor terrace serving specialty cocktails, local craft beer and an elevated dining experience with stunning views of the downtown Raleigh skyline. Opened in late-September 2021.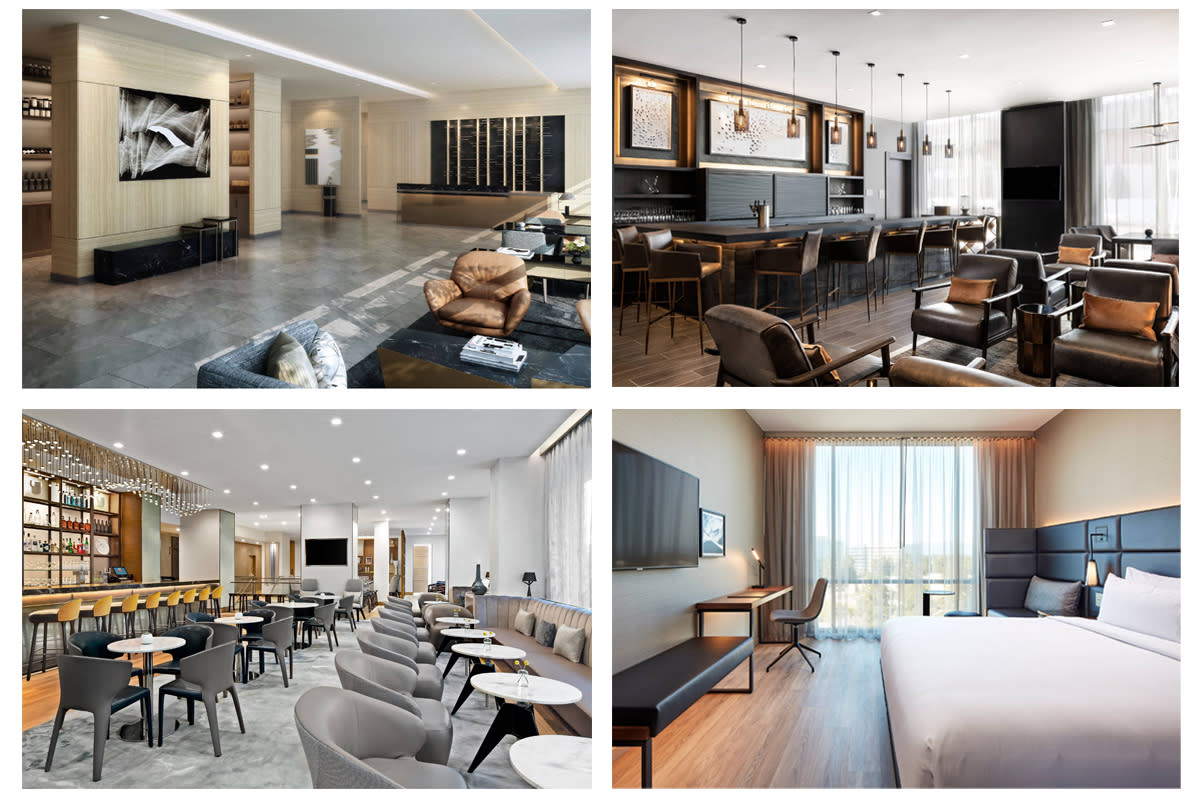 The Umstead Hotel and Spa
A Five Star and Five Diamond, independently owned hotel drawing inspiration from art and nature. The property features stunning interiors punctuated with privately curated fine art, 150 spacious guest rooms and suites, world-class cuisine, a stimulating spa and a serene woodland setting. The property has recently undergone a $14 million renovation. In spring 2020, all 150 guest rooms were updated with new furnishings, textiles and lighting, a brand-new private nursing room was added for mothers and the public restrooms were upgraded. The bar and lounge were renovated in fall 2020. The hotel's award-winning restaurant Herons also underwent renovations at the end of 2020.
Coming soon
The Gables is an old motor lodge in downtown Raleigh that's being renovated into a boutique motel by Raleigh native and Grammy-nominated folk singer Tift Merrit and Daniel Robinson (who developed the Durham Hotel). It's currently under construction and will have 19 guest rooms and a lounge.
Culinary and nightlife
The Parlor at Heights House
The Parlor at Heights House has a meticulously curated menu composed of Italian influenced craft cocktails, an all-Italian wine list and local beers – all in an effort to reflect and honor the Italianate style of this 1858 historic mansion. Charcuterie plates are also available. Upon arrival, Heights House Hotel welcomes guests to enter through the main entrance and order from the bar in the Parlor, and then explore this historic home's common spaces – including the parlor, drawing room, dining room, library and lower lounge – as well the two front terraces and fire pit on the front lawn for seating.
Bendito
A modern approach to traditional Puerto Rican cuisine and island-influenced craft beverage program, inspired by family recipes and led by local chef Kevin Ruiz.
Cheeni Indian Food Emporium
Cheeni serves classic tiffin, the Indian word for "snacks", such as filter coffee imported from India, masala chai reminiscent of bustling street stalls and Indian Street Style toast, more commonly known as "chili cheese toast". ​Puffs, made for vegans and meat-eaters alike, are served daily. Daal chawal, or Indian lentils and rice, is often offered as a quick, on-the-go meal. In addition to tiffin, American grab-and-go is also available, with options such as açaí bowls, a toast bar, soup du jour, smoothies and sugar and spice cookies.
Bright Spot Donuts
A donut and coffee shop, from the same team behind Benchwarmers Bagels (named one of America's best new restaurants in 2019 by Bon Appétit), in Raleigh's Five Points neighborhood. With a strong reverence for North Carolina classics like Krispy Kreme, the coast's Britt's Donuts and the sourdough version from Asheville's Hole Doughnuts, Bright Spot has brought to life The Carolina Doughnut.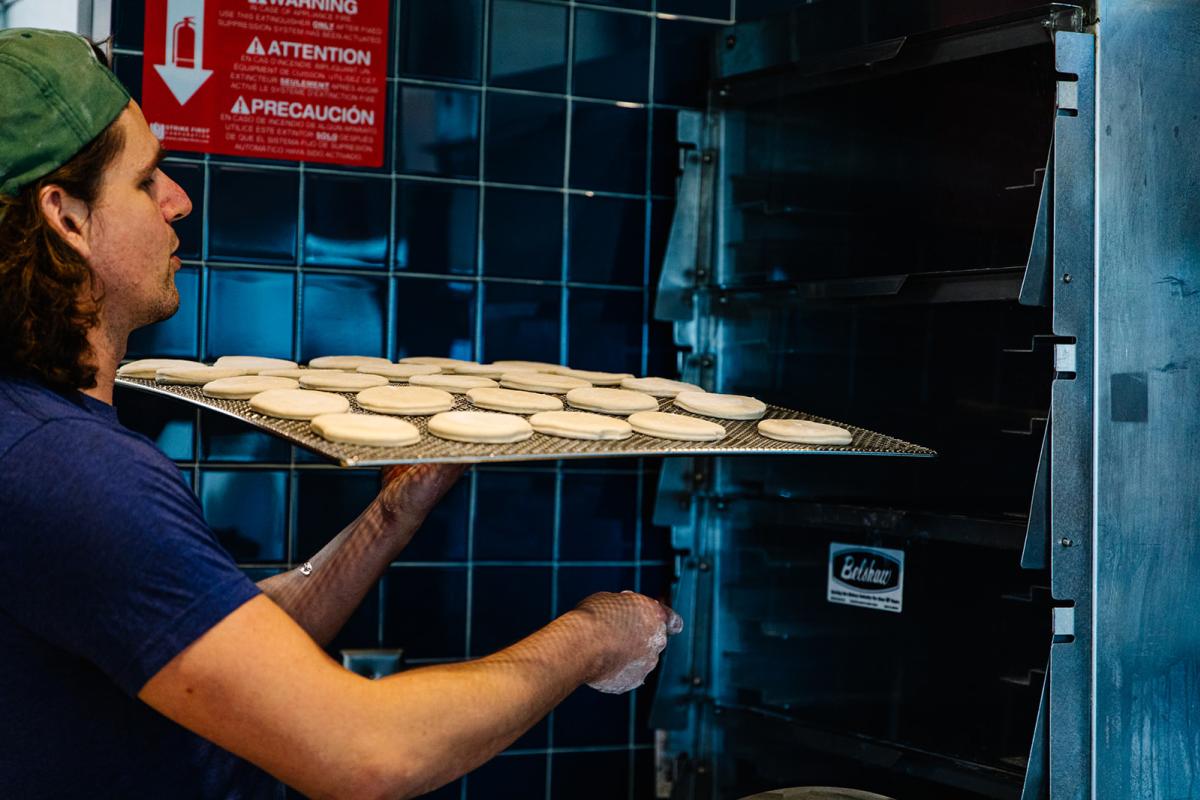 Fine Folk
Born out of the Gov't Cheeseburger pop-up shop that opened during the pandemic, Gateway Plaza is now home to Christopher Lopez's first restaurant, Fine Folk, which offers a creative menu and laid-back wine bar.
A'Verde Cocina and Tequila Library
Katsuji Tanabe—a renowned chef and three-time alum of Bravo TV's hit competition series Top Chef—has opened restaurants stretching from Los Angeles and Las Vegas to Chicago and New York City. Tanabe relocated to Raleigh in late 2019, right before the pandemic shut down restaurants. A'Verde Cocina and Tequila Library pays homage to Tanabe's roots in Mexico City while featuring ingredients found local to the Raleigh area. A menu that offers a variety of the chef's favorite dishes, from cornbread and refried beans to pork shanks, octopus tacos and vegetable-forward offerings, A'Verde is now open in Cary.

Craften Food Knightdale
A reimagined food hall experience that brings neighborhood hospitality in a convenient, restaurant-like atmosphere. Part craft cocktails, part craft kitchens and 100% a space for all to enjoy. Initial vendors include Poblanos Tacos, Fiori Trattoria, The Corner Venezuelan and Finca Burger. This food hall for all opened in Knightdale in February 2022.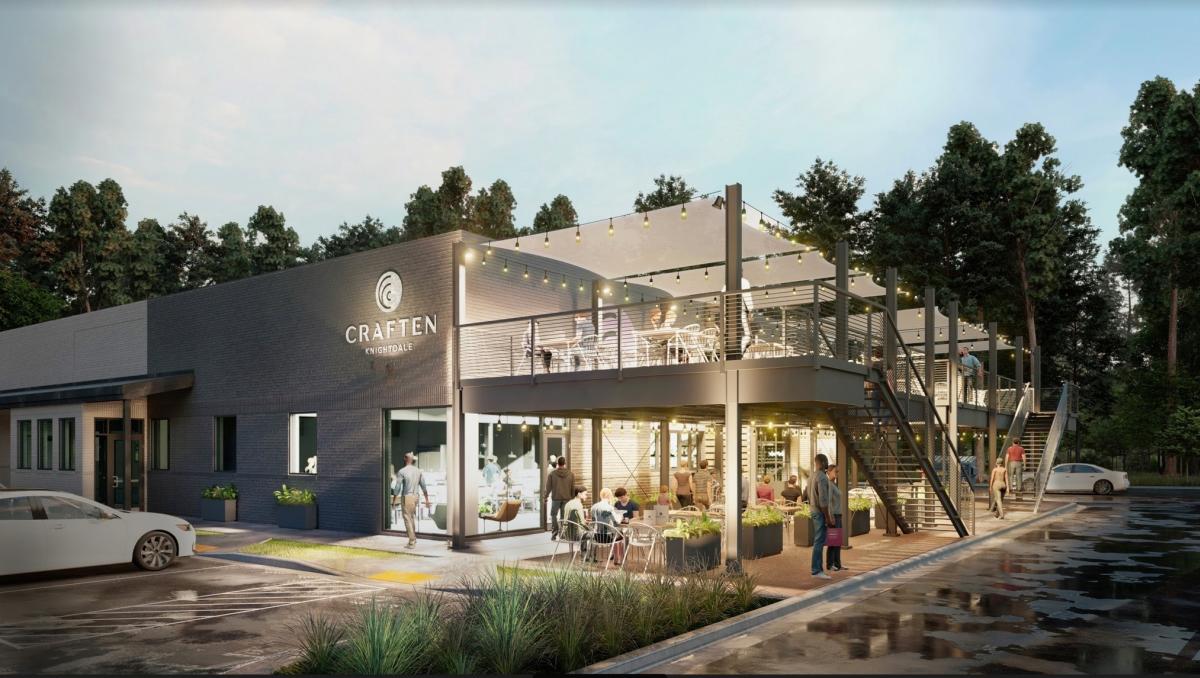 BB's Crispy Chicken
Chef Ashley Christensen—operator of five downtown Raleigh eating and drinking spots and named America's best chef by the James Beard Foundation in 2019—has an exciting new fast-casual project raising the bar for the culinary scene in Raleigh. This time the focus is on that iconic Southern comfort food—fried chicken. Christensen has perfected a new recipe that strikes a balance between a delightfully crunchy exterior and a juicy, tender interior. She says that contrast plus the right seasoning and quality ingredients are what make good fried chicken great. The Raleigh location opened its doors in the new Midtown East Shopping Center just off Wake Forest Rd. in late-2021, and a Cary location is expected to open in 2022.
Young Hearts Distilling
Downtown Raleigh's first distillery and restaurant has come to life from the owners of Raleigh's beloved Trophy Brewing Company. Young Hearts offers a variety of liquors, tasty bites, rooftop patio, event space and more. The menu focuses on local producers and botanical-forward spirits to provide a sense of place and season in North Carolina. With a focus on ethically and locally sourced ingredients the menu provides guests with a mix of small plates, salads and larger entrees as well as several vegan and gluten free options. Currently offering their own gin, vodka amaro and other small-batch liquors.
(ish) Delicatessen
In the works for five years now, (ish) Delicatessen is Matt Fern's sandwich shop opened this summer in downtown Raleigh. Here's the word from Fern himself, a longtime veteran of the food and beverage scene in the City of Oaks: "If you crave the tastes of Jewish, Russian, American, Italian or just about anything between two slices of bread, then your new favorite sandwich joint is here. We know you are going to love it, and can't wait to share our food with you."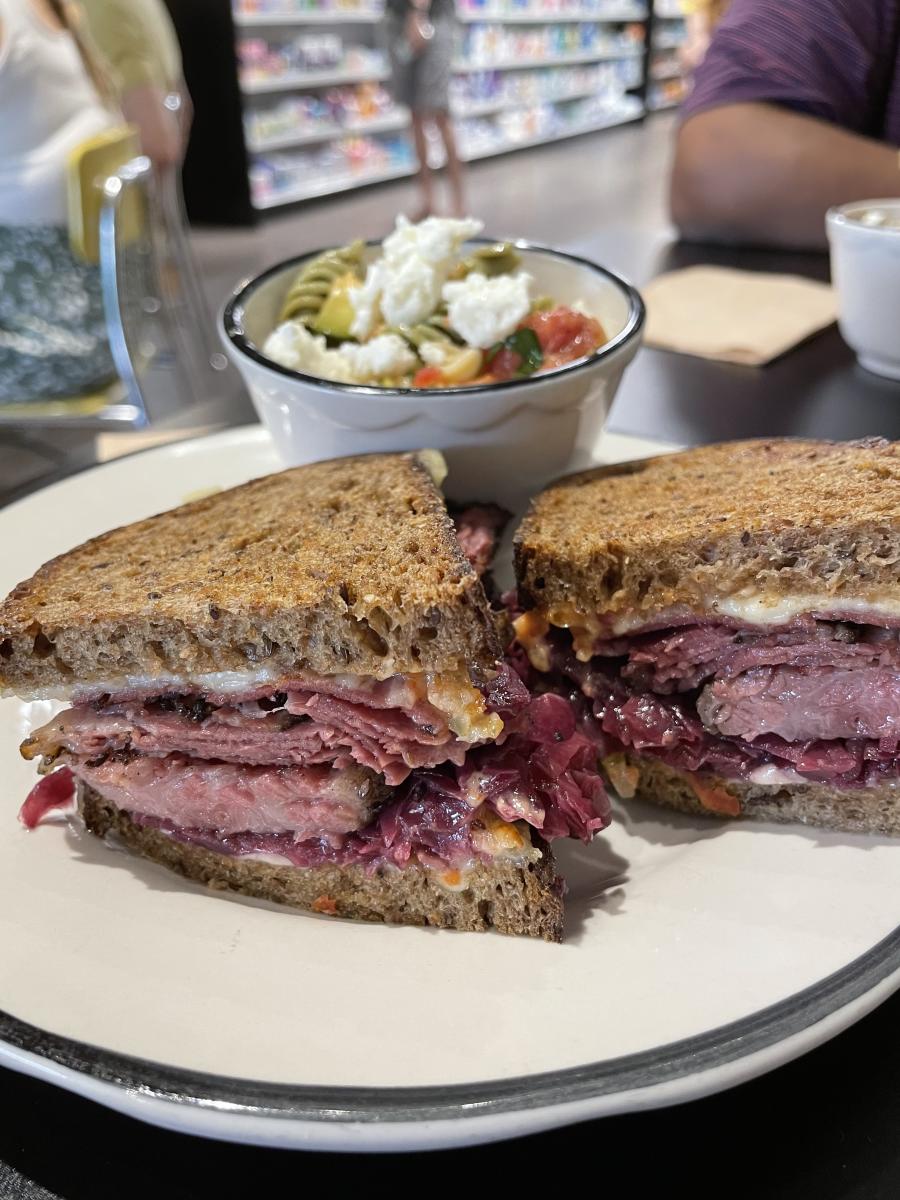 The Merchant
A relaxed speakeasy with an eclectic menu that intertwines the old of the historic Merchants Association building with new, interactive cocktails.
The Ark Royal
Glenwood South's newest tiki bar and lounge. Sip on exotic cocktails that taste like mini-vacations in a glass. Ark Royal's name comes from an old ship commissioned by Sir Walter Raleigh in 1586 in ode to exploration, adventure and discovery.
Hank's Downtown Dive
A drink, a bite and a good time! This new downtown Cary hangout—from the same owner as the popular cocktail spot Sidebar just down the block—is a modern take on a classic dive (plus a dash of vintage vibes, to be sure), with a food menu that turns up a little unexpected (grilled octopus, a gluten-free chicken sandwich, N.C.-raised ribeye and more) and a bar offering that equally suits the after-work and weekend dinner crowds.
Element Gastropub
Chef Lelia Kidd's new plant-based gastropub concept sits right in the heart of downtown Raleigh's Fayetteville St. The fully vegan menu makes no compromises—you'll find buffalo chicken sandwiches, crispy wings, BBQ nachos, smash burgers and more (all with the appropriate substitutes) to go along with an extensive beer and cocktail menu.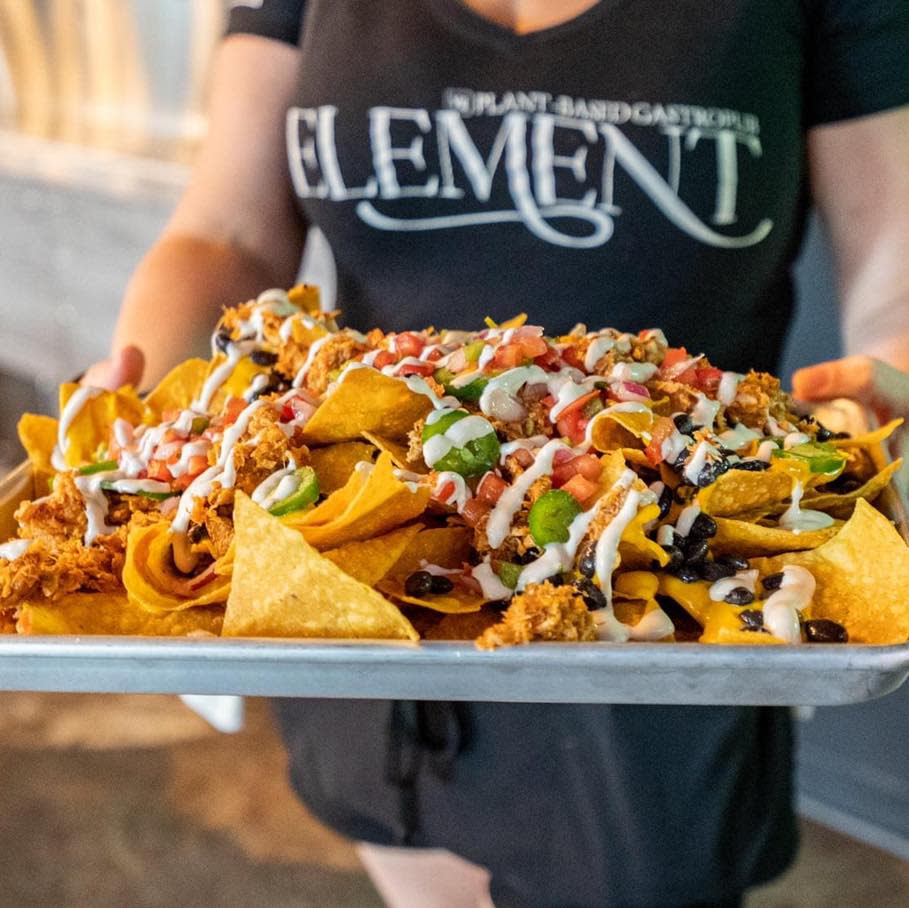 Sam Jones BBQ
Rooted in the tradition of North Carolina whole-hog barbecue that third-generation pitmaster and James Beard Award semifinalist Sam Jones has known his entire life. Since his teenage years, Sam worked with his family's acclaimed barbecue mecca, Skylight Inn, before deciding to open his own business, in partnership with Michael Letchworth, in Winterville, N.C., in 2015. Chopped barbecue is king at Sam Jones BBQ, made from whole-hog smoked over Carolina oak. Other menu highlights include tried-and-true Southern staples at their finest, such as slow-cooked chicken, spare ribs, pork skins and pimento cheese, sweet slaw, baked beans, hand-cut fries, collard greens and more. Sam has now opened the second location of Sam Jones BBQ in downtown Raleigh.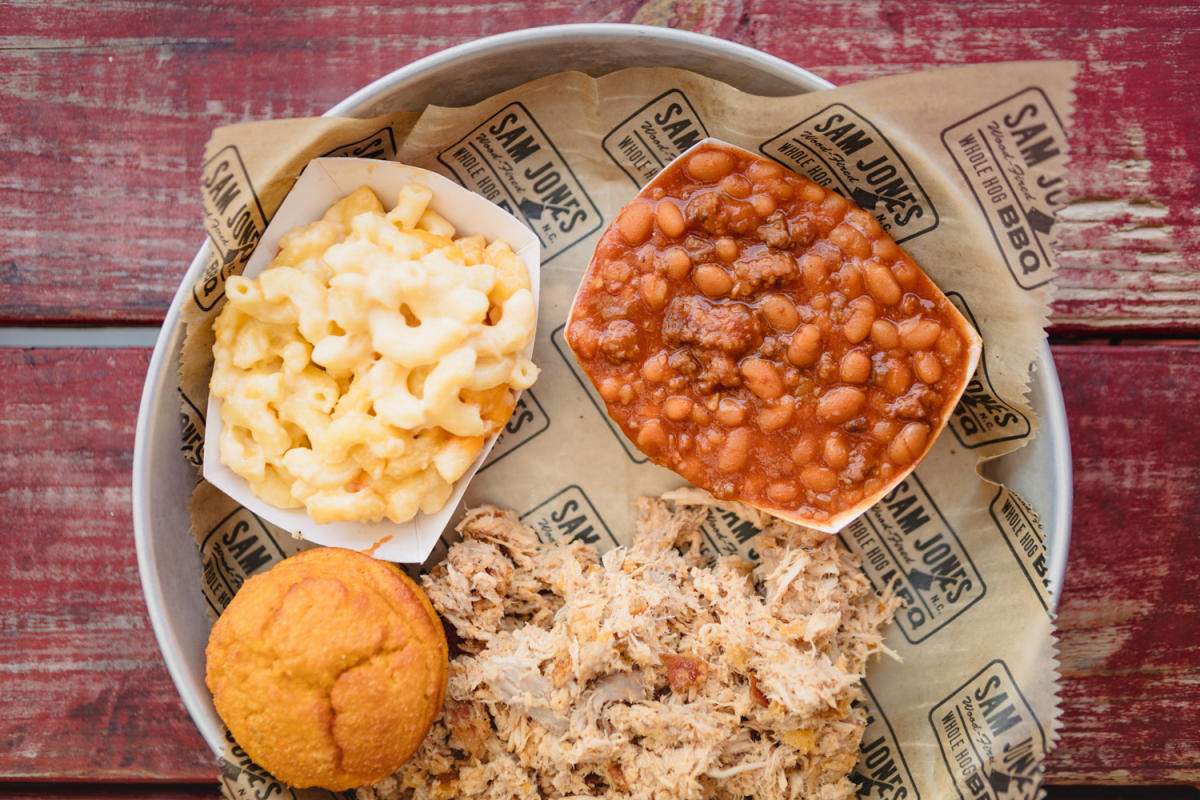 Di Fara Pizza Tavern
A spin-off and the first East Coast location outside of New York City of the famous Di Farra Pizza in Brooklyn. Opened in 1965, The New Yorker, The New York Times, Zagat and the late chef Anthony Bourdain have all called the original Di Fara the best pizza in New York. It may not be Brooklyn, but this downtown Cary pizzeria serves the same family-style, mouth-watering pizza as the original.
Standard Beer and Food
The creators behind Cary's beloved Bond Brothers Beer Company and beer pop-up Ancillary Fermentation have revitalized the former Standard Foods space in the Person Street neighborhood to open Standard Beer and Food. The new space focuses on pub-style beers with culinary inspiration. The cozy indoor space and outside yard emphasize synergy between beer, food, people and the space.
 
Coming soon
Giorgios Hospitality Group
Giorgios Bakatsias, one of North Carolina's most prolific restaurateurs and James Beard Foundation nominee for Outstanding Restauranteur, is brining three new concepts to the Raleigh area in 2022:​
Las Ramblas: A Spanish tapas bar named for the famed "Las Ramblas" boulevard in Barcelona, Spain where the restaurants, cafes and markets contribute to one of Europe's most vibrant and delicious destinations.
Giorgio Pizza Bar: Pizzeria and bar serving signature crispy, thin crust sourdough pizzas, as well as a variety of other pizza styles, plus seasonal vegetable side dishes and hand made pasta specials, alongside Italian wines and craft cocktails.
East End Bistrot: This French steakhouse with a strong house butcher program will boast an extensive local raw bar and seafood program, exquisite vegetable dishes, a deep wine cellar and classic cocktails, as well as a private club. Located in the newly constructed East End Market.
Cut & Gather
A new wood-fired, Southern-style cuisine concept from celebrity chef Kenny Gilbert. The Top Chef alum has a coming-soon shop in the Wakefield neighborhood in North Raleigh in early 2021. Gilbert envisions a venue that's homey and inviting like a warm hug. An emphasis on family-style dining and fellowship will add to that feeling as well. When it comes to food, the Southern-style cuisine menu will include barbecue, seafood, grilled meats and Southern sides among other delicious offerings. Cut & Gather plans to serve lunch, dinner and weekend brunch.
Year of BBQ
With a plate of barbecue in hand, all is right with the world. Pitmasters across the state are converging on Raleigh to make it the BBQ Capital of N.C. Longleaf Swine is graduating from food truck to brick-and-mortar in downtown Raleigh's historic Oakwood neighborhood in mid-2022. Redneck BBQ Lab (from Johnston County) will open another location called The BBQ Lab in North Hills in spring 2022. Midwood Smokehouse, a popular Charlotte-based barbecue restaurant (with a bit of Tex-Mex influence) arrives in Raleigh's Smokey Hollow district this year.
Recently opened: Third-generation pitmaster and James Beard semifinalist Sam Jones' newest namesake restaurant, Sam Jones BBQ, in downtown Raleigh. Champion pitmaster Christopher Prieto's Prime Barbecue in Knightdale and Shady's, a barbecue bar, in Garner. 
Noteworthy attractions
There's no shortage of ways to find peaceful escapes in order to explore the outdoors in the City of Oaks. Use any of the Raleigh area's 180 miles of greenways—many of them connecting to attractions and letting you travel all over the destination—or numerous other miles of trails traversing through parks, and you'll find runners getting in workouts, cyclists out for leisurely rides, parents pushing strollers and people of all ages soaking up the fresh air. Check out the destination's Top 10 Sports & Outdoors Experiences!
Moore Square Renovation
One of four public spaces that was designated by the founders of Raleigh in 1792, downtown Raleigh's Moore Square completed a new master plan that closed the area for approximately one year while the construction was in progress. The $12.5 million renovation included landscaping, construction of a small cafe (Square Burger), a concert area, a water feature and more. Ground broke on the renovation in early Nov. 2017, and the Grand Opening Celebration took place on Aug. 3, 2019.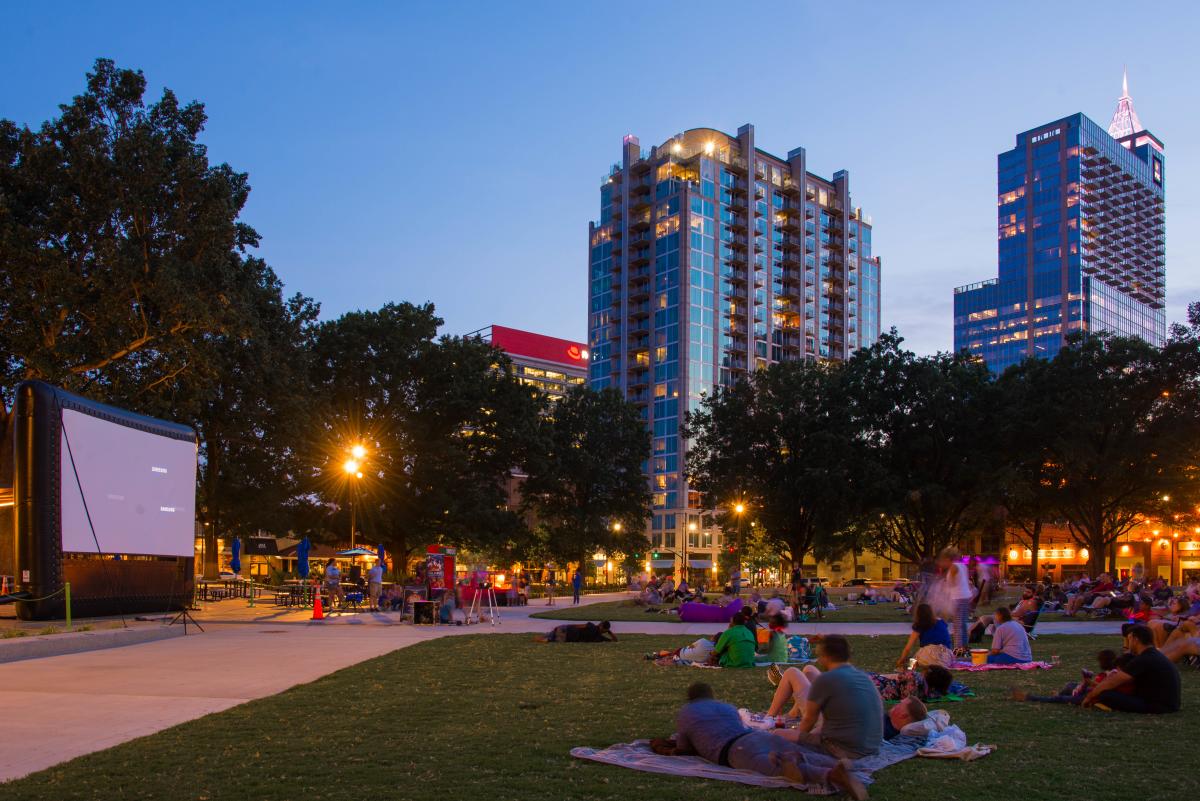 Robertson Millpond Preserve
Transport yourself to a long-ago place and time when you visit Robertson Millpond Preserve in Wendell, an 85-acre refuge for nature lovers, canoeists and kayakers. The area is significant for its rich cultural and environmental history. When you look around, you'll think you are in the Great Dismal Swamp! Paddle on the millpond in a non-motorized boat, explore the natural areas and fish in designated areas.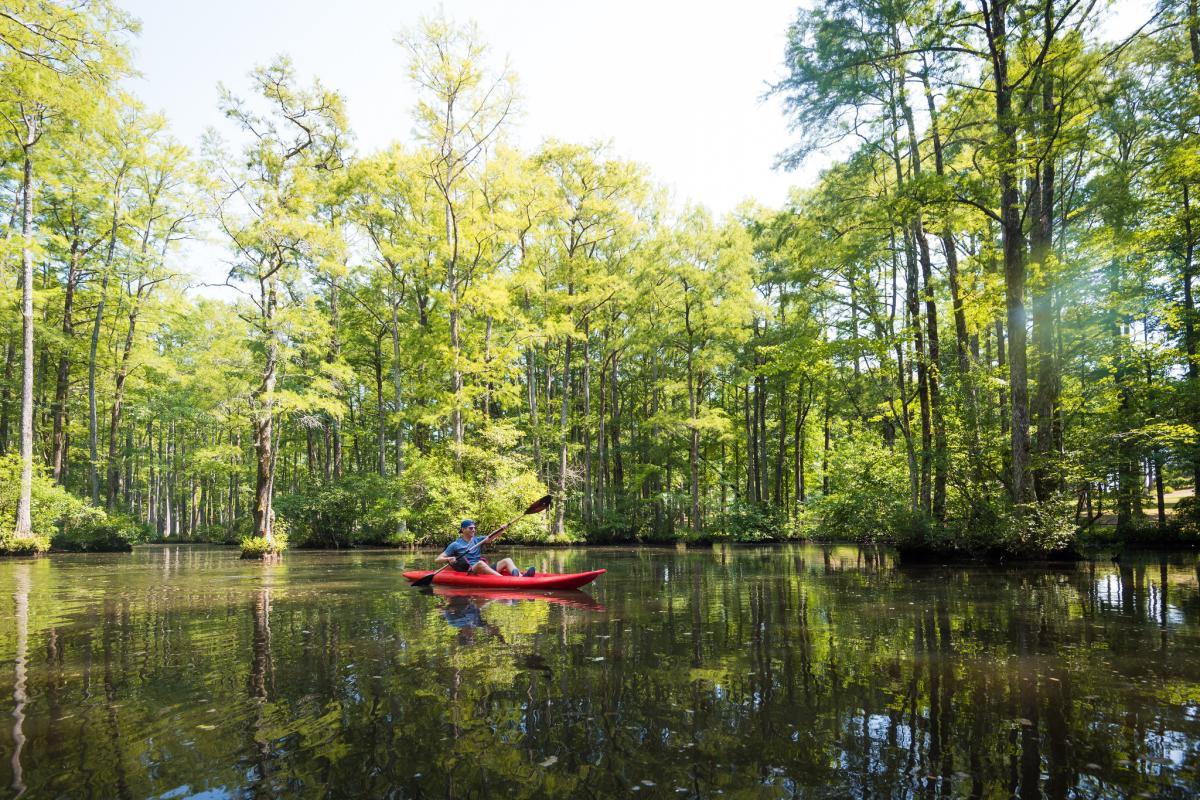 Museum Park at the North Carolina Museum of Art
More than 5,000 works of art spanning from antiquity to present day make up the bulk of masterpieces you'll find at NCMA, plus the largest museum art park in the country. Museum Park's 160+ acres of meadows, woodlands, and creeks expanded a few years ago adding contemporary gardens, a promenade connecting the park and galleries, hundreds of new trees and an elliptical lawn overlooking the park's rolling meadow. The vast trail system is designed for walking, jogging, hiking and cycling. Explore more than 30 works of art surrounding the outside of the museum and along the trails and greenway paths. Don't miss the Rodin Garden and the trio of Gyre rings.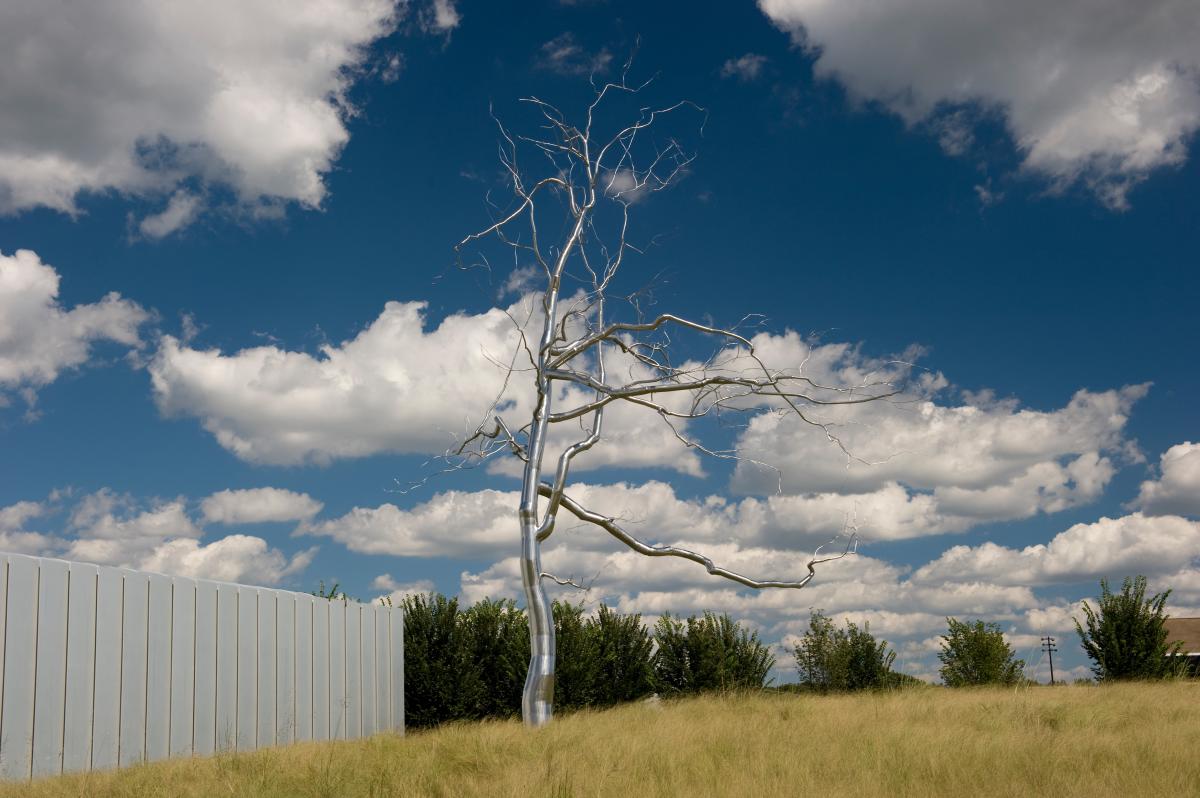 Coming soon
North Carolina Freedom Park
A long-planned park aiming to honor the African American struggle for freedom and liberty for all broke ground in late 2020 just a few blocks from the North Carolina State Capitol. The park will include phrases and quotes from famous Black North Carolinians engraved throughout the space, and a large sculpture in the middle of the park will shine a light into the night sky—the Beacon of Freedom—to reflect the fire for freedom. Designed by the internationally known late architect Phil Freelon, the park expects to open to the public late in 2022.
Fenton Mixed-Use Development
Fenton is a mixed-use development located in Cary near WakeMed Soccer Park off Cary Towne Blvd. The $850-million project is expected to include one million square feet of office space, 444,000 square feet of retail space, more than 800 multi-family housing units, a high-end hotel and more. Anchor tenants that have been announced are a 125,000-square-foot Wegmans Food Market and a 36,000-square-foot theater from CMX Cinemas. Other tenants already announced are Crawford Brothers Steakhouse from award-winning chef Scott Crawford, a Tex-Mex restaurant (Superica) from chef Ford Fry, a second location of M Sushi from celebrated Durham chef Michael Lee, another location of the local watering hole Dram & Draught and an Italian restaurant (Colletta) from Indigo Road Hospitality Group. The total development may take five to eight years to complete, although some retailers began opening their doors in May 2022. 
"Dueling Dinosaurs" Exhibit (at the North Carolina Museum of Natural Sciences)
An exhibit 67 million years in the making, will feature what's thought to be the only 100% complete skeleton of a Tyrannosaurus rex in the world (plus a Triceratops skeleton, among the most complete ever found as well). An entire new lab—opening in 2023—is being built for this exhibit, and visitors will be able to get up close and personal with the fossils and meet some of the scientific team as they uncover long-buried secrets. The TODAY Show recently took a look at how those dinos were uncovered in a recent video piece you can see here! 
Downtown Cary Park
First proposed in 2001, the Town of Cary City Council approved the master plan for Downtown Cary Park in March 2019. The plans to create an iconic, seven-acre, public gathering space include a call for two food and beverage facilities, four interactive water features, a great lawn and an outdoor entertainment pavilion. Construction of the park broke ground in summer 2021 with full completion estimated to be in mid-2023.
Dorothea Dix Park
In July 2015, the City of Raleigh acquired 308 acres of the Dorothea Dix Campus from the State of North Carolina. The purpose of the City's acquisition of the property is to plan and develop a new destination park—Dorothea Dix Park. A master plan for the park—the city's largest green space—was unanimously approved by Raleigh City Council in Feb. 2019. The master plan proposes the park be transformed through six distinct landscapes, with ideas on how each landscape could be used by visitors (open space, playgrounds, plazas, gardens, performance spaces, public art etc.). Implementation of Phase 1 of the plan, which began in late 2020, calls for physical improvements to the park, including restoration of the creek, cemetery enhancements, rehabilitated buildings, a new main entry to the park, a new multi-use path and interim parking. Phase 1 of the plan may take 10-20 years to implement.
This year, the Gipson Play Plaza—named for generous Raleighite donors Tom and Pat Gipson and focused on providing a space to play for visitors of all ages—will break ground as one of the main entrances to the park, acting as a central gateway connection to the rest of downtown Raleigh. The 18-acre area will receive new landscaping, fountains, gardens, a waterfall, an amphitheater, picnic grounds, civic plaza and a playground that includes climbing towers, a sand bowl, swings and much more. The project is expected to break ground in 2022. Construction is expected to take two years.
Transportation
RDU International Airport currently averages approximately 400 arrivals and departures daily and services more than 11 million passengers annually. RDU provides service to nearly 60 other airports via nonstop flights and consistently has the lowest average fare among North Carolina's commercial airports. Later this year Delta will resume its nonstop to Paris daily and American to London Heathrow, also daily. In 2019, both airlines increased the size of the aircraft on the route adding comfort and additional capacity.
Next on the list? RDU has continued pursuing international expansion including it's newest additions to Montreal, Canada on Air Canada and to Reykjavik, Iceland on Icelandair (both launching May 2022).
Amid the pandemic, RDU added some local flair to the airport with a full craft beer bar and robust menu from Raleigh's third-largest production brewery, Raleigh Brewing Taproom, and a beloved European bakery from Cary's own Master Baker Lionel Vatinet, La Farm Bakery Café, (both in Terminal 2).
Coming soon, Grove Bay Crawford, a collaboration between Grove Hospitality and Raleigh's Crawford Hospitality, will open three concepts in Terminal 2 late next year. Casual dining bar Crawford Genuine will be located in Concourse C. It will be run by five-time James Beard award nominee Scott Crawford. A second concept, Carolina Craft, will be an open-air kiosk serving craft beer, cocktails and light bites. Wake Forest-based Black & White Coffee Roasters will also be joining the marketplace in Terminal 2.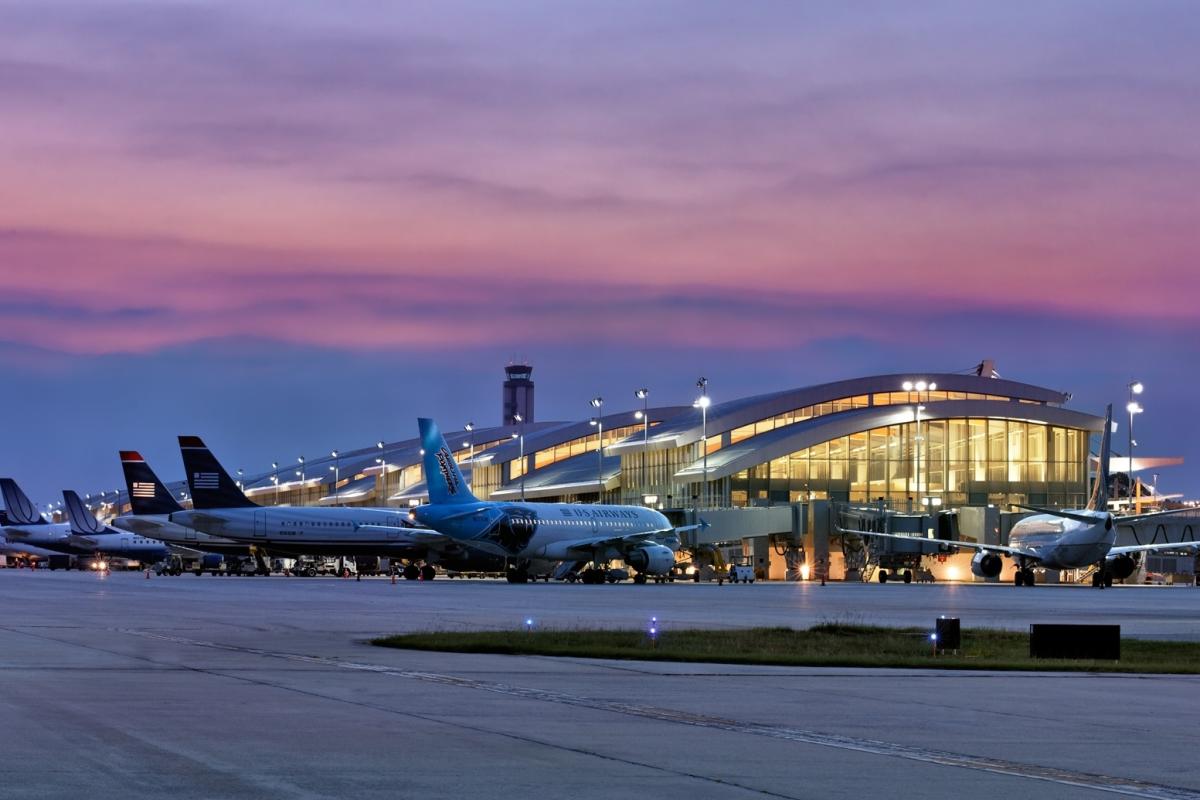 Downtown Raleigh's Warehouse District now houses the new Union Station transportation hub, which opened in July 2018. This major project accommodates longer trains and provides larger platforms, among other improvements. As part of a 10-year strategic Wake County Transit Plan approved by voters in 2016, Union Station not only serves Amtrak passengers but also acts as a multi-modal transit center connecting riders to other forms of transit.
The plan includes the expansion of bus service from 17 to 83 miles, including 20 miles of Bus Rapid Transit-related infrastructure improvements and will complete with the activation of 37 miles of Commuter Rail Transit (CRT) running from Garner to downtown Raleigh, North Carolina State University, Cary, Morrisville and the Research Triangle Park continuing to Durham and will leverage the bus network to connect riders to RDU as well.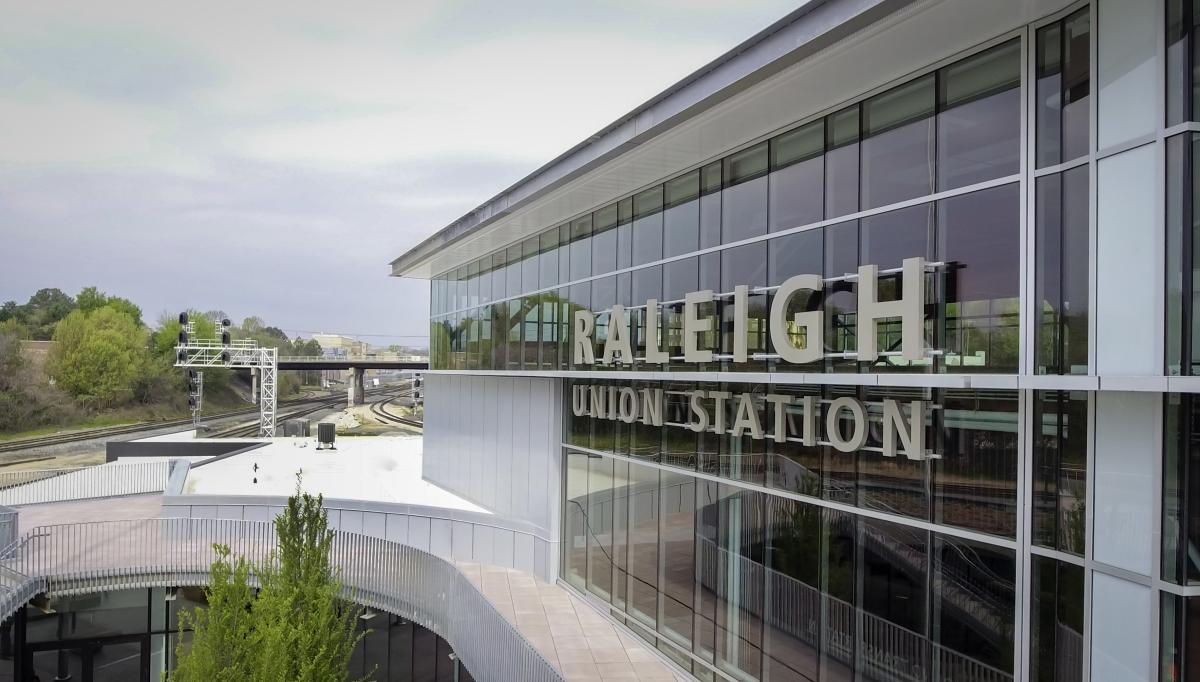 Photo of Cheeni Indian Food Emporium courtesy of Cheeni Food Emporium; Bright Spot Donuts photo by Anna Routh Barzin