Raleigh
A thriving Southern capital city shaped by the passionate minds of its residents, Raleigh, N.C., was founded in 1792 and named for Sir Walter Raleigh, the Englishman who attempted to establish the first colony on the shores of the new world in the 1580s. The only state capital to have been planned and established by a state as the seat of state government, the city's founding fathers called Raleigh the "City of Oaks" and dedicated themselves to maintaining the area's wooded tracts and grassy parks.
Today, gleaming with 21st-century modernism, Raleigh holds dear its history, preserving art, culture, green spaces and more than 200 historic places held in high esteem on the National Register. One of the fastest growing cities in the country—nearly half a million people, plus numerous thriving startups and established businesses—now call Raleigh home.
In Raleigh, you're just as likely to happen upon a world-class museum as you are a world-record-setting beer garden, and odds are good you'll want to visit both a state park and the State Capitol while you're here. In between, you'll find that all types of artists, athletes, creative-class innovators, makers and entrepreneurs have found a place they can thrive.
 
---
---

Smart and savvy locals are the lifeblood of the city, the brains behind its educational institutions, renowned research facilities, historic preservation efforts and enviable rankings for a quality of life that is physically represented through Raleigh's 180 miles of lush greenways and more than 10,000 acres of natural parklands.
Smart, homegrown and authentic, Raleigh is a place where you'll be warmly welcomed and invited to experience and share food, drinks and stories with friends old and new.
Dining & Drinks
Whether you've just gone to a concert, enjoyed a few local beers or find yourself hungry well after dinner time, these 20+ late-night dining spots around downtown Raleigh will surely satisfy. From the Glenwood South district to Fayetteville St. and everywhere in...
Dining & Drinks
What do you get when you mix books, beer, blooms and bao in Raleigh, N.C.? One of the top 10 new restaurants in the country! Bon Appétit has named Brewery Bhavana—the brewery, bookstore,...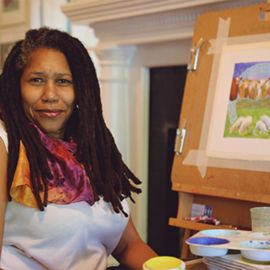 Linda Dallas's Art Studio
Raleigh, N.C., artist and illustrator Linda Dallas draws inspiration from the kitchen, using color, texture and perspective to transform food into fine art.
"Creativity doesn't just live in the arts. Creativity lives in business. Creativity lives in science. That is what makes for a Smart City."