Administration & Marketing Technology

Administration

Overall management
Worked with Wake County staff and the Wake County Board of Commissioners to receive $1.25 million of the CARES Act funds for the Greater Raleigh CVB (GRCVB) to use for sales and marketing activities through Dec. 2020 as well as $2.67 million of American Rescue Funds to be applied towards the 2021-2022 fiscal-year budget.
Applied for and received two Paycheck Protection Program loans in the amount of $1.1 million in fiscal year 2020-2021. 
Coordinated training program for all staff on diversity and unconscious bias and created a Diversity, Equity and Inclusion (DEI) Committee to normalize best practices around DEI within GRCVB culture and operational efforts.
Hosted meetings with each municipality's leadership to discuss future collaborative efforts between our organization and their communities.
The CVB received a clean audit for fiscal year 2020-2021.
 
Highlights of Destination 2028 accomplishments over the past year
Sales team gathered data specific to each priority group related to meeting month, market segment and next open year; Lead Scoring System launched to track account sales and marketing engagement.
Led approval by City and County in the short-term use of Business Development Fund (BDF) for both existing booked groups and short-term business opportunities from Jan. 1-Dec. 31, 2021, related to costs associated with COVID-19 safety screening or hybrid live streaming of hosted conferences; usage included standard BDF measurement.
Conducted Parks Director Summit via Wake County Parks, Recreation and Open Space for aligning strategy on Countywide Sports Cluster Model; alignment for safety and health protocols related to COVID-19. 
Advocated for health and safety protocols and scalable event attendance to align with State of N.C. guidance and the promotion of consumer confidence campaigns for events.
Became partner source for measurement and reporting through the use of the Economic Impact Calculator for events, sports and meetings and conventions.
Provided impact measurement, research and support for development at Dorothea Dix Park to include Adventure Play Area and Events Chapel. 
Worked with municipal beta partners in Apex and Zebulon to create inventory of experiences through People-First Tourism.
President and CEO Dennis Edwards and executive vice president Loren Gold conducted direct discussions with city/town managers on three to four agenda items related to development, quality of place (tourism branding) and the CARES Act project recap.
 
Community relations
Worked with the North Carolina Restaurant and Lodging Association (NCRLA) to create health and safety protocols for hotels and venues to safely open capacity and shared with the N.C. Governor's Office. 
Worked with the County's tourism tax review committee to revise future forecasts for the county tourism tax performance and collections. 
Hosted numerous COVID-19 updates for the Wake County hospitality community. 
Worked with NCRLA to create a job board for the hospitality industry.
 
Awards received by GRCVB
Received the "2020 Award of Excellence" from Corporate and Incentive Travel magazine, which is voted on by the readers of the publication. 
Selected as a "2020 Platinum Choice Award" winner by Smart Meetings. The award honors top-ranked CVBs that display the highest standards of overall excellence in service and amenities. 
Received the Gold "2020 Stella Award" from Northstar Meetings Group. This is the meeting industry's highest honor recognizing the best CVB in the Southeast for delivering quality service and innovation to meeting and event professionals. (The Atlanta CVB received the silver and The Palm Beaches CVB received the bronze.) 
Destination Technology

360° virtual tours of hospitality partner sites
Assisted Wake County hospitality partners with digital reach in a new way last fiscal year. With CARES Act funding, GRCVB worked with Threshold 360 to capture nearly a hundred 360° tours of Wake County venues and applied them to listings on visitRaleigh.com and these partners' Google My Business images/360° sections. The addition of the 360° tours to visitRaleigh.com partner detail pages and Google My Business listings increased their reach on search and direct hits to their websites. (The accuracy and visibility of our partners' digital presence on search engines, especially Google, is key to our ability to sell the destination.) Tours also enabled our Sales, Sports Marketing and Destination Services teams help visually promote the destination to potential groups looking to bring events to the destination.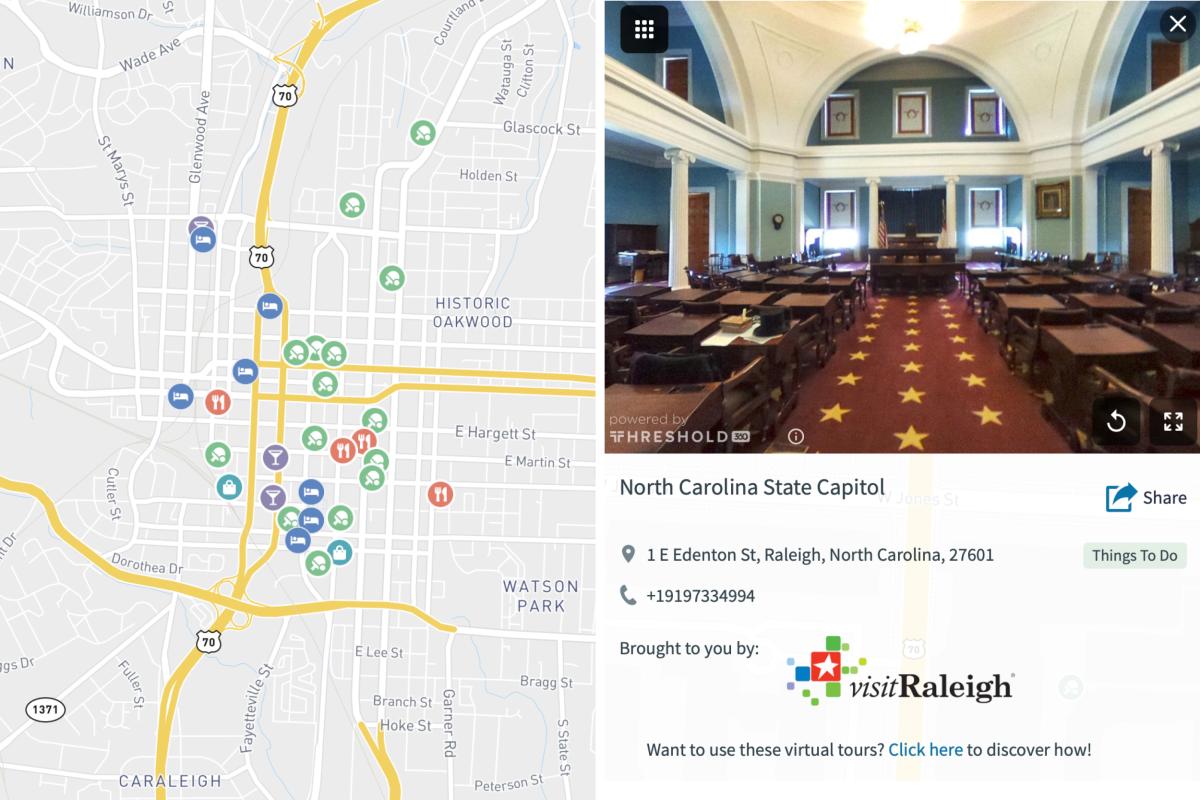 Aerial drone footage of Wake County 
With CARES Act funding, partnered with Destination Virtual Tours (DVT) to collect aerial drone, 6K footage from more than 80 sites around the area. This footage is currently available to partners and other stakeholders via our Visit Raleigh Studio.
Seeing some of Wake County's top attractions, parks, meeting facilities, hotels, sports complexes, districts and towns from an aerial vantage point not only allows us to better show our visitors these assets and their physical layouts but also the surrounding aesthetics of Wake County.
GRCVB will use this footage to promote all of Wake County to visitors, event planners and sports event right-holders—assets will be used for our website, social media marketing, guided virtual tours, Sales bid books for groups and future video advertisement production.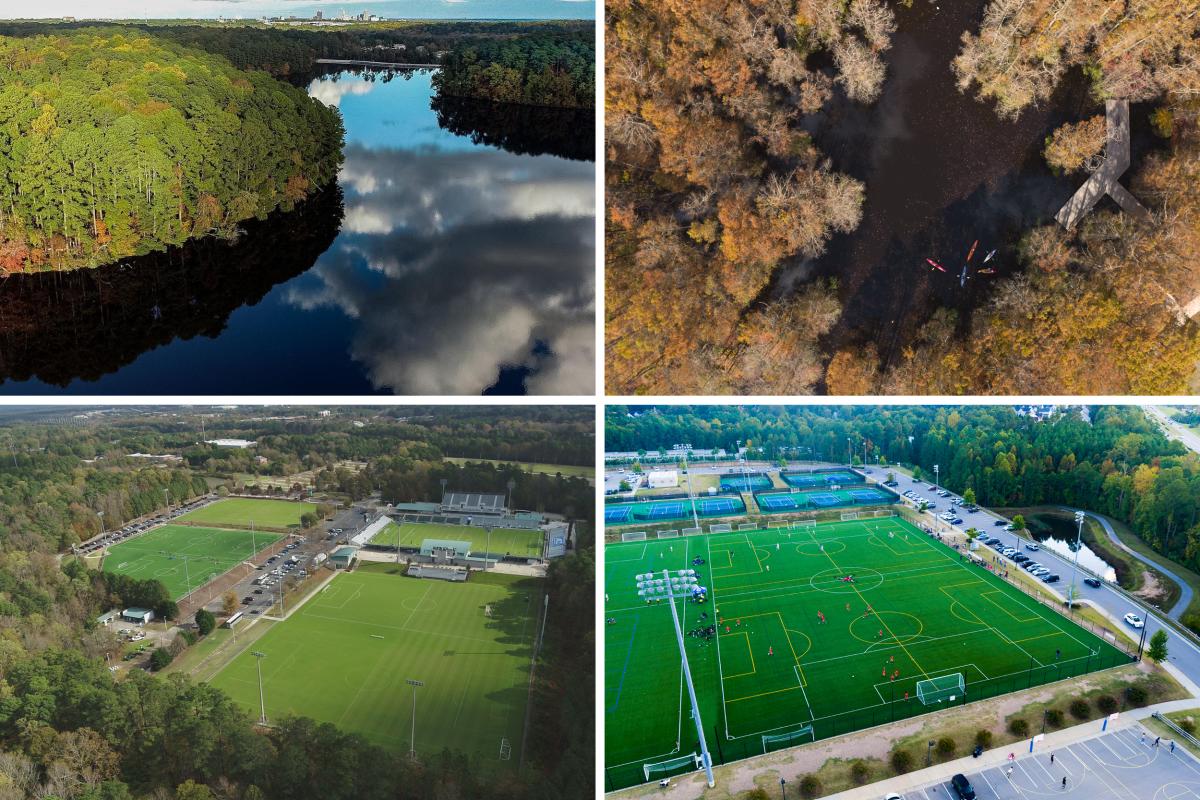 Visit Raleigh Studio: 360° tours, aerial drone footage and 7,000 destination images
Deployed an online tool housing our destination digital assets, rebranded as Visit Raleigh Studio. 
Increased a prior collection of about 900 tourism-related images to more than 7,000 assets being shared with area partners, event planners and the media through Barberstock, a digital asset management tool specifically for destination marketing organizations.
In Visit Raleigh Studio, the Destination Technology and Marketing and Communications teams were able to curate a collection of digital assets (video footage, including aerial drone footage), 360° virtual tours of 90 sites around the county and more than 7,000 photographs drawn from the area. The Studio now provides high-quality, rights-secured assets to the Wake County hospitality community as well as others.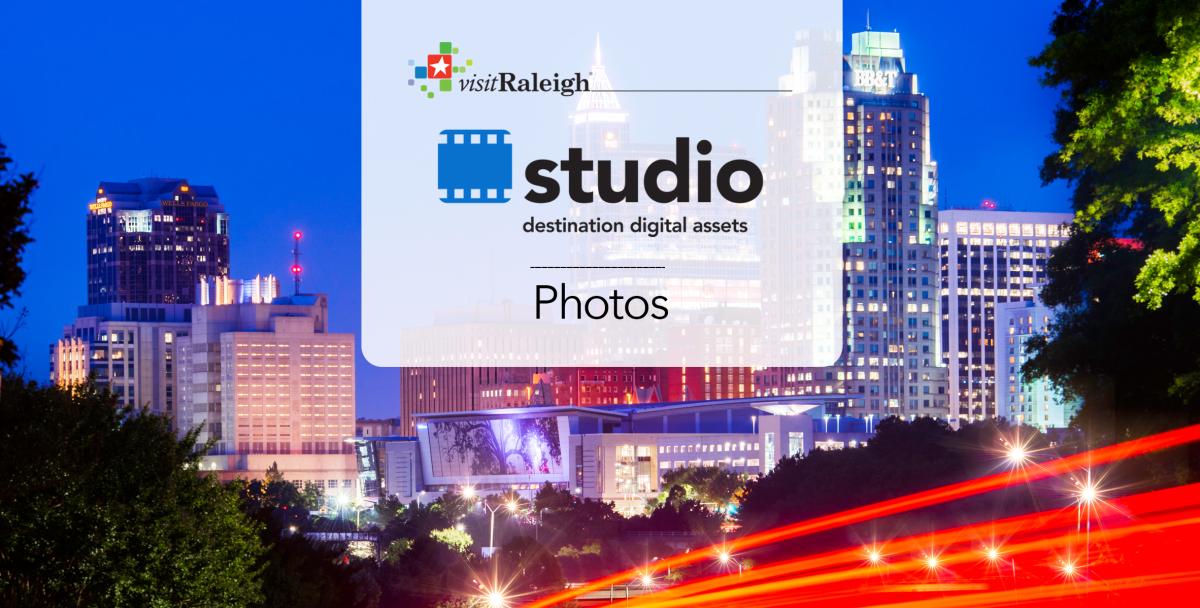 Visitor Information Center: technology update
With CARES Act funding, the Destination Technology and Destination Services teams retrofitted/upgraded the official Visitor Information Center (VIC), located in the connector space between the Raleigh Convention Center and Raleigh Marriott City Center. Updated TV screens and network cabling first installed at the VIC in 2010. New capabilities were made available to the VIC manager and staff to share their computer screens via the new TV screens, displaying information on the area and directions directly with the visitor. These new screens also will display partners' 360° tours, aerial drone footage, safe practices, major arriving groups (group welcomes), important alerts, photos, videos and other announcements going forward.