18 Late-Night Eats Around Downtown Raleigh, N.C.
Friday, October 20, 2017, 6pm by Kristen Baughman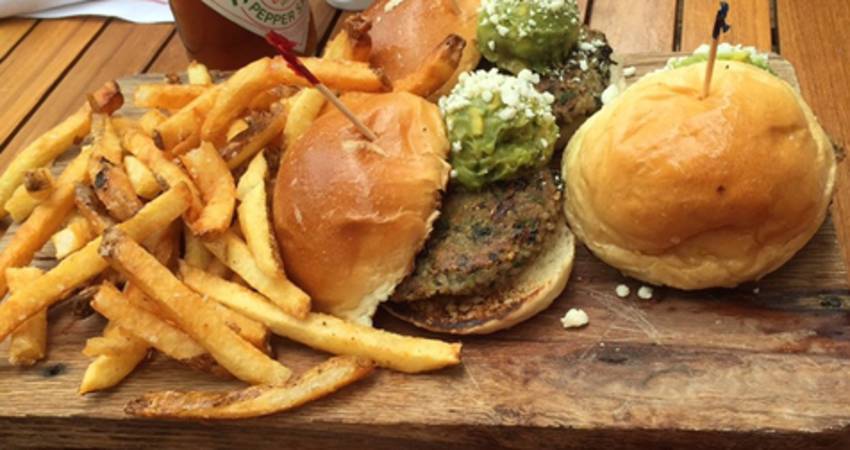 Whether it's well after dinner time or after a concert or a few local beers, these 18 late-night dining spots around downtown Raleigh will surely satisfy. From the Glenwood South district to Fayetteville St. and everywhere in between and beyond, stop into these local-favorites for a bite to eat:
 
Open until 3am on Thurs., Fri. and Sat. nights, the Snoopy's downtown Raleigh location is a hit for late-night bites. The grill features the "Snoopy's Famous Hot Dog," which is topped with mustard, onions and chili and served on a steamed bun. Don't forget to order crinkle-cut fries!
Looking for a perfect slice of Neapolitan pizza? Head to Pizza La Stella's window located on Fayetteville St. to enjoy $5 lunch-size slices from 1-3am. The slices are fresh out of their wood-fired oven and include fresh mozzarella, fontina and romano cheeses, dried oregano, garlic oil and sea salt.
Sip on the most perfect, well-crafted mezcal cocktail and savor bar snacks at Gallo Pelón. The kitchen's open until midnight, and food options include chimi-guac queso, Colombian hot dogs, elote fritters and more. Relax outside in the courtyard, a favorite spot for locals!
Craving pizza after a night out? Benny Capitale's is open until 3am on Thurs., Fri. and Sat. nights. Known for slices bigger than your head, Benny Capitale's will certainly appease your appetite. Stick to the classics like cheese and pepperoni or opt for specials like bacon mac 'n cheese.
Since 1959, Char-Grill has been serving Raleigh with delicious hamburgers cooked over charcoal flames. Open until 2am on Fri. and Sat. nights, order one of these classic Char-Grill burgers with a chocolate milkshake for the perfect late-night meal.
DeMo's is a great late-night stop for pizza, wings and sandwiches on Thurs., Fri. and Sat. Visit their take-out window on Glenwood Ave. or hang out inside. The stuffed pizza is a must! Feeling extra hungry? Try one of their giant calzones or a cheesesteak stromboli.
Located on Person St., The Station offers a fantastic outdoor space to enjoy beers and bites. The kitchen is open until midnight every night of the week, so you can enjoy fantastic eats like the sloppy joe, Cuban sandwich and banh mi. The bacon habanero pimento cheese dip is the perfect starter!
Tasty 8's
Located on Fayetteville St., Tasty 8's is an excellent stop to make after visiting a few bars. Known for their gourmet dogs, we recommend trying "The National," which is overloaded with Southern pimento cheese and chow chow, then topped with fried okra. Order up a side of Belgian frites and choose your favorite sauce for dipping!
Offering 350+ beers on tap (the world's largest beer selection under one roof!) and with a kitchen that's open every night until 2am, the Raleigh Beer Garden is a key place to spend an evening on Glenwood Ave. Select a local beer from the floor featuring all N.C. craft beer and stick around for menu items like beer battered pretzels with beer cheese and pork belly cheese fries.
In need of some late-night Tex-Mex? Armadillo Grill is open until 1am on Fri. and Sat. nights on Glenwood Ave. Try Armadillo's famous steak or chicken soft tacos paired with queso dip, and wash it all down with an infused margarita!
Open until 1:30am every day of the week, MoJoe's serves burgers, wings, fries and shakes. The "Classic Big Mo'" burger is quite popular with the late-night crowd and includes a 100-percent Angus Choice, hand-pressed patty and your choice of toppings. Ask for a side of bacon chili cheese fries!
Pulled pork nachos, anyone? Raleigh Times is a timeless watering hole and a favorite among locals for late-night food and unique craft beer offerings. Open every day until 2am, pop in for a shrimp po' boy, N.C. fish and chips and beer battered fried cheese curds.
A Raleigh tradition since 1951, the PR (as locals know it) is a go-to for cheese fries, jalapeño poppers and N.C. pit-cooked BBQ sandwiches. Best enjoyed late at night, the Players' Retreat is open daily until 2am!
Mecca is a family-owned mainstay serving up Southern comfort food. Mecca offers a late-night menu, which is served Mon.-Wed., 9-11pm, and Thurs.-Sat., 9pm-1am. Enjoy classics like chicken sliders, grilled cheese sandwiches and chicken wings.
Open until 2am on Fri. and Sat. nights, Trophy dishes out creative pizzas and delicious house-brewed beer. Bring the heat and give the "Daredevil" pizza a try, which includes fire roasted tomato sauce, mozzarella, ghost pepper salami, fresh jalapeño, caramelized onions and sriracha.
For casual pub fare and a sports bar vibe, Carolina Ale House is open every day until 2am. Snack on some bar bites like sweet potato fries and pulled pork sliders or share some crowd-favorite small plates like beer-battered cheese curds and brisket quesadillas.
Open until 2am Thurs.-Sun., Virgil's is fulfilling downtown Raleigh visitors' needs for late-night tacos. Go for the al pastor, butternut squash and carne asada tacos. The Mexican fries are also perfect to share with friends and are topped with mole poblano, queso fresco, scallions, cilantro and sesame seeds.
Comments